WiiN Aims to Create Win-Win for Women at Work
The new Women in Incentives Network aims to empower women to make the most of their professional careers through mentoring, information sharing, education, and mutual support.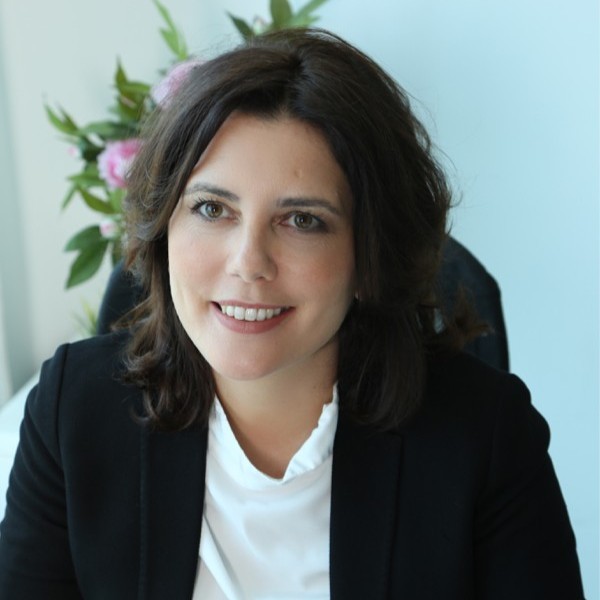 To hear the story of how a young woman from France,
Julie Leblan
, CEO and Founder of Merit Incentives, went to the Middle East to found one of the leading master fulfillment companies in the region, one understands her passion for creating Women in Incentives, an alliance of women active in incentives, recognition, and loyalty. A journey that led her across the Middle East and North Africa to building one of the first companies of its kind in the region convinced her of the need to collaborate with, learn from, and share with other women in the field.
WiiN
describes itself as "a network for top female leaders, female founders and entrepreneurs in the global Incentive and Loyalty industry. Members meet exclusively and privately with the goal of creating a community where women in various stages of their entrepreneurial endeavors can connect, renew and evolve – amidst stimulating conversations, special guest speakers, self-discovery activities and knowledge sharing."
Julie LeBlan, the founder, says, "I could not have created Merit Incentives without the help of a lot of people along the way, many of them women, who have mentored or guided me in so many ways. It seemed natural to create a group to make that possible for all women in our business."
She elaborates, "I have always benefited from my network of women colleagues to learn and share. It was always a good way to connect, and be comfortable, and to share. I am part of different international associations in incentive and loyalty. Sometimes women are not always heard. Or there is not enough time to have the issues faced by women well represented or represented enough."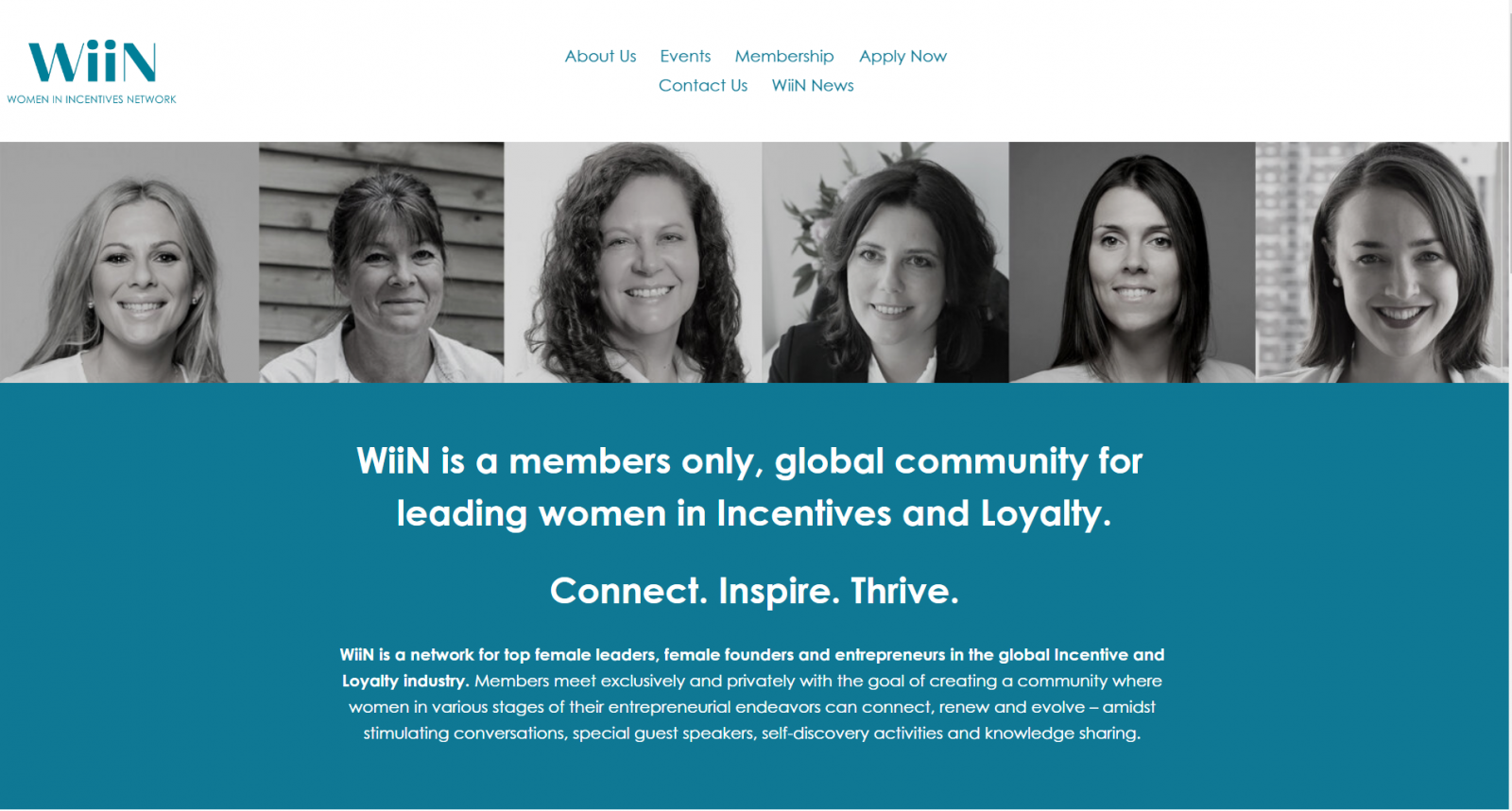 Already with 50 members, WiiN offers a variety of online information sharing activities as well as a one-on-one mentoring program that matches members with people based on their needs and level of career. "I felt that during Covid women were especially affected by the pandemic. They are working harder than ever; WiiN can be a way to take a burden off their shoulders. How do we create a community that provides women to have a voice, to help them advance their careers, and how can we collaborate? I have my own business, my own employees. I want to give back and to help others."
Given that "mansplaining," sexual innuendos or worse, glass ceilings or other issues important to women are often real but uncomfortable subjects in business settings, women can benefit from having forums in which they can speak openly about challenges without risk or distracting dynamics, Leblan observes.
Leblan says that she recognizes the importance of having men as part of the dialog and plans to develop WiiN programming and opportunities open to all.
Leblan says
Merit Incentives
, based in Dubai with nearly 50 employees, provides gift, reward and engagement strategies using innovative technologies to clients in the Middle East and North Africa, including gift cards, e-cards, merchandise, employee/customer rewards, and online white label gift registry solutions with over 4,000 retailers and service providers across 86 countries.
The company's technologies are focused on increasing customer engagement and employee motivation via a cloud-based SaaS platform, Leblan says. Merit Incentives was launched to serve B2B clients by MyList, which was founded in 2012 as the region's first B2C online gift service and registry.

For More Information
Julie Leblan
---
Education, Certifications, and Information to Activate
Brand Media and Enterprise Engagement

A complete learning, certification, and information program and a course syllabus for educators.
Resources:
The
Brand Media Coalition
, the only guide to the story-telling power of brands and where to source them for business, event, promotional gifting, and rewards and recognition.
Enterprise Engagement Solution Provider Directory
. The only directory of engagement solution providers covering all types of agencies and tactics as well as insights on how to select them.
Communities:
The
Enterprise Engagement Alliance and Advocate
and the
Brand Media Coalition
free resource centers offering access to the latest research, news, and case studies; discounts, promotions, referrals, and commissions, when appropriate to third-party solution providers from participating coalition solution provider members.
Training and Certification
Enterprise Engagement Alliance Education:
Certified Engagement Practitioner; Advanced Engaged Practitioner, and Certified Engagement Solution Provider learning and certification programs on how to implement Stakeholder Capitalism principles at the tactical level.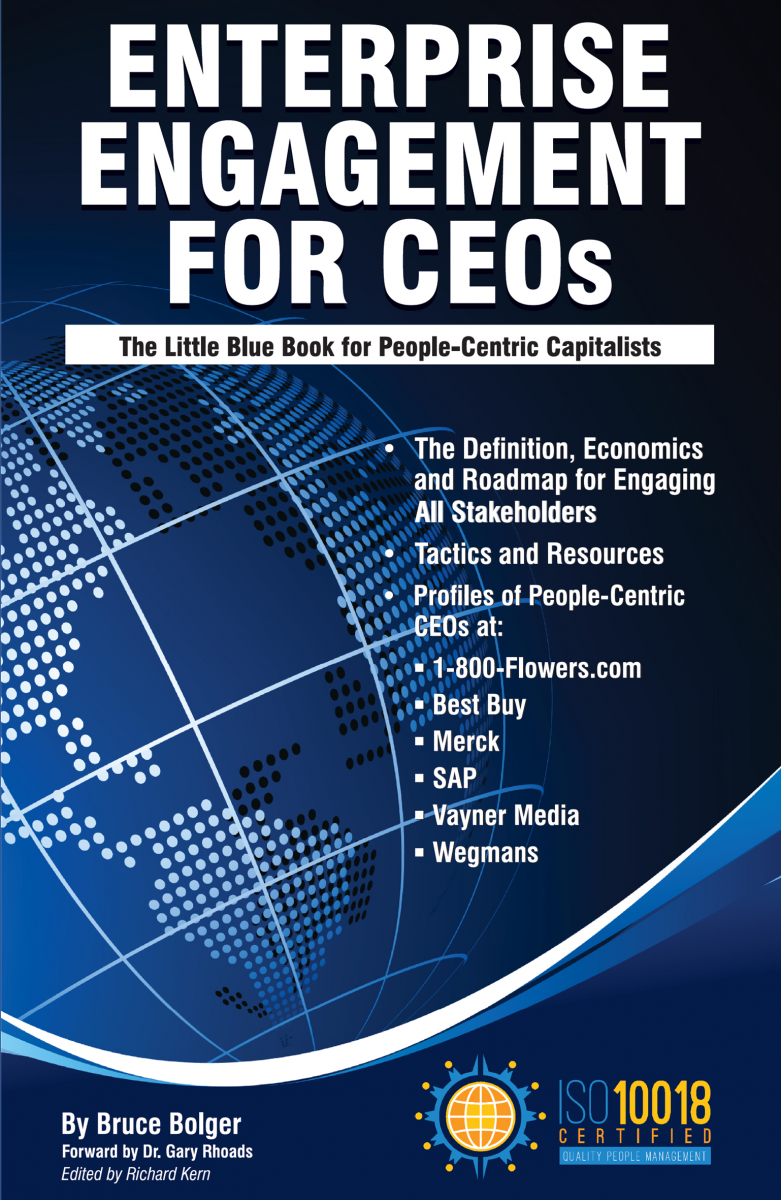 In Print:
This is the definitive implementation guide to Stakeholder Capitalism, written specifically to provide CEOs and their leadership teams a concise overview of the framework, economics, and implementation process of a CEO-led strategic and systematic approach to achieving success through people. (123 pages, $15.99)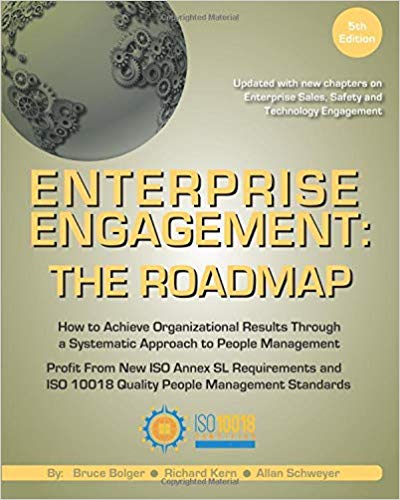 The first and most comprehensive book on Enterprise Engagement and the new ISO 9001 and ISO 10018 quality people management standards. Includes 36 chapters detailing how to better integrate and align engagement efforts across the enterprise. (312 pages, $36.)
Online:
10-minute short course: click here
for a 10-minute introduction to Enterprise Engagement and ISO standards from the Coggno.com learning platform.
Services:
• The Engagement Agency at EngagementAgency.net,
offering: complete support services for employers, solution providers, and technology firms seeking to profit from formal engagement practices for themselves or their clients, including Brand and Capability audits for solution providers to make sure their products and services are up to date.
• C-Suite Advisory Service
—Education of boards, investors, and C-suite executives on the economics, framework, and implementation processes of Enterprise Engagement.
• Speakers Bureau
—Select the right speaker on any aspect of engagement for your next event.
• Mergers and Acquisitions. The Engagement Agency's Mergers and Acquisition group is aware of multiple companies seeking to purchase firms in the engagement field. Contact Michael Mazer in confidence if your company is potentially for sale at 303-320-3777.
Enterprise Engagement Benchmark Tools:
The Enterprise Engagement Alliance offers three tools to help organizations profit from Engagement.
Click here
to access the tools.
• ROI of Engagement Calculator. Use this tool to determine the potential return-on-investment of an engagement strategy.
• EE Benchmark Indicator. Confidentially benchmark your organization's Enterprise Engagement practices against organizations and best practices.
• Compare Your Company's Level of Engagement. Quickly compare your organization's level of engagement to those of others based on the same criteria as the EEA's Engaged Company Stock Index.
• Gauge Your Personal Level of Engagement. This survey, donated by Horsepower, enables individuals to gauge their own personal levels of engagement.
For more information, contact Bruce Bolger at Bolger@TheEEA.org, 914-591-7600, ext. 230.