UK-Based Reward Gateway Thrives in US Market
A leading worldwide provider of employee engagement technology, rewards, recognition and benefits says it has demonstrated success in US and has plans to continue its growth trajectory.

Founded 13 years ago, Reward Gateway is one of the world's largest players in the employee engagement space. According to a recent interview with
Kylie Green
, Global Senior Vice President of Consultancy at Reward Gateway, the company currently has 30 people in the US and expects to significantly expand that number in the coming year. The company employs about 430 people worldwide.
Reward Gateway
recently expanded its reward offering with its new Reward Marketplace, which offers a flexible redemption experience for employees and access to hundreds of instant e-gift cards, millions of products through a unique partnership Amazon, one-of-a-kind branded company offerings, or the ability to donate reward funds to a charity. According to Green, the company does not mark up the cost of rewards, but rather generates its income from SaaS fees.
Earlier, Reward Gateway purchased a Rochester-based company known as Brand Integrity, whose employee engagement technology helped expand the company's offerings in strategic employee recognition, surveys, and analytics.

According to Green, who is based in Sydney, Australia, a major challenge for organizations today is the integration of their human resources technology. "Companies are trying to solve multiple business challenges, such as connecting their remote workforce, helping employees feel appreciated and valued, supporting employee wellbeing, reducing HR administration, and enhancing the employee experience. The list goes on. And it is critical to have the right HR technology integrated in the right way to accomplish these critical business challenges today."
She describes Reward Gateway as an "employee engagement company that partners with clients to drive business results through improved productivity, wellbeing, and overall employee engagement. The company's technology platform is designed to provide a "seamless, centralized place for rewards and recognition, employee communications, surveys, wellbeing, and analytics. Organizations can provide one platform to have an impact on the employee experience and to better help employees connect with the culture and mission. The idea is to bring an organization's mission and values to life by providing transparent rewards that promote them."

The company's platform includes "an employee survey and analytics engine. Clients want a greater understanding of the workforce, and they want to access timely reporting. Now, with so much changing so fast in working environments, organizations need real-time information on engagement." The company's customizable surveys, she says, enable companies to take the pulse of their people across the organization so they can take effective, timely action.

In addition to providing a variety of reward solutions, the company offers a benefits platform offering discounts for employees at participating retailers in multiple countries, an employee wellbeing solution, and employee communications tools that help get the right message to the right employee at the right time. Reward Gateway recently announced its Reward Marketplace to better the rewards experience for all, thanks to an Amazon integration with custom awards, e-gift cards and charitable giving for a powerful consumer-grade experience, it says.
Green states, "Our rewards model is designed to be transparent and immediate. We provide all rewards at market rates with no fees for delivery. We combine a breadth of choice and immediacy, and we make it simple and transparent so that employees feel they are getting a good value for their points."

She says the company's advisory services related to program design and measurement are built into the per-seat charge for the technology. Green says Reward Gateway does business with all types of companies ranging from the SMB (Small to Medium Enterprise) category to large companies in a wide spectrum of industries, including financial services, health care, manufacturing, hospitality and retail, and more.

The company's mission, she says, "is to make the world a better place to work, and this is at the core of our business. We live our mission in three ways: By partnering with our 1,900 clients and 5 million users/employees; by providing educational content, webinars and events to help inform our community, and via our RG Foundation, which provides grants to help make the world a better, fairer and safer place to work."
For More Information
Rachel Weeks
617-379-2592
---
Master the Principles of Enterprise Engagement to Achieve Organizational Goals and Enhance Your Career
Profit from a new strategic and systematic approach to engagement to profit from the principles of Stakeholder Capitalism, enhance your organization's brand equity; increase sales, productivity, quality, innovation, and safety, and reduce risks.
Get trained to become a Chief Engagement Officer for your organization.
Learn how to create Sustainability or Integrated Reports for Your Organization or Clients.
Learning and Certification:
The Enterprise Engagement Alliance 2.0 education program, the only learning and certification platform for boards, executives, and managers seeking to understand the implementation principles of Stakeholder Capitalism, human capital management and measurement, and ROI of engagement. For more information, contact Bruce Bolger at Bolger@TheICEE.org or 914-591-7600, ext. 230.
Resources:
ESM at EnterpriseEngagement.org, an online trade publication founded in 2008 that features news, profiles, research, and more on the field of Enterprise Engagement, the implementation process for Stakeholder Engagement, and the EEXAdvisors.com buyer's guide and resource directory. This includes a comprehensive resource library on Stakeholder Capitalism, human capital management, measurement, and ROI of engagement.

RRN at RewardsRecognitionNetwork.com, an online trade publication founded in 1996 that features news, profiles, research and more on rewards, recognition, gifting and brand media, and the Brand Media Coalition, the only guide to the story-telling power of brands and where to source them for business, event, promotional gifting, and rewards and recognition. This features a comprehensive resource library on brand media, rewards, recognition, incentives, gifting and more.
The Enterprise Engagement Alliance Human Capital Management and ROI of Engagement Youtube channel featuring one-hour and 30-minute panel discussions with experts on multiple topics on Stakeholder Capitalism, Human Capital Management reporting and measurement, and engagement tactics.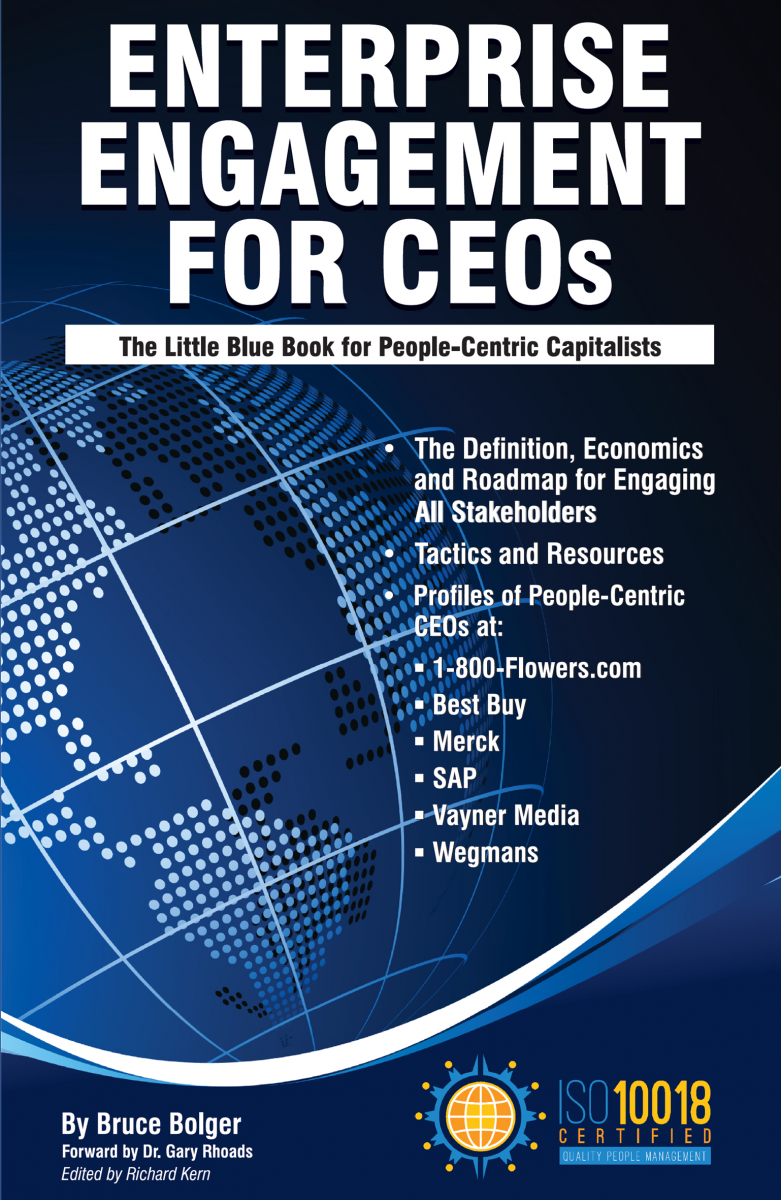 Enterprise Engagement: The Roadmap 5th Edition
The first and most comprehensive book on Enterprise Engagement and the new ISO 9001 and ISO 10018 quality people management standards. Includes 36 chapters detailing how to better integrate and align engagement efforts across the enterprise. (312 pages, $36.)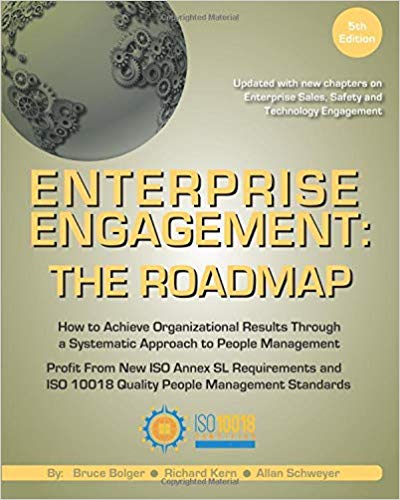 Services:
• The International Center for Enterprise Engagement at TheICEE.org, offering: ISO 10018 certification for employers, solution providers, and Enterprise Engagement technology platforms; Human Resources and Human Capital audits for organizations seeking to benchmark their practices and related Advisory services for the hospitality field.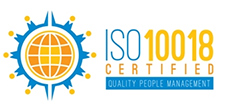 • The Engagement Agency at EngagementAgency.net, offering: complete support services for employers, solution providers, and technology firms seeking to profit from formal human capital management, reporting, and ROI of engagement practices for themselves or their clients, including Brand Alignment audits for brands and Capability audits for solution providers to make sure their products and services are up to date.
• C-Suite Advisory Services—Education of boards, investors, and C-suite executives on the economics, framework, and implementation processes of Enterprise Engagement.
• Speakers Bureau—Select the right speaker on any aspect of engagement for your next event.
• Mergers and Acquisitions. The Engagement Agency's Mergers and Acquisition group focuses on helping organizations focused on people sell to the right buyer and on assisting engagement solution providers seeking an exit or merger. Contact Michael Mazer in confidence if your company is potentially for sale at 303-320-3777.
Enterprise Engagement Benchmark Tools: The Enterprise Engagement Alliance offers three tools to help organizations profit from Engagement. Click here to access the tools.
• ROI of Engagement Calculator. Use this tool to determine the potential return-on-investment of an engagement strategy.
• EE Benchmark Indicator. Confidentially benchmark your organization's Enterprise Engagement practices against organizations and best practices.
• Compare Your Company's Level of Engagement. Quickly compare your organization's level of engagement to those of others based on the same criteria as the EEA's Engaged Company Stock Index.
• Gauge Your Personal Level of Engagement. This survey, donated by Horsepower, enables individuals to gauge their own personal levels of engagement.
For more information, contact Bruce Bolger at Bolger@TheICEE.org, 914-591-7600, ext. 230.