The Industry No One Has Heard of...And What the BMC Is Doing About it
Despite periodic efforts to promote the incentive, rewards, and recognition (IRR) field, almost no one has ever heard of a business that by some estimates generates $40 billion or more per year in business. Here's what the Enterprise Engagement Alliance's Brand Media Coalition is doing about it.
By Bruce Bolger
According to almost every study conducted about the IRR industry, most Americans in business do not even know the industry exists. The result is that most businesses create their own incentive and recognition plans with almost no training (since the subject is taught nowhere in schools or executive training programs) and buy rewards at retail. Based on research conducted by the Incentive Research Foundation and my own experience, most incentive programs fail to optimize results by focusing primarily on the top 20% of people who would have performed anyway; by failing to address all the levers of engagement besides rewards, and by promoting unproductive and sometimes even unethical behaviors by people focused on getting the reward instead of actual performance.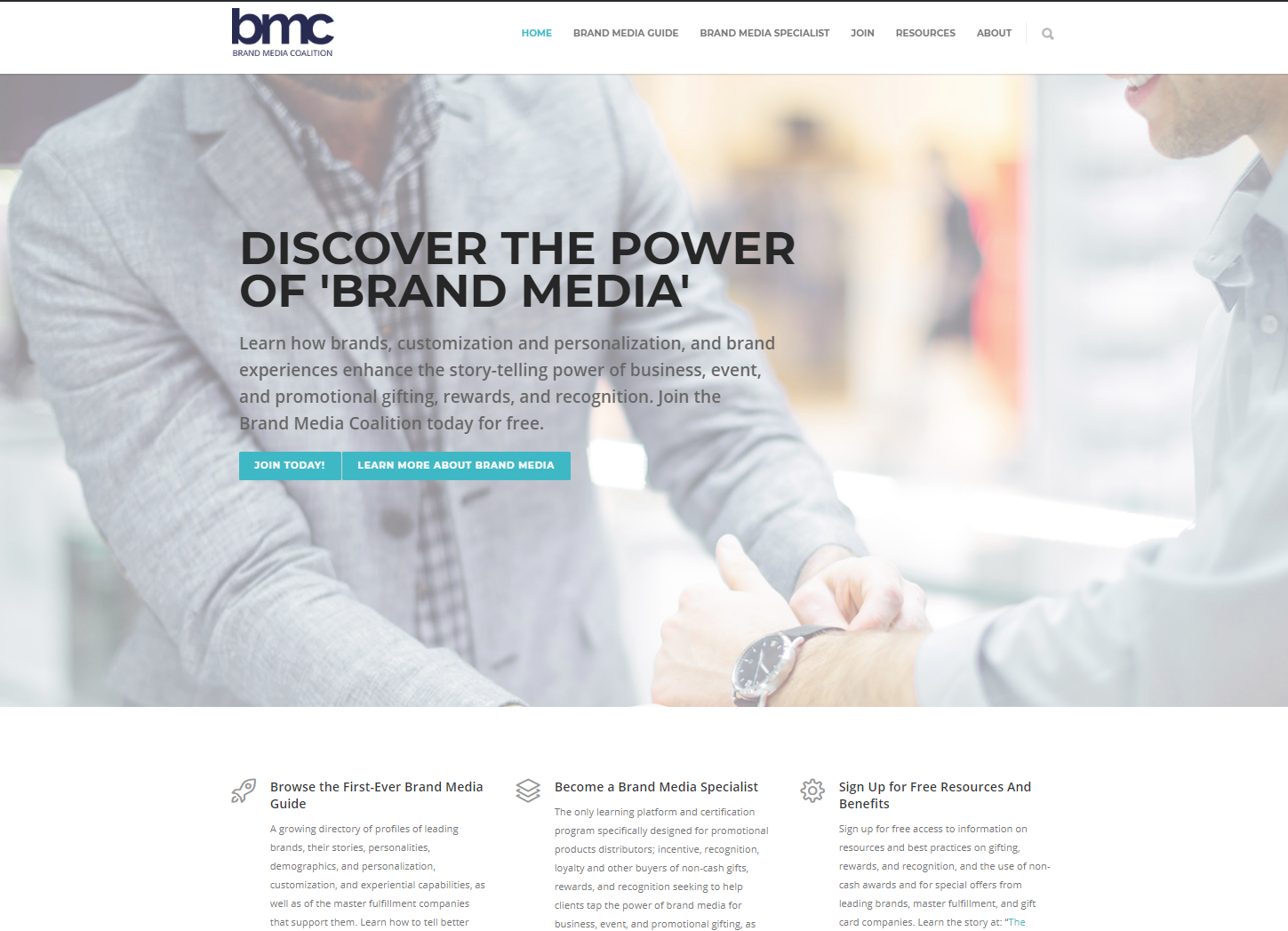 The Enterprise Engagement Alliance's Brand Media Coalition is reviving past efforts to help address the issue.
Not since Peter Erickson of the defunct Motivation Show helped fund the now long-defunct Incentive Performance Center has the industry made any serious effort to address the sad fact that the IRR industry may be the largest unknown industry in the world. Whether one lives in North America, the United Kingdom, Europe, or elsewhere, the industry is almost completely unknown. In fact, many people in the field joke that even their significant others or close friends still don't even understand what they do for a living.
To address the issue back in the early 2000s, the Incentive Performance Center, with seed money from Pete Erickson and The Motivation Show, and the support of a dozen leading incentive companies, created the Forum for People Performance Management at Northwestern University to generate meaningful research to demonstrate the impact of engagement on organizational performance. Despite generating over a dozen meaningful research studies, the initiative fell apart about nine years later under new leadership that was unable to maintain the support of the leading incentive companies.
After the demise of the Forum, The Enterprise Engagement Alliance at
TheEEA.org
carried on the effort with a focus primarily on the broader issues of stakeholder engagement and continues to make progress promoting the importance of a strategic approach to engaging customers, employees, supply chain and distribution partners, and communities. With the rise of ESG (Environmental, Social, Governance), investing and management practices, increasingly known as Stakeholder Capitalism, the importance of human capital continues to gain traction. More companies are publishing human capital reports and the topic continues to attract more attention in C-suites around the world.
Two years ago, the EEA created the Brand Media Coalition to focus more narrowly on the need to promote the role of properly designed incentive programs and the selective use of brands and experiences not only to help inspire and reward stakeholders, but to create more emotional connections between brands and their stakeholders. The effort includes:
•
The BrandMediaCoalition.com online marketplace
that tells the story of leading participating brands and the master fulfillment companies that support them. It is the only resource in the world where businesspeople can learn about the stories of the world's great brands and how to buy them for corporate use.
•
The EME Brand Engagement Event and e-newsletter
program with EME events focuses on educating the top 3% of distributors, or about 2,200 companies in the EME community. While the industry has promoted itself to promotional distributions since the 1990s with the help of the Incentive Marketing Association and the precursor of the Rewards Recognition Network at
RewardsRecognitionNetwork.com
, most distributors remain clueless about this industry as well. Only now that their customers are beginning to insist on brands have more distributors become interested in the field, but much work remains to be done.
Click here
for more information on this effort.
•
A Corporate Buyer's Club on the BrandMediaCoalition.com.
To introduce corporate buyers and agencies to the IRR marketplace, the Brand Media Coalition has created a new transactional web site program to be launched son on the Brand Media Coalition web site enabling brands and their master fulfillment companies to promote new products, samples, or overstock to qualified resellers and end-users through transactional sites. Companies can use either their own transactional sites, if they have one, or use one supplied by the Brand Media Coalition. Either way, the money from any sales flows directly to participating companies through their own merchant accounts with no transaction fees paid to the BMC.
Click here
for more info.
In addition, the Enterprise Engagement Alliance will include education about rewards and recognition in its outreach efforts to corporate America on stakeholder management to be announced in the coming months.
For More Information
Bruce Bolger
Founder, the Enterprise Engagement Alliance
914-591-7600, ext. 230
---
Education, Certifications, and Information to Activate
Brand Media and Enterprise Engagement

A complete learning, certification, and information program and a course syllabus for educators.
Resources:
The
Brand Media Coalition
, the only guide to the story-telling power of brands and where to source them for business, event, promotional gifting, and rewards and recognition.
Enterprise Engagement Solution Provider Directory
. The only directory of engagement solution providers covering all types of agencies and tactics as well as insights on how to select them.
Communities:
The
Enterprise Engagement Alliance and Advocate
and the
Brand Media Coalition
free resource centers offering access to the latest research, news, and case studies; discounts, promotions, referrals, and commissions, when appropriate to third-party solution providers from participating coalition solution provider members.
Training and Certification
Enterprise Engagement Alliance Education:
Certified Engagement Practitioner; Advanced Engaged Practitioner, and Certified Engagement Solution Provider learning and certification programs on how to implement Stakeholder Capitalism principles at the tactical level.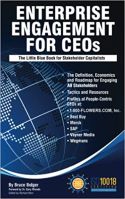 In Print:
This is the definitive implementation guide to Stakeholder Capitalism, written specifically to provide CEOs and their leadership teams a concise overview of the framework, economics, and implementation process of a CEO-led strategic and systematic approach to achieving success through people. (123 pages, $15.99)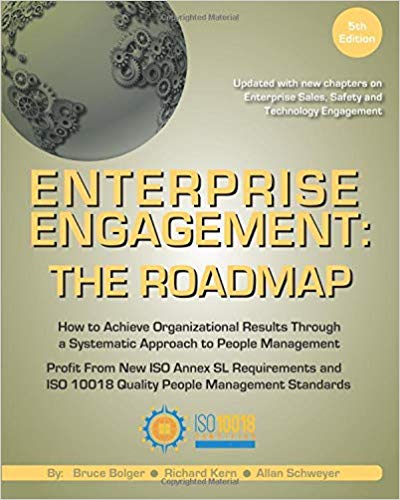 The first and most comprehensive book on Enterprise Engagement and the new ISO 9001 and ISO 10018 quality people management standards. Includes 36 chapters detailing how to better integrate and align engagement efforts across the enterprise. (312 pages, $36.)
Online:
10-minute short course: click here
for a 10-minute introduction to Enterprise Engagement and ISO standards from the Coggno.com learning platform.
Services:
• The Engagement Agency at EngagementAgency.net,
offering: complete support services for employers, solution providers, and technology firms seeking to profit from formal engagement practices for themselves or their clients, including Brand and Capability audits for solution providers to make sure their products and services are up to date.
• C-Suite Advisory Service
—Education of boards, investors, and C-suite executives on the economics, framework, and implementation processes of Enterprise Engagement.
• Speakers Bureau
—Select the right speaker on any aspect of engagement for your next event.
• Mergers and Acquisitions. The Engagement Agency's Mergers and Acquisition group is aware of multiple companies seeking to purchase firms in the engagement field. Contact Michael Mazer in confidence if your company is potentially for sale at 303-320-3777.
Enterprise Engagement Benchmark Tools:
The Enterprise Engagement Alliance offers three tools to help organizations profit from Engagement.
Click here
to access the tools.
• ROI of Engagement Calculator. Use this tool to determine the potential return-on-investment of an engagement strategy.
• EE Benchmark Indicator. Confidentially benchmark your organization's Enterprise Engagement practices against organizations and best practices.
• Compare Your Company's Level of Engagement. Quickly compare your organization's level of engagement to those of others based on the same criteria as the EEA's Engaged Company Stock Index.
• Gauge Your Personal Level of Engagement. This survey, donated by Horsepower, enables individuals to gauge their own personal levels of engagement.
For more information, contact Bruce Bolger at Bolger@TheEEA.org, 914-591-7600, ext. 230.