Science of Engaging Rewards Featured in USA Today Supplement March 17
The topic of "How Personalization Will Bring a Revolution in Rewards" is featured in an insert on Loyalty & Rewards published by Mediaplanet in USA Today print editions distributed in New York, New Jersey, Pennsylvania, Los Angeles, Chicago and Atlanta on Friday, March 17, and available online now.
Click here
.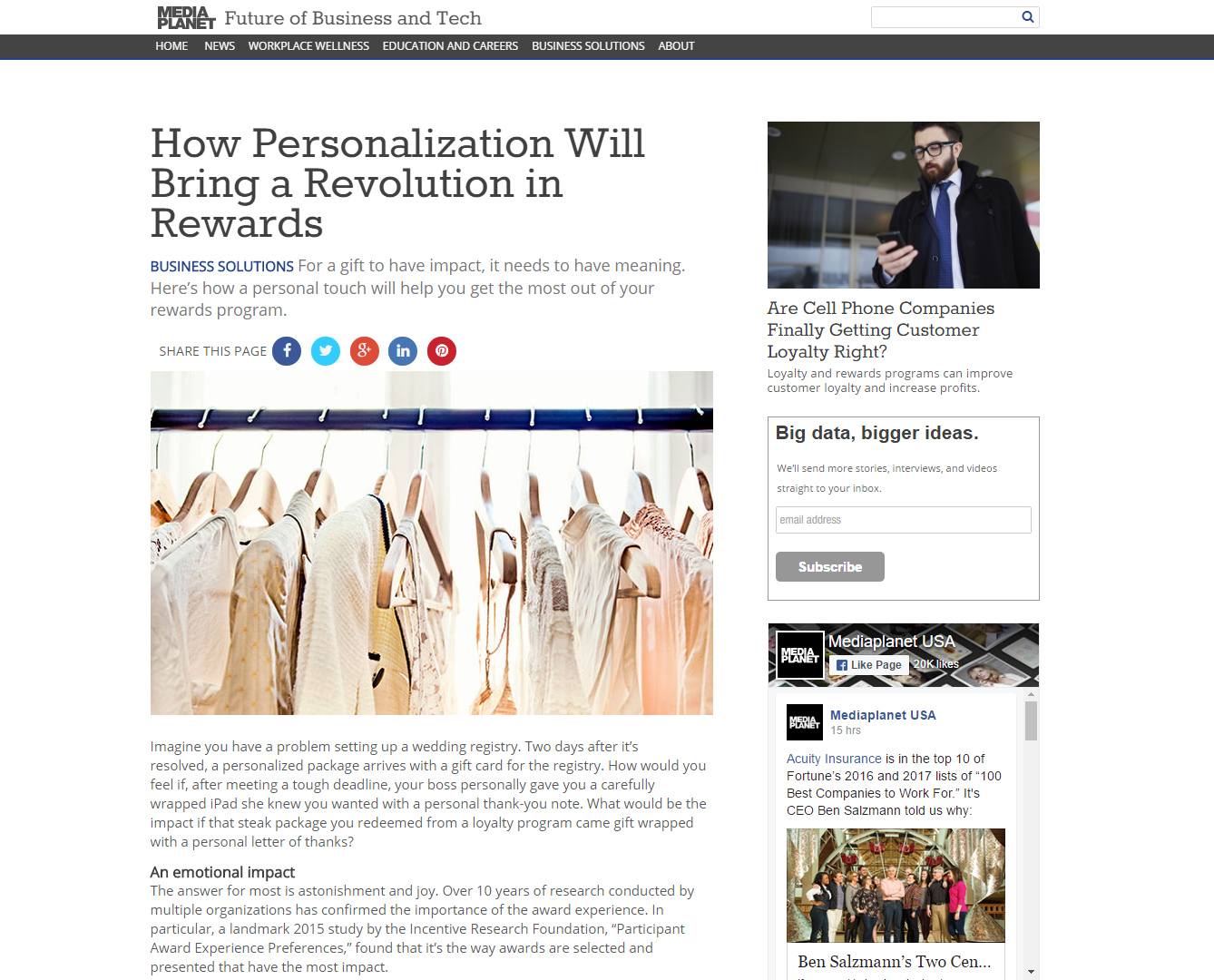 The article, authored by Richard Kern, Editorial Director of
RewardsRecognitionNetwork.com
, focuses on the importance of applying the latest science to the selection, presentation, customization etc. of the award experience, and is part of RRN's mission to advance more scientific practices in the field that address all levers of engagement. To learn about the latest science on the effective use of rewards, recognition and loyalty programs, register to attend Rewards & Recognition Expo and University, April 19-20, in Chicago. Go to
RandRExpo.com
for details and registration info.
The supplement also includes an article by the Enterprise Engagement Alliance, "Want to Create a Great Customer Experience? Start With Your Employees."
Click here
.
According to Mediaplanet, the supplement has a print distribution of 250,000 copies, with a potential social media reach of 4.8 million through web platforms, e-newsletter and social media, including multiple news sites and at nine business events, including:
CXPA & Mattersight Executive Summit: March 22, 2017 (Atlanta, GA)
Rewards & Recognition Expo: April 18-20, 2017 (Chicago, IL)
Mobile Commerce and The Internet of Commerce Things: April 26, 2017 (Redwood City, CA)
CXPA & Mattersight Executive Summit: April 27, 2017 (Minneapolis, MN)
Loyalty360 Expo: May 2-4, 2017 (Orlando, Florida)
CXPA Insight Exchange: May 16-17, 2017 (Phoenix, AZ)
Co-Branding Partnerships Conference: Atlanta, May 22-24, 2017 (Atlanta, GA)
Loyalty Fraud Prevention Conference: May 24-25, 2017 (Atlanta, GA)
CXPA & Mattersight Executive Summit: June 1, 2017 (NYC, NY)
---
Information on Mediaplanet:
Caroline O'Connor
Senior Publisher
646-619-3543