Sales Incentive Essentials
With the proliferation of incentive, reward, and recognition platforms, it's more important than ever to focus on the importance of effective program design, implementation, measurement, reporting, and continuous improvement. This is the first of a series for the remainder of 2023 to provide managers throughout the world with a concise checklist of effective practices based on decades of research, much of which can be found on the RRN at RewardsRecognitionNetwork.com library.

In the desire to hit sales goes with a simple plan, it's tempting to focus on "do this, get that" strategies. Unfortunately, that approach doesn't work for long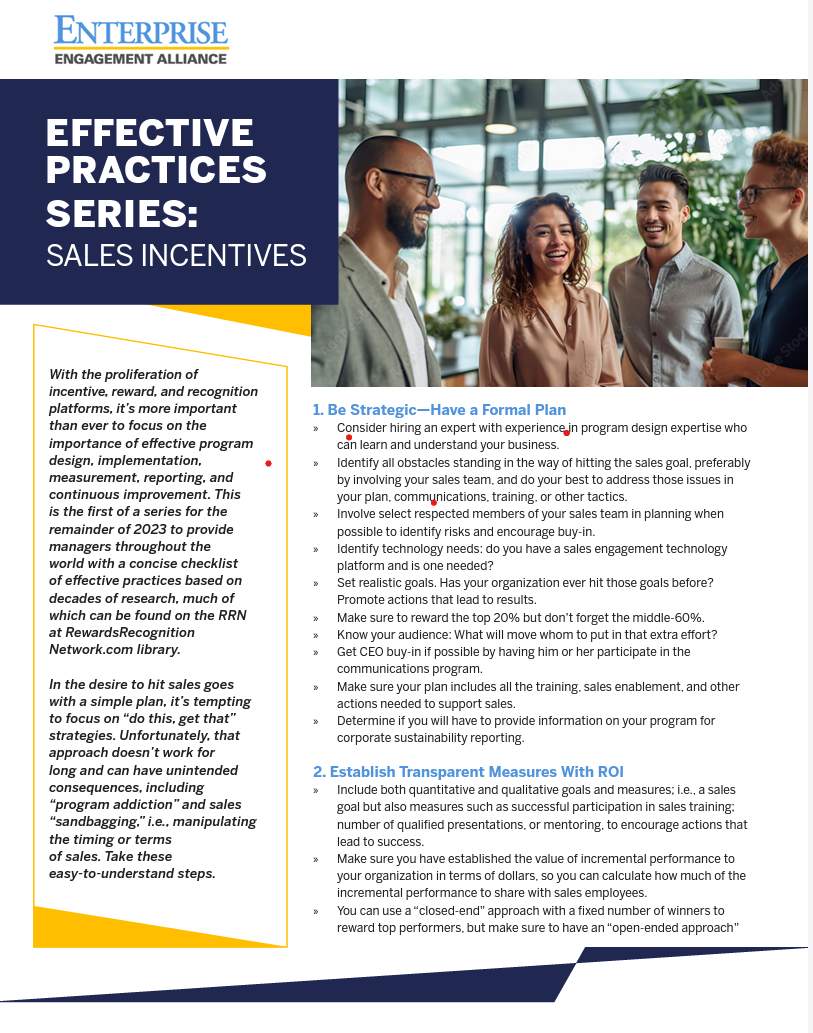 and can have unintended consequences, including "program addiction" and sales "sandbagging," i.e., manipulating the timing or terms of sales. Take these easy-to-understand steps to ensure success.

Click here for a PDF of this article for use in a collaborative planning meeting.

1. Be Strategic—Have a Formal Plan
Consider hiring an expert with experience in program design expertise who can learn and understand your business.
Identify all obstacles standing in the way of hitting the sales goal, preferably by involving your sales team, and do your best to address those issues in your plan, communications, training, or other tactics.
Involve select respected members of your sales team in planning when possible to identify risks and encourage buy-in.
Identify technology needs: do you have a sales engagement technology platform and is one needed?
Set realistic goals. Has your organization ever hit those goals before? Promote actions that lead to results.
Make sure to reward the top 20% but don't forget the middle-60%.
Know your audience: What will move whom to put in that extra effort?
Get CEO buy-in if possible by having him or her participate in the communications program.
Make sure your plan includes all the training, sales enablement, and other actions needed to support sales.
Determine if you will have to provide information on your program for corporate sustainability reporting.
2. Establish Transparent Measures With ROI
Include both quantitative and qualitative goals and measures; i.e., a sales goal but also measures such as successful participation in sales training; number of qualified presentations, or mentoring, to encourage actions that lead to success.
Make sure you have established the value of incremental performance to your organization in terms of dollars, so you can calculate how much of the incremental performance to share with sales employees.
You can use a "closed-end" approach with a fixed number of winners to reward top performers, but make sure to have an "open-ended approach" to reward the middle-60% for incremental gains.
Set the rules so that the program is essentially self-liquidating by reward salespeople for incremental performance.
Give salespeople a chance to participate in their own goal setting.
Identify and address how your program could be affected by other stakeholders or external factors out of your control.
3. Establish the Budget
After determining the potential return on investment, set a fixed budget for the communications, training, and technology, if any, required to support the program.
Otherwise, the rewards should be paid out of incremental performance, so that the only fixed costs are the communications and training.
4. Offer Meaningful Rewards People Will Appreciate Clearly Distinguished From Compensation
Involve salespeople in identifying the rewards that will have the greatest impact and meaning to them and that are buzzworthy; involve significant others in your thinking, how they might tell a story about your own brand.
5. Have a Clear Communications Plan
Use your sales communication platform or sales incentive technology to regularly provide useful information and to get feedback from salespeople, including: case studies of success stories; facts and figures to address client questions; standing reports, etc.
6. Consider a Mentorship Program
Bringing together proven sales leaders with newer or up-and-coming salespeople can not only help develop leadership skills for salespeople and learning opportunities for new salespeople, but it also builds community.
7. Continually Monitor the Effort
Regularly analyze quantitative versus qualitative metrics and use of the sale engagement technology, if you have a platform, which can include surveys, communications, recognition, feedback, and more to map the impact.
Look for department/regional differences correlated with use of the sales engagement app, if one is used, to identify what's working.
. Carefully Evaluate and Use the Results
Compare quantitative with qualitative results and engagement app use if possible to find trends.
Regroup with the team; evaluate feedback from customers and other stakeholders, and fine-tune accordingly.
Powered by:

Brand Engagement 360 Supporters

Bucket-list experiences
---
Education, Certifications, and Information to Activate
Brand Media and Enterprise Engagement

A complete learning, certification, and information program and a course syllabus for educators.
Resources:
The
Brand Media Coalition
, the only guide to the story-telling power of brands and where to source them for business, event, promotional gifting, and rewards and recognition.
Enterprise Engagement Solution Provider Directory
. The only directory of engagement solution providers covering all types of agencies and tactics as well as insights on how to select them.
Communities:
The
Enterprise Engagement Alliance and Advocate
and the
Brand Media Coalition
free resource centers offering access to the latest research, news, and case studies; discounts, promotions, referrals, and commissions, when appropriate to third-party solution providers from participating coalition solution provider members.
Training and Certification
Enterprise Engagement Alliance Education:
Certified Engagement Practitioner; Advanced Engaged Practitioner, and Certified Engagement Solution Provider learning and certification programs on how to implement Stakeholder Capitalism principles at the tactical level.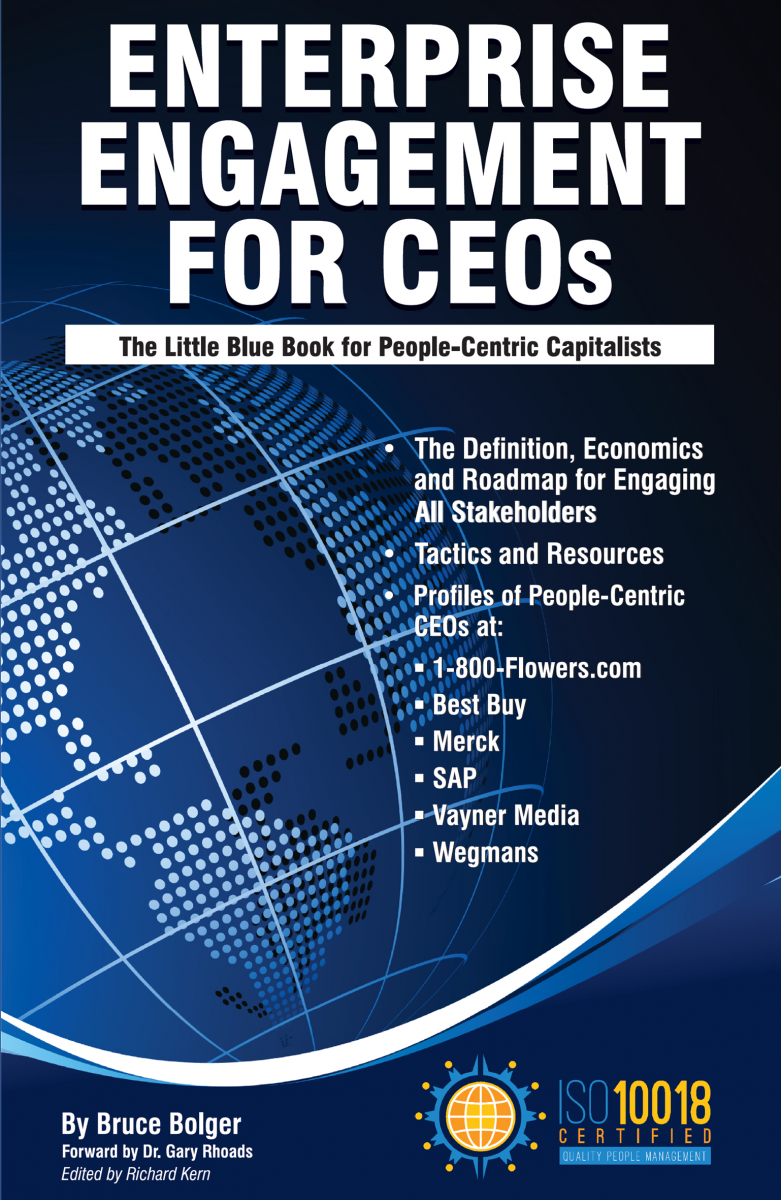 In Print:
This is the definitive implementation guide to Stakeholder Capitalism, written specifically to provide CEOs and their leadership teams a concise overview of the framework, economics, and implementation process of a CEO-led strategic and systematic approach to achieving success through people. (123 pages, $15.99)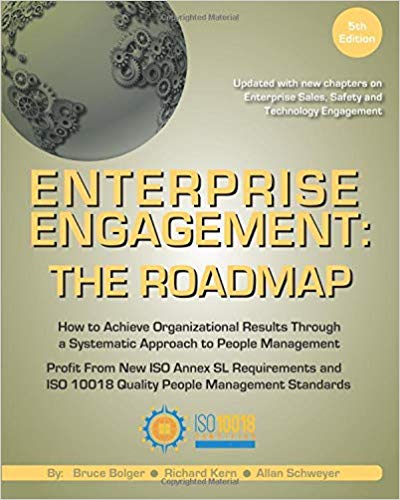 The first and most comprehensive book on Enterprise Engagement and the new ISO 9001 and ISO 10018 quality people management standards. Includes 36 chapters detailing how to better integrate and align engagement efforts across the enterprise. (312 pages, $36.)
Online:
10-minute short course: click here
for a 10-minute introduction to Enterprise Engagement and ISO standards from the Coggno.com learning platform.
Services:
• The Engagement Agency at EngagementAgency.net,
offering: complete support services for employers, solution providers, and technology firms seeking to profit from formal engagement practices for themselves or their clients, including Brand and Capability audits for solution providers to make sure their products and services are up to date.
• C-Suite Advisory Service
—Education of boards, investors, and C-suite executives on the economics, framework, and implementation processes of Enterprise Engagement.
• Speakers Bureau
—Select the right speaker on any aspect of engagement for your next event.
• Mergers and Acquisitions. The Engagement Agency's Mergers and Acquisition group is aware of multiple companies seeking to purchase firms in the engagement field. Contact Michael Mazer in confidence if your company is potentially for sale at 303-320-3777.
Enterprise Engagement Benchmark Tools:
The Enterprise Engagement Alliance offers three tools to help organizations profit from Engagement.
Click here
to access the tools.
• ROI of Engagement Calculator. Use this tool to determine the potential return-on-investment of an engagement strategy.
• EE Benchmark Indicator. Confidentially benchmark your organization's Enterprise Engagement practices against organizations and best practices.
• Compare Your Company's Level of Engagement. Quickly compare your organization's level of engagement to those of others based on the same criteria as the EEA's Engaged Company Stock Index.
• Gauge Your Personal Level of Engagement. This survey, donated by Horsepower, enables individuals to gauge their own personal levels of engagement.
For more information, contact Bruce Bolger at Bolger@TheEEA.org, 914-591-7600, ext. 230.