Reports From the Front Lines - Not All Business News Is Bad
Reading the media, one might believe that all business has ground to a halt. Not in the incentive, recognition, and loyalty business…Plenty of people are doing business and some even are coming to market with opportunities to help organizations engage key audiences. This article is the second in a series RRN will continue until the crisis lifts. We invite readers to share their news and stories on the Brand Media Coalition Linked in community, which RRN will in turn share with its readers on RRN at RewardsRecognitionNetwork.com.
By Bruce Bolger
Based on RRN's commitment to keeping the marketplace informed of the latest developments (See RRN:
Brand Media Coalition Covid-19 Industry Support Strategy
), I reached out to management in different areas of the business to find out what's going on. Contrary to what one might imagine, business has not ground to a complete halt. Here are different reports from the field.
First the bad news. All the incentive, reward, and recognition companies that focused heavily on the motivational event, incentive travel and event-gifting business have experienced a near shutdown of business. With trade shows, sales meetings, and incentive trips cancelled or postponed into the foreseeable future, the companies with too many eggs in this basket face perilous times and, if they survive, will need a plan to significantly diversify and eliminate reliance on a sector that has experienced significant disruptions for various reasons at least twice a decade. Also facing horrifying sales losses are almost any brand with a heavy reliance on brick-and-mortar distribution: even if the corporate division is doing okay, for most companies this is but a small percentage of sales. If that were not enough, the new California shelter-at-home policy shuts down warehouses, so that companies that ship from there are on hold. This order could quickly spread to other states.

Scott Kooken, President of Links Unlimited, observes, "This is a time when financial strength and commitment to our customers, employees, and communities is an advantage. Yes, our on-site event gifting business is on hold, but we have a virtual-gifting platform that offers an online gift experience for those clients that have the resources to maintain their relationship-building strategies precisely when people might enjoy them most, hunkered down in their homes. In the meantime, as long as the authorities allow companies to ship, we will do everything in our power to make sure the people working in our warehouse can safely help people enjoy the pleasure of redeeming their points in incentive, recognition, and loyalty programs during these tough times. The companies like ours that stand by their people will come out ahead when all this is behind us."

Surprise and delight alive and well for now. Reports Earl Hurd, Director of Enterprise Gifting at 1-800FLOWERS.com, "Our mission is to help people communicate, and this sure looks like a time when organizations need to communicate. For those many organizations that are still doing business, employee and customer engagement are more complicated than ever and our surprise and delight customers are as busy as ever. Business-to-business customers are a challenge because so many are working at home. We are seeing more gifts being sent to the home to address the stress many people are under, and some companies are asking us how they can recognize customers at their homes as well. We welcome calls to help solve these problems."

Says Matt Burdette, Director of Corporate Sales for Omaha Steaks, "We are proud to be a high-quality and safe option for our customers to order gourmet food direct to the homes of their most valuable people. Our business-to-business team continues to offer excellent options for at-home employee care packages and virtual sales or customer rewards. Our goal is to be flexible and have in-stock options to meet the needs of our customers during this difficult time."
Online sales are humming. While the brick-and-mortar retail business is reeling from local ordinances shutting down malls, the online business is humming. In fact, it is widely reported that Amazon.com is not accepting orders right now for non-essential items and that essential items are being prioritized for shipping. This is creating opportunities for the industry's master fulfillment companies or retail brands such as BestBuy.com or Macys.com that do not for the most part sell essential consumer products. Another challenge in some cases is supply, as a result of the plant shutdowns in Asia earlier this year. Those master fulfillment companies that have popular brands in stock report brisk sales.
For instance, a corporate sales director for a leading electronics retailer, who preferred to speak anonymously because he doesn't have authority to speak on the record, says his company's online computer accessories business is exceptionally strong, because companies are buying employees computers and equipment to work at home.
Likewise, master fulfillment companies that handle incentive, recognition, and loyalty programs say that redemptions have begun to pick up as people hunker down at home, and they expect the pace to quicken as they get settled in their routines in the next week or two and have time to indulge. Says Adrienne Forrest, Vice President of Corporate Sales at Bulova, "We were shipping every day to our corporate customers until the California order for all but essential employees to remain at home.
Jeffrey Brenner, Director of Special Markets at Seiko, says, "Seiko's inventory positions are strong and in a positive position," he adds. "In closely following the government guidelines to ensure the health and safety of our employees, we are shipping daily though on a limited schedule from our warehouse in New Jersey. It's business as 'unusual'."
Rick Rubin, Executive Vice President of Partnerships for NGC, a leading fulfillment company for gift cards, says that "we are doing well at meeting all of our shipping-level agreements and have concrete plans in place to ensure gift cards are getting fulfilled along with practicing good health and sanitary processes for our employees."
Finding new opportunities. Castle Merchandising, a leading master fulfillment company located in Garden City, NY, is experiencing brisk sales of GarmaGuard™, which is reportedly the first organic, non-GMO, garment antimicrobial spray specifically designed for clothing. One spray of GarmaGuard™ reportedly helps kill microbes on clothing, shoes, uniforms, towels, bedding, car seats, couches, dog beds, and accessories, and it's produced in the US, so there are no supply problems, says Robert Hoffman, National Sales Manager for the incentive division.
Virtual event gifting and surprise and delight. Joe Jones, President of Incenta Rewards in Dayton, who has built a successful event-gifting business, reports that "right now all event-gifting is on hold." Fortunately, he says, his company has always paid close attention to its expense line and has no debt, "so right now we're regrouping as an organization and using this down time to be ready with improvements for when we're on the other side of this, so that we can pick back up with even better solutions."
In the meantime, the company is focusing on a virtual gifting platform that can be used to replace live gifting programs or surprise-and-delight employee or customer-gifting programs. "We can easily set up a customized gifting site, and based on the nature of the program, audience, and objectives, select precisely the right brands and gift selection. During times like these, employees appreciate it when they know the company has their backs."
Jones says he's happy to make the platform available to other companies in the incentive, rewards, and recognition business seeking an easy-to-implement virtual event or surprise and delight gifting program.

Contact Information
Scott Kooken, Links Unlimited
Tel. 513-421-1143
Skooken@linksunlimited.com

Earl Hurd, 1-800FLOWERS.com
Tel. 516-237-7831
Ehurd@1800Flowers.com
Matt Burdette, Omaha Steaks
Tel. 800-228-2480
Mattb@Omahasteaks.com

Adrienne Forrest, Bulova Corporate Sales
Tel. 212-497-7388
Jeffrey Brenner, Seiko Watches of America
Tel. 201-529-5730, ext. 7984
Rick Rubin, NGC (National Gift Card)
Tel. 954-937-2200
Robert Hoffman, Castle Merchandising
Tel., 516-292-4143, ext.106
Joe Jones, Incenta Rewards
Tel. 937-886-9177.
---
Master the Principles of Enterprise Engagement to Achieve Organizational Goals and Enhance Your Career
Profit from a new strategic and systematic approach to engagement to enhance your organization's brand equity; increase sales, productivity, quality, innovation, and safety, and reduce risks.
Get trained to become a Chief Engagement Officer for your organization.
Learn how to create Sustainability or Integrated Reports for Your Organization or Clients.
Resources: The Brand Media Coalition, the only guide to the story-telling power of brands and where to source them for business, event, promotional gifting, and rewards and recognition.
Enterprise Engagement Solution Provider Directory
. The only directory of engagement solution providers covering all types of agencies and tactics as well as insights on how to select them.
Communities: The Enterprise Engagement Alliance and Advocate and the Brand Media Coalition free resource centers offering access to the latest research, news, and case studies; discounts, promotions, referrals, and commissions, when appropriate to third-party solution providers from participating coalition solution provider members.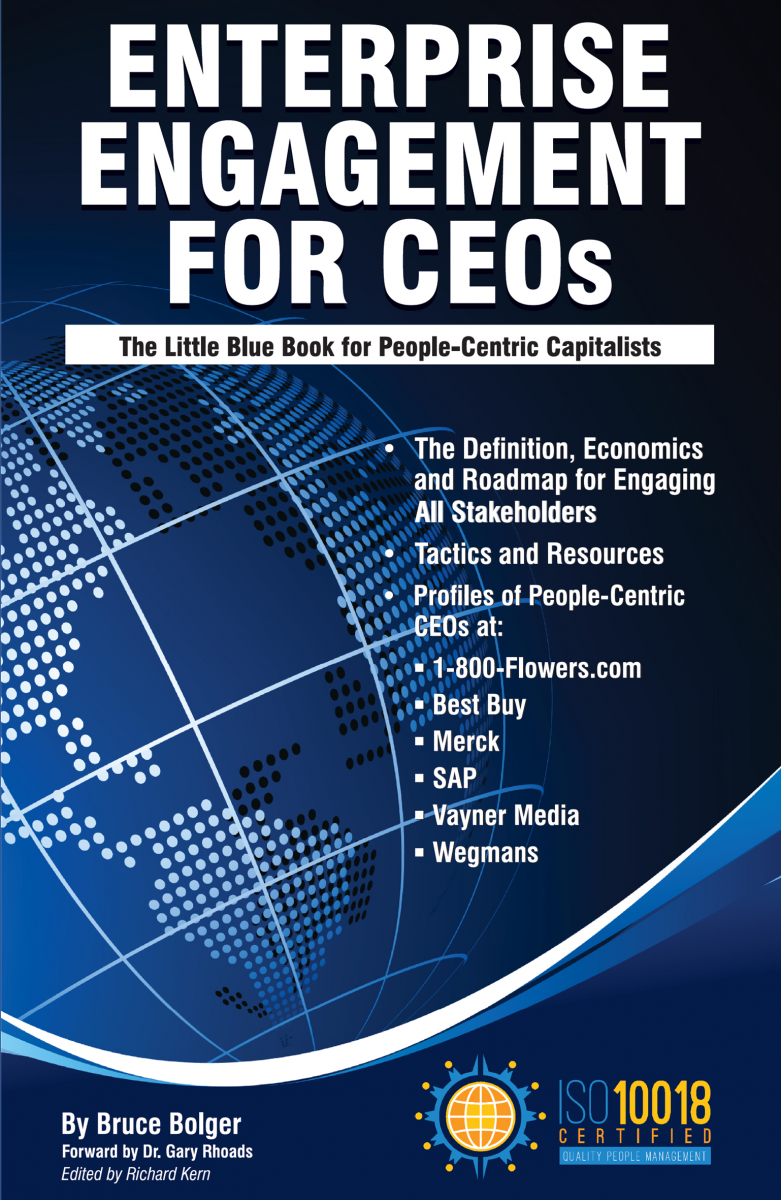 Enterprise Engagement: The Roadmap 5th Edition
The first and most comprehensive book on Enterprise Engagement and the new ISO 9001 and ISO 10018 quality people management standards. Includes 36 chapters detailing how to better integrate and align engagement efforts across the enterprise. (312 pages, $36.)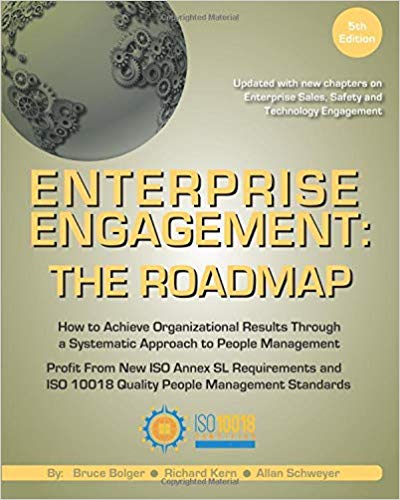 Online:
10-minute short course: click here for a 10-minute introduction to Enterprise Engagement and ISO standards from the Coggno.com learning platform.
Services:
• The International Center for Enterprise Engagement at TheICEE.org, offering: ISO 10018 certification for employers, solution providers, and Enterprise Engagement technology platforms; Human Resources and Human Capital audits for organizations seeking to benchmark their practices and related Advisory services for the hospitality field.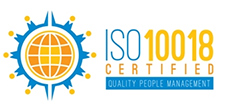 • The Engagement Agency at EngagementAgency.net, offering: complete support services for employers, solution providers, and technology firms seeking to profit from formal engagement practices for themselves or their clients, including Brand and Capability audits for solution providers to make sure their products and services are up to date.
• C-Suite Advisory Service—Education of boards, investors, and C-suite executives on the economics, framework, and implementation processes of Enterprise Engagement.
• Speakers Bureau—Select the right speaker on any aspect of engagement for your next event.
• Mergers and Acquisitions. The Engagement Agency's Mergers and Acquisition group is aware of multiple companies seeking to purchase firms in the engagement field. Contact Michael Mazer in confidence if your company is potentially for sale at 303-320-3777.
Enterprise Engagement Benchmark Tools: The Enterprise Engagement Alliance offers three tools to help organizations profit from Engagement. Click here to access the tools.
• ROI of Engagement Calculator. Use this tool to determine the potential return-on-investment of an engagement strategy.
• EE Benchmark Indicator. Confidentially benchmark your organization's Enterprise Engagement practices against organizations and best practices.
• Compare Your Company's Level of Engagement. Quickly compare your organization's level of engagement to those of others based on the same criteria as the EEA's Engaged Company Stock Index.
• Gauge Your Personal Level of Engagement. This survey, donated by Horsepower, enables individuals to gauge their own personal levels of engagement.
For more information, contact Bruce Bolger at Bolger@TheEEA.org, 914-591-7600, ext. 230.