RRN News Briefs May 30: SITE ESG Webinar, Halo ESG Report, Promotional Cruise
Here's a roundup of industry news, trends, and research from the editors of RRN.

Halo, a leading promotional distributor, issues a corporate sustainability report; SITE Global features a webinar on ESG (environmental, social, governance) and travel; a promotional distributor group uses a cruise for networking; Gifted joins crowded online gifting market; Benefit News article focuses on importance of sustainability in gifting; Hirsch Promo adds more brand names.

Halo Issues ESG Report
SITE Global Runs Webinar on ESG and Travel
Promotional Distributors Use Cruise for Networking
Gifted Joins Increasingly Crowded Online Gifting Marketplace
Benefit News Article Focuses on Importance of Sustainability in Gifting
HirschPromo Adds More Brand Names

Halo Issues ESG Report

"Empowering Workers, Reducing Impact, Accelerating Equity, Enforcing Standards, Reporting Progress, Powering Growth, Supporting Values," are the principles outlined in the corporate sustainability report recently published by Halo, an Illinois-based promotional products giant. The table of contents includes: Progress Highlights, Our Sustainable Journey, Our ESG Program, Governance, Standards and Frameworks, Roadmap, Empowering Teams Practices and Progress, Employee Safety, Stakeholder Alignment Progress, Diversity Supplier Program, and much more.

SITE Global Runs Webinar on ESG and Travel

A webinar "Exploring Sustainable Incentive Travel Solutions" on June 2 at 11 am ET US will feature four experts on sustainability and travel. Click here to register.

According to the SITE announcement, "Sustainability has increasingly become a requirement across the business events landscape, meaning both buyers and suppliers will need to know how to deliver sustainable incentive travel solutions that still provide the level of luxury qualifiers expect. Our expert panel will discuss how to communicate the value of sustainability and follow sustainability best practices to better support the planet and your people, while still protecting profits and the overall incentive experience."

Speakers are: Benoit Sauvage (Moderator) CEO, Connect DMC; Rachael Riggs, General Manager, Environmental Strategy, Maritz Global Events; Jane Scaletta, Changemaker, Terra Focus; Tomás Franquet Elía, Sustainability Director, Meliá Hotels International.

Promotional Distributors Use Cruise for Networking

How to create a buyer-seller networking event in an industry filled with shows? Try a promotional cruise. That's what these enterprising suppliers organized as reported in this recent article in PPAINewslink. PromoCruise brought together 52 distributors and suppliers on a five-day Bahamas cruise. Suppliers selected the top three distributors they wished to have invited, and the program was organized so that the entire group remained together for dining and related cruise events.

Gifted Joins Increasingly Crowded Online Gifting Marketplace

California-based Gifted has launched a recognition and gifting engine that promises "The gifting dashboard of your dreams." It offers "our brand new account dashboard giving you the tools and visibility to manage every aspect of your recognition program in a single intuitive interface." There is no charge for the service; just for the gifts, of which it says about 15,000 are available including customizable merchandise.

Benefit News Article Focuses on Importance of Sustainability in Gifting

In this recent article, Paola Peralta asks if it's "time to rethink company swag: 40% of corporate gifts end up in landfill," she writes. This has become an increasing theme in marketing and human resources publications. Her article advises companies to use gifts that are intentional and sustainable. Editor's note: Many companies have shifted to offering brand name products selected based on employee preferences; offering the selection on an online platform so that people have to accept the gift; and giving people a choice, including donating the cash equivalent of the gift to charity or banking it.

Hirsch Promo Adds Brand-Name Lines

In a move that reflects growing promotional distributor interest in brands, Hirsch Promo has recently formed strategic partnerships with retail brands Cuisinart, Victor, Gerber, Coleman, Flickr Fire, and a "promotional products industry exclusive relationship with personal, portable blender creator, Blendi."

The company says, "This strategic move highlights the supplier's continued commitment to filling category gaps outside technology and drinkware by expanding merchandise offerings to new and underserved vertical markets."


---
Profit From the "S" of Environmental, Social, Governance (ESG)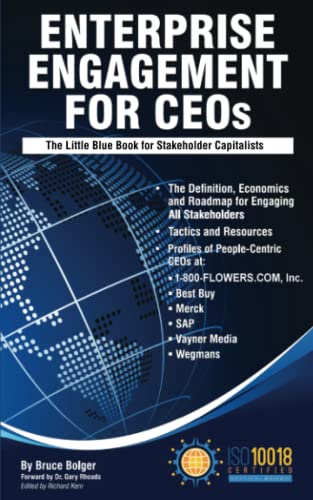 Through education, media, business development, advisory services, and outreach, the
Enterprise Engagement Alliance
supports boards, business analysts, the C-suite, management in finance, marketing, sales, human resources and operations, etc., educators, students and engagement solution providers seeking a competitive advantage by implementing a strategic and systematic approach to stakeholder engagement across the enterprise.
Click here
for details on all EEA and RRN media services.
1. Professional Education on Stakeholder Management and Total Rewards
Become part of the EEA as an individual, corporation, or solution provider to gain access to valuable learning, thought leadership, and marketing resources.
The only education and certification program focusing on Stakeholder Engagement and Human Capital metrics and reporting, featuring seven members-only training videos that provide preparation for certification in Enterprise Engagement.
EEA books: Paid EEA participants receive Enterprise Engagement for CEOs: The Little Blue Book for People-Centric Capitalists, a quick implementation guide for CEOs; Enterprise Engagement: The Roadmap 5th Edition implementation guide; a comprehensive textbook for practitioners, academics, and students, plus four books on theory and implementation from leaders in Stakeholder Management, Finance, Human Capital Management, and Culture.
2. Media
3. Fully Integrated Business Development for Engagement and Total Rewards
Strategic
Business Development
for
Stakeholder Management
and
Total Rewards
solution providers, including Integrated blog, social media, and e-newsletter campaigns managed by content marketing experts.
4. Advisory Services for Organizations
Stakeholder Management Business Plans
;
Human Capital Management, Metrics, and Reporting
for organizations, including ISO human capital certifications, and services for solution providers.
5. Outreach in the US and Around the World on Stakeholder Management and Total Rewards
The EEA promotes a strategic approach to people management and total rewards through its e-newsletters, web sites, and social media reaching 20,000 professionals a month and through other activities, such as: