RNN Updates: Engagement Remains Low; Sodexo Name Change; New IRF Program; Antavo Loyalty Adds GRS; Achievers Study; Incentive Solutions CRO
Here is the latest news in the world of incentives, rewards, and recognition.

A recent Gallup survey finds that the worldwide employee engagement rate rises to a palty 23%. Sodexo changes its name to PLUXEE but retains the Inspirus brand and suite of services. Antavo Loyalty integrates with CarltonOne Global Rewards Solutions. IRF launches program to develop incentive talent; Achievers study finds link between recognition, engagement, and productivity. Incentive Solutions names new CRO as part of senior management reorganization.

Gallup—Worldwide Employee Engagement Reaches Record High—That's Right: 23% Are Engaged
Sodexo Benefits and Rewards Becomes PLUXEE; Retains US Inspirus Brand
Antavo Loyalty Cloud Adds CarltonOne Global Reports to Its Offerings
IRF Launches Program to Develop Incentive Industry Talent
Achievers Survey Finds Link Between Recognition, Engagement, and Productivity
Incentive Solutions Names CRO


Gallup—Worldwide Employee Engagement Reaches Record High—That's Right: 23% Are Engaged

Engagement remains pitifully low; quiet quitting is rampant; and relationships with the manager and the team have more influence on employee stress than the work location: These are some of the key findings of this latest State of the Workplace Study from Gallup. Here is a snapshot of other insights.

After dropping in 2020 during the pandemic, employee engagement is on the rise again, reaching a record-high 23%, not an encouraging figure.

Nearly six in 10 employees fall into the quiet quitting category, which is "what happens when someone psychologically disengages from work. They may be physically present or logged into their computer, but they don't know what to do or why it matters. They also don't have any supportive bonds with their coworkers, boss, or their organization." Across the worldwide areas surveyed, 51% of currently employed workers said they are watching for or actively seeking a new job.

When combined with actively disengaged employees, low engagement costs the global economy $8.8 trillion dollars, or 9% of global GDP, according to Gallup estimates.

The Gallup analysis finds that engagement has 3.8x as much influence on employee stress as work location. How people feel about their job has a lot more to do with their relationship with their team and manager than being remote or being on-site, it says.

Sodexo Benefits and Rewards Becomes PLUXEE; Retains US Inspirus Brand

In preparation for a spin-off of its Business and Rewards Services (or what it calls its voucher division) to Sodexo shareholders and to "better support companies in the face of changes in the workplace and individual expectations of well-being and fulfillment," the BRS division is now known as PLUXEE, according to a company announcement.

Inspirus, the US division, will retain its current name, with its technology and service offerings available in the North American and global markets.

According to a report in Reuters, Sodexo's BRS business has about 5,000 employees worldwide and reported a core profit of 162 million euros ($177 million) in the first half of 2023, up 46.4% from a year earlier excluding currency impacts.

Says Aurélien Sonet, PLUXEE's CEO, "PLUXEE is a new digital, optimistic and innovative brand that embodies our vision and our strong ambitions in a growing market. With this new brand, we stand out for who we are. Our stronger identity will be a key differentiator for our clients and partners and to attract new talent, particularly in digital."

Antavo Loyalty Cloud Adds CarltonOne Global Reports to Its Offerings

Antavo, an Enterprise Loyalty Cloud serving major brands, has added CarltonOne Engagement's Global Rewards Solutions rewards fulfilment catalog engine "to help brands drive lasting customer loyalty by boosting their reward experience," according to a report in The Wise Marketer.

By integrating the Antavo Enterprise Loyalty Cloud and CarltonOne's Global Rewards Solutions reward catalogue, "brands can now offer customers a wider

range of customer loyalty rewards including merchandise; flight, hotel, and leisure experiences; gift cards; mobile top-ups and charitable donations."

The partnership allows Antavo and CarltonOne to "deliver full-circle rewards programs, covering transactional and non-transactional loyalty schemes so that brands can reward their members in a way that is most appropriate to them. The partnership makes CarltonOne the first integrated reward fulfilment partner of Antavo." CarltonOne's merchandise catalogue reportedly offers thousands of unique products to members in 185 countries worldwide, including those from best-selling brands such as Apple, Bose, Sony and FitBit.

IRF Launches Program to Develop Incentive Industry Talent

The Incentive Research Foundation Accelerate program aims to "develop mid-level incentive professionals through a rising Leaders year-long program, complete with mentorship, education and senior-level volunteer opportunities." The IRF is looking for "mid-level incentive professionals looking to grow into a director level role within the next two to three years. Both incentive buyers and suppliers are welcome to apply. Applicants must be in an incentive-focused role."

Achievers Survey Finds Link Between Recognition, Engagement, and Productivity

Emloyees who receive weekly monetary or social recognition are more likely to say they are engaged at work, inclined to remain at the company, work productively and to feel recognized. This is a one finding of the 2023 Achievers Workforce Institute 2023 State of Employee Recognition report, based on a survey of 4,900 employees and human resources managers worldwide; 60% of respondents say they prefer receiving a personalized award rather than a generic offering.

The study finds that 54% of respondent companies use digital recognition platforms globally, versus 50% in the US. Only 44% say their recognition program are effective at supporting corporate objectives.

Even an incremental increase in recognition frequency can make a significant difference, the survey finds. "Employees recognized monthly are 36% more likely than those recognized quarterly to say they are engaged and productive and are 22% more likely to have high job commitment."

Despite the slowing economy, talent is still in short supply. In fact, 66% of HR leaders say the labor shortage is getting worse. Here are additional survey findings.

Three quarters say feeling recognized would inspire them to be more productive.
Two thirds say it would reduce their desire to job hunt.
More than half say it would reduce the impact of having a salary below their expectations.
Data shows that weekly social recognition is just as impactful as weekly monetary recognition on outcomes such as engagement, belonging, productivity, and job commitment.
Despite the effectiveness of social recognition overall, when a platform has no points or monetary component, it does not drive the same results as those with points.
The report also includes an appendix offering insights on recognition practices in five countries.

Incentive Solutions Names CRO

William Lupo is the new Chief Revenue Officer at Incentive Solutions, a provider of channel marketing and sales solutions based in Dallas. Incentive Solutions is backed by Capstreet, a Houston-based lower middle market private equity firm.

The company went outside of the industry to fill this position. Prior to joining Incentive Solutions, he was Vice President of Transactional Sales at Blackhawk Network, where he reportedly oversaw the acquisition of OmniCard. He also served as Vice President of Inside Sales at Solera, Vice President of Sales at WebVisible, and Vice President of Retail at Deluxe Interactive.

"Bill's track record of working with companies to improve operations and increase revenues will be critical in driving our next phase of growth, and I'm delighted to welcome him to the team," says Steve Prebble, CEO of Incentive Solutions. "Together with our recently appointed CFO Billy Shida, our new CRO rounds out our leadership team with the financial acumen and experience needed to better serve our markets and help them grow."

"Over my career I have helped many tech companies uncover new ways to unlock efficiencies and work smarter, and I'm very much looking forward to bringing my experience to Incentive Solutions," says Lupo.

Founded in Atlanta, GA, in 1994 by Steve Damerow, "Incentive Solutions is on a mission: to inspire growth – for our clients and our employees. Incentive Solutions provides through-channel marketing automation and an innovative online rewards platform, with millions of exciting online rewards, prepaid and gift card incentives, and group travel programs. This helps manufacturers and dealers increase sales, capture mindshare, build customer loyalty and improve data collection throughout their channels. Backed by powerful technology with real-time data, our clients get a full view of reseller performance, empowering channel marketers and driving growth exponentially.


---
Profit From the "S" of Environmental, Social, Governance (ESG)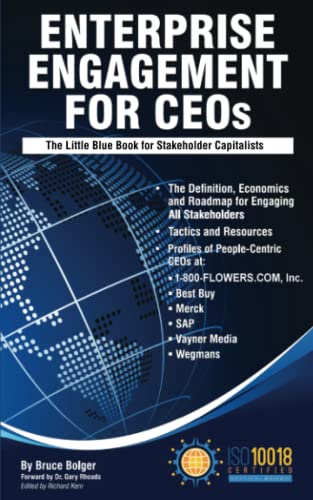 Through education, media, business development, advisory services, and outreach, the
Enterprise Engagement Alliance
supports boards, business analysts, the C-suite, management in finance, marketing, sales, human resources and operations, etc., educators, students and engagement solution providers seeking a competitive advantage by implementing a strategic and systematic approach to stakeholder engagement across the enterprise.
Click here
for details on all EEA and RRN media services.
1. Professional Education on Stakeholder Management and Total Rewards
Become part of the EEA as an individual, corporation, or solution provider to gain access to valuable learning, thought leadership, and marketing resources.
The only education and certification program focusing on Stakeholder Engagement and Human Capital metrics and reporting, featuring seven members-only training videos that provide preparation for certification in Enterprise Engagement.
EEA books: Paid EEA participants receive Enterprise Engagement for CEOs: The Little Blue Book for People-Centric Capitalists, a quick implementation guide for CEOs; Enterprise Engagement: The Roadmap 5th Edition implementation guide; a comprehensive textbook for practitioners, academics, and students, plus four books on theory and implementation from leaders in Stakeholder Management, Finance, Human Capital Management, and Culture.
2. Media
3. Fully Integrated Business Development for Engagement and Total Rewards
Strategic
Business Development
for
Stakeholder Management
and
Total Rewards
solution providers, including Integrated blog, social media, and e-newsletter campaigns managed by content marketing experts.
4. Advisory Services for Organizations
Stakeholder Management Business Plans
;
Human Capital Management, Metrics, and Reporting
for organizations, including ISO human capital certifications, and services for solution providers.
5. Outreach in the US and Around the World on Stakeholder Management and Total Rewards
The EEA promotes a strategic approach to people management and total rewards through its e-newsletters, web sites, and social media reaching 20,000 professionals a month and through other activities, such as: