Pulse Experiential, Short Escapes Collaborate to Offer Authentic Getaway Experiences

In response to the explosive demand for getaways and authentic travel experiences, Pulse Experiential Travel and Short Escapes have teamed up to create short individual travel experiences and small group incentive travel and retreat programs. The experiences feature intriguing off-the-beaten track destinations with great stories and other unique venues in most cases within easy driving distance of major cities and tourism destinations.
Authentic Experiential Getaways for People Who Like to Explore
Created by Pioneers in Experiential Travel for Business and Consumers

Participants in hundreds or more incentive, recognition and loyalty programs around the world supported by Pulse Experiential Travel can now choose from a new Short Escapes-themed collection of authentic experiential packages. These can be in the form of pre-paid certificates good for up to three years for specific experiences, or in the form of carefully customized programs specifically for individual winners or small groups, explains Marc Matthews, Founder and CEO of Pulse Experiential Travel.

These "escapes enable people who like to explore to get away to intriguing destinations near major cities and tourism destinations with great stories to authentically experience the local culture, food, art, or entertainment scene," explains Bruce Bolger, co-founder with travel and entertainment writer Gary Stoller. Most destinations include numerous options for guided or self-guided walks or short hikes that tell a story, reflecting the surge in interest in the out-of-doors since the pandemic, Bolger adds.

Authentic Experiential Getaways for People Who Like to Explore

The new Pulse Experiential Travel Short Escapes Collection launches with authentic getaways among Pulse Experiential Travel's hundreds of current offerings around the world. Short Escapes is a new category of getaways alongside its Sports Collection; Travel Collection of worldwide experiences; Tier-Level packages for plateau incentive programs; Travel Vouchers, and Experiential Travel. Almost all packages include lodging, dining, and other special experiential add-ons for one- to three-night getaways, explains Matthews. "Many of our customers are incentive, loyalty, and corporate travel agents whose clients are seeking individual travel awards for sales or other accomplishments or key milestones, or because someone could not for one reason or another attend the company's group incentive trip."

In addition for use as incentive travel rewards, the experiences are designed to offer "unforgettable experiences for 'bleisure' travel (extended business trips to incorporate free time), as individual incentive travel, or for special family gifts, such as weddings or graduations," says Bruce Bolger, co-founder of the Short Escapes series at Shortescapes.net, founded with his partner Gary Stoller. The pre-packaged experiences, Bolger explains, save recipients the considerable amount of research, phone calls, and emails that can go into creating even a short experiential getaway.

According to Matthews, "the Short Escapes experiences are available just like any other Pulse Experiential travel certificates for individual incentives, recognition, gifting, including gifts for graduation, weddings, retirements, or other special occasions or milestones." Each experience, he explains, also can be customized for any size organization to create what he calls "Group Individual Travel programs that provide for couples or small groups the same experience as group incentive travel without the big group, including air fare, transfers, and the right lodging, dining, experiences, and room gifts." The publishers of Short Escapes can create a customized "story" for each experience that serves as a reminder of the experience, Bolger adds.


Or, he adds, the experiences can be used for small getaway meetings for collaboration and team-building. For example, "a company can work with us to set up a few locations in their region that they can access time and time again as a retreat, reward for performance, collaboration meetings, or a gift or incentive."

Created by Pioneers in Experiential Travel for Business and Consumers

The venture brings together two organizations that were early innovators in experiential travel, including one of the first travel companies to focus on the packaging and fulfillment of experiences and a publisher backed by Fodor's in the 1990s to bring this authentic travel concept to everyday travelers who like to get out and explore, long before the celebrated Anthony Bourdain popularized this form of travel in his award-winning CNN travel series.

Founded in 1979 by Matthews, Pulse Experiential Travel has grown into the world's largest provider of experiential travel gift packages for incentives, rewards, and social gifting. As explained by Matthews, the company specializes in providing individual and group incentive travel programs based around exciting bucket list experiences, sports events and unique vacation destinations worldwide. "Our JustRewards™ brand of Experiential Sports and Vacation Travel package certificates offer incredible flexibility to achieve maximum impact, while reflecting the individualized, unique ways that our clients operate their businesses. For organizations that need to have an alternative to the same total rewards experience of group travel for individuals, we provide an end-to-end experience for air, transfers, lodging and meals to unique, enriching experiences and meaningful room gifts."

Bolger and Stoller created the concept of the original Short Escapes print series in 1995 for Fodors Travel Guides and published two editions covering Great Britain, France, and Short Escapes Near Boston and New York City until the early 2000s. At the time of their release, The New York Daily News wrote, "How we decide whether a guide claiming to discover special places tourists never see really does that is to ask: Has it found our own personal favorite secret spots. In this case, the answer is 'Yes. Curse those perceptive authors.'"

For More Information
Bruce Bolger, Founder
Enterprise Engagement Alliance at TheEEA.org
914-591-7600, ext. 230
Bolger@TheEEA.org


---
Profit From the "S" of Environmental, Social, Governance (ESG)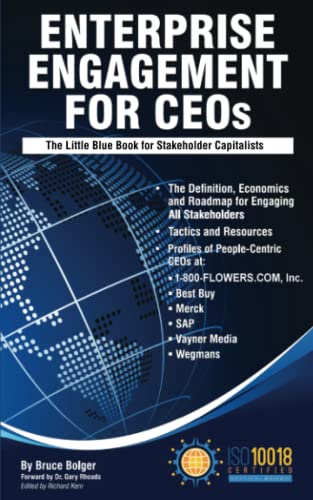 Through education, media, business development, advisory services, and outreach, the
Enterprise Engagement Alliance
supports boards, business analysts, the C-suite, management in finance, marketing, sales, human resources and operations, etc., educators, students and engagement solution providers seeking a competitive advantage by implementing a strategic and systematic approach to stakeholder engagement across the enterprise.
Click here
for details on all EEA and RRN media services.
1. Professional Education on Stakeholder Management and Total Rewards
Become part of the EEA as an individual, corporation, or solution provider to gain access to valuable learning, thought leadership, and marketing resources.
The only education and certification program focusing on Stakeholder Engagement and Human Capital metrics and reporting, featuring seven members-only training videos that provide preparation for certification in Enterprise Engagement.
EEA books: Paid EEA participants receive Enterprise Engagement for CEOs: The Little Blue Book for People-Centric Capitalists, a quick implementation guide for CEOs; Enterprise Engagement: The Roadmap 5th Edition implementation guide; a comprehensive textbook for practitioners, academics, and students, plus four books on theory and implementation from leaders in Stakeholder Management, Finance, Human Capital Management, and Culture.
2. Media
3. Fully Integrated Business Development for Engagement and Total Rewards
Strategic
Business Development
for
Stakeholder Management
and
Total Rewards
solution providers, including Integrated blog, social media, and e-newsletter campaigns managed by content marketing experts.
4. Advisory Services for Organizations
Stakeholder Management Business Plans
;
Human Capital Management, Metrics, and Reporting
for organizations, including ISO human capital certifications, and services for solution providers.
5. Outreach in the US and Around the World on Stakeholder Management and Total Rewards
The EEA promotes a strategic approach to people management and total rewards through its e-newsletters, web sites, and social media reaching 20,000 professionals a month and through other activities, such as: