Promotional Professionals Top Source for Corporate Gifts—Incentive Online Survey
A recent survey by Incentive online of 102 incentive solution providers continues to see shift from travel to merchandise gifts using name brands, with even 20% of industry practitioners reporting that they source products at brick-and-mortar stores.

According to Incentive online's
Incentive Gift Survey
, conducted in July, "one in five incentive organizers will continue to offer gifts in place of travel. Another 34% were unsure whether they would do so over the next 18 months. More than half of that combined group attributed their continued reliance on merchandise to the lingering uncertainty about the pandemic's effect on travel."
Brand-name goods are favored over generic versions, with 82% of those polled considering them very or somewhat important in their selection.
Nearly half (48%) of incentive providers cite promotional product/ad specialty distributor as their top source of gifts, followed by online sites (46%), manufacturer's rep/distributor (36%), manufacturer's special markets departments (27%), print catalogs (24%) and brick-and-mortar stores (20%).
According to the survey, incentive travel programs planning is on the rise; 55% of the 102 respondents said that gifts were a key part of incentive trips.
Other findings:
•
More than 75% of respondents are experiencing reward delivery delays to recipients due to supply chain issues.
•
Most popular rewards cited by these respondents are apparel (61 %), gift cards (59 %), electronics (51 %) and food-and-beverage items (44 %). Luggage and leather items, sporting goods, outdoor equipment, and watches were among other prizes preferred by more than 20 % of respondents.
•
Only about a quarter say they use catalogs/websites that allow recipients to choose from a range of gifts.
•
More than half of incentive organizers base their gift selection on price point (66%) and the perceived value of the item (60%). Popular trends influence the choice of gifts, according to 52% of those polled. Ease of fulfillment is a determining factor for 43% of respondents.
•
More than two-thirds of incentive professionals use gift rewards to recognize employees. Many give merchandise to thank employees (55%), thank clients (50%), build customer loyalty (50%), build morale and increase job satisfaction and boost sales (43%).
Who qualifies for gift rewards?
•
More than half of respondents cite customers and salespeople as the most likely to receive gift rewards. More than one-third say their clients reward non-sales personnel with gifts and one quarter bestow gifts on dealers and distributors.
•
The service and financial industries are the most frequent users of gift rewards (each was cited by 29%), according to the survey, while other top markets include pharmaceutical/health care (26%), technology/telecommunications (26%), insurance (24%) and retail (23%).
•
One-third of respondents say they see gift budgets of less than $10,000 for next year; while another 17% see budgets of up $25,000. Nearly half experience a per-person spend budget of between $50 and $500 and 10% see spends of more than $1,000 on each recipient.
The article reports that several respondents griped about the dearth of new gift ideas. "It's a challenge to find new and different items," says one frustrated planner. "Gift suppliers have the same suggestions and items year after year. When you offer a gift each year, it's hard to come up with something new."
---
Education, Certifications, and Information to Activate
Brand Media and Enterprise Engagement

A complete learning, certification, and information program and a course syllabus for educators.
Resources:
The
Brand Media Coalition
, the only guide to the story-telling power of brands and where to source them for business, event, promotional gifting, and rewards and recognition.
Enterprise Engagement Solution Provider Directory
. The only directory of engagement solution providers covering all types of agencies and tactics as well as insights on how to select them.
Communities:
The
Enterprise Engagement Alliance and Advocate
and the
Brand Media Coalition
free resource centers offering access to the latest research, news, and case studies; discounts, promotions, referrals, and commissions, when appropriate to third-party solution providers from participating coalition solution provider members.
Training and Certification
Enterprise Engagement Alliance Education:
Certified Engagement Practitioner; Advanced Engaged Practitioner, and Certified Engagement Solution Provider learning and certification programs on how to implement Stakeholder Capitalism principles at the tactical level.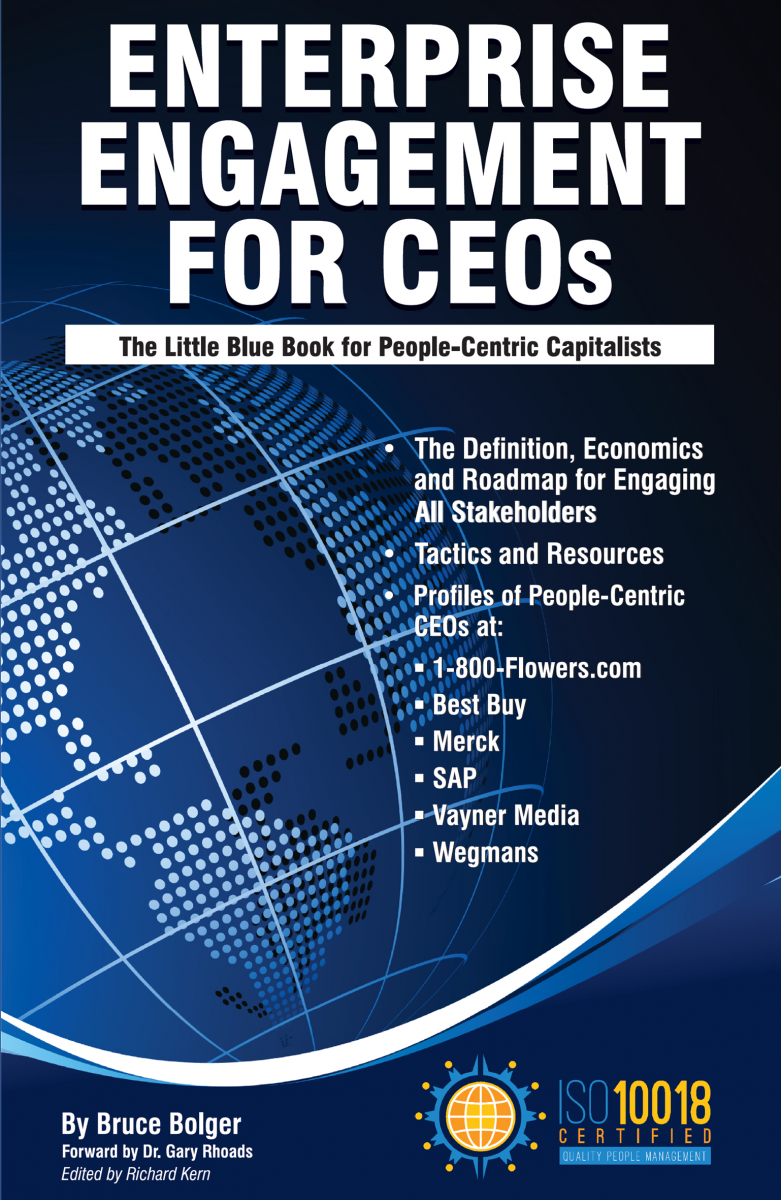 In Print:
This is the definitive implementation guide to Stakeholder Capitalism, written specifically to provide CEOs and their leadership teams a concise overview of the framework, economics, and implementation process of a CEO-led strategic and systematic approach to achieving success through people. (123 pages, $15.99)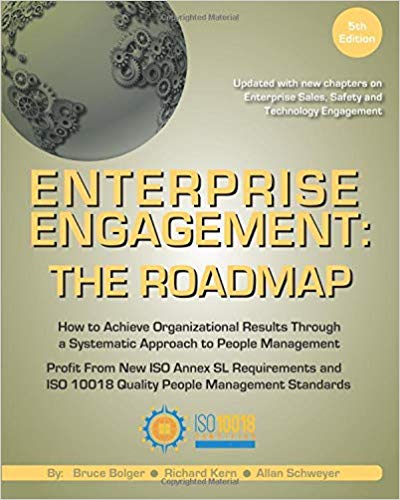 The first and most comprehensive book on Enterprise Engagement and the new ISO 9001 and ISO 10018 quality people management standards. Includes 36 chapters detailing how to better integrate and align engagement efforts across the enterprise. (312 pages, $36.)
Online:
10-minute short course: click here
for a 10-minute introduction to Enterprise Engagement and ISO standards from the Coggno.com learning platform.
Services:
• The Engagement Agency at EngagementAgency.net,
offering: complete support services for employers, solution providers, and technology firms seeking to profit from formal engagement practices for themselves or their clients, including Brand and Capability audits for solution providers to make sure their products and services are up to date.
• C-Suite Advisory Service
—Education of boards, investors, and C-suite executives on the economics, framework, and implementation processes of Enterprise Engagement.
• Speakers Bureau
—Select the right speaker on any aspect of engagement for your next event.
• Mergers and Acquisitions. The Engagement Agency's Mergers and Acquisition group is aware of multiple companies seeking to purchase firms in the engagement field. Contact Michael Mazer in confidence if your company is potentially for sale at 303-320-3777.
Enterprise Engagement Benchmark Tools:
The Enterprise Engagement Alliance offers three tools to help organizations profit from Engagement.
Click here
to access the tools.
• ROI of Engagement Calculator. Use this tool to determine the potential return-on-investment of an engagement strategy.
• EE Benchmark Indicator. Confidentially benchmark your organization's Enterprise Engagement practices against organizations and best practices.
• Compare Your Company's Level of Engagement. Quickly compare your organization's level of engagement to those of others based on the same criteria as the EEA's Engaged Company Stock Index.
• Gauge Your Personal Level of Engagement. This survey, donated by Horsepower, enables individuals to gauge their own personal levels of engagement.
For more information, contact Bruce Bolger at Bolger@TheEEA.org, 914-591-7600, ext. 230.