ProAm Rides a Resurgence in Golf
The Covid-19 epidemic has produced many unexpected consequences in business, few more surprising than the surge in golf popularity. St. Louis-based master fulfillment company ProAm Golf, which doubled-down on golf when competitors expanded into other areas, is riding the wave of the sport's newfound popularity and charting the course for continued growth in the months and years ahead.
Many people in business would like to have the biggest problem faced right now by
ProAm Golf
—the lack of product availability. According to Ryan DeGrand, CEO, no one in the golf industry forecasting 2020 production requirements in January expected the impact of the pandemic or the explosive popularity of golf, so that today his company's biggest challenge is meeting the demands of customers.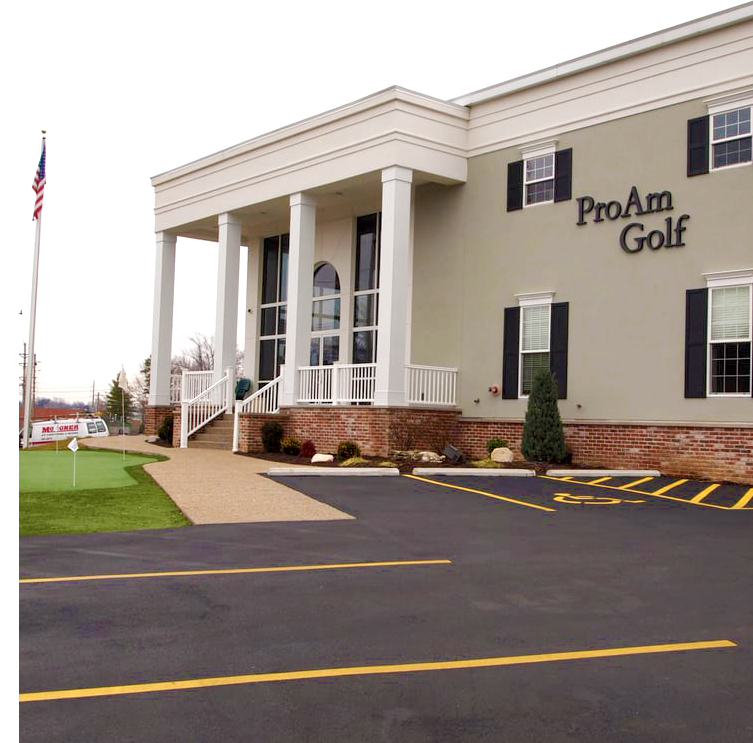 "The leading golf suppliers are literally overwhelmed, no one expected this level of demand. We wish we could fulfill every backorder right now, but even with the buying power we've developed because of our commitment to golf, we're waiting in line as well," he explains. "We have two people working full time on backorders, as there is a lot of chaos out there."
According to the
National Golf Foundation
, rounds of golf played were up 20% in July over the same month last year, after rising 14% in June. The pace is expected to continue in August and beyond. This is a level of growth not experienced in the industry for a decade or more, says the NGF report. The biggest growth is in the 35- to 49-year old age category. "Many people on the courses or at driving ranges today are coming with their kids," says DeGrand, whose family owns a driving range in suburban St. Louis that has had some of its best sales in years.
For DeGrand, the long-term implications are exciting. "The game of golf has been flat for years, especially with kids, often competing with lacrosse and other more physical sports that fit in better with a high-school student's schedule. The pandemic has given young people an opportunity to get introduced to the game. The other day, I drove by an otherwise empty football field where three kids were hitting golf balls."
Today, DeGrand says, "My immediate focus is on doing the best we can to meet the needs of our customers. Even with our deep relationships with our brands, we cannot overcome the reality that most of them did not anticipate the demand and need time to scale up to meet it." He notes that many are shifting production out of China to other parts of Asia to reduce uncertainties.
DeGrand sees not only continued interest in golf but new ways to enhance his company's services to clients, who are mostly resellers of incentive, recognition, promotional, gifting, and corporate amenities solutions.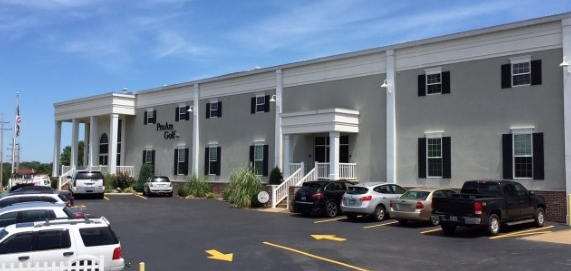 "With so many national events canceled, there is no less of a need to engage key people, and gifting definitely plays a role. We are well positioned to help companies enhance one-to-one communication by customizing and personalizing the gifting programs that are to some degree replacing events. "You might not be able to have an event but you can still provide a reminder of your company's gratitude whenever people play a round of golf or go to the driving range," he points out.
Contrary to the going logic, DeGrand still believes in the event business. "While it will be some time before national events return, people still want to get face to face, and local golf courses are a great place to start because of the ease of addressing social distancing concerns. We have a mobile fitting kiosk that we can bring to any location that offers a great way to add some fun and unwind after a meeting. Even people who don't regularly play golf enjoy stepping into the booth and whacking the ball as hard as they can to see how far they can hit it."
As regional meetings come back to other outdoor spaces and venues allowing social distancing, his company can bring the mobile-fitting station almost anywhere, he adds. "This pandemic will go away, and when it does, we'll be perfectly positioned to go right back into the traditional event business, with the hope that this new interest in golf will not only continue but introduce a new generation of golfers to the game."
For More Information
Ryan DeGrand
314-781-7775, ext. 223
---
Education, Certifications, and Information to Activate
Brand Media and Enterprise Engagement

A complete learning, certification, and information program and a course syllabus for educators.
Resources:
The
Brand Media Coalition
, the only guide to the story-telling power of brands and where to source them for business, event, promotional gifting, and rewards and recognition.
Enterprise Engagement Solution Provider Directory
. The only directory of engagement solution providers covering all types of agencies and tactics as well as insights on how to select them.
Communities:
The
Enterprise Engagement Alliance and Advocate
and the
Brand Media Coalition
free resource centers offering access to the latest research, news, and case studies; discounts, promotions, referrals, and commissions, when appropriate to third-party solution providers from participating coalition solution provider members.
Training and Certification
Enterprise Engagement Alliance Education:
Certified Engagement Practitioner; Advanced Engaged Practitioner, and Certified Engagement Solution Provider learning and certification programs on how to implement Stakeholder Capitalism principles at the tactical level.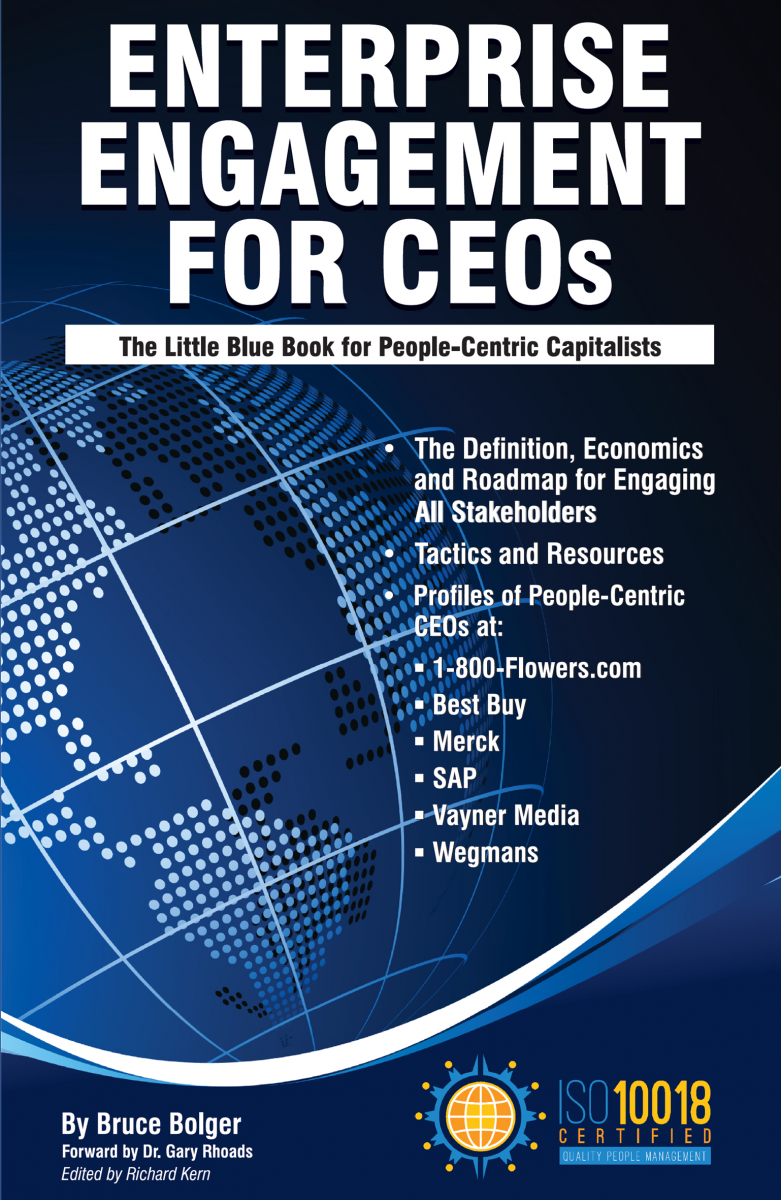 In Print:
This is the definitive implementation guide to Stakeholder Capitalism, written specifically to provide CEOs and their leadership teams a concise overview of the framework, economics, and implementation process of a CEO-led strategic and systematic approach to achieving success through people. (123 pages, $15.99)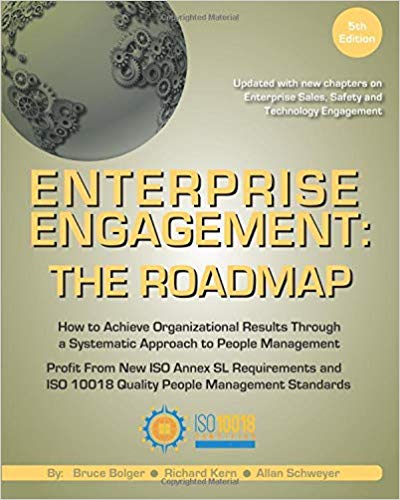 The first and most comprehensive book on Enterprise Engagement and the new ISO 9001 and ISO 10018 quality people management standards. Includes 36 chapters detailing how to better integrate and align engagement efforts across the enterprise. (312 pages, $36.)
Online:
10-minute short course: click here
for a 10-minute introduction to Enterprise Engagement and ISO standards from the Coggno.com learning platform.
Services:
• The Engagement Agency at EngagementAgency.net,
offering: complete support services for employers, solution providers, and technology firms seeking to profit from formal engagement practices for themselves or their clients, including Brand and Capability audits for solution providers to make sure their products and services are up to date.
• C-Suite Advisory Service
—Education of boards, investors, and C-suite executives on the economics, framework, and implementation processes of Enterprise Engagement.
• Speakers Bureau
—Select the right speaker on any aspect of engagement for your next event.
• Mergers and Acquisitions. The Engagement Agency's Mergers and Acquisition group is aware of multiple companies seeking to purchase firms in the engagement field. Contact Michael Mazer in confidence if your company is potentially for sale at 303-320-3777.
Enterprise Engagement Benchmark Tools:
The Enterprise Engagement Alliance offers three tools to help organizations profit from Engagement.
Click here
to access the tools.
• ROI of Engagement Calculator. Use this tool to determine the potential return-on-investment of an engagement strategy.
• EE Benchmark Indicator. Confidentially benchmark your organization's Enterprise Engagement practices against organizations and best practices.
• Compare Your Company's Level of Engagement. Quickly compare your organization's level of engagement to those of others based on the same criteria as the EEA's Engaged Company Stock Index.
• Gauge Your Personal Level of Engagement. This survey, donated by Horsepower, enables individuals to gauge their own personal levels of engagement.
For more information, contact Bruce Bolger at Bolger@TheEEA.org, 914-591-7600, ext. 230.