While many master fulfillment companies branched out from their roots in golf, Pro Am Golf is sticking with its game. Pro Am Golf is the sponsor of the Taylor Made Brand Media profile on the Brand Media Coalition web site.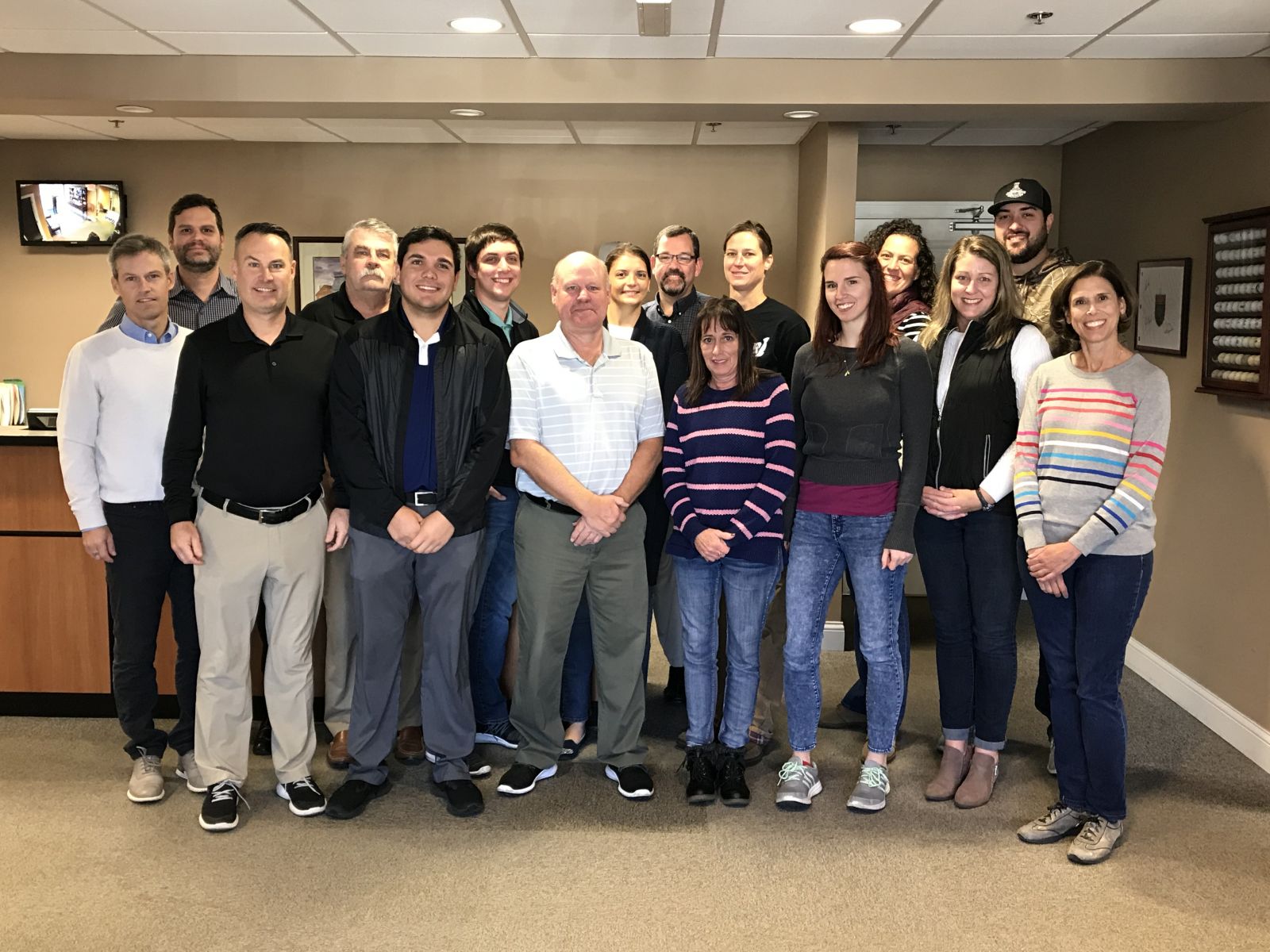 Like the great brand names in golf, Pro Am has its roots on the course and driving range. Launched in 1975 by Thomas DeGrand as a golf driving range outside of St. Louis, Pro Am's founder soon learned about the incentive business from a local Titleist sales representative, and the rest is history: the company parlayed a relationship with a few leading incentive and promotional companies to become one of the nation's largest master fulfillment companies specializing almost solely in golf and related sportswear, footwear, and accessory brands. With the help of Thomas DeGrand's son Ryan, who joined the company in 1994, the company now does business nationally through a large network of promotion and marketing companies.
While Pro Am offers a complete range of golf equipment and related duffels, totes, footwear, and accessories that might appeal to casual golfers or even non-players, the focus is on the game. "We believe our commitment to the game of golf gives us an advantage, because while our other competitors have expanded beyond golf, we have expanded by enhancing the ways we help our customers use the game and its coveted brand names."
Brands Are Huge
Pro Am
starts with brands, says DeGrand. "Brands are huge. We don't offer anything that doesn't carry a name brand. Quality, warranty, bells and whistles: our company is known for quality. At the end of the day, our customers seek the best quality and service. Every brand that we carry has usage by multiple pros on tour. You see them in the tournaments and in advertising. It brings credibility to the brand and enhances the quality of the program." The company stocks the leading brands in golf equipment, apparel, accessories and footwear to provide a "one-stop shopping experience for golf," he says.
Pro Am makes no bones about it: "When we go to shows, we are all golf. We build the game into our story with the help of the brands. Golf isn't going anywhere. When Tiger Woods wins one, the golf spike goes crazy. Whenever you have a big winner, the needle moves. By staying focused on our category, we get the newest and great things from each manufacturer, and we're often the first with unique new items. Everyone is making newer and newer products. We help our clients make sure they get their customers what they want right now."
He points out, "Golfers are unique, they know what they want. Most can be described as compulsive when it comes to their clubs. They will go to a local store to get fit and tell the salesperson what they want. We understand that customer."
Pro Am Golf prides itself on finding unique ways to customize and personalize products. It customizes "Stick It" towels that attach to any cart; Stick It magnetic range-finder holders based on the same principle, and putter grabbers. It offers Sound Caddy Bluetooth wireless speakers that sit alongside other clubs in the bag so they don't take up extra space. It also customizes removable pockets for golf bags. The company offers embroidery and silk-screening, depending on the product, and, of course, logo-ed golf balls.
A Focus on Creative Customization
DeGrand says Pro Am applies the same creativity to creating mobile golf experiences and boutiques offering footwear, apparel, backpacks and duffels, etc. from leading brands that can appeal to non-golfers as well. DeGrand explains that the company can set up a small showroom and conduct fittings; bring in a hitting bay to just about anywhere, and curate the brands appropriate for the group, including many with broad appeal beyond golf, such as Nike, Adidas, Under Armour and more. Even the most casual golfer often enjoys a hitting bay or putting green, he points out.
The company also sticks to its knitting in terms of working through its promotional and distributor partners. "We have worked in this channel for 15 years; we understand their needs and they appreciate the fact that in our category the discount can range from 25% to 35% off of retail, depending on the item." The focus on golf, and 10,000 square feet in warehouse space, gives Pro Am Golf the ability to purchase by the pallet or container as needed to get better prices, he says: The company's buying power enabled it to minimize the impact of tariffs on its customers for this year by making most of the year's purchases in advance.
For More Information
Ryan DeGrand
ProAamgolfctr.com
314-781-7775
---
Master the Principles of Enterprise Engagement to Achieve Organizational Goals and Enhance Your Career
Profit from a new strategic and systematic approach to engagement to enhance your organization's brand equity; increase sales, productivity, quality, innovation, and safety, and reduce risks.
Get trained to become a Chief Engagement Officer for your organization.
Achieve ISO 10018 Quality People Management Certification to demonstrate your organization's strategic commitment to people to your customers, employees, distribution partners, vendors, communities, investors, and regulators.
Learn how to create Sustainability or Integrated Reports for Your Organization or Clients.
Get up-to-speed on ISO human resources standards and guidelines to enhance HR performance.
Live Education: Enterprise Engagement in Action. Take advantage of scheduled monthly live webinar preparation courses for the Certified Engagement Practitioner designation consisting of three one-hour classes and of quarterly Advanced Engagement Practitioner courses consisting of three one-hour webinar classes. The AEP course is for individuals or teams seeking preparation ISO 10018 professional certification status. ICEE periodically runs regional one-day workshops on ISO 10018 Quality People Management principles and certification.
Resources: The Brand Media Coalition, the only guide to the story-telling power of brands and where to source them for business, event, promotional gifting, and rewards and recognition.
2019 Enterprise Engagement Solution Provider Directory
. The only directory of engagement solution providers covering all types of agencies and tactics as well as insights on how to select them.
Communities: The Enterprise Engagement Alliance and Advocate and the Brand Media Coalition free resource centers offering access to the latest research, news, and case studies; discounts, promotions, referrals, and commissions, when appropriate to third-party solution providers from participating coalition solution provider members.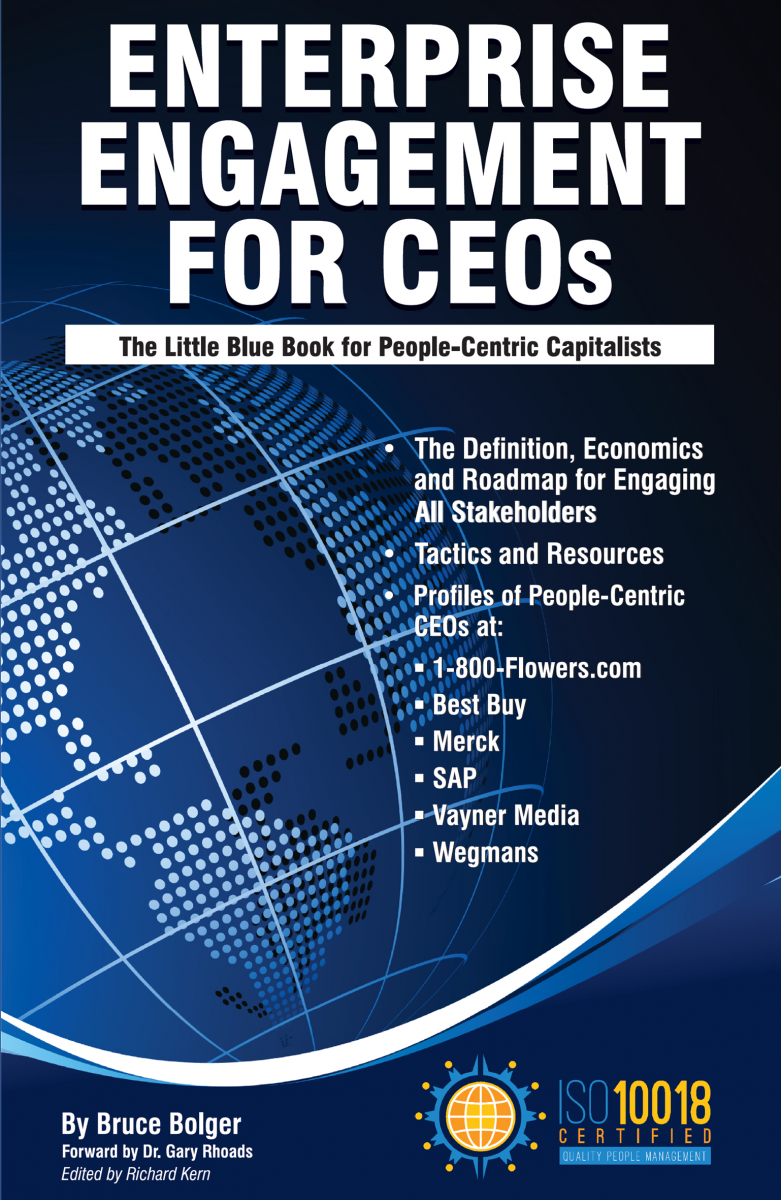 Written specifically to provide CEOs and their leadership teams a concise overview of the framework, economics, and implementation process of a CEO-led strategic and systematic approach to achieving success through people. (123 pages, $15.99)
Enterprise Engagement: The Roadmap 5th Edition
The first and most comprehensive book on Enterprise Engagement and the new ISO 9001 and ISO 10018 quality people management standards. Includes 36 chapters detailing how to better integrate and align engagement efforts across the enterprise. (312 pages, $36.)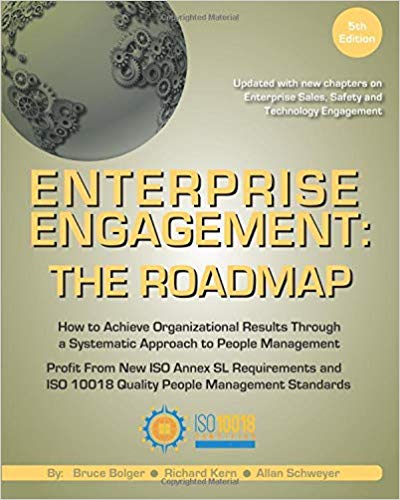 Online:
• 10-minute short course: click here for a 10-minute introduction to Enterprise
• Engagement and ISO standards on Coggno.com.
• 5-minute Audiopedia summary of the Enterprise Engagement field.
Services:
• The International Center for Enterprise Engagement at TheICEE.org, offering: ISO 10018 certification for employers, solution providers, and Enterprise Engagement technology platforms; Human Resources and Human Capital audits for organizations seeking to benchmark their practices and related Advisory services for the hospitality field.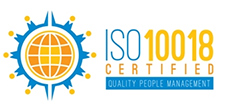 • The Engagement Agency at EngagementAgency.net, offering: complete support services for employers, solution providers, and technology firms seeking to profit from formal engagement practices for themselves or their clients, including Brand and Capability audits for solution providers to make sure their products and services are up to date.
• C-Suite Advisory Service—Education of boards, investors, and C-suite executives on the economics, framework, and implementation processes of Enterprise Engagement.
• Speakers Bureau—Select the right speaker on any aspect of engagement for your next event.
• Mergers and Acquisitions. The Engagement Agency's Mergers and Acquisition group is aware of multiple companies seeking to purchase firms in the engagement field. Contact Michael Mazer in confidence if your company is potentially for sale at 303-320-3777.
Enterprise Engagement Benchmark Tools: The Enterprise Engagement Alliance offers three tools to help organizations profit from Engagement. Click here to access the tools.
• ROI of Engagement Calculator. Use this tool to determine the potential return-on-investment of an engagement strategy.
• EE Benchmark Indicator. Confidentially benchmark your organization's Enterprise Engagement practices against organizations and best practices.
• Compare Your Company's Level of Engagement. Quickly compare your organization's level of engagement to those of others based on the same criteria as the EEA's Engaged Company Stock Index.
• Gauge Your Personal Level of Engagement. This survey, donated by Horsepower, enables individuals to gauge their own personal levels of engagement.
For more information, contact Bruce Bolger at Bolger@TheEEA.org, 914-591-7600, ext. 230.