Premco CEO Sees a Shift to Higher Quality Brands, More Distributor Sales
Matt Osborn, the third-generation CEO of 50-year-old Premco, a master fulfillment company near Denver, CO, says the company is benefiting from the increased interest in brands in the business and promotional gifting business by bringing on such lines as Yeti, the North Face, GoPro, Instant Brands, and most recently My Pillow and Molekule, a virus and bacteria-killing air filter to the corporate market.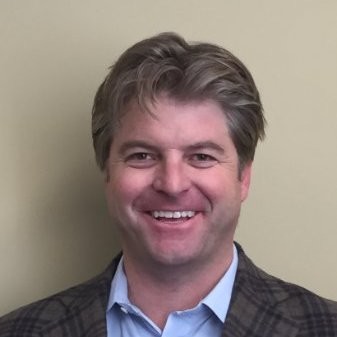 Premco has had a successful run since its start-up days as an incentive company, helping organizations profit from the power of brands for incentive, loyalty, recognition, and promotional gifting programs, and it has the resources to with-stand the storm, reports Matt Osborn. Founded by Ed Bernau Sr. and Ed Bernau Jr. as an exclusive representative for Black & Decker, Hartman luggage and others, Premco later expanded to become a full-service master fulfillment company and moved its operations to the Denver area. It now has an 18,000-square-foot warehouse with over 8,000 different SKUs (stock-keeping-items) at any given time for the incentive, recognition, loyalty, promotional distributor and agencies its supports.
The warehouse is able to continue shipping under the region's shelter-at-home regulations.
Osborn believes that Premco has continued to grow because there is an increasing demand for brands in all areas of business that will not go away because of the current crisis. If anything, he believes, people will put even more value in great brands. "We have two different companies, our incentive representation business, and our master fulfillment businesses, because it's our goal to make sure our customers have the highest level of service while protecting the integrity and distribution of our brands."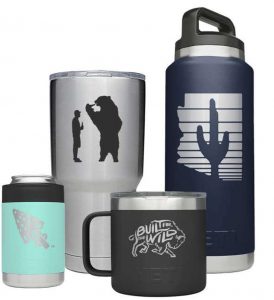 Premco
is a new member of the
Brand Media Coalition
, sponsoring the
Yeti
and
GoPro
brands, and others going live shortly.
In addition to seeing growing demand for quality brands, Osborn says that expectations for delivery and customer support have grown as well, which explains why the company employs the technology needed to meet retail-level shipping expectations, the staff of people to provide customer service, access to customization and personalization as needed, and the reporting required by its industry partners to better manage their business and those of their clients.
"Service is the reason that companies come to Premco. That will become even more important in the months ahead." Osborn says. "We are family owned and very focused on our reputation. At the end of the day we are a service organization, and we take great pride in that." He points out that big box online or brick-and-mortar retailers simply are not set up to handle the very unique requirements of business customers, who often demand extra help and support with brand selection and fulfillment requirements. Besides representing leading brands in the corporate market and its fulfillment operations, Premco also provides turnkey solutions for event gifting programs.
"Given what's going on now, it will be companies like ours that are best prepared to meet the needs of the corporate customer," he adds.
A key to growth, once the crisis subsides, he says, is the ability to bring to market an ever-growing selection of great brands so that it can serve bring more options to its industry partners to help support their customers.
For Information
Matt Osborn
Tel. 303-771-4224
---
Education, Certifications, and Information to Activate
Brand Media and Enterprise Engagement

A complete learning, certification, and information program and a course syllabus for educators.
Resources:
The
Brand Media Coalition
, the only guide to the story-telling power of brands and where to source them for business, event, promotional gifting, and rewards and recognition.
Enterprise Engagement Solution Provider Directory
. The only directory of engagement solution providers covering all types of agencies and tactics as well as insights on how to select them.
Communities:
The
Enterprise Engagement Alliance and Advocate
and the
Brand Media Coalition
free resource centers offering access to the latest research, news, and case studies; discounts, promotions, referrals, and commissions, when appropriate to third-party solution providers from participating coalition solution provider members.
Training and Certification
Enterprise Engagement Alliance Education:
Certified Engagement Practitioner; Advanced Engaged Practitioner, and Certified Engagement Solution Provider learning and certification programs on how to implement Stakeholder Capitalism principles at the tactical level.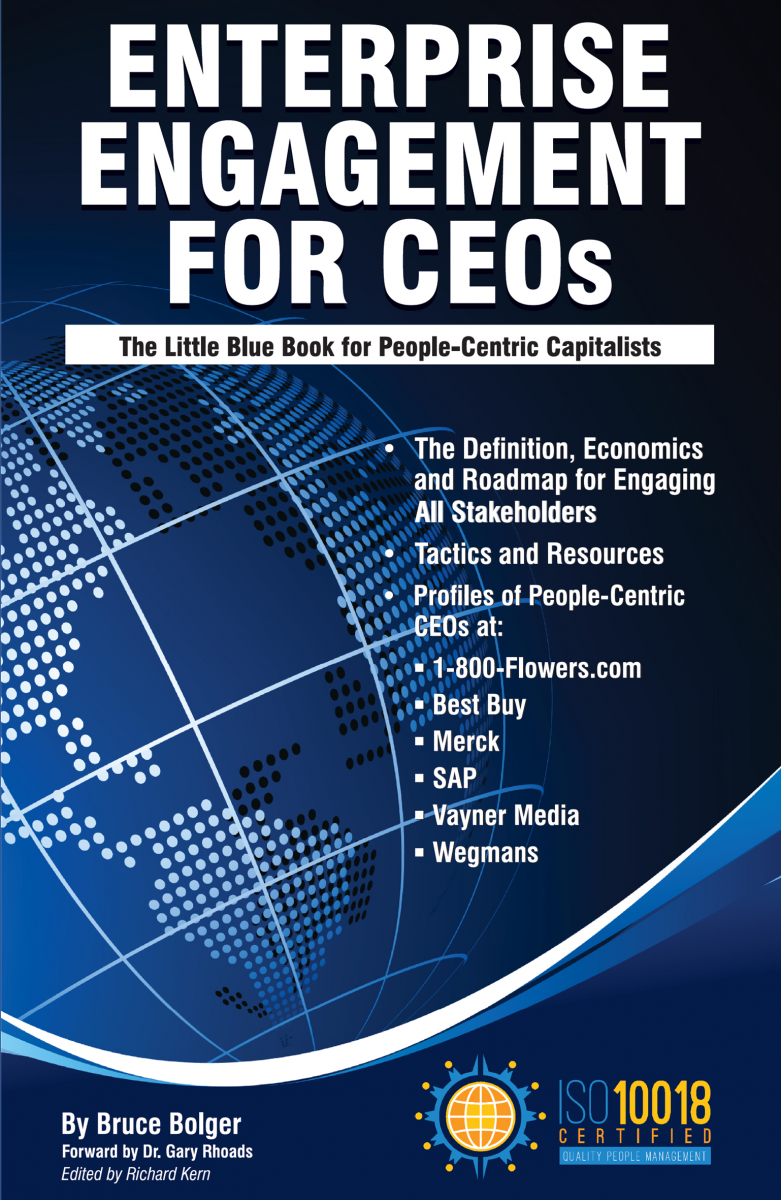 In Print:
This is the definitive implementation guide to Stakeholder Capitalism, written specifically to provide CEOs and their leadership teams a concise overview of the framework, economics, and implementation process of a CEO-led strategic and systematic approach to achieving success through people. (123 pages, $15.99)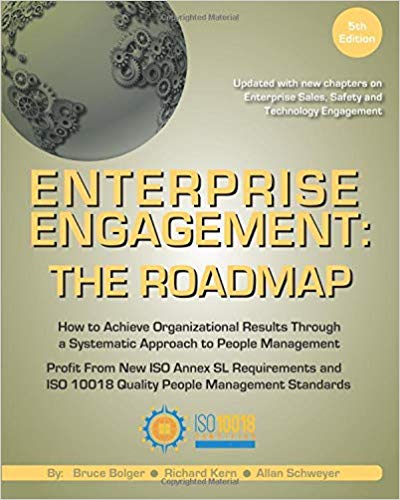 The first and most comprehensive book on Enterprise Engagement and the new ISO 9001 and ISO 10018 quality people management standards. Includes 36 chapters detailing how to better integrate and align engagement efforts across the enterprise. (312 pages, $36.)
Online:
10-minute short course: click here
for a 10-minute introduction to Enterprise Engagement and ISO standards from the Coggno.com learning platform.
Services:
• The Engagement Agency at EngagementAgency.net,
offering: complete support services for employers, solution providers, and technology firms seeking to profit from formal engagement practices for themselves or their clients, including Brand and Capability audits for solution providers to make sure their products and services are up to date.
• C-Suite Advisory Service
—Education of boards, investors, and C-suite executives on the economics, framework, and implementation processes of Enterprise Engagement.
• Speakers Bureau
—Select the right speaker on any aspect of engagement for your next event.
• Mergers and Acquisitions. The Engagement Agency's Mergers and Acquisition group is aware of multiple companies seeking to purchase firms in the engagement field. Contact Michael Mazer in confidence if your company is potentially for sale at 303-320-3777.
Enterprise Engagement Benchmark Tools:
The Enterprise Engagement Alliance offers three tools to help organizations profit from Engagement.
Click here
to access the tools.
• ROI of Engagement Calculator. Use this tool to determine the potential return-on-investment of an engagement strategy.
• EE Benchmark Indicator. Confidentially benchmark your organization's Enterprise Engagement practices against organizations and best practices.
• Compare Your Company's Level of Engagement. Quickly compare your organization's level of engagement to those of others based on the same criteria as the EEA's Engaged Company Stock Index.
• Gauge Your Personal Level of Engagement. This survey, donated by Horsepower, enables individuals to gauge their own personal levels of engagement.
For more information, contact Bruce Bolger at Bolger@TheEEA.org, 914-591-7600, ext. 230.