PMC Insight: What's New in Outdoor Furniture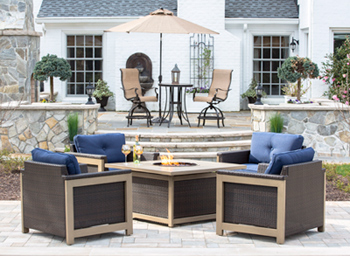 RRN recently checked in with Eric Anderson, Director of Premium Sales for PMC, on what's hot in outdoor furniture. PMC reportedly is the nation's largest retail and incentive wholesaler in the home comfort category, with a division dedicated to the rewards and recognition marketplace, so it offers unique expertise in this category.

RRN: What are the latest trends in outdoor furniture design and styles?

Anderson: Outdoor living as a category is seeing tremendous growth. People are moving their living rooms and entertaining areas outdoors, so deep-seating sets and conversation sets are the most popular sellers, particularly those with fire-pit tables.

RRN: What are the hot brands?

Anderson: Hanover Furniture is by far our top-selling brand. It's very popular on major ecommerce sites, so the brand has a large amount of visibility. The second most popular is Cambridge Furniture.

RRN: Everyone talks about Millennials. Are they showing any particular preferences for outdoor furniture?

Anderson: Millennials love to gather with friends in a casual setting, but their tastes run toward the simpler, smaller sets that are less expensive and fit into smaller living spaces.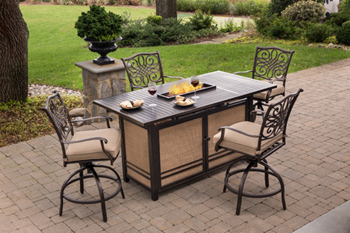 RRN: What are some of the logistical challenges involved shipping outdoor furniture?

Anderson: As with large-screen TV's, major appliances or pool tables, you have to account for large-format shipping. This means accounting for additional shipping timeframes and the need to educate the customer on the process. Freight shipments include delivery scheduling with a delivery window requiring the homeowner to be present. And freight shipment damages are handled differently than UPS. It's important that the recipient inspect the shipment and, if damaged, refuse it on-site before the driver leaves. This ensures the recipient has an easy return and exchange process. We want to make sure that they receive a wonderful, fully intact unit…it's all part of the experience of being rewarded.

RRN: Are there unique ways that PMC can package or enhance the reward experience with outdoor furniture in terms of personalization, customization or set-up services?

Anderson: At this time there's no way to personalize or customize furniture. And currently, white glove delivery partners don't offer furniture unpack and setup as a service. That said, we certainly can and do create custom packing slips for a small extra charge. We actually prefer to use custom packing slips, as we want our shipments to appear as though they came from the customer and not a fulfillment house. We can and have inserted cards or letters with shipments as well.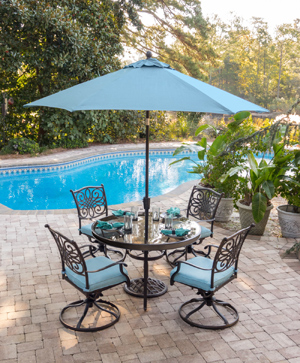 RRN: Is there any seasonality to outdoor furniture redemptions?

Anderson: There's a common misunderstanding regarding the redemption cycle of outdoor furniture. Most people think it only redeems in the summer, but that's not the case. We see outdoor furniture redemptions year-round because only the northern third of the country experiences a cold winter. Of course, you'll certainly see spikes in the summer months, but you can count on this category to redeem year-round.

RRN: What about margins for resellers?

Anderson: Margins are very strong in this category while offering participants a good value. In fact, you need to sell four 32" TV's to equal the margins in one small furniture set. Strategically, this category allows resellers to foster redemptions during quieter summer months. Outdoor living is such a rapid growth category that it shouldn't be overlooked.

For More Information:
Eric Anderson
Director of Sales – Special Markets
Power Merchandising Company
(262) 203-5440
www.pmcusa.com