PMC Adds American Kitchen Cookware to its Offerings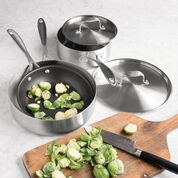 Power Merchandising Company (PMC) recently announced that it is now offering a new high-end, Made in America cookware line. American Kitchen by Regal Ware is proud to be a part of the American-made movement and is committed to U.S.-based manufacturing. As a trusted maker of quality cookware for more than 100 years, American Kitchen offers everything from single pans to sets. It claims that its 3-ply technology of aluminum wrapped in stainless steel offers the most equalized cooking experience in the marketplace today and works on all cooking surfaces. All products include a lifetime warranty and are made in West Bend, WI. PMC says it has the ability to etch a logo into any cookware item with a minimum quantity of 40 units and a small upcharge.
Contact:
Eric Anderson
Director of Sales – Special Markets
Power Merchandising Company
262-203-5440
---
Master the Principles of Enterprise Engagement and ISO 9001 and ISO 10018 Quality People Management
Learn a new internationally sanctioned approach to achieving greater return-on-investment on your organization's budgets for culture, leadership, communications, training, rewards & recognition and more.
Date, Location, and Fees: Wed.
Oct. 3, 3 pm-5 pm and Thu. Oct. 4, 9 am-3 pm
, at the University of Texas Arlington,
20 minutes from Dallas Fort Worth Airport.
A crash course on how to apply Enterprise Engagement to everyday organizational goals and to profit from new ISO Annex SL and ISO 10018 standards and certification. Click here for more information and to register.
In Print:
Enterprise Engagement: The Roadmap
4th Edition, How to Achieve Organizational Results Through People and Quality for ISO 10018 Certification.
The first and most comprehensive book on Enterprise Engagement and the new ISO 9001 and ISO 10018 quality people management standards.
Online:
The Enterprise Engagement Academy at
EEA.tmlu.org
,
providing the only formal training on Enterprise Engagement and the new ISO 9001 and ISO 10018 quality people management standards. Provides preparation for professionals to support organizations seeking ISO 10018 employer or solution provider certification
, as well as elective courses on Trade Show Engagement, Rewards and Recognition, Government, and other topics.
Enterprise Engagement Benchmark Tools:
The Enterprise Engagement Alliance offers three tools to help organizations profit from Engagement.
Click here
to access the tools.
•

EE Benchmark Indicator. Confidentially benchmark your organization's Enterprise Engagement practices against organizations and best practices.
•

Compare Your Company's Level of Engagement. Quickly compare your organization's level of engagement to those of others based on the same criteria as the EEA's Engaged Company Stock Index.
•

Gauge Your Personal Level of Engagement. This survey, donated by Horsepower, enables individuals to gauge their own personal levels of engagement.
For more information, contact Bruce Bolger at Bolger@TheEEA.org, 914-591-7600, ext. 230.