PFI: Striving to Help Distributors Thrive in the IRR Market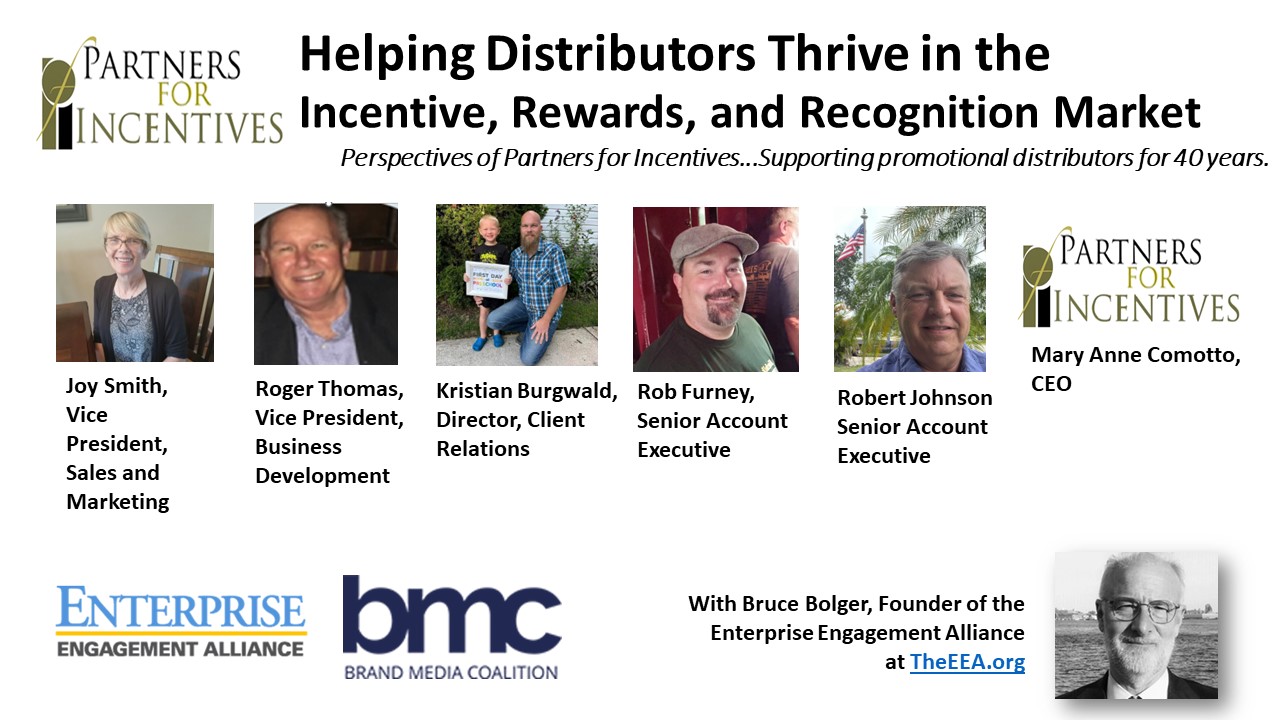 Going on 73 years since its launch in 1951, Partners for Incentives is one of the very few incentive companies that focuses on providing program design to achieve client goals, enterprise engagement technology based on client needs, full-service reward fulfillment and customer service, sold only through promotional distributors and related marketing agencies seeking to profit from the sale of incentive, recognition, rewards, and loyalty programs.

The return to growth in promotional products apparently has not set back the growing interest of distributors in selling incentives, rewards, recognition (IRR), and gifting programs, according to five people who do almost nothing every working day but support promotional distributors around the US service their clients' IRR needs.

This Enterprise Engagement Brand Media Coalition YouTube show highlights the types of support distributors seek to meet their client needs and key trends in the market.

The panelists are Joy Smith, Vice President, Sales and Marketing; Roger Thomas, Vice President, Business Development; Kristian Burgwald, Director, Client Relations; Rob Furney, Senior Account Executive; Robert Johnson, Senior Account Executive; and Mary Anne Comotto, CEO, all of Partners for Incentives.

Here is a quick overview of the show. Click here to view.

Background on PFI focus on distributors. According to Mary Ane Comotto, CEO and Principal, the company was founded 73 years ago as a loyalty and incentive company and shifted its focus to selling only through distributors about 40 years ago. She says the model works and will continue to be the focus of the company so that distributors and other related marketing agencies have complete trust there will be no channel conflict. Comotto believes that with five full-time program support people, hers might be the largest incentive company in terms of people focused solely on supporting distributors and their clients.

How distributors enter the business. From Roger Thomas' extensive experience, most distributors enter the business through something basic, like a length-of-service program or gifting program. As the distributor learns more about client needs, these can grow into programs that focus on reinforcing key culture objectives. Kristian Burgwald adds that once distributors get a foot in the door, it becomes possible to help the distributor open up new opportunities in other areas of business, such as safety, wellness, sales and channel programs, though it can take time to cut across the different siloes that manage the different stakeholder groups.

What types of programs do distributors sell? Thomas and Burgwald say that once distributors become adept at asking the right questions, they can start selling almost any type of program--sales incentive, channel program, loyalty, safety, and wellness programs. Distributors large and small, new and old, some part of distributor networks, others working independents they say bring different types of opportunities.

What role do distributors usually play—lead identification only, program design, communications and other implementation, signage, etc.? Smith explains that distributors usually want to be part of any discussion that has to do with the sales process, overall strategy, and customer satisfaction, but otherwise they prefer to focus on identifying and addressing other customer needs. Distributors for the most part do not wish to be part of the nitty gritty billing, receivables management, fulfillment, and customer service issues, they say, but some do wish to get involved with program strategizing. The largest distributors prefer to do the billing themselves, which the PFI team say the company accommodates.

What are the types of challenges that distributors face that you help solve? While most companies haven't traditionally carefully measured the return on investment of traditional length of service programs, the growing focus on more critical objectives such as culture reinforcement, employee retention or referrals, safety, wellness, or other objectives is drawing more scrutiny to program effectiveness. While the panelists point out that lower-level administrators involved with program planning more often are focused on costs and logistics, higher-level management are showing much more interest in return on investment and other analysis. Burgwald says that PFI helps distributors create more value by using the data generated by the technology to proactively alert clients on what is happening in the program, which people are engaging, who isn't, and even to correlate program results with turnover or other key metrics.

What trends do you see in distributor sales—types of programs, focus? The return to growth in traditional promotional products has not had a negative impact on distributor interest in incentives, rewards, recognition, and gifting. Smith points out that distributors are customer focused and go where they identify needs. If companies need to engage talent, key customers, distributors, and other stakeholders, distributors will identify the opportunity and bring it to trusted solution providers.

For More Information

Mary Anne Comotto
Tel. 216-881-1969
mac@spihq.com
www.pfi-awards.com

Subscribe to RRN's weekly e-newsletter.

---
Profit From the "S" of Environmental, Social, Governance (ESG)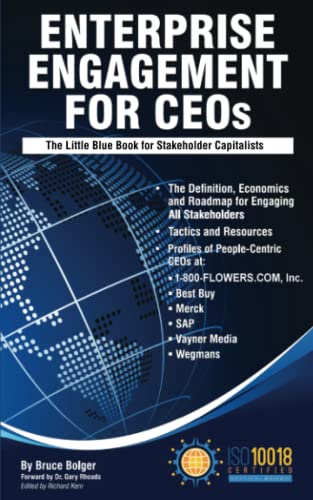 Through education, media, business development, advisory services, and outreach, the
Enterprise Engagement Alliance
supports boards, business analysts, the C-suite, management in finance, marketing, sales, human resources and operations, etc., educators, students and engagement solution providers seeking a competitive advantage by implementing a strategic and systematic approach to stakeholder engagement across the enterprise.
Click here
for details on all EEA and RRN media services.
1. Professional Education on Stakeholder Management and Total Rewards
Become part of the EEA as an individual, corporation, or solution provider to gain access to valuable learning, thought leadership, and marketing resources.
The only education and certification program focusing on Stakeholder Engagement and Human Capital metrics and reporting, featuring seven members-only training videos that provide preparation for certification in Enterprise Engagement.
EEA books: Paid EEA participants receive Enterprise Engagement for CEOs: The Little Blue Book for People-Centric Capitalists, a quick implementation guide for CEOs; Enterprise Engagement: The Roadmap 5th Edition implementation guide; a comprehensive textbook for practitioners, academics, and students, plus four books on theory and implementation from leaders in Stakeholder Management, Finance, Human Capital Management, and Culture.
2. Media
3. Fully Integrated Business Development for Engagement and Total Rewards
Strategic
Business Development
for
Stakeholder Management
and
Total Rewards
solution providers, including Integrated blog, social media, and e-newsletter campaigns managed by content marketing experts.
4. Advisory Services for Organizations
Stakeholder Management Business Plans
;
Human Capital Management, Metrics, and Reporting
for organizations, including ISO human capital certifications, and services for solution providers.
5. Outreach in the US and Around the World on Stakeholder Management and Total Rewards
The EEA promotes a strategic approach to people management and total rewards through its e-newsletters, web sites, and social media reaching 20,000 professionals a month and through other activities, such as: