Opinion: The IRR Pricing Model Is Broken
The world has changed but the pricing model for incentives, rewards, and recognition (IRR) has barely budged. If incentive and recognition companies are only being compensated for the rewards they fulfill, they will be unable to compete with retail or online-rewards platforms or merchandise and gift card master fulfillment companies. The appropriate pricing model compensates incentive and recognition companies, agencies, and advisory firms for the value they create, which should include enhanced stakeholder retention, productivity, quality, willingness to recommend, wellness, and safety, DEI effectiveness, etc.

By Bruce Bolger

Why The Old Model Persists
Value-Driven Pricing
The Future of the IRR Field

How many times does a salesperson at an incentive or recognition company hear from a client that the price of the rewards is much higher than can be found online. That is a warning sign, because it essentially means that the only value perceived being created is a product that can be purchased at a lower cost elsewhere. This occurs all the time because many incentive, reward, and recognition (IRR) companies make their profits on reward markups, not on performance results, program design, implementation, or advisory fees.

The opportunity for the IRR industry is to demonstrate to clients the value it provides not in terms of rewards but in terms of results. These include stakeholder retention, willingness to refer, and productivity of employees and loyalty of customers, along with safety, wellness, brand engagement, or other goals, by encouraging the necessary behaviors and attitudes, a value proposition that should not be buried in the cost of the reward. If fees are based on the true areas of value creation, then IRR firms should be paid for the service provided to enhance performance and on the results, not the tangible rewards used to encourage and reward people. If an organization is not benefit from these services and feels it has to do the work itself, it should purchase from a master fulfillment company that specializes in rewards experiences.

In business, logical pricing is based on where the actual value is created, which should in this field include: research and program design and implementation with clear goals aligned with organizational purpose; the expertise, technology and time and materials needed to support and monitor the strategy; the perceived value to the organization of the behaviors fostered or goals achieved; the value of the reward experience to the recipients in terms of long-term brand engagement, and extensive reporting that can be correlated with stakeholder engagement metrics, i.e., retention, willingness to refer, etc.

Why The Old Model Persists

The old model of burying service fees in reward markups persists because many companies view recognition, incentives, and benefits as a fixed or sunk cost, just as they do most of their human capital activities. They see these tactics as something they must do, either because they've always done them, or their competitors do, or because they are facing an employee engagement problem and think they must take some action. Rarely is there any rigor in program design and return-on-investment measurement, so decisions are made generally at a lower level more on look and feel of the engagement technology, perceived stature of the solution provider, the culture fit with the sales and operations team, rather than on demonstrated business insights, expertise, or clear return-on-investment measures much beyond participant satisfaction in most cases.

The pricing model in the IRR business dates to the last century when in fact corporations found value in finding services they could put together and fulfill print catalogs, and deliver rewards, perhaps personalized with a letter or gift wrapping, or later, with the Internet, the ability to create a customized redemption catalog. Today, with the expertise of master fulfillment companies, online reward companies like Blueboard and many others, retailers active in the corporate market such as Best Buy, and the availability of third-party engagement technology firms, it is difficult for an incentive or recognition companies to add much value in reward curation and fulfillment.

Under the old and still frequently used pricing model by incentive and recognition companies, the bulk of the fees are related to the rewards themselves, with whatever planning, implementation, strategy, and support, contained in the product markups. Unlike in the world of CRM (customer relationship management), in which customers will pay up to $70 or more per employee per month for technology, most human resources departments balk at paying any per-seat charges. As a result, whatever value in terms of program design, implementation, and measurement is often overlooked, and must be explained when the client looks online and sees a reward that can be found at a lower cost at retail.

While there remain many incentive and recognition companies that bill most of their fees upon rewards redemption, a growing number charge a minor to larger fee for technology setup based on requirements, and then charge fees based upon points issuance, the appropriate portion of which is set aside for later in the program to fund the redemptions when they occur. Almost no industry players charge advisory fees for program design, research, and implementation, except for perhaps support with communications, graphics, web design, or event management. In some cases, the incentive or recognition company keeps all the breakage (or unused points); in other cases, clients negotiate a share of the calculated breakage at the end of the program.

Value-Driven Pricing

The appropriate model in any business focuses the pricing on where the true value is created: in the case of incentives and recognition, it should be performance improvement or goals achieved based on the value created for the organization. Call it Pay for Behavior and Results. When an agency or advisory firm is able to convince an organization that its process can provide value in terms of reinforcing organizational purpose, branding, or achieving measurable sales or referral goals, it can charge for reasonable research and design fees; technology license, setup and maintenance fees based on a retainer or per-seat charge; for the performance of desired behaviors or achievement of goals when they take place, either upon points issuance or some other tracking method; and finally, payment for the rewards upon redemption, which can be managed through a separate escrow or standing credit card account.

In this model, the markup for rewards accounts only for the value added in terms of need for reward curation, catalog API connects and management, inventory management, customized reward experiences, customer service, etc.

This business model is effectively used every day in the world of CRM, in which sales and marketing can often justify setup fees in the six figures or higher and ongoing per-seat and advisory fees because they see clear value. The IRR field has not achieved this business model because its customers in human resources and their management don't see the value.

With the pricing model proposed here, companies compensate the agency or advisory firm for the value they have added in terms of performance and then separately for the reward, if applicable. The customer wins because they pay for performance and only for rewards redeemed with complete transparency and measurable goals. Participants win because they are not underwriting the management fees for inducing them to perform by way of big markups they often notice when redeeming the points they earned.

The agency or advisory firms win because they get paid immediately when they have generated desired behaviors and goals and don't have to wait for someone to redeem a reward to get paid or calculate or negotiate the breakage, and explain to the client why the toaster costs 30% more than available online. In a value-driven pricing model, fees should be based on anticipated return on investment or value created. An organization seeking to support its purpose and values or achieve specific goals for sales and non-sales employees; customers; distribution and supply chain partners, and communities, should determine a potential return on investment and pay a qualified agency or professional to conduct the necessary research to develop a plan and oversee implementation as necessary with fees based on the potential ROI.

In such a case, the solution provider is paid for the points issued or other means of encouraging and tracking the behaviors, actions, and goals achieved when they occur--not upon redemption of rewards, especially because many programs don't involve tangible rewards. It's a classic pay-for-performance model that dates to the last century when some enterprising incentive companies used this model as a differentiator against other types of marketing solutions.

As Jeff Cates, CEO of Achievers, a leading Toronto-based global employee experience technology firm supporting recognition, voice of the employee, wellness, connections and rewards, recently told RRN, "You can have the best technology, but it is worthless unless people are engaged in using it to achieve organizational goals. The biggest value we provide is helping our clients achieve concrete sales and other goals by actively engaging their employees." His company charges usage fees for the software and is paid upon issuance for points or recognition.

Observes Gerry Wiatrowski, Co-Founder, Chief Operating Officer of INCENTCO, an 11-year engagement company specializing in the multi-family industry and now expanding into the full IRR marketplace, "We generate our fees based on points issued for the behaviors and goals our programs help achieve. If revenue projections from anticipated program results are sufficient, we don't charge upfront planning fees. If clients have significant customization or technology requirements, additional fees, i.e monthly, annual, per seat, etc., may be required. In our model, programs are funded when rewards are issued, not at redemption. Our clients are more concerned with behavioral and performance outcomes than they are with rewards. In fact, with our technology and business model, we're happy to help our clients connect with whatever reward platform they desire."

The Future of the IRR Field

The next generation of the IRR field has begun to take shape in which some of the leaders move away from the focus on recognition and rewards towards how to help organizations more holistically engage all their stakeholders in their brand purpose and objectives, and more efficiently integrate and align all the multiple tactics used to engage them.

There will be more companies like EGR International, ITA Group, WorkTango, Achievers, and Augeo Marketing adding services, making acquisitions or taking other steps to broaden their value proposition beyond incentives, rewards, and recognition. The big opportunity is to create value by providing a full suite of Enterprise Engagement technologies, brand-culture alignment services, engagement surveys, personal employee and customer check up services, benefits, job design, DEI, et. to help organizations implement a holistic approach to engagement.


For the latest news delivered by via email, subscribe here.

---
Education, Certifications, and Information to Activate
Brand Media and Enterprise Engagement

A complete learning, certification, and information program and a course syllabus for educators.
Resources:
The
Brand Media Coalition
, the only guide to the story-telling power of brands and where to source them for business, event, promotional gifting, and rewards and recognition.
Enterprise Engagement Solution Provider Directory
. The only directory of engagement solution providers covering all types of agencies and tactics as well as insights on how to select them.
Communities:
The
Enterprise Engagement Alliance and Advocate
and the
Brand Media Coalition
free resource centers offering access to the latest research, news, and case studies; discounts, promotions, referrals, and commissions, when appropriate to third-party solution providers from participating coalition solution provider members.
Training and Certification
Enterprise Engagement Alliance Education:
Certified Engagement Practitioner; Advanced Engaged Practitioner, and Certified Engagement Solution Provider learning and certification programs on how to implement Stakeholder Capitalism principles at the tactical level.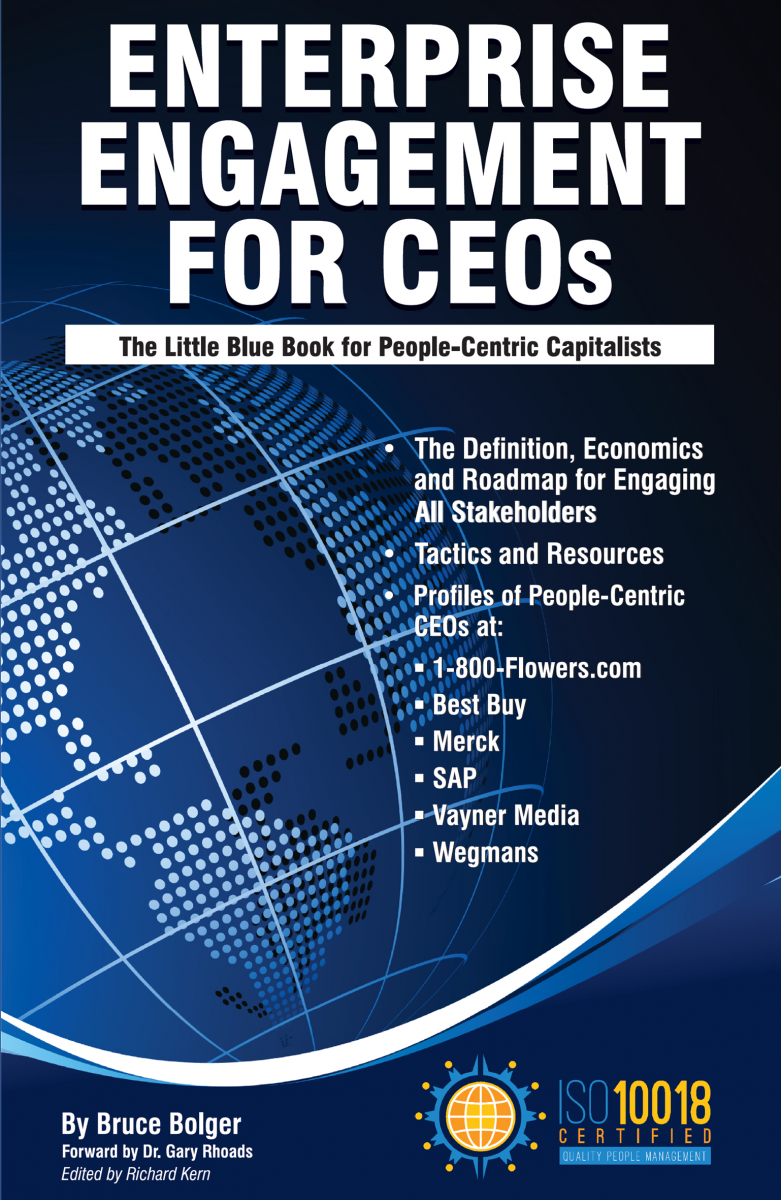 In Print:
This is the definitive implementation guide to Stakeholder Capitalism, written specifically to provide CEOs and their leadership teams a concise overview of the framework, economics, and implementation process of a CEO-led strategic and systematic approach to achieving success through people. (123 pages, $15.99)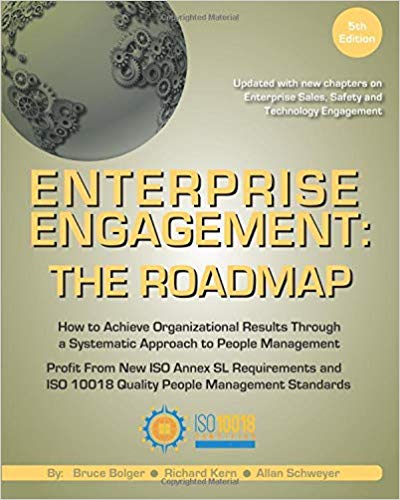 The first and most comprehensive book on Enterprise Engagement and the new ISO 9001 and ISO 10018 quality people management standards. Includes 36 chapters detailing how to better integrate and align engagement efforts across the enterprise. (312 pages, $36.)
Online:
10-minute short course: click here
for a 10-minute introduction to Enterprise Engagement and ISO standards from the Coggno.com learning platform.
Services:
• The Engagement Agency at EngagementAgency.net,
offering: complete support services for employers, solution providers, and technology firms seeking to profit from formal engagement practices for themselves or their clients, including Brand and Capability audits for solution providers to make sure their products and services are up to date.
• C-Suite Advisory Service
—Education of boards, investors, and C-suite executives on the economics, framework, and implementation processes of Enterprise Engagement.
• Speakers Bureau
—Select the right speaker on any aspect of engagement for your next event.
• Mergers and Acquisitions. The Engagement Agency's Mergers and Acquisition group is aware of multiple companies seeking to purchase firms in the engagement field. Contact Michael Mazer in confidence if your company is potentially for sale at 303-320-3777.
Enterprise Engagement Benchmark Tools:
The Enterprise Engagement Alliance offers three tools to help organizations profit from Engagement.
Click here
to access the tools.
• ROI of Engagement Calculator. Use this tool to determine the potential return-on-investment of an engagement strategy.
• EE Benchmark Indicator. Confidentially benchmark your organization's Enterprise Engagement practices against organizations and best practices.
• Compare Your Company's Level of Engagement. Quickly compare your organization's level of engagement to those of others based on the same criteria as the EEA's Engaged Company Stock Index.
• Gauge Your Personal Level of Engagement. This survey, donated by Horsepower, enables individuals to gauge their own personal levels of engagement.
For more information, contact Bruce Bolger at Bolger@TheEEA.org, 914-591-7600, ext. 230.