News Analysis - Part I: The Overlooked Importance of Program Design and ROI
The recent Incentive Research Foundation report, "Industry Outlook Study" revealed that only 25% of survey respondents systematically measure the return-on-investment of their incentive programs. As more CEOs begin to scrutinize Human Capital investments, the opportunity to focus on designing effective programs will become a major differentiator among business professionals and solution-providers. Part 1 of this series addresses the consequences of failing to properly design and measure processes that have come out of almost 20 years of industry research. Part 2 will address the issue of the reward experience and the new Brand Media.
By Bruce Bolger

Those in the incentive industry have known for years that most companies using incentive programs don't feel a need to measure their success, and those that don't use them argue (not surprisingly) that there's no proof they work. With a new Incentive Research Foundation (IRF) report finding that only 25% of companies seriously measure the ROI of their programs, there's a low-hanging opportunity for the people and companies that plan these programs to start measuring them. With more CEOs, ISO auditors and public investors scrutinizing Human Capital investments and practices, the programs with the clearest return-on-investment have the best chance of survival. Ironically, research demonstrates that properly designed incentive programs can have the most clearly measurable results of any Human Capital practice when they connect actions to results and address all key levers of engagement.
Poor planning can lead to disastrous results, such as the notorious Wells Fargo fiasco in which the company's incentive program encouraged employees to falsify new accounts in order to win. More often, the consequences are similar to a story recently told to me about a program for franchises that failed to generate any redemptions because of flaws in the program's design. The managers received a bunch of points to distribute, but little guidance or effort was offered to educate the managers on how to use the program to promote higher employee brand engagement, more reliable attendance, generate employee referrals, etc.
An Unknown Industry Customers Hide From
How did it come to be that such a large industry is based on practices with such a poor track record on measurement? The answer lies in the fact that management at many companies that use these strategies believe they're part of the organization's culture of celebrating success or are a competitive necessity, and that alone justifies the expenditure—that is until a new CEO comes along and questions the ROI.
This lack of clear measurement reflects a bigger problem: Despite U.S. incentive expenditures estimated to be in the $50 billion range, it's hard to find anyone outside the field who has ever heard of it. Tell someone at a party you work for an incentive company and the usual response is "Huh?" Perhaps it's a little-known industry because companies don't want to brag about their incentive programs in the same way they talk about (and even share what they spend on) research and development, advertising, or corporate social responsibility (CSR). How can an industry ever become known when most of its customers prefer not to share their practices with the business media? And what is it about this industry that makes companies not want to talk about it? Shouldn't companies be proud to disclose their investments in motivating people and the perquisites received for exceptional performance; shouldn't they value the importance of professional program design and the reward experience? The truth is, one of the best ways to get positive media coverage is to announce that your company is sending all employees or customers on an exotic trip or cruise.
Yet, solution-providers with the term "incentive" or "award" in their name often find it difficult to charge clients for professional services such as program design, project management, return-on-investment measurement, or technology, while consultants in sales management, branding and general management have no problem getting into the C-suite and charging hourly fees that rival those of the legal profession. Companies think nothing of spending hundreds of thousands of dollars hiring an integrator to deploy a Salesforce.com customer relationship management (CRM) platform, which now costs a minimum of $60 per suite for its license, yet, most won't pay a penny for incentive or recognition design consulting and balk at paying a few thousand dollars for technology, let alone a per-seat charge for engaging their audiences.
I have personally participated in sales calls involving Marketing and Human Resources management and Incentive and Recognition companies in which the decision-makers bristled when the topic of program design came up…all they wanted to discuss was the specifications related to a prize they wanted to use, without any scientific basis underlying the program structure, communication, or other critical engagement factors. That's like discussing an advertising media plan without addressing the fundamental brand selling proposition, objectives, target market, etc.
Isn't Engagement as Valuable as CRM?
Logically, the process of engaging customers, employees and distribution partners is just as important as managing those relationships through CRM. As more CEOs begin to focus on Human Capital management and the engagement of all stakeholders, receptivity will grow toward professionals or organizations who can provide a strategic, systematic, return-on-investment-based approach. In the new world, such professionals will earn meaningful fees for development of engagement business plans, project management, tactical engagement services and return-on-investment measurement. Those companies that remain focused on rewards will remain commoditized and subject to purchasing department bean-counting.
The challenge facing those focusing on program design is often the client, who generally has no training on engagement or motivation involving incentive programs or the extensive industry research available, and who is often under pressure to find a quick-fix way to achieve short-term goals. Large budgets are spent on recognition programs with no strategic connection to the organization's brand objectives, goals, or brand, and salespeople and others delight in exotic incentive trips that no one can truly say were necessary. What are companies getting in terms of ROI from their recognition programs when research suggests overall employee engagement hasn't budged in at least a decade? What happens when new management comes in and seeks to understand the return-on-investment of such activities?
Based on the increasing focus on Human Capital management, the time is right for the industry to start seriously using the two dozen years of research and resources produced by numerous organizations to position itself as a serious ROI-based business practice. This will require the patience to invest in training, learning the implications of the research and having the courage to stand up to clients who incorrectly believe they can accomplish as much with a bright shiny object (see RRN: "
Time to Hit the Reset Button on Incentive, Recognition and Loyalty Business Models
").
As CEOs at public companies get more questions on their Human Capital investments from investors or ISO (International Organization for Standardization) auditors, more questions in turn will be asked of internal management about specific practices involved with engaging customers, distribution partners and employees. After attending a conference with executives at major incentive and recognition companies who admitted that few of their clients recognized the importance of scientific program design and return-on-investment, Dr. Ron McKinley, Director of the International Center for Enterprise Engagement at
TheICEE.org
, recently predicted that these programs as currently implemented will face serious scrutiny as the topic of Human Capital investments becomes a C-suite priority.
Design, Process and Measurement Are Key
Today, there is no excuse for either corporate planners or their solution-providers to launch programs without a strategic and systematic plan or return-on-investment measurement. Companies should be proud to disclose their practices to engage all their key stakeholders in meaningful ways and will do so if they can also talk about return-on-investment and demonstrably enhanced stakeholder experiences.
The incentive, recognition and loyalty fields have always desired the opportunity to work with the C-suite with a strategic approach. But be careful what you wish for: New pressures on CEOs in the U.S. and throughout the world might bring on just the type of scrutiny planners or solution-providers without a measurable solution should fear the most.
---
Master the Principles of Enterprise Engagement to Achieve Organizational Goals and Enhance Your Career
Profit from a new systematic approach to engagement to enhance your organization's brand equity; increase sales, productivity, quality, innovation, and safety, and reduce risks.
Achieve ISO 10018 Quality People Management Certification to demonstrate your organization's strategic commitment to people to your customers, employees, distribution partners, vendors, communities, investors, and regulators.
Live Education:
Enterprise Engagement in Action Conference at Engagement World
, April 3, 2019, in San Francisco, in conjunction with the Selling Power Sales 3.0 Conference. Learn about the economics, framework, and implementation process for an ISO certifiable approach to achieving organizational objectives by strategically fostering the proactive involvement of all stakeholders.
Learn more and register now
.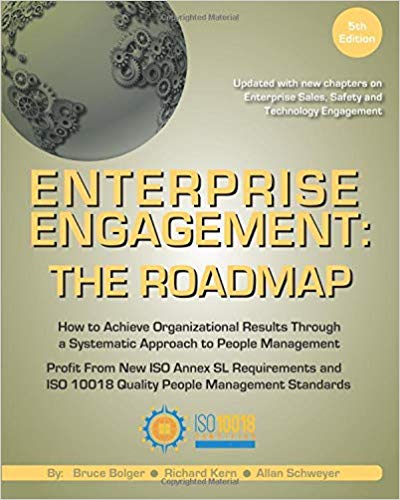 The first and most comprehensive book on Enterprise Engagement and the new ISO 9001 and ISO 10018 quality people management standards.
Online:

The Enterprise Engagement Academy at EEA.tmlu.org
, providing the only formal training on Enterprise Engagement and the new ISO 9001 and ISO 10018 quality people management standards. Provides preparation for professionals to support organizations seeking ISO 10018 employer or solution provider certification, as well as elective courses on Trade Show Engagement, Rewards and Recognition, Government, and other topics.
Plus
: 10-minute short course:
click here
for a 10-minute introduction to Enterprise Engagement and ISO standards on
Coggno.com
.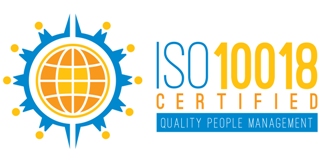 Services: The International Center for Enterprise Engagement at TheICEE.org
, offering: ISO 10018 certification for employers, solution providers, and Enterprise Engagement technology platforms; Human Resources and Human Capital audits for organizations seeking to benchmark their practices and related Advisory services for the hospitality field.
The Engagement Agency at EngagementAgency.net
, offering: complete support services for employers, solution providers, and technology firms seeking to profit from formal engagement practices for themselves or their clients, including Brand and Capability audits for solution providers to make sure their products and services are up to date.
C-Suite Advisory Service
—Education of boards, investors, and C-suite executives on the economics, framework, and implementation processes of Enterprise Engagement.
Speakers Bureau
—Select the right speaker on any aspect of engagement for your next event.
Mergers and Acquisitions.
The Engagement Agency's Mergers and Acquisition group is aware of multiple companies seeking to purchase firms in the engagement field. Contact Michael Mazer in confidence if your company is potentially for sale at 303-320-3777.
Enterprise Engagement Benchmark Tools:
The Enterprise Engagement Alliance offers three tools to help organizations profit from Engagement.
Click here
to access the tools.
• ROI of Engagement Calculator. Use this tool to determine the potential return-on-investment of an engagement strategy.
• EE Benchmark Indicator. Confidentially benchmark your organization's Enterprise Engagement practices against organizations and best practices.
• Compare Your Company's Level of Engagement. Quickly compare your organization's level of engagement to those of others based on the same criteria as the EEA's Engaged Company Stock Index.
• Gauge Your Personal Level of Engagement. This survey, donated by Horsepower, enables individuals to gauge their own personal levels of engagement.
For more information, contact Bruce Bolger at Bolger@TheEEA.org, 914-591-7600, ext. 230.