eBook Focuses on Rewards & Recognition Best Practices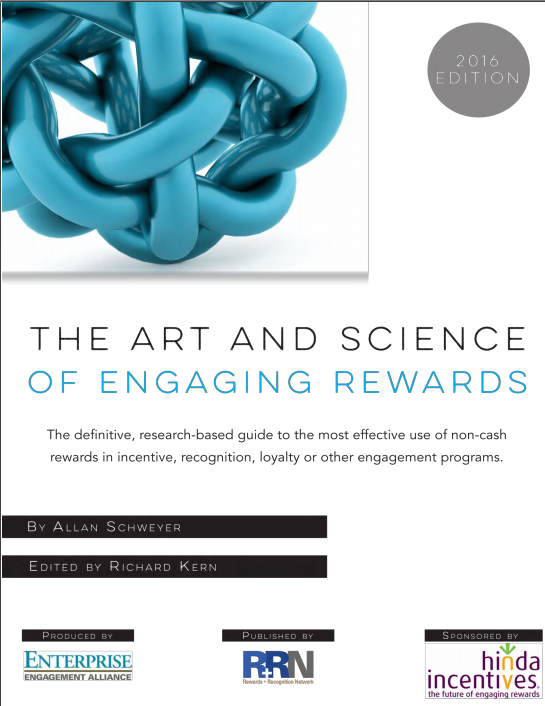 The Art and Science of Engaging Rewards
is designed to provide corporations and their solution providers with an authoritative resource for the latest research and best practices on all aspects rewards and recognition. According to past estimates by the
Incentive Federation
and others, U.S. organizations each year spend in the tens of billions of dollars on non-cash rewards, and yet many organizations don't follow best practices in their programs based on the research. This is the first book of its kind to attempt to consolidate the findings of the research that has been produced by the Incentive Research Foundation, the Incentive Federation and others over the last 15 years.
Authored by Enterprise Engagement Alliance Curriculum Chairman Allan Schweyer, who also has his own research, learning and consulting firm in human capital, the eBook draws upon the research to provide organizations with a practical and detailed guide to the use of rewards and recognition. Based on the growing emphasis on the topic of engagement in business, this eBook addresses rewards and recognition in the context of overall engagement strategies and other tactics to engage customers, distribution partners and all employees.
"The rewards and recognition industry has made a significant investment in research over the last 15 years or more, but no one knowledgeable about our field had consolidated all of the findings into one place in a usable format," says Mike Donnelly, President of Hinda Incentives. "We hope all of our partners in the marketplace will see the benefits of bringing more scientific solutions to their clients in all areas of rewards and recognition."
The book's eight chapters address:
How the emergence of engagement is affecting the use of rewards and recognition
An overview of definitions, what research suggests are the best ways to use rewards and recognition, and the research basis for the use of non-cash versus cash rewards
Applications for non-cash rewards
Best practices
How to make rewards more engaging
Types of non-cash rewards and their applications
ROI and analytics
Case studies
The contents page is designed to make it easy to search for information related to each topic area. The eBook will be updated annually with new case studies and research.
The Art and Science of Engaging Rewards
is available at no cost.
Click here
to download a PDF.