New Uber Rewards Program a Coup for VisaNet, Boost for Local Marketing
The new Local Offers program currently being tested by Uber lets its customers earn free rides by making purchases at local merchants listed on the Uber app. The promotion is powered by VisaNet, a new loyalty platform launched earlier this year by Visa. According to an Uber company statement, riders using the Visa card on their accounts can earn a free ride by spending $100 at selected merchants featured on the app. The company says that as soon as a customer uses the Visa credit card at the enrolled merchant, the points and the person's balance are immediately visible on the app.
VisaNet
, a Visa loyalty platform launched earlier this year, connects transactions between merchants to enable precision co-marketing opportunities. The system enables one company to provide customers with offers from other companies using a Visa card, as well as awarding rewards and tracking engagement of participating consumers. For example, VisaNet says a hotel can use the platform to promote offers from local restaurants or merchants. The idea is that by identifying a link between the customers of one company and others, marketers can precision-target offers to the people most likely to buy and, using the platform, track what works.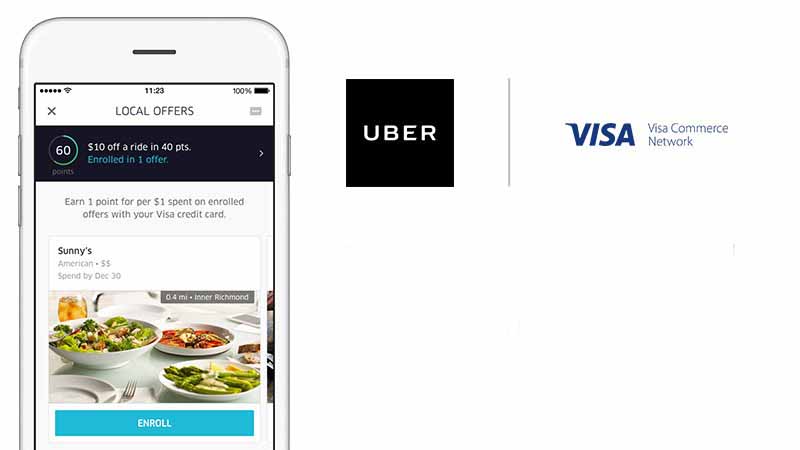 This promotion is yet another example of how analytics and new localization capabilities are driving the marketing world down to the local level. VisaNet data indicates that Uber customers spend over $2 billion a year on local purchases soon after getting out of an Uber ride. The VisaNet platform reportedly is designed to enable almost any companies to launch offers similar to Uber. The system is fully automated, which means that businesses participating in these promotions can change their offers, with activity tracked automatically using the Visa processing platform. This in turn enables participating merchants to learn what offers work best and when.
Credit card companies have tried to use their points programs to support local retailers for years. VisaNet appears to represent a more targeted way for local merchants to work together to benefit from each others' customers. The one challenge to any card-based promotion is the fact that many people are loyal to other cards where they stand the best chance of benefiting from their points. Lowering the purchase level to get an award, such as $100 for a free Uber ride (up to $10), the promotion has a low enough value threshold to appeal to many people – especially those without the purchasing power to benefit from loyalty to any one card.
While VisaNet has created an apparently simple way to power local co-marketing through its Visa card platform, Klosebuy.com, a closely held startup, has created another approach to helping local merchants through its platform, as recently
reported on RRN
. Klosebuy's approach enables merchants to power promotions to its customer no matter how they pay based on the ability of the merchant to build a database of customers and prospects to whom to market the offers.