New Product News From Links Unlimited, Inspirus, Motivation Excellence
Here's an update on new products and services from Links Unlimited, Inspirus, and Motivation Excellence.

Links Unlimited Adds New Luxury Sunglasses, Golf, and Handbags Brands
Inspirus Completes Integration With the Happiness Index Surveys
Motivation Excellence Launches Max Rewards Now

Links Unlimited adds five new luxury brands to its lineup; Inspirus integrates multiple types of surveys into its Connects employee recognition platform, and Motivation Excellence offers a simple spot gifting platform to motivate and reward team members, customers, and other stakeholders.

Links Unlimited Adds New Luxury Sunglasses, Golf, and Handbags Brands

Ohio-based Links Unlimited, a corporate channel supplier and fulfillment organization for many of the best-known premium brands in retail, has added five brands to its reward and gifting portfolio, it says in an announcement.

Burberry® currently designs and distributes ready to wear, including trench coats (for which it is most famous), leather accessories, and footwear. Its name and branding are licensed to Coty for fragrances and cosmetics and to Luxottica for eyewear.

G/FORE® is where modern design, youthful energy, and golf's rich traditions intersect. Inspired by art, architecture, and high fashion, G/Fore is distinguished by its attention to detail, sophisticated ease, whimsical nature, and youthful energy.

Hammitt is a luxury accessory brand from Los Angeles with handbags at its heart, offering effortless style and a playfully daring spirit.

Prada specializes in leather handbags, travel accessories, shoes, ready-to-wear, and other fashion accessories. Prada licenses its name and branding to Luxottica for eyewear and L'Oréal for fragrances.

Stitch® Golf is a luxury golf brand dedicated to hand-crafted, high-end products that professionals approve, but amateurs will love.

"Building strategic relationships with a variety of premium retail brands strengthens our message that we do provide the best brands," says Scott Kooken, President, and Co-founder of Links Unlimited. "

For more information go to linksunlimited.com; email corporatesales@linksunlimited.com, or call 866-465-4657. Click here for the company's catalog.


Inspirus Completes Integration With the Happiness Index Surveys

In a collaboration between Inspirus and its human insight partner, The Happiness Index, Inspirus says it now "provides organizations a single solution that measures employee sentiment and delivers insights that can improve employee engagement, elevate company culture and drive business success. Inspirus says that "each pre-built employee survey uses neuroscience to help organizational leaders understand how employees are thinking and feeling. Neuroscience is a proven, science-based methodology that considers the structures, reactions, and psychological behaviors of all humans, uniting the head and the heart. Emotions have long been taboo in the workplace, but neuroscience shows us that they're an essential part of being human and are, in fact, the key to understanding employees," the company says on its blog.

The company says that options include:
Workplace Culture Surveys, a baseline survey to evaluate an organization's cultural health.
The Employee Voice Survey is a tool available 24/7 that gives employees the ability to share their feedback anonymously.
eNPS measures the employee experience, similar to how an NPS survey measures customer satisfaction.
Diversity, Equity & Inclusion (DEI) Surveys helps leaders understand diversity, equality, and inclusion in within the organization.
Organizational Change Surveys support organizational change by inviting a dialogue about how employees think and feel.
Vision & Values Surveys address what LinkedIn reports is the magic formula to attract and retain top talent: corporate values, culture, and sustainability — ESG (Environmental, Social, Governance), the company says, is what places the top 100 companies ahead of all their competitors.
Well-being and Mental Health Surveys measure individual well-being levels and the impact of specific initiatives.
Neuroscience Themed Surveys, it says, help companies dive deeper into the lowest-scoring neuroscience themes revealed by the reports and create a robust action plan to improve engagement and happiness scores in specific areas." The eight neuroscience themes are:
Safety
Freedom
Relationships
Acknowledgement
Personal Growth
Meaning and Purpose
Clarity
Enablement
Employee lifecycle surveys.
The Onboarding Survey gives organizations insight into what new hires are thinking and feeling (often unobstructed by the baggage they acquire as their journey progresses).

The Exit Survey polls individuals leaving the company to capture their thoughts and feelings so organizations can make adjustments that will improve the culture for those who stay.

The Return-to-Work Survey keeps leaders' fingers on the pulse of the physical, emotional, and mental well-being of employees as they return to work after being separated due to serious health conditions, childbirth, adoption, military leave, or other life circumstances.

For more information, go to Inspirus.com.

Motivation Excellence Launches Max Rewards Now

Illinois-based Motivation Excellence has launched MAXRewardsNow, enabling companies to "show your appreciation for work well-done. Team members are given the opportunity to select a retail or restaurant gift card that could mean a world of difference during this especially difficult time," the company says.

Companies can purchase a block of redemption codes valued at $25, $50, or $100 each and give them out to say thanks for anything. Team members redeem them for restaurant and retail gift cards.



Program benefits, the company says, include low administration costs; low investment, highly engaging rewards, along with rapid setup.


Subscribe to RRN's weekly e-newsletter.

---
Profit From the "S" of Environmental, Social, Governance (ESG)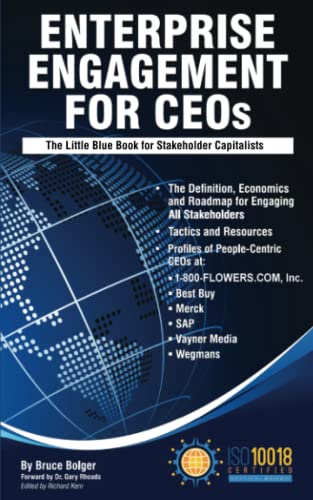 Through education, media, business development, advisory services, and outreach, the
Enterprise Engagement Alliance
supports boards, business analysts, the C-suite, management in finance, marketing, sales, human resources and operations, etc., educators, students and engagement solution providers seeking a competitive advantage by implementing a strategic and systematic approach to stakeholder engagement across the enterprise.
Click here
for details on all EEA and RRN media services.
1. Professional Education on Stakeholder Management and Total Rewards
Become part of the EEA as an individual, corporation, or solution provider to gain access to valuable learning, thought leadership, and marketing resources.
The only education and certification program focusing on Stakeholder Engagement and Human Capital metrics and reporting, featuring seven members-only training videos that provide preparation for certification in Enterprise Engagement.
EEA books: Paid EEA participants receive Enterprise Engagement for CEOs: The Little Blue Book for People-Centric Capitalists, a quick implementation guide for CEOs; Enterprise Engagement: The Roadmap 5th Edition implementation guide; a comprehensive textbook for practitioners, academics, and students, plus four books on theory and implementation from leaders in Stakeholder Management, Finance, Human Capital Management, and Culture.
2. Media
3. Fully Integrated Business Development for Engagement and Total Rewards
Strategic
Business Development
for
Stakeholder Management
and
Total Rewards
solution providers, including Integrated blog, social media, and e-newsletter campaigns managed by content marketing experts.
4. Advisory Services for Organizations
Stakeholder Management Business Plans
;
Human Capital Management, Metrics, and Reporting
for organizations, including ISO human capital certifications, and services for solution providers.
5. Outreach in the US and Around the World on Stakeholder Management and Total Rewards
The EEA promotes a strategic approach to people management and total rewards through its e-newsletters, web sites, and social media reaching 20,000 professionals a month and through other activities, such as: