New IMA President Bill Martocci: Incentives Are Thriving
Incoming Incentive Marketing President Bill Martocci shares his vision for the incentive trade organization for the coming year. Martocci is also President of Carlisle Sales and Marketing, an incentive representative company.
RRN: What are the overall goals of the IMA?

BM
: The goal for the IMA remains in line with our mission statement: advocating and promoting the use of incentives and recognition to improve business performance. We have made strong progress through our corporate outreach and website changes to get our message out to a wider audience. Through tools offered on the IMA and our SIG (Strategic Industry Group) websites we are offering resources like buyer's guides as well as brand and rep searches, that all work towards increasing buyer awareness for our members. Our expectation from this effort is new business opportunities our members can capitalize on.
RRN: What are the most important activities in your view?
BM: The continuing relationship between IMA and RPI (Recognition Professionals International) proves to be a strong alliance with clear benefits for both organizations. Our recent time together at our annual summit in Fort Lauderdale only helped to show we have shared interests, content, and value we can offer one another. We want to be a good partner for RPI, acting as the structure for them to succeed, with an expectation of formally adding them as a vital spoke in the incentive wheel that is the IMA which represents so many facets of the industry.
RRN: What are your goals for this year?
BM: IMA is a volunteer organization. We rely on interested members to take on roles in various areas from committee chairs organizing specific operations such as membership or strategic alliances, to board members who shape the direction of IMA. Often these roles are taken by the same loyal members. Although it is phenomenal to have that experience tending to our efforts, I would like to see more members get involved. New faces will lead to new ideas and ultimately sustainability as an organization. I am looking for those folks who are interested in stepping up and getting involved at a higher level. I will be doing my best to keep that interest going and hopefully growing. It's time to ignite the fire in tomorrow's leaders. Let me assure anyone reading that may be interested, you will be supported which should lead to your success and the time commitment is not as great as you may think.
RRN: What positive trends do you see in the marketplace that IMA is trying to address?
BM: With the amount of change in the workplace, from Covid-19, the use of incentives is more prevalent than ever. From engaging a remote workforce, to letting employees know they are valued by the organization, to rewarding a sales staff for a challenging job done well, there is an emphasis being placed on using incentives in reward and recognition strategies. With that positive trend comes the reality of supply chain issues and a slow return to travel. The IMA is an information resource that continues to monitor all aspects of the incentive channel, gaining information from members who can share with one another to address a problem, but also compete where they can. The network that is IMA is more valuable to members than ever in these tumultuous times. Through the power of shared experience, we're helping you and your business to survive challenges and take advantage of positive trends in the marketplace.
RRN: What challenges do you see that you're trying to address?
BM: Challenges certainly are not hard to find as we work our way through this recurring pandemic and the results there of. Mergers, consolidations, and acquisitions as well as layoffs have hit our members and their companies. IMA wants to remain an open resource for members and companies who may be more affected than others by these conditions. We are arranging to support those who are displaced so they can remain active within the industry network, providing help in a time when it is needed. Hopefully this helps them remain informed about opportunities that are available. Reach out to the IMA office should you need to and see how we can help.
For More Information
Tel. 952-928-4649
---
Education, Certifications, and Information to Activate
Brand Media and Enterprise Engagement

A complete learning, certification, and information program and a course syllabus for educators.
Resources:
The
Brand Media Coalition
, the only guide to the story-telling power of brands and where to source them for business, event, promotional gifting, and rewards and recognition.
Enterprise Engagement Solution Provider Directory
. The only directory of engagement solution providers covering all types of agencies and tactics as well as insights on how to select them.
Communities:
The
Enterprise Engagement Alliance and Advocate
and the
Brand Media Coalition
free resource centers offering access to the latest research, news, and case studies; discounts, promotions, referrals, and commissions, when appropriate to third-party solution providers from participating coalition solution provider members.
Training and Certification
Enterprise Engagement Alliance Education:
Certified Engagement Practitioner; Advanced Engaged Practitioner, and Certified Engagement Solution Provider learning and certification programs on how to implement Stakeholder Capitalism principles at the tactical level.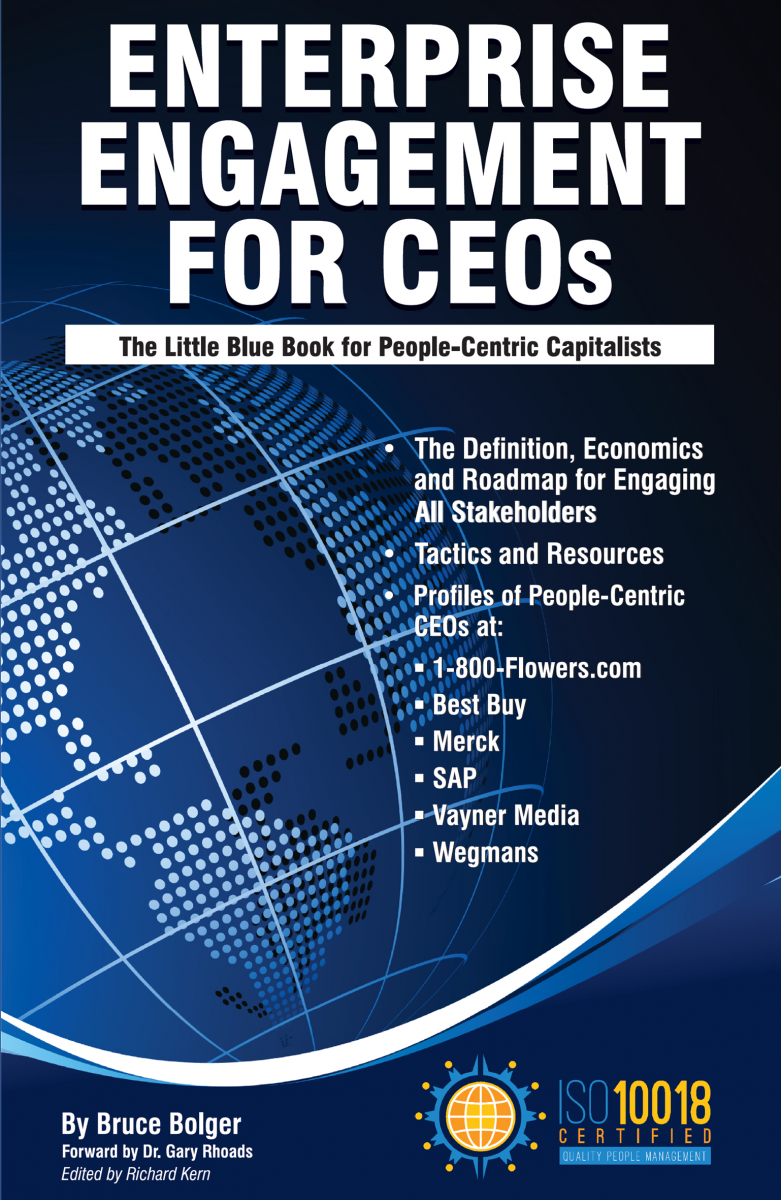 In Print:
This is the definitive implementation guide to Stakeholder Capitalism, written specifically to provide CEOs and their leadership teams a concise overview of the framework, economics, and implementation process of a CEO-led strategic and systematic approach to achieving success through people. (123 pages, $15.99)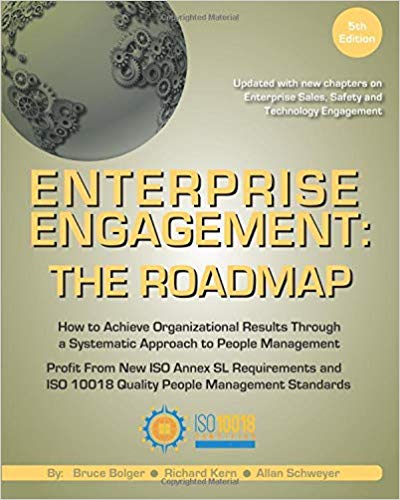 The first and most comprehensive book on Enterprise Engagement and the new ISO 9001 and ISO 10018 quality people management standards. Includes 36 chapters detailing how to better integrate and align engagement efforts across the enterprise. (312 pages, $36.)
Online:
10-minute short course: click here
for a 10-minute introduction to Enterprise Engagement and ISO standards from the Coggno.com learning platform.
Services:
• The Engagement Agency at EngagementAgency.net,
offering: complete support services for employers, solution providers, and technology firms seeking to profit from formal engagement practices for themselves or their clients, including Brand and Capability audits for solution providers to make sure their products and services are up to date.
• C-Suite Advisory Service
—Education of boards, investors, and C-suite executives on the economics, framework, and implementation processes of Enterprise Engagement.
• Speakers Bureau
—Select the right speaker on any aspect of engagement for your next event.
• Mergers and Acquisitions. The Engagement Agency's Mergers and Acquisition group is aware of multiple companies seeking to purchase firms in the engagement field. Contact Michael Mazer in confidence if your company is potentially for sale at 303-320-3777.
Enterprise Engagement Benchmark Tools:
The Enterprise Engagement Alliance offers three tools to help organizations profit from Engagement.
Click here
to access the tools.
• ROI of Engagement Calculator. Use this tool to determine the potential return-on-investment of an engagement strategy.
• EE Benchmark Indicator. Confidentially benchmark your organization's Enterprise Engagement practices against organizations and best practices.
• Compare Your Company's Level of Engagement. Quickly compare your organization's level of engagement to those of others based on the same criteria as the EEA's Engaged Company Stock Index.
• Gauge Your Personal Level of Engagement. This survey, donated by Horsepower, enables individuals to gauge their own personal levels of engagement.
For more information, contact Bruce Bolger at Bolger@TheEEA.org, 914-591-7600, ext. 230.