New Enterprise Engagement 2.0 Education Includes Rewards and Recognition Track
The new Enterprise Engagement Alliance 2.0 education program is designed to prepare executives and managers at all levels for the emerging Stakeholder Capitalism movement being promoted by the World Economic Forum, Business Roundtable, EY, and many other leading organizations. The only education program anywhere focusing on the principles of Enterprise Engagement, the program will include a complete track on Rewards, Recognition, Gifting, and the Role of Brands. Sponsored by the EEA's Brand Media Coalition, the Rewards and Recognition education is designed to provide management and solution providers the essential "need to knows" related to the use of brands in rewards, recognition, gifting, and amenities.

The role of brands in Rewards, Recognition, Gifting and Amenity programs will be featured in a special education track as part of the Enterprise Engagement Alliance's new 2.0 education program preparing managers at all levels for the role of "Chief Engagement Officers." The new on demand education platform is part of the Enterprise Engagement Alliance's Knowledge Management effort to gather and maintain expert insights on the essential elements of process design and implementation on its
Human Capital Management and ROI of Engagement
Youtube channel.
The program consists of about 12 one-hour programs on each topic updated annually. They feature three to four experts sharing what they consider the essential "need-to-knows."
EEA Provides a Separate Track on Rewards and Recognition and the Role of Brands
The new education on rewards and recognition will run alongside the EEA's Enterprise Engagement 2.0 education program to provide executives and managers at all levels with the skills necessary to serve as chief engagement officer, whatever their role. First developed in 2009 by the Enterprise Engagement Alliance under the direction of experts in all areas of engagement, the program recently was updated to include the latest information on human capital management, measurement, reporting, and return-on-investment of engagement principles. Created well in advance of the
Stakeholder Capitalism
movement, a new approach to business management endorsed by such leading organizations as the
Business Roundtable and the World Economic Forum
, the education program is designed to address the failure of traditional leadership training by equipping managers at all levels with an understanding of all the tools needed not only to engage people in the organization's purpose and goals, but to align their interests and properly equip them by addressing all the levers of engagement in a systematic way.
Explains Bruce Bolger, Founder of the EEA, "Every manager today needs to be a chief engagement officer able to make sure each employee understands the culture and purpose and his or her role, and has all the necessary information, skills, opportunities for collaboration and innovation, proper job design, workplace diversity, etc. to optimize performance."
The program includes a complete track on Enterprise Engagement and a separate one on Rewards, Recognition, Gifting, and the Role of Brands. Both programs will be available and promoted through multiple business information platforms, including:
Formats
•
About 12 one-hour recorded panel discussions with summary slides on key topics or Rewards, Recognition, Gifting, and the selective use of brands.
•
At least two half-day programs produced by CEWorkshops, one of the leading providers of continuing education and credits for chief financial officers and attorneys.
Objectives
•
Provide management at all levels with practical information on the implementation of all aspects of the use of brands in rewards, recognition, incentive, loyalty, gifting, and event programs.
•
Allan Schweyer
, Academic Director, Incentive Research Foundation, EEA Co-Founder, and President of TMLU online business education.
•
Contributors consist of experts in the various topics.
Rewards and Recognition Topics
•
Corporate Gifting best practices
---
Education, Certifications, and Information to Activate
Brand Media and Enterprise Engagement

A complete learning, certification, and information program and a course syllabus for educators.
Resources:
The
Brand Media Coalition
, the only guide to the story-telling power of brands and where to source them for business, event, promotional gifting, and rewards and recognition.
Enterprise Engagement Solution Provider Directory
. The only directory of engagement solution providers covering all types of agencies and tactics as well as insights on how to select them.
Communities:
The
Enterprise Engagement Alliance and Advocate
and the
Brand Media Coalition
free resource centers offering access to the latest research, news, and case studies; discounts, promotions, referrals, and commissions, when appropriate to third-party solution providers from participating coalition solution provider members.
Training and Certification
Enterprise Engagement Alliance Education:
Certified Engagement Practitioner; Advanced Engaged Practitioner, and Certified Engagement Solution Provider learning and certification programs on how to implement Stakeholder Capitalism principles at the tactical level.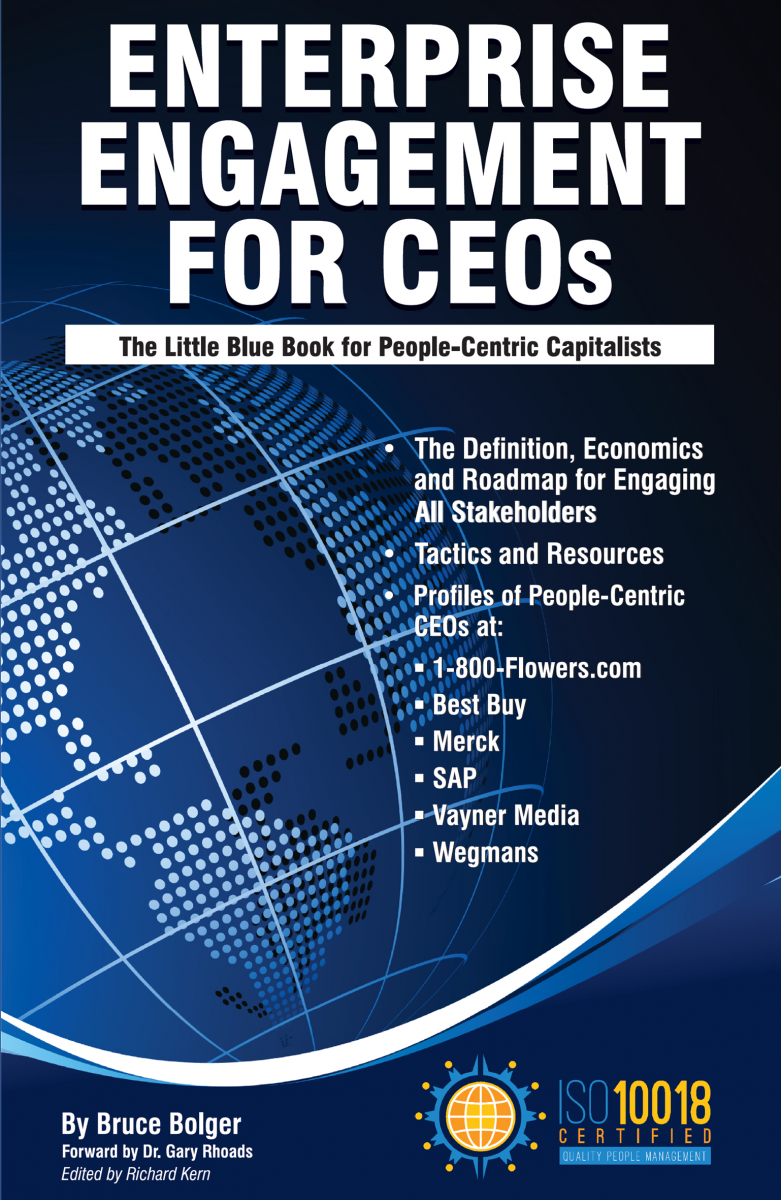 In Print:
This is the definitive implementation guide to Stakeholder Capitalism, written specifically to provide CEOs and their leadership teams a concise overview of the framework, economics, and implementation process of a CEO-led strategic and systematic approach to achieving success through people. (123 pages, $15.99)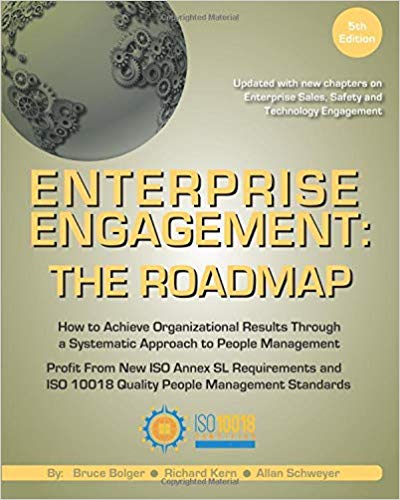 The first and most comprehensive book on Enterprise Engagement and the new ISO 9001 and ISO 10018 quality people management standards. Includes 36 chapters detailing how to better integrate and align engagement efforts across the enterprise. (312 pages, $36.)
Online:
10-minute short course: click here
for a 10-minute introduction to Enterprise Engagement and ISO standards from the Coggno.com learning platform.
Services:
• The Engagement Agency at EngagementAgency.net,
offering: complete support services for employers, solution providers, and technology firms seeking to profit from formal engagement practices for themselves or their clients, including Brand and Capability audits for solution providers to make sure their products and services are up to date.
• C-Suite Advisory Service
—Education of boards, investors, and C-suite executives on the economics, framework, and implementation processes of Enterprise Engagement.
• Speakers Bureau
—Select the right speaker on any aspect of engagement for your next event.
• Mergers and Acquisitions. The Engagement Agency's Mergers and Acquisition group is aware of multiple companies seeking to purchase firms in the engagement field. Contact Michael Mazer in confidence if your company is potentially for sale at 303-320-3777.
Enterprise Engagement Benchmark Tools:
The Enterprise Engagement Alliance offers three tools to help organizations profit from Engagement.
Click here
to access the tools.
• ROI of Engagement Calculator. Use this tool to determine the potential return-on-investment of an engagement strategy.
• EE Benchmark Indicator. Confidentially benchmark your organization's Enterprise Engagement practices against organizations and best practices.
• Compare Your Company's Level of Engagement. Quickly compare your organization's level of engagement to those of others based on the same criteria as the EEA's Engaged Company Stock Index.
• Gauge Your Personal Level of Engagement. This survey, donated by Horsepower, enables individuals to gauge their own personal levels of engagement.
For more information, contact Bruce Bolger at Bolger@TheEEA.org, 914-591-7600, ext. 230.