New EEA Council Focuses on IRR Industry Outreach

Representatives from all aspects of the Incentive, Rewards, and Recognition (IRR) field will work alongside the Enterprise Engagement Alliance Stakeholder Management Advisory Council to explore specific ways to elevate the Incentive, Rewards, and Recognition (IRR) field and create more value for organizations of all sizes around the world.

IRR Outreach Advisory Council
The 4 Pillars of the EEA Outreach Strategy for the IRR Field

To advise the Enterprise Engagement Alliance's IRR industry outreach effort and its Association of National Advertisers Knowledge Center sponsorship on Brand Engagement 360, the Brand Media Coalition has created a council of IRR solution providers to meet periodically in open virtual meetings to focus specifically on outreach strategies and tactics for the IRR field and ways that solution providers can more effectively cross-sell services to enhance their value to corporations. The EEA provides outreach, education, certification, information, and engagement tools to promote a strategic approach to Stakeholder Management and Total Rewards.



The EEA's sponsorship of the ANA Knowledge Center content program is in part a result of an EEA YouTube town hall IRR industry meeting held earlier this year, Is it Time to Have a Got People Campaign? It was generally agreed that the IRR industry has a serious brand awareness and value proposition challenge, an issue which extends to the broader field of Stakeholder Management.

The IRR committee will work alongside the EEA's Stakeholder Management advisory council which includes expert solution providers in all areas of engagement, from brand-culture alignment, assessment and feedback, innovation, and collaboration, to DEI (Diversity, Equity, Inclusion); rewards; social recognition; wellness and safety, and more.

To launch the new outreach program, EEA has published two Market Reports to educate C-suite, boards, and other executives on Brand Engagement 360: A Guide to Implementation, and on the Total Rewards business through IRR Industry Primer: Is Your Brand Powerful Enough to Motivate and Inspire.

The Association of National Advertisers was selected as a content partner because of its interest in the concept of Brand Engagement issues as outlined in its Growth Agenda and because of its impressive end-user and agency membership. The EEA was invited to make a formal presentation on the subject of Brand Engagement 360 as well as the IRR industry at an upcoming live and virtual Brand Management committee event Nov. 15, 2022 at its headquarters in New York City.

EME Gold was selected as a partner because of its commitment to educating its community over 2,200 of the top 3% of distributors through co-distribution of the weekly RRN e-newsletter and because Brand Media Coalition preferred solution providers have verified the interest of the attendees and their ability to sell brands and identify opportunities for programs.


IRR Outreach Advisory Council

Founding members of the IRR advisory council currently represent three out of the multiple categories of suppliers in the IRR field. Gift card solutions and incentive representatives and all IRR solution providers committed to advancing the field are welcome. The founding IRR Outreach Advisory Council companies currently include:

Incentive and recognition companies: EGR International (founding EEA ally), Appreciation at Work, HMI Performance Incentives, Luxe Incentives, Partners for Incentives.

Enterprise Engagement Technology: CarltonOne Engagement and INCENTCO.

Brands and Master Fulfillment Companies: Links Unlimited, Citizen Watch Corporation, Castle Merchandising, GGI Worldwide, Hinda Incentives, and Pro Am Golf.

The council will hold periodic open virtual meetings featuring short presentations by different suppliers from which others can benefit as well as discussions about the outreach efforts, including messaging, and taking advantage of partnerships with the Association of National Advertisers, EME Gold, and potentially other partners.

The 4 Pillars of the EEA Outreach Strategy for the IRR Field

The Enterprise Engagement Alliance's strategic plan to advance the professional use of rewards, recognition and experiences in business include:

1. Outreach to Inform Business Leaders and Distribution Partners
EEA Sponsorships such as the ANA Knowledge Center with other organizations offering the ability to share useful information digitally and face-to-face with the right people, including the EME Gold program to target the top 3% of distributors.
The EEA YouTube channel with over 40 shows featuring over 100 speakers in all areas of engagement and total rewards.
The Brand Club offering discounted offers on brand name products for industry members and qualified buyers only.
The EEA Engagement widget making it easy for any size company to promote referrals through incentives and benchmark their results using any reward platform in the industry.
2. Useful Information to Support Action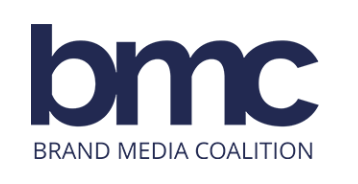 We help management get started by providing useful information through our multiple media properties and marketplaces, RRN at RewardsRecognitionNework.com weekly e-newsletters and the BrandMediaCoalition.com marketplace; ESM at EnterpriseEngagement.org weekly e-newsletters and its EEXAdvisors.com marketplace, along with multiple social media platforms. We maintain two libraries with regularly updated resources on Stakeholder Management and the IRR field.

3. Formal Training, Meeting Facilitation, and Certification on Stakeholder Engagement
The EEA provides possibly the world's only professional development and certification program for strategic process design and implementation of a stakeholder approach to engagement across the enterprise with a faculty including world leaders in stakeholder management. Services include a speakers bureau, interactive town hall formats, meeting facilitation, and a formal certification on Enterprise Engagement practices.

4. Advisory Services for Organizations and Solution Providers on Engagement and the IRR Market
The EEA's Engagement Agency provides guidance, gap analyses, and strategic engagement business plan creation for organizations seeking to align their engagement processes across the enterprise toward a common purpose or to become a provider of services to the IRR or broader engagement solution providers marketplace.
The Engagement Agency provides complete business development services for all types of engagement solution providers seeking highly targeted and measurable way to tell their stories to the people who count and to create cross-selling opportunities with other solutions providers.
For the latest news delivered by via email, subscribe her
e.
---
Education, Certifications, and Information to Activate
Brand Media and Enterprise Engagement

A complete learning, certification, and information program and a course syllabus for educators.
Resources:
The
Brand Media Coalition
, the only guide to the story-telling power of brands and where to source them for business, event, promotional gifting, and rewards and recognition.
Enterprise Engagement Solution Provider Directory
. The only directory of engagement solution providers covering all types of agencies and tactics as well as insights on how to select them.
Communities:
The
Enterprise Engagement Alliance and Advocate
and the
Brand Media Coalition
free resource centers offering access to the latest research, news, and case studies; discounts, promotions, referrals, and commissions, when appropriate to third-party solution providers from participating coalition solution provider members.
Training and Certification
Enterprise Engagement Alliance Education:
Certified Engagement Practitioner; Advanced Engaged Practitioner, and Certified Engagement Solution Provider learning and certification programs on how to implement Stakeholder Capitalism principles at the tactical level.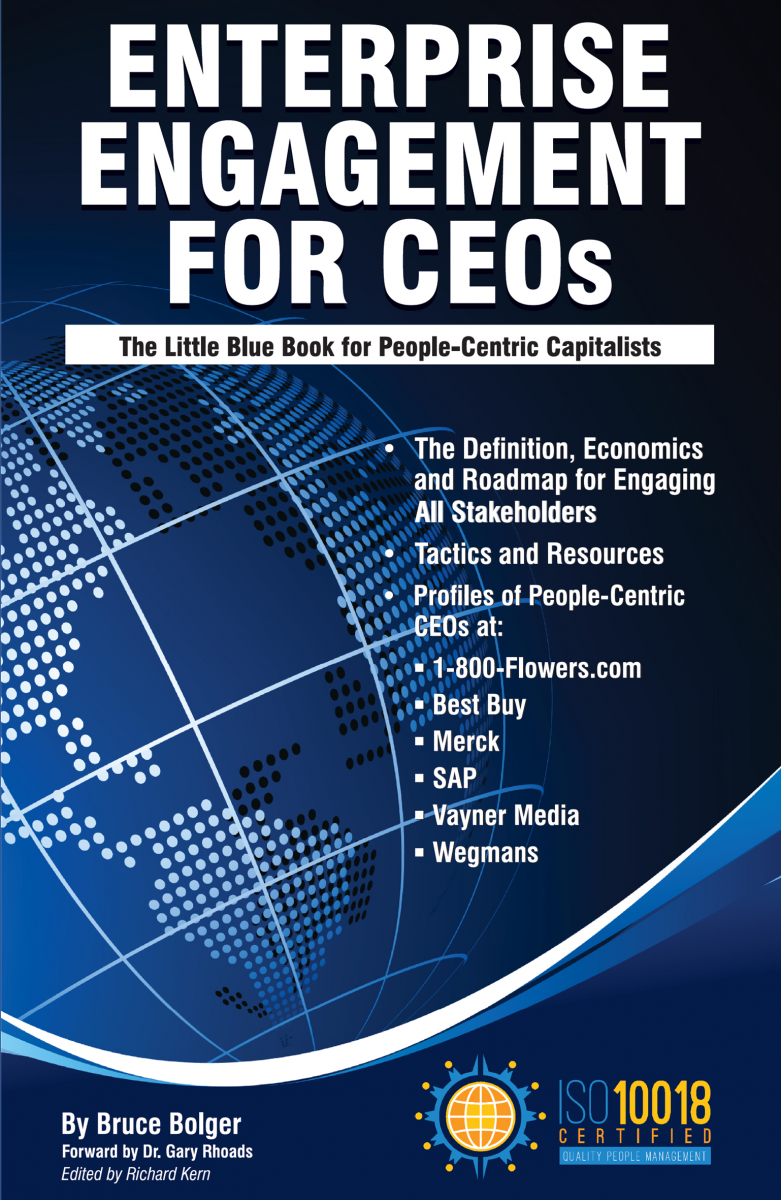 In Print:
This is the definitive implementation guide to Stakeholder Capitalism, written specifically to provide CEOs and their leadership teams a concise overview of the framework, economics, and implementation process of a CEO-led strategic and systematic approach to achieving success through people. (123 pages, $15.99)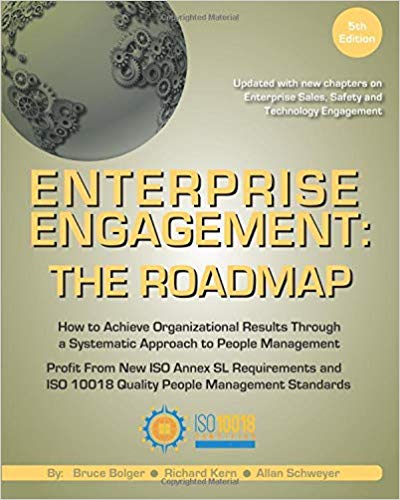 The first and most comprehensive book on Enterprise Engagement and the new ISO 9001 and ISO 10018 quality people management standards. Includes 36 chapters detailing how to better integrate and align engagement efforts across the enterprise. (312 pages, $36.)
Online:
10-minute short course: click here
for a 10-minute introduction to Enterprise Engagement and ISO standards from the Coggno.com learning platform.
Services:
• The Engagement Agency at EngagementAgency.net,
offering: complete support services for employers, solution providers, and technology firms seeking to profit from formal engagement practices for themselves or their clients, including Brand and Capability audits for solution providers to make sure their products and services are up to date.
• C-Suite Advisory Service
—Education of boards, investors, and C-suite executives on the economics, framework, and implementation processes of Enterprise Engagement.
• Speakers Bureau
—Select the right speaker on any aspect of engagement for your next event.
• Mergers and Acquisitions. The Engagement Agency's Mergers and Acquisition group is aware of multiple companies seeking to purchase firms in the engagement field. Contact Michael Mazer in confidence if your company is potentially for sale at 303-320-3777.
Enterprise Engagement Benchmark Tools:
The Enterprise Engagement Alliance offers three tools to help organizations profit from Engagement.
Click here
to access the tools.
• ROI of Engagement Calculator. Use this tool to determine the potential return-on-investment of an engagement strategy.
• EE Benchmark Indicator. Confidentially benchmark your organization's Enterprise Engagement practices against organizations and best practices.
• Compare Your Company's Level of Engagement. Quickly compare your organization's level of engagement to those of others based on the same criteria as the EEA's Engaged Company Stock Index.
• Gauge Your Personal Level of Engagement. This survey, donated by Horsepower, enables individuals to gauge their own personal levels of engagement.
For more information, contact Bruce Bolger at Bolger@TheEEA.org, 914-591-7600, ext. 230.