Marc Matthews, President/CEO of Pulse Experiential Travel Suggests Ways to Handle Incentive Travel Disruption
The meetings and group travel industry has taken a hit as a result of the Covid-19 outbreak: out of an "abundance of caution," many organizations are cancelling or postponing events or moving to virtual formats until they can better assess the actual risks. For organizations cancelling or postponing incentive travel, Marc Matthews, President/CEO of Pulse Experiential Travel, believes organizations can benefit from surprise and delight strategies that can turn a negative into a positive and offers one his company's individual experiential travel packages as one of those solutions.
It makes sense for organizations to postpone non-essential meetings and events if people are concerned about the risk of getting caught up in a quarantine or being exposed to a new disease, but how to handle the unique case of incentive travel?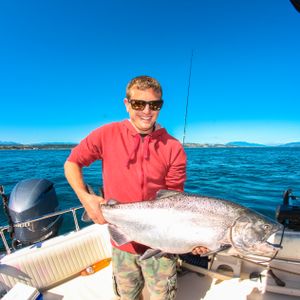 With over 40 years of experience in the experiential travel and events business, Marc Matthews, the founder and President of Pulse Experiential Travel, has seen it all. "When it comes to taking customers, employees or other important stakeholders on incentive trips, nothing is more important than the safety and happiness of participants," says Matthews. "Even the perception of risk is inconsistent with an organization's responsibility for the welfare of their people."
Cancellations of incentive travel, as opposed to meetings, involve a different decision-making process, he says, "because in most cases people don't feel the same level of disappointment, if any at all, if a meeting is postponed. In the case of incentive travel, there often is a high level of disappointment because the program participants earned the trip by achieving their incentive goals and also incentive travel often involves significant others."
An effective strategy for companies and their incentive and meeting planning partners, he says, "is to surprise and delight participants with a compelling alternative to the cancelled group incentive. Our
JustRewards™
brand of individual experiential travel packages offer exciting travel solutions that are highly flexible in that they allow the individual program participant to choose what they want to do, and where and when they want do it anytime over the next 36 months all at a flat fixed cost to the corporation."
For those companies that can postpone the program without problem, "it still doesn't hurt to do something special to demonstrate that you care. That can take the form of a carefully chosen gift that demonstrates that you know who they are and how this postponement may have felt. Typically, the people headed off on incentive trip are your top performances, so whatever you can do to show you care has an especially high impact during times like these."
Marc H. Matthews President / CE0
Corporate Sport Incentives DBA
Pulse Experiential Travel
9119 Church Street
Manassas, Virginia 20110
800-700-1357 - Office
202-345-2474 - Mobile
---
Master the Principles of Enterprise Engagement to Achieve Organizational Goals and Enhance Your Career
Profit from a new strategic and systematic approach to engagement to enhance your organization's brand equity; increase sales, productivity, quality, innovation, and safety, and reduce risks.
Get trained to become a Chief Engagement Officer for your organization.
Achieve ISO 10018 Quality People Management Certification to demonstrate your organization's strategic commitment to people to your customers, employees, distribution partners, vendors, communities, investors, and regulators.
Learn how to create Sustainability or Integrated Reports for Your Organization or Clients.
Get up-to-speed on ISO human resources standards and guidelines to enhance HR performance.
Education:
The International Center for Enterprise Engagement at TheICEE.org offers monthly formal training using webinars and self-learning for professional certification in:
•

ISO 30414, officially known as Human Capital Internal and External Guidelines, which provide a voluntary framework for the tracking, use of, and sharing of appropriate human capital metrics for the purpose of making better organizational decisions and disclosures to stakeholders. It was published in 2019.
•

ISO 10018, officially known as Quality Management—Guidelines on People Involvement and Competence. It was published in 2015 to help organization apply to people management the same principles that have significantly improved quality management.
Resources: The Brand Media Coalition, the only guide to the story-telling power of brands and where to source them for business, event, promotional gifting, and rewards and recognition.
Enterprise Engagement Solution Provider Directory
. The only directory of engagement solution providers covering all types of agencies and tactics as well as insights on how to select them.
Communities: The Enterprise Engagement Alliance and Advocate and the Brand Media Coalition free resource centers offering access to the latest research, news, and case studies; discounts, promotions, referrals, and commissions, when appropriate to third-party solution providers from participating coalition solution provider members.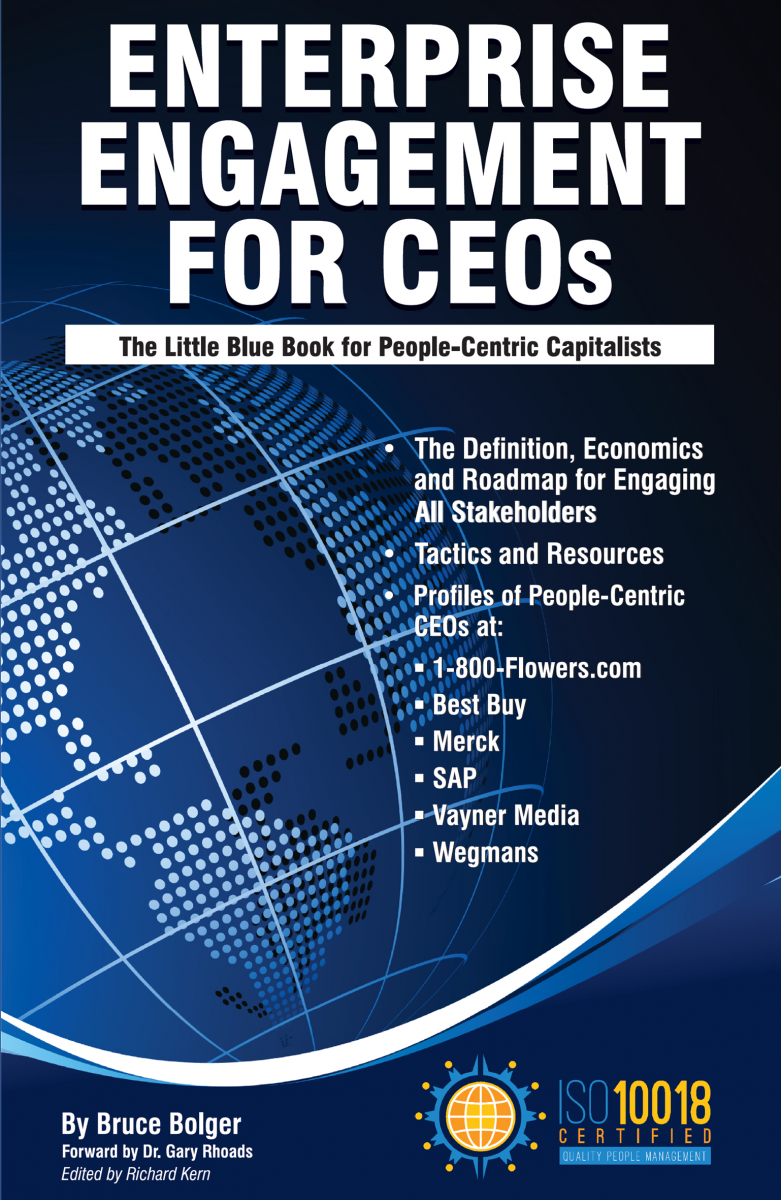 Enterprise Engagement: The Roadmap 5th Edition
The first and most comprehensive book on Enterprise Engagement and the new ISO 9001 and ISO 10018 quality people management standards. Includes 36 chapters detailing how to better integrate and align engagement efforts across the enterprise. (312 pages, $36.)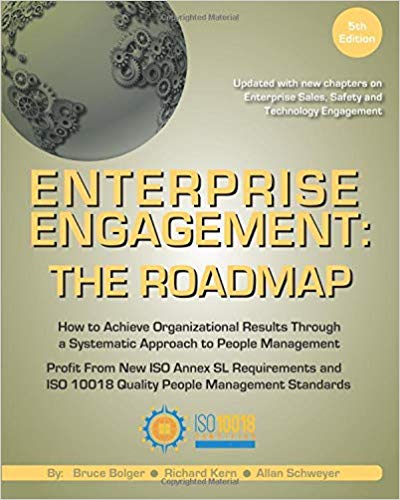 Online:
10-minute short course: click here for a 10-minute introduction to Enterprise Engagement and ISO standards from the Coggno.com learning platform.
Services:
• The International Center for Enterprise Engagement at TheICEE.org, offering: ISO 10018 certification for employers, solution providers, and Enterprise Engagement technology platforms; Human Resources and Human Capital audits for organizations seeking to benchmark their practices and related Advisory services for the hospitality field.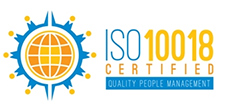 • The Engagement Agency at EngagementAgency.net, offering: complete support services for employers, solution providers, and technology firms seeking to profit from formal engagement practices for themselves or their clients, including Brand and Capability audits for solution providers to make sure their products and services are up to date.
• C-Suite Advisory Service—Education of boards, investors, and C-suite executives on the economics, framework, and implementation processes of Enterprise Engagement.
• Speakers Bureau—Select the right speaker on any aspect of engagement for your next event.
• Mergers and Acquisitions. The Engagement Agency's Mergers and Acquisition group is aware of multiple companies seeking to purchase firms in the engagement field. Contact Michael Mazer in confidence if your company is potentially for sale at 303-320-3777.
Enterprise Engagement Benchmark Tools: The Enterprise Engagement Alliance offers three tools to help organizations profit from Engagement. Click here to access the tools.
• ROI of Engagement Calculator. Use this tool to determine the potential return-on-investment of an engagement strategy.
• EE Benchmark Indicator. Confidentially benchmark your organization's Enterprise Engagement practices against organizations and best practices.
• Compare Your Company's Level of Engagement. Quickly compare your organization's level of engagement to those of others based on the same criteria as the EEA's Engaged Company Stock Index.
• Gauge Your Personal Level of Engagement. This survey, donated by Horsepower, enables individuals to gauge their own personal levels of engagement.
For more information, contact Bruce Bolger at Bolger@TheEEA.org, 914-591-7600, ext. 230.