Luxe Incentives: The Lessons of Selling ROI Before Its Time
For 30 years, Jacque Busby has helped leading clients reward their top sales performers with extraordinary travel experiences and has first-hand witnessed the motivational value of these programs. Management, she says, were often so convinced of the impact that many organizations did not seek out the return-on-investment processes and measures prevalent in other industries. Her early investment in ROI, she says, has begun to pay off, as more organizations, she believes, seek out a clearer link between their incentive, recognition, and other engagement efforts and organizational performance goals.
When
Jacque Busby
, Founder and CEO of
Luxe Incentive
s, launched the company in September of 1983, she never intended to create a performance improvement company. Her niche from the outset was to serve the corporate incentive travel market with boutique, extraordinary experiences for the top-performing salespeople or channel partners, and she has survived past downturns and the recent near shutdown of travel experiences to continue offering these services as the market has begun to recover.
Long before the pandemic, though, Busby says she reached two critical conclusions: Organizations could do a much better job of measuring the return on investment of these programs, and many can take advantage of technologies that make it possible to extend the engagement of the travel experience year-round through digital platforms.
"Anyone who has ever participated in incentive programs for top performers knows first-hand their enormous impact," says Jacque Busby, Founder and CEO. "It's clear from the conversations one hears at these events that many have worked extra hard to share these experiences with their colleagues and significant others; that these events clearly reinforce organizational culture and a sense of meaning; and that they provide an almost extraordinary opportunity to forge relationships that really can help attract and retain talent. As a result of these obvious benefits, I suspect, many companies do not believe they need to formally measure the actual impact and return-on-investment of these programs."
That Which Gets Measured, Gets Done Better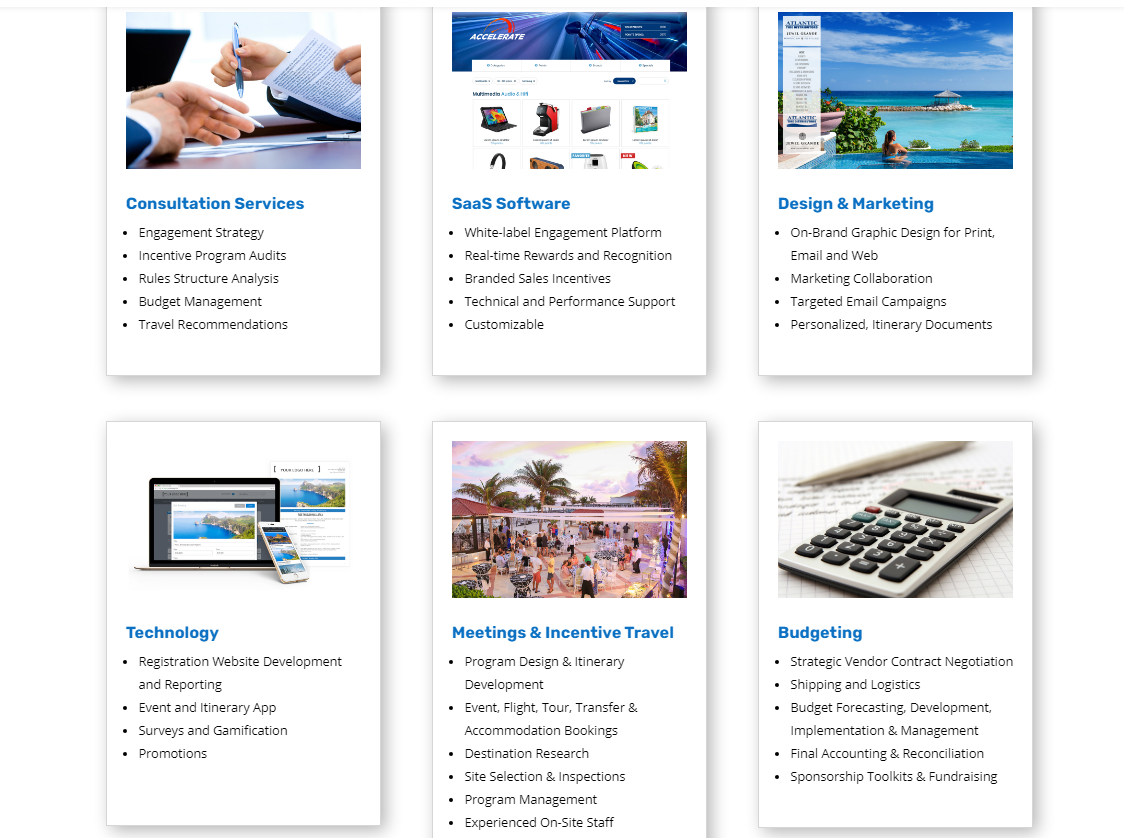 As with any other business process, she believes, "organizations can benefit from measuring the results so that they can be improved." From Busby's perspective, the process begins with program design. "So often we see organizations with longstanding recognition programs with no clear measurement or alignment with organizational goals. We believe they can use those same dollars to drive behaviors that will help them achieve their organizational goals and provide useful information they can use for internal or external human capital reporting and decision-making. The opportunity is to create a customer-focused organization, starting with the way employees treat their colleagues internally, and so on."
In sales engagement design, common areas of improvement center around "bringing up the middle 60%, who may not be the top producers but whose combined effort can help improve the bottom line; and making sure that people not only have the motivation, but also the information, training, and emotional support they need to continually meet or exceed quotas in a highly competitive world." Do the math, she adds: "In most cases, your top performers will hit their goals; in many cases, increasing the performance of the middle-60% by 5% is the difference between a good year and a great year."
Busby explains that over the last decade, she has perused all the materials she could find on return-on-investment of incentive and engagement programs and has found that in the end the top management of many companies simply did not ask for formal ROI reporting. "Some have even feared they would lose top talent or customers if they halted the trips, so no other metrics mattered."
The Push for ROI and Measurement
Even before the pandemic, Busby says, "I decided we had to expand our focus with clients to help them solve their engagement solutions year-round, not just over the several days of an incentive trip, and that clients could benefit from program design, project management, and managed outsourcing of technology and other solutions, as well. It was already clear that the new focus on human capital management and reporting, corporate sustainability reports, and the Securities & Exchange Commission human capital disclosure requirement were going to pressure companies to think more carefully about their people investments. The pandemic only accelerated the trend."
Bespoke incentive travel experiences remain a core part of Luxe's répertoire of services, she says, "Because there's nothing like a carefully crafted travel experience, whether a drive or long flight away, to forge deep business relationships and candid exchanges that lead to trust, innovation, and more seamless experiences throughout the year. What a shame not to better measure these programs to make them even more successful and reinforced by a digital experience that keeps the spirit alive every day throughout the year."
She believes technology can help make programs more successful and address the measurability issue at the same time. "Our job as advisers is to help clients identify if they already have or need to source enterprise engagement technology that can seamlessly engage people throughout the year on their smartphones through different types of surveys, learning, recognition and rewards, innovation, referral, and related programs. It's now possible for any size company to create a seamless engagement experience with the right strategy and technology."
So far, she says, "I haven't found any single technology that is right for everybody. Some companies have different areas of expertise; not all of them have the same reporting capabilities as others, and there are many different business models. Our job is to take the aggravation off the organization to find the right solution for their needs."
To ensure that clients access real-life program design experience, Luxe Incentives has engaged
Manny Lara
, who Busby describes as a longtime, data-driven, human resources professional based in Milwaukee, to provide advisory services to clients on program design, human capital reporting, and return-on-investment measurement. Her senior account management team includes
Gary Corzett
, who has extensive general management and operations experience in multiple industries;
Dean Mutter
, with decades of sales, management, and operations experience, and Beverly Wilmore, a Senior Consultant in Media Sales and Diversity.
Angela Amin
is the company's travel experience director, who Busby says choreographs Luxe incentive travel programs designed to achieve "never to be forgotten" experiences. "Our Luxe difference is in delivering relationship-based travel experiences that can't be purchased; in other words: you have to know someone to have the exclusive experience. Our teams are itinerary design curators; we execute seamless one-of-a-kind experiences."
Our goal," says Busby, "Is to bring our clients actual return-on-investment, a 365-day-a-year experience culminating in inspirational experiences for everyone who goes the extra mile."
For More Information
Jacque Busby
Chief Incentive Strategist/Founder
Luxe Incentives
414-349-3000
Jacque@luxeincentives.com
---
Master the Principles of Enterprise Engagement to Achieve Organizational Goals and Enhance Your Career
Profit from a new strategic and systematic approach to engagement to profit from the principles of Stakeholder Capitalism, enhance your organization's brand equity; increase sales, productivity, quality, innovation, and safety, and reduce risks.
Get trained to become a Chief Engagement Officer for your organization.
Learn how to create Sustainability or Integrated Reports for Your Organization or Clients.
Learning and Certification:
The Enterprise Engagement Alliance 2.0 education program, the only learning and certification platform for boards, executives, and managers seeking to understand the implementation principles of Stakeholder Capitalism, human capital management and measurement, and ROI of engagement. For more information, contact Bruce Bolger at Bolger@TheICEE.org or 914-591-7600, ext. 230.
Resources:
ESM at EnterpriseEngagement.org, an online trade publication founded in 2008 that features news, profiles, research, and more on the field of Enterprise Engagement, the implementation process for Stakeholder Engagement, and the EEXAdvisors.com buyer's guide and resource directory. This includes a comprehensive resource library on Stakeholder Capitalism, human capital management, measurement, and ROI of engagement.

RRN at RewardsRecognitionNetwork.com, an online trade publication founded in 1996 that features news, profiles, research and more on rewards, recognition, gifting and brand media, and the Brand Media Coalition, the only guide to the story-telling power of brands and where to source them for business, event, promotional gifting, and rewards and recognition. This features a comprehensive resource library on brand media, rewards, recognition, incentives, gifting and more.
The Enterprise Engagement Alliance Human Capital Management and ROI of Engagement Youtube channel featuring one-hour and 30-minute panel discussions with experts on multiple topics on Stakeholder Capitalism, Human Capital Management reporting and measurement, and engagement tactics.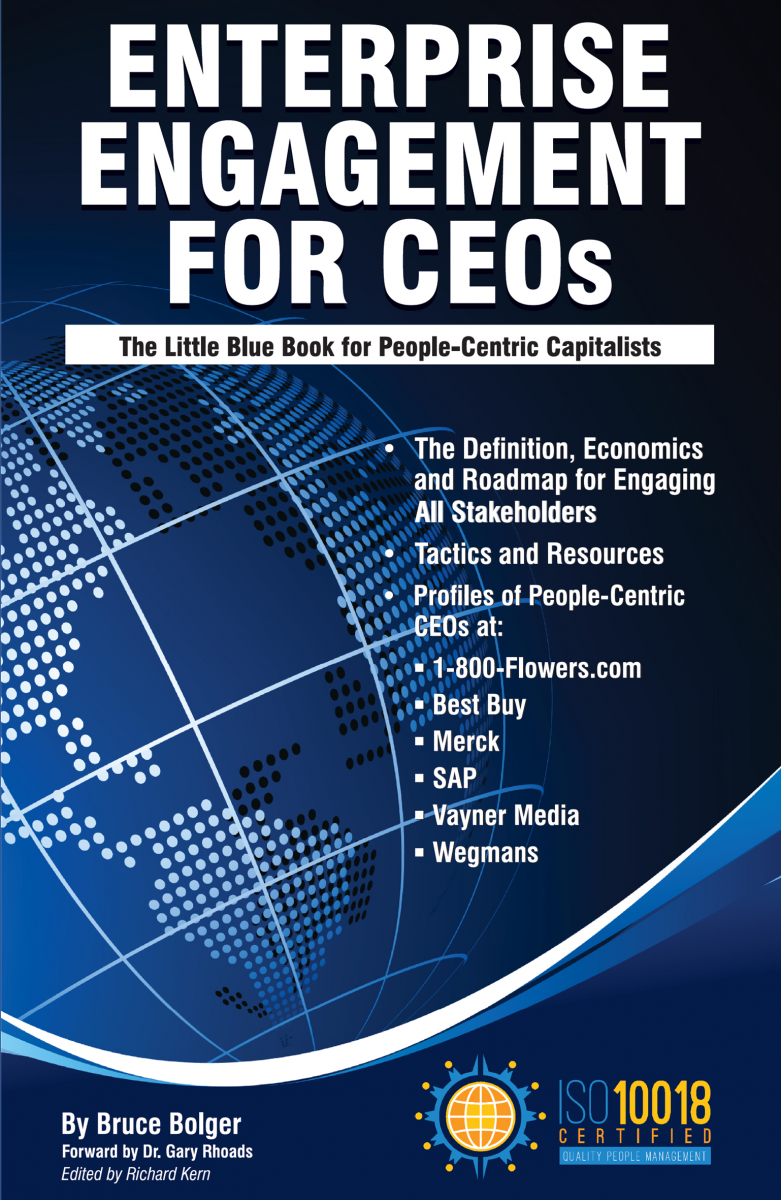 Enterprise Engagement: The Roadmap 5th Edition
The first and most comprehensive book on Enterprise Engagement and the new ISO 9001 and ISO 10018 quality people management standards. Includes 36 chapters detailing how to better integrate and align engagement efforts across the enterprise. (312 pages, $36.)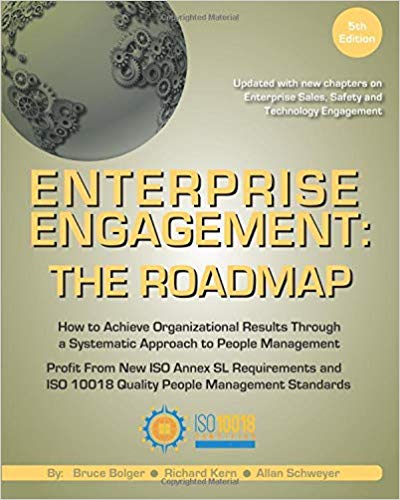 Services:
• The International Center for Enterprise Engagement at TheICEE.org, offering: ISO 10018 certification for employers, solution providers, and Enterprise Engagement technology platforms; Human Resources and Human Capital audits for organizations seeking to benchmark their practices and related Advisory services for the hospitality field.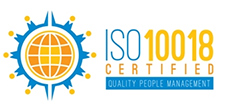 • The Engagement Agency at EngagementAgency.net, offering: complete support services for employers, solution providers, and technology firms seeking to profit from formal human capital management, reporting, and ROI of engagement practices for themselves or their clients, including Brand Alignment audits for brands and Capability audits for solution providers to make sure their products and services are up to date.
• C-Suite Advisory Services—Education of boards, investors, and C-suite executives on the economics, framework, and implementation processes of Enterprise Engagement.
• Speakers Bureau—Select the right speaker on any aspect of engagement for your next event.
• Mergers and Acquisitions. The Engagement Agency's Mergers and Acquisition group focuses on helping organizations focused on people sell to the right buyer and on assisting engagement solution providers seeking an exit or merger. Contact Michael Mazer in confidence if your company is potentially for sale at 303-320-3777.
Enterprise Engagement Benchmark Tools: The Enterprise Engagement Alliance offers three tools to help organizations profit from Engagement. Click here to access the tools.
• ROI of Engagement Calculator. Use this tool to determine the potential return-on-investment of an engagement strategy.
• EE Benchmark Indicator. Confidentially benchmark your organization's Enterprise Engagement practices against organizations and best practices.
• Compare Your Company's Level of Engagement. Quickly compare your organization's level of engagement to those of others based on the same criteria as the EEA's Engaged Company Stock Index.
• Gauge Your Personal Level of Engagement. This survey, donated by Horsepower, enables individuals to gauge their own personal levels of engagement.
For more information, contact Bruce Bolger at Bolger@TheICEE.org, 914-591-7600, ext. 230.