Lapine: A New Formula for Brand Engagement
Founded as an incentive representative organization in 1962, Lapine has grown with its customers to provide complete strategy, logistics and technology support for brands using other brands and merchandise to tell their stories and achieve their engagement objectives.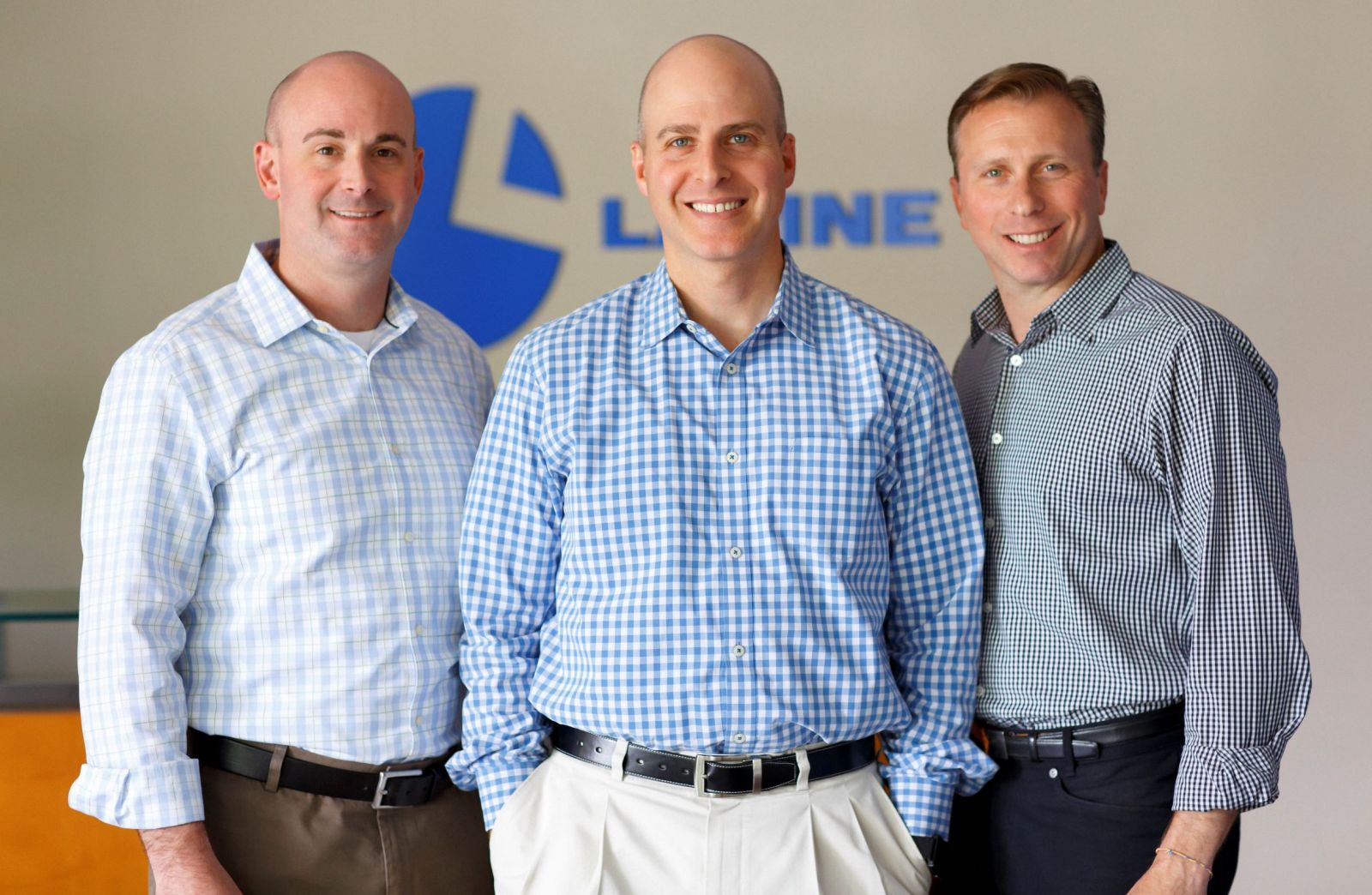 An interview with Noah Lapine, President of Stamford, CT-based Lapine Inc., and one of three partners, Noah, Seth Lapine and Paul Lapin, who run the company founded by their grandfather, is more about insights, technology and execution than products. Even though Lapine supports about two dozen brands in the corporate marketplace as a master fulfillment company to help them identify and sell opportunities in incentive, gifting, promotions and recognition programs, it differentiates itself by focusing on how to help brands use other brands and merchandise to accomplish concrete goals. The company does this by providing comprehensive logistics and technology support and prescriptive analytics to create better experiences and inform decision-making.
Lapine believes that success depends on anticipating and supporting gaps in client resources so that the company can add value. "We're a consumer engagement agency that specializes in helping brands maximize their engagement with consumers, employees and other critical stakeholders through the strategic use of brands and carefully selected merchandise." explains Lapine. This is not your father's master fulfillment company, as they say.
Lapine believes the business of using brands and customized merchandise to engage people has only grown more important over the years. "If you look at business over the last 50 years, we've seen the shift of power from the manufacturers back in the 1960s and 1970s, when the brands were kings, to the retailers in the 1980s and 1990s, as the number of mass-merchandisers proliferated beyond Sears." Now, he explains, because of social media, the power is in the hands of consumers like never before. "One individual in Des Moines can have a major impact on a brand through one viral social media post," he says "This requires a major shift in thinking."
Lapine believes this shift to one-to-one engagement creates a significant opportunity because of the measurable impact of properly designed campaigns using brands and merchandise. "One concern I've always had about the incentive industry is that it's always talking about products and price, when the discussion should really be about the user, the brand, the analytics, the return-on-investment," Lapine notes. "I think that's what makes us kind of an outlier in the industry."
A Focus on Anticipating and Supporting Client Needs
What that means in practical terms is that Lapine has evolved with the brands it serves to provide complete support for their programs using its Spark technology platform. He explains that it was created because clients need to more efficiently manage highly complex creation and distribution of promotional merchandise, resources, gifts, and rewards used in consumer engagement programs. "The goal is not only to create a better experience for the different parts of the organization, but also to generate more actionable data to continually improve programs," he says. "Imagine what our clients can learn when all their sales reps have moved from an often manual and cumbersome system for managing their regional and local marketing activities to having an online portal to access everything in one place." Lapine adds that this makes it much easier for organizations to access real-time behavioral data, match it against sales or other performance results and provide prescriptive analytics to help clients put their resources into the activities that generate the best results.
"A company like ours has to become a brand strategist, regardless of the channel—hospitality, consumer prizes, whatever the audience," Lapine explains. "It all starts with the brand identity, the target audience, what the data tells us about how the audience can be engaged, recognized, rewarded; with what brands will they feel a connection and where we can get measurable impact."
Unlike many of the incentive, recognition and loyalty companies with which Lapine does business, Lapine has made its biggest investments in technology and insights, "so that our clients can use these tools to make better decisions on their next programs." To provide these services, Lapine created a separate technology and business process innovation company in the U.S., hired a Chief Insights Officer to help it better manage and make sense of the data generated from its platform, and acquired a design and digital marketing agency to support end-to-end program execution.
Lapine says the company's Spark technology platform has three main components: Ideate, to help clients use trends and insights to select the right brands and merchandise; Activate, a program management tool that "takes the guesswork out of merchandise assortment criteria…and uses a combination of objective and subjective judging criteria to help you optimize your product offerings;" and Engage, a mobile-friendly storefront platform to support almost any type of brand or merchandise fulfillment or transaction, including budget management.
Using Technology to Break Down Silos and Improve Experiences
Lapine says that effectively designed programs using brands and merchandise on the company's Spark platform help foster greater cooperation across organizational departments, "because a single platform addresses the needs of procurement for transparent pricing, quality and specification information and of marketing, which needs on-trend, on-brand, creative ideas visualized for their customers. When you start bringing the worlds of procurement and marketing together, you get far better information shared and decisions made than when their interests are misaligned."
The Spark platform includes regularly updated, program-specific trends that it uses to drive client recommendations, as well as a portal for employees through which they can access a comprehensive library of reference materials about consumer personas and trends. "We regularly load that information into our platform, and the brand and marketing people get beautiful decks that provide fact-based recommendations in a format they can use to make more effective decisions," says Lapine.
One of the keys to the company's success, he asserts, is that it doesn't sell merchandise: it sells consumer engagement using brands and merchandise as part of the process. The company has had a traditional focus on consumer programs, but it has many clients using its support services for incentive and recognition programs as well. "Employees behave today with a consumer mindset that employee reward and recognition programs have to address," Lapine asserts. "These clients need analytics, insights and technology, not just brands and merchandise, so we invest in what our clients need."
Lapine sees several key issues in the market: "There's a fundamental lack of awareness, both on the part of marketing services and others involved with these programs, not only with the complexities involved but also with how much useful information is available to drive better decisions. The industry has never said that was important." Data analysis might reveal, for example, that a national program is falling short in specific regions because of lack of sales force engagement. "There might be stakeholders that the company needs to address to drive better results." The key issue, he claims, is to turn data into actionable steps that get into the right hands to take measurable actions. (For a similar perspective, see recent ESM article: "
Technology Vet to Enterprises: Stop Chasing Bright Shiny Objects and Focus on Basics
").
A Shift in the Traditional Power of Brands
While an advocate of the story-telling power of brands, Lapine observes that, especially with Millennials, traditional brands are less relevant. "Millennials are the least-brand loyal generation in the last 50 years," he says. "That means the brands that GenXers loved are much less relevant today. Brands that matter do so in a different way, and some of the hottest brands are flying under the radar. Then there are categories where the brand simply doesn't matter. On the one hand, most people aren't driven by brand when it comes to a flashlight. Yet, disruption can occur when suppliers in an industry that has become commoditized, such as drinkware and coolers, get side-swiped by a Yeti cooler brand or S'well water bottles charging a much higher price point….You have to have the facts to know what matters to your audience."
Lapine says the management team runs the company on a strategic plan that is regularly monitored, updated and shared with an advisory board and employees. "Our strategy is transparent; people have their own goals that roll up into our formal plans," he notes, adding "We stay disciplined."
The company's brand values are: Integrity--do the right thing no matter what the circumstances; Reliability--own the challenges and see the solution; Respect--promote an environment of trust and respect, and reward and encourage the right behaviors; Innovation--be resourceful, creative and innovative in problem solving; Commitment--place customers at the heart of the organization; and Collaboration--communicate and work as one team. To that point, the three owners all share a compact office with a glass wall making them visible to all employees.
The company uses a similar disciplined process for all project execution: IGNITE, which stands for: Insights; Goal clarity; Navigating complexity (internal and external to address all stakeholders); Innovation (design and technology); Transparency; and Execution. Lapine says that having a strategic and systematic approach to running its own business and running the programs of its clients are keys to the organization's success.
Contact:
Todd Bold
Executive Vice President of Client Engagement
(203) 327-9099, x. 1501
---
Master the Principles of Enterprise Engagement to Achieve Organizational Goals and Enhance Your Career
Profit from a new strategic and systematic approach to engagement to enhance your organization's brand equity; increase sales, productivity, quality, innovation, and safety, and reduce risks.
Get trained to become a Chief Engagement Officer for your organization.
Achieve ISO 10018 Quality People Management Certification to demonstrate your organization's strategic commitment to people to your customers, employees, distribution partners, vendors, communities, investors, and regulators.
Learn how to create Sustainability or Integrated Reports for Your Organization or Clients.
Get up-to-speed on ISO human resources standards and guidelines to enhance HR performance.
Live Education: Enterprise Engagement in Action. Take advantage of scheduled monthly live webinar preparation courses for the Certified Engagement Practitioner designation consisting of three one-hour classes and of quarterly Advanced Engagement Practitioner courses consisting of three one-hour webinar classes. The AEP course is for individuals or teams seeking preparation ISO 10018 professional certification status. ICEE periodically runs regional one-day workshops on ISO 10018 Quality People Management principles and certification.
Communities: The Enterprise Engagement Alliance and Advocate and the Brand Media Coalition free resource centers offering access to the latest research, news, and case studies; discounts, promotions, referrals, and commissions, when appropriate to third-party solution providers from participating coalition solution provider members.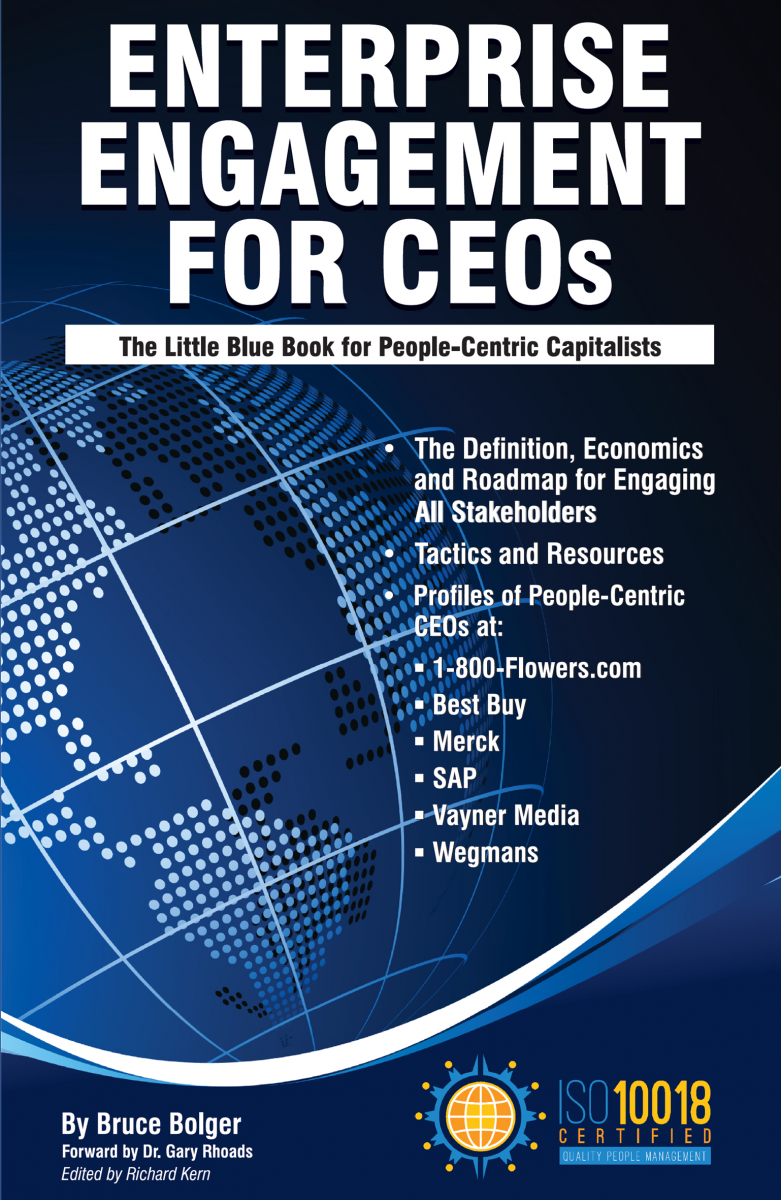 Written specifically to provide CEOs and their leadership teams a concise overview of the framework, economics, and implementation process of a CEO-led strategic and systematic approach to achieving success through people. (123 pages, $15.99)
Enterprise Engagement: The Roadmap 5th Edition
The first and most comprehensive book on Enterprise Engagement and the new ISO 9001 and ISO 10018 quality people management standards. Includes 36 chapters detailing how to better integrate and align engagement efforts across the enterprise. (312 pages, $36.)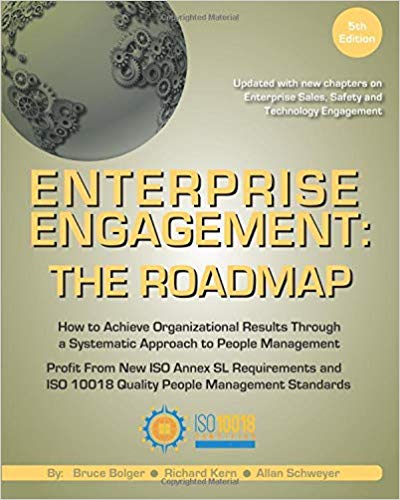 Online:
• 10-minute short course: click here for a 10-minute introduction to Enterprise
• Engagement and ISO standards on Coggno.com.
• 5-minute Audiopedia summary of the Enterprise Engagement field.
Services:
• The International Center for Enterprise Engagement at TheICEE.org, offering: ISO 10018 certification for employers, solution providers, and Enterprise Engagement technology platforms; Human Resources and Human Capital audits for organizations seeking to benchmark their practices and related Advisory services for the hospitality field.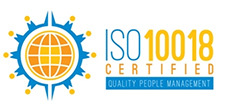 • The Engagement Agency at EngagementAgency.net, offering: complete support services for employers, solution providers, and technology firms seeking to profit from formal engagement practices for themselves or their clients, including Brand and Capability audits for solution providers to make sure their products and services are up to date.
• C-Suite Advisory Service—Education of boards, investors, and C-suite executives on the economics, framework, and implementation processes of Enterprise Engagement.
• Speakers Bureau—Select the right speaker on any aspect of engagement for your next event.
• Mergers and Acquisitions. The Engagement Agency's Mergers and Acquisition group is aware of multiple companies seeking to purchase firms in the engagement field. Contact Michael Mazer in confidence if your company is potentially for sale at 303-320-3777.
Enterprise Engagement Benchmark Tools: The Enterprise Engagement Alliance offers three tools to help organizations profit from Engagement. Click here to access the tools.
• ROI of Engagement Calculator. Use this tool to determine the potential return-on-investment of an engagement strategy.
• EE Benchmark Indicator. Confidentially benchmark your organization's Enterprise Engagement practices against organizations and best practices.
• Compare Your Company's Level of Engagement. Quickly compare your organization's level of engagement to those of others based on the same criteria as the EEA's Engaged Company Stock Index.
• Gauge Your Personal Level of Engagement. This survey, donated by Horsepower, enables individuals to gauge their own personal levels of engagement.
For more information, contact Bruce Bolger at Bolger@TheEEA.org, 914-591-7600, ext. 230.