Industry Update - The Post Pandemic Era Both a Boon and Challenge
This continuing series of articles about what is happening in the rewards, recognition, loyalty, and gifting fields reveals the good side of people, enormous growth, enduring supply chain challenges, and the increasing involvement of promotional distributors in the business of selling brands.
Business is booming in the rewards, recognition, and loyalty business, held back only by the supply chain and logistical challenges. This series of interviews continues to affirm numerous opportunities and challenges for the industry based on interviews with senior management at master fulfillment, incentive, and gift card companies.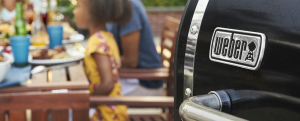 "What has amazed me most is how patient our customers have been with the supply chain issues," says
Dennis Zimmerman
, Vice President of Business Development, Special Markets of
MAS, Inc.
, a master fulfillment company in Cleveland. "A surprising number of buyers understand the situation, even though they don't like it. It's a strange situation. Any one product can have its own problem based on the origin of various components. You can't just blame the maker of the blender, because it might simply be one part that is unavailable. This has exposed how fragile our supply chain is. Just in Time is great until you have troubles. There are 10 problems on everyone's Just in Time list." Today, he adds, "Having stock is king." He says that companies have become quite aware of the supply chain issue and are ordering further ahead, and that the demand for decorating and personalizing awards continues to grow. MAS is a master fulfillment partner for Weber and has experienced brisk demand for both undecorated and decorated items. Because Weber is a US manufacturer, it can respond better to the supply chain issues, he points out, but multiple factors also affect various products and various times.
Surge in Interest From Promotional Distributors
Another notable area of growth, Zimmerman says, is the involvement of promotional distributors. "The messaging about brands is getting out there. The growth has been slow but sure and is now accelerating."
John Costelli
, President of
Castle Merchandising Inc.
, a master fulfillment company in Garden City, NY, agrees that customers are generally very understanding. "Almost no one is complaining. This stinks of course, but they are very open to our coming back with an alternative item. No one giving us pushback."
The supply chain issue is very selective, he goes on to say. "Some items are affected more than others. We're somewhat shielded by because sunglasses and handbags aren't affected by chip shortages. Many electronics items are impossible to get a handle on. Products involving stainless steel are backed up, but some other categories in housewares are easier to find." Other challenges, he says, are freight costs in general and the need to use air freight at times because of ocean backups. "Now the air freight people are out of capacity. Thankfully, we pre-ordered a lot of goods."
His company has also seen an "enormous growth in demand from promotional distributors. Their clients are demanding brands. They are looking at items for retail value. We still have our private label sunglasses and watches, but people want Ray-Ban, Costa, and fashion watches."
Growin in his business, he continues, is being driven by "huge demand to not only retain employees and attract new employees. Our business has exploded this year. We're seeing more events. People are trying to get back into that mode. At some of them, it's as if Covid never happened," though he adds that many were held outdoors over the summer. "Companies are ordering earlier. I suspect we'll see a much earlier bump this year. We're already seeing signs of it."
He reflects: "The pandemic changed the culture of business, how we go out to eat or stay home or cook. Almost everyone I speak to says their lives have improved by not having to commute each day, and the employers I speak to have zero dip in productivity. Maybe this isn't so bad, people are thinking. We're still going to have an office, but it's never going to be the same as it was before."
What's Hot—Anything for the Home or Comfort
As for what's hot, he says, "the housewares category increased in a big way last year and even through the course of this year. Home goods, cooking utensils, spice racks, pots and pans, popcorn sets; also Uggs blankets, socks, and clothing--things that made people comfortable at home." He says more of his incentive, recognition, and loyalty companies now rely on his company for drop-shipping through electronic communication for efficiency and accuracy." Other growth areas, he says, include customization, being driven by the Ember line of electronic mugs his company has brought to the corporate market. See RRN:
Castle Offers Ember Temperature Controlled Mugs to the Corporate Market
. Online gifting is also hot. "This is a response to the work-at-home phenomenon and virtual meetings. Companies need virtual catalogs."
Rob Ludwig, Jr.,
Sales Manager
at master fulfillment company
National Incentive Brands (NiB)
, agrees that gifting is an enormous growth area. "Specialty gifting is growing fast and that's only going to continue. In fact, NiB that just launched a new Gift Gallery program in response to increased demand that provides options for both live and virtual gift selection."
Jim Dittman
, Managing Director of
Next Level Performance
in New Brunswick, NJ, likewise has seen significant growth in employee gifting and responded with a
Lunch on Us
gift card service.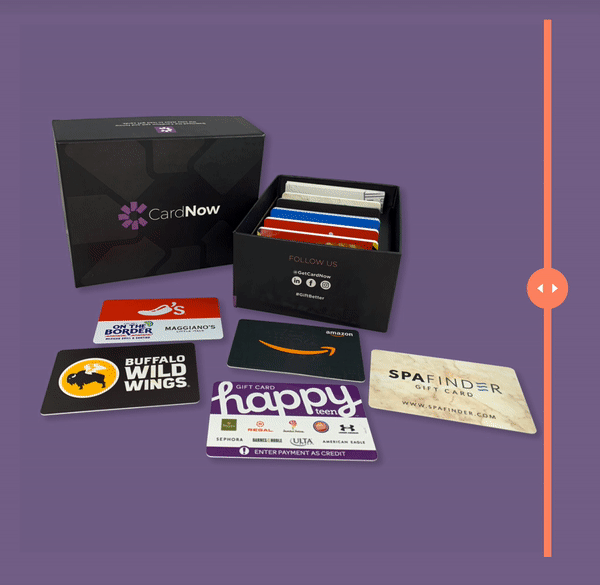 While there are many positive signs that business is coming back, there remains much uncertainty, observes
Matt Frye
, Chief Executive of
CardNow.com
, a gift card platform enabling activation on the spot via a smart phone application. Because he has information on which types of companies are using his company's gift cards, once people start using the product for gifting, 70 - 80% have continued to use it. The main applications are organizations in:
•
Health and Wellness—General Practitioner, Orthodontists, Dentists, Home Healthcare, for employees and patients.
•
Non-profits, shelters and community centers for fund-raising.
•
Real estate, for incentives and gifts.
•
Direct sales / Marketing (party planners, party chef, Tupperware, etc.)
•
Other segments are office managers/administrators for gifting, legal and paralegals, and high-income, highly active stay-at-home mothers.
He says the use of his company's cards in the events business is coming back, especially because of the need to maximize attendance or exhibit visits. "There's no need to have any active cards on the show floor," he explains. "They can be activated via a smart phone in the desired amount whenever the exhibitor wishes to give one out."
For More Information
John Costelli
Castle Merchandising
516-292-4143, ext. 103
Jim Dittman
Next Level Performance
732-379-6262
Matt Frye
CardNow.com
Rob Ludwig, Jr.
National Incentive Brands
508-347-7672
Dennis Zimmerman
MAS Inc.
330-247-1033
---
Education, Certifications, and Information to Activate
Brand Media and Enterprise Engagement

A complete learning, certification, and information program and a course syllabus for educators.
Resources:
The
Brand Media Coalition
, the only guide to the story-telling power of brands and where to source them for business, event, promotional gifting, and rewards and recognition.
Enterprise Engagement Solution Provider Directory
. The only directory of engagement solution providers covering all types of agencies and tactics as well as insights on how to select them.
Communities:
The
Enterprise Engagement Alliance and Advocate
and the
Brand Media Coalition
free resource centers offering access to the latest research, news, and case studies; discounts, promotions, referrals, and commissions, when appropriate to third-party solution providers from participating coalition solution provider members.
Training and Certification
Enterprise Engagement Alliance Education:
Certified Engagement Practitioner; Advanced Engaged Practitioner, and Certified Engagement Solution Provider learning and certification programs on how to implement Stakeholder Capitalism principles at the tactical level.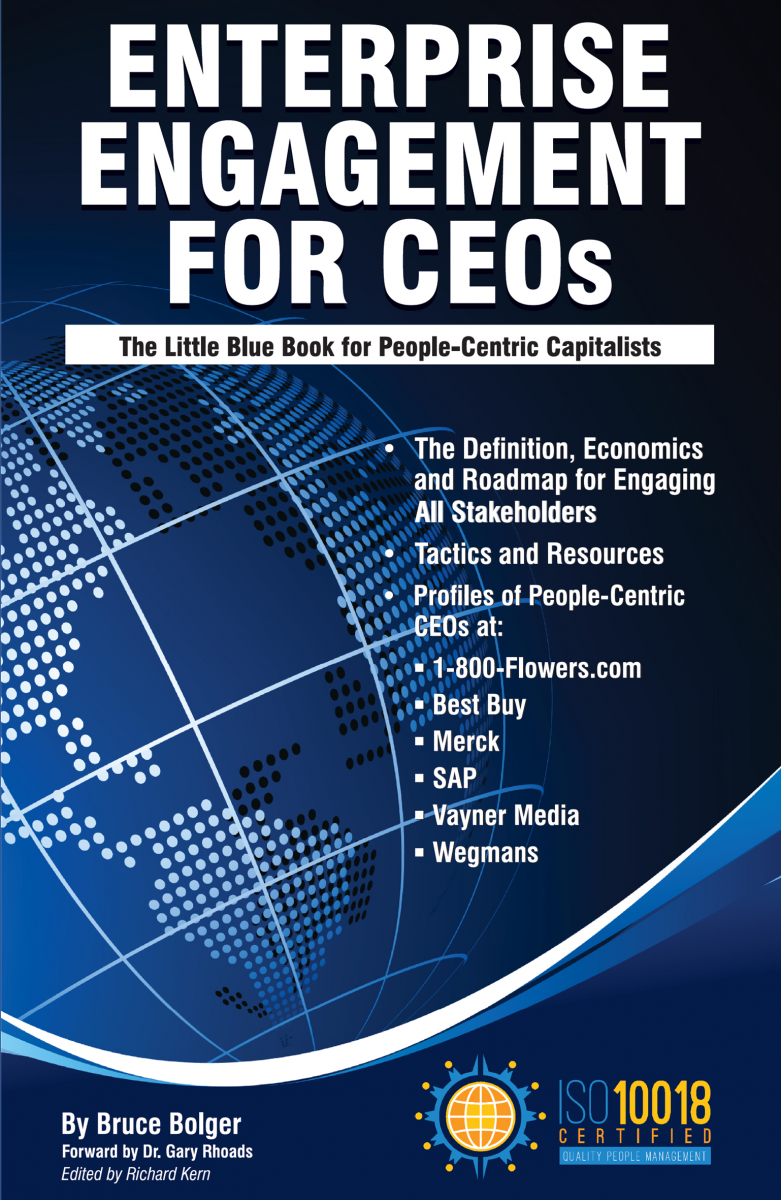 In Print:
This is the definitive implementation guide to Stakeholder Capitalism, written specifically to provide CEOs and their leadership teams a concise overview of the framework, economics, and implementation process of a CEO-led strategic and systematic approach to achieving success through people. (123 pages, $15.99)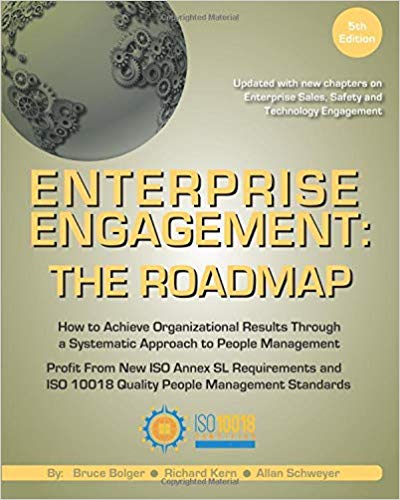 The first and most comprehensive book on Enterprise Engagement and the new ISO 9001 and ISO 10018 quality people management standards. Includes 36 chapters detailing how to better integrate and align engagement efforts across the enterprise. (312 pages, $36.)
Online:
10-minute short course: click here
for a 10-minute introduction to Enterprise Engagement and ISO standards from the Coggno.com learning platform.
Services:
• The Engagement Agency at EngagementAgency.net,
offering: complete support services for employers, solution providers, and technology firms seeking to profit from formal engagement practices for themselves or their clients, including Brand and Capability audits for solution providers to make sure their products and services are up to date.
• C-Suite Advisory Service
—Education of boards, investors, and C-suite executives on the economics, framework, and implementation processes of Enterprise Engagement.
• Speakers Bureau
—Select the right speaker on any aspect of engagement for your next event.
• Mergers and Acquisitions. The Engagement Agency's Mergers and Acquisition group is aware of multiple companies seeking to purchase firms in the engagement field. Contact Michael Mazer in confidence if your company is potentially for sale at 303-320-3777.
Enterprise Engagement Benchmark Tools:
The Enterprise Engagement Alliance offers three tools to help organizations profit from Engagement.
Click here
to access the tools.
• ROI of Engagement Calculator. Use this tool to determine the potential return-on-investment of an engagement strategy.
• EE Benchmark Indicator. Confidentially benchmark your organization's Enterprise Engagement practices against organizations and best practices.
• Compare Your Company's Level of Engagement. Quickly compare your organization's level of engagement to those of others based on the same criteria as the EEA's Engaged Company Stock Index.
• Gauge Your Personal Level of Engagement. This survey, donated by Horsepower, enables individuals to gauge their own personal levels of engagement.
For more information, contact Bruce Bolger at Bolger@TheEEA.org, 914-591-7600, ext. 230.