Industry Update: Incentive and Tech Companies Focus on Channel, Travel, and Niche Markets
With renewed private equity and venture capital focus on the employee recognition and gifting business, traditional incentive and technology companies are addressing overlooked opportunities in channel incentives, incentive travel, niche markets, and technologies.
Fortified with big investments from private equity and venture capital, some of the top recognition companies are saturating the Internet with advertising and making big investments in the user experience of their rewards and recognition technology platforms that make for impressive presentations. To compete, incentive and technology companies appear to be focusing their services and technologies on opportunities in the sales and channel partner engagement market, incentive travel, and vertical markets, such as health care, bypassing the razzle-dazzle of well-financed players in recognition battling over the large-company RFP (request-for-proposal)-based market.
With a history of 45 years in the business, no debt, and a long-standing focus on its own people,
NextLevel Performance
, New Brunswick, NJ, was well positioned to weather the storm, says its founder and chairman,
Jim Dittman
, whose son
Dave Dittman
, serves as President. NextLevel is designated by NJBiz as a "Best Place to Work in New Jersey". See
ESM: Next Level Performance Named to Best Places to Work in New Jersey.
A long-time leader in the incentive industry, Dittman observes that the "industry remains an amorphous blob with a lot of companies that aren't clear about what they want to be."
Employees Are Itching to Travel
Dittman says that while his company had to make sharp adjustments at the outset of the pandemic due to the cessation of its significant motivational events business, it was able to help clients quickly pivot to alternative rewards through its merchandise and gift cards, and has created other experiences, such as its "Lunch on Us" gift card program. Now, with pent-up demand for travel, he sees the potential for a strong 2022 in the motivational events business, as long as COVID fears can be minimized. He identifies an interesting dichotomy: "Employees don't want to come back to work in offices, but they are itching to travel."
Besides its motivational events and sales incentive business, NextLevel, he says, focuses heavily on channel programs to help the many organizations that sell through any type of third-party resellers. Despite the supply chain challenges, he sees significant growth because "everyone is trying to steal market share. Communications in this business is very important. Companies selling through channels must engage distributors who have a lot of choices. It's a complex process considering all the things necessary to capture and hold their attention."
Dittman says that Next Level is providing clients with more and more insights and data analytics about distributor sales behaviors, and he believes that having the right people in his own organization is a key to meeting higher expectations. He points out that in addition to Susan Adams, the company's highly respected Vice President of Travel and Engagement, as well as several other deeply experienced senior leaders, the company has hired industry veteran
Mike McWilliams
as Vice President of Client Strategy and Marketing and continues to significantly scale up its information technology group.
The company has developed its own Applaudit and Amplify technology platforms for managing employee, sales, and dealer programs as well as rewards management, and focuses on working with companies with which it can build relationships with the key decision makers to help them achieve their goals and solve problems.
More Demand for Strategic Channel Engagement
Lincoln Smith
is Chief Strategy Officer of
HMI Performance Incentives
, a 41-year-old, Norwood, MA performance improvement company which also has significant business in channel and sales programs, motivational events, and maintains its own program management and reward management technology. He also sees new opportunities in the channel management field, despite the supply chain bottlenecks that have temporarily reduced demand for incentives in some industries when there is limited products to deliver.
"We are working with clients to help address the training, communications, and engagement in their product or service with their distributors," he explains. "There's a much greater emphasis on using technology to build direct relationships with the salespeople and everyone who can help bring a product to market. Clients seek a strategy that goes beyond transactional. They want to communicate, inform, engage, reinforce their company values and how they help the end customer. More are looking for a loyalty and incentive strategy that supports their messaging."
This, he says, is "where you start to look at programs that support behaviors. Once you know the goals and objectives, launching a product, cross-selling, increasing share of spend, you develop a plan that becomes part of the conversation to reinforce their values, the problems they are solving, how they are leaders in their fields."
Today, he adds, his company functions more like an agency to "really understand their channel, their business, what their competition looks like; what other programs look like. There is a lot of noise. How can their program stand out and be engaging to the audience? Awards are important, behaviors, KPIs (performance measures), tracking, are the core, whatever can effectively communicate the value proposition."
He notes that "organizations are very interested in designing programs that help position their brands. They are putting a high emphasis on what their brand represents to the channel. They are looking for incentive companies and strategies to seriously help with that brand message and their over-arching value proposition. Clients are looking for programs that drive behaviors."
Growing Demand for Data and Analytics
Smith sees the increasing need for data. "We want to be known for our expertise in analytics. HMI and our organization believe deeply that data is critical for all organizations. Incentive and loyalty programs can help provide myriad insights to help an organization become more effective. There are different levels of data and analytics. Do you know who your people are? How well are you profiling them? Are you digging deeper than just surveys to gain insights on what's really important to people?"
The opportunity, he says, is to go beyond surveys to have deeper insights "based on what people are actually doing and what's important to them." The more one understands the audience, the better one can target messaging and offers.
Smith agrees with Jim Dittman's assessment of pent-up demand for travel but remains cautious about the impact of Covid. "We thought this year would market a big come-back. People are nervous. We know the demand is there. We must get to the point where people feel safe with group travel. I think we're getting close. More people are starting to feel more comfortable in group settings."
He continues, "We believe strongly that people want to be around people. There's a big desire for human connection and experiences. Any group incentive travel program will foster that." He believes that as travel comes back, the programs will be more about bringing an organization's brand and culture alive, connecting collectively as a group as well as with the culture and location of the event. Programs will be more about bringing people together with authentic experiences that connect them with history and traditions of a locale that creates an enriching, safe, and fun experience. HMI is putting a high emphasis on corporate social responsibility initiatives and making sure that they're integrated into those in person events."
The Importance of Making a Business Case
Smith agrees with Dittman about the incentive industry's positioning issue. He says "the hardest part we have as an industry is to make the business case. Brands and experiences and how they are being selected and communicated and how they are being presented is critical, and you need to work with a professional who knows how to do this."
On the technology side of the business,
Tom Silk
, CEO of
Workstride
, a custom engagement technology company, says his company has focused on providing highly customizable technology that serves the needs of organizations that want technology precisely built to their specifications. Over the years, he says, Workstride has built a multi-tenancy platform that provides economies of scale while enabling customers to customize the functionality, reporting and branding. It has created applications to manage points, surveys, recognition, performance, reporting, etc. that can be configured for the precise needs of clients.
Currently, he says, health care and channel programs are generating the greatest demand. The increased focus on employee engagement and patient satisfaction in hospitals is driving more interest in technology solutions, he says, and hospitals appreciate working with companies that know their unique demands, including privacy and security. As noted by Smith of HMI Performance and Dittman of NextLevel, he also sees growth in the channel management space. "There is a big need in this market around community building. That is the biggest challenge in this market because the participants are not your employees. When you have a technology that addresses the community aspects with rewards, you get an extra lift."
These channel programs, he points out, can be particularly complex because they often involve targeted communications, learning, and offers at specific groups and then seeing what happens to calibrate further. "There is a big need in that market around community building and that often requires very customized applications."
When the channel portion of the company's business was hard hit at the beginning of the pandemic, the company's employee engagement work picked up, and now, he says, the channel business is coming back. There is an increasing focus, he sees, on learning programs for dealer salespeople to reward them for product and other knowledge.
Silk agrees about the increasing demand for data. "Everybody is asking for data as well as different ways to easily visualize it." The real opportunity, he points out, is to make sure organizations get the data that helps them make better decisions and then act on it."

For More Information
Jim Dittman
Founder, Chairman, NextLevel Performance
732-379-6262
Lincoln Smith
Chief Strategy Officer, HMI Performance Incentives
781-680-0247
Tom Silk
Chief Executive Officer, Workstride
212-689-1200, ext. 1214
---
Education, Certifications, and Information to Activate
Brand Media and Enterprise Engagement

A complete learning, certification, and information program and a course syllabus for educators.
Resources:
The
Brand Media Coalition
, the only guide to the story-telling power of brands and where to source them for business, event, promotional gifting, and rewards and recognition.
Enterprise Engagement Solution Provider Directory
. The only directory of engagement solution providers covering all types of agencies and tactics as well as insights on how to select them.
Communities:
The
Enterprise Engagement Alliance and Advocate
and the
Brand Media Coalition
free resource centers offering access to the latest research, news, and case studies; discounts, promotions, referrals, and commissions, when appropriate to third-party solution providers from participating coalition solution provider members.
Training and Certification
Enterprise Engagement Alliance Education:
Certified Engagement Practitioner; Advanced Engaged Practitioner, and Certified Engagement Solution Provider learning and certification programs on how to implement Stakeholder Capitalism principles at the tactical level.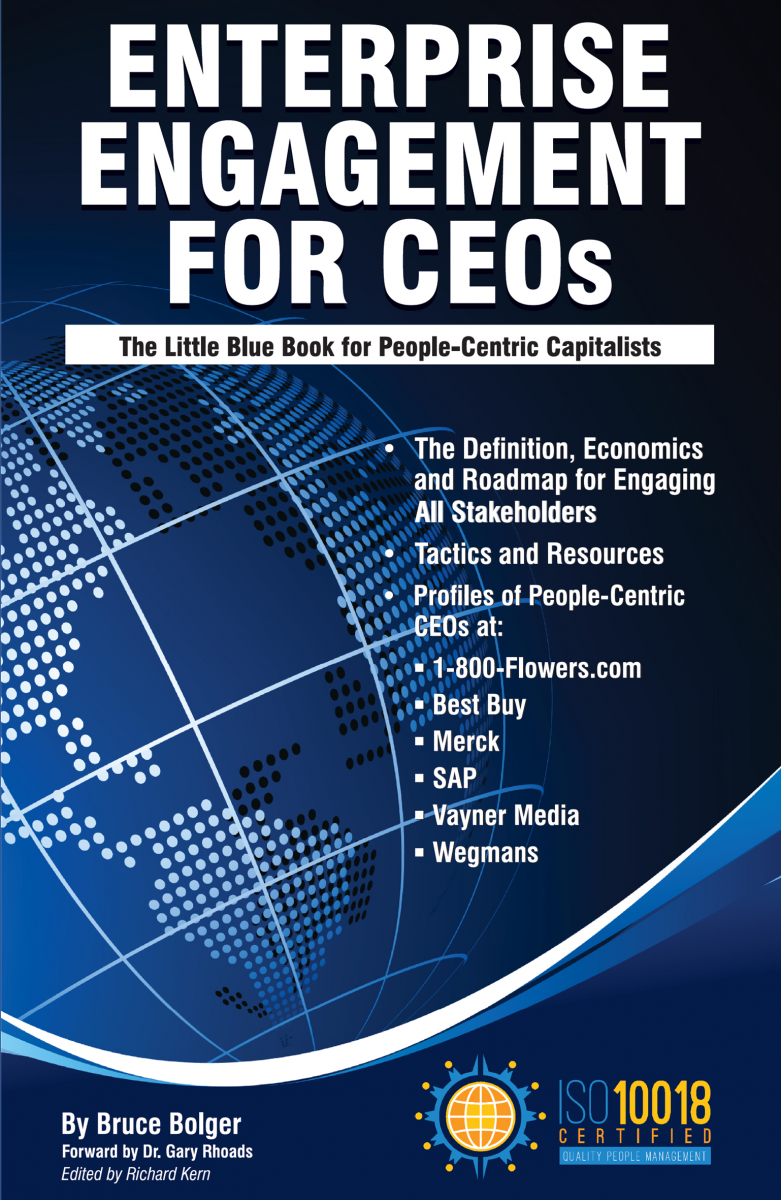 In Print:
This is the definitive implementation guide to Stakeholder Capitalism, written specifically to provide CEOs and their leadership teams a concise overview of the framework, economics, and implementation process of a CEO-led strategic and systematic approach to achieving success through people. (123 pages, $15.99)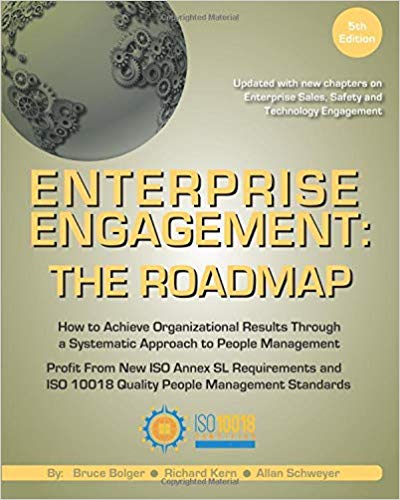 The first and most comprehensive book on Enterprise Engagement and the new ISO 9001 and ISO 10018 quality people management standards. Includes 36 chapters detailing how to better integrate and align engagement efforts across the enterprise. (312 pages, $36.)

Online:

10-minute short course: click here

for a 10-minute introduction to Enterprise Engagement and ISO standards from the Coggno.com learning platform.

Services:

• The Engagement Agency at EngagementAgency.net,

offering: complete support services for employers, solution providers, and technology firms seeking to profit from formal engagement practices for themselves or their clients, including Brand and Capability audits for solution providers to make sure their products and services are up to date.

• C-Suite Advisory Service

—Education of boards, investors, and C-suite executives on the economics, framework, and implementation processes of Enterprise Engagement.

• Speakers Bureau

—Select the right speaker on any aspect of engagement for your next event.

• Mergers and Acquisitions. The Engagement Agency's Mergers and Acquisition group is aware of multiple companies seeking to purchase firms in the engagement field. Contact Michael Mazer in confidence if your company is potentially for sale at 303-320-3777.

Enterprise Engagement Benchmark Tools:

The Enterprise Engagement Alliance offers three tools to help organizations profit from Engagement.

Click here

to access the tools.

• ROI of Engagement Calculator. Use this tool to determine the potential return-on-investment of an engagement strategy.

• EE Benchmark Indicator. Confidentially benchmark your organization's Enterprise Engagement practices against organizations and best practices.

• Compare Your Company's Level of Engagement. Quickly compare your organization's level of engagement to those of others based on the same criteria as the EEA's Engaged Company Stock Index.

• Gauge Your Personal Level of Engagement. This survey, donated by Horsepower, enables individuals to gauge their own personal levels of engagement.

For more information, contact Bruce Bolger at Bolger@TheEEA.org, 914-591-7600, ext. 230.

HMI is putting a high emphasis on corporate social responsibility initiatives and making sure that they're integrated into those in person events