Industry Research, Program Design, Social Impact of Incentives Among Key Issues Discussed at IRF Invitational in Cancun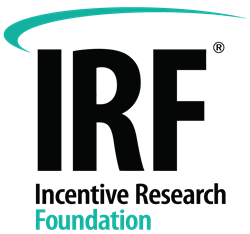 The 25th Annual Incentive Research Foundation (IRF) Invitational was held May 29-June 1 at The World at Moon Palace Resort in Cancun, bringing together nearly 500 incentive industry professionals for three days of education, networking and fundraising. As one might expect, there were numerous sessions and presentations emphasizing the role of IRF research and industry best practices in program design, measurement and better ROI.

Another topic getting a lot of play at this year's event was the "total societal impact" (TSI) of incentives and how, by properly leveraging rewards and recognition programs with a corporate social responsibility or community-related component via better communication and the use of social media, they can be turned into a competitive advantage in terms of recruiting, retention and reputation.

RRN spoke with a number of attendees to get their reactions to some other key issues that are on the industry's radar.
Research Works, But...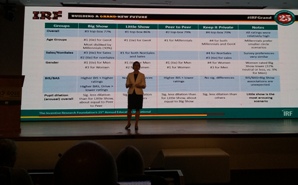 Most of the attendees we spoke to, on both the vendor and solution-provider side, agree that research and best practices are persuasive in making the argument for incentives, rewards and recognition (IRR), with one important distinction: Data and case studies are more necessary and effective depending on who you're talking to. Those with a history of successfully utilizing incentives (such as Sales Managers or CMOs) in most cases already know the value of such programs and don't need a lot of convincing. However, a number of people noted that this kind of supporting evidence is critical when addressing Financial Managers (who are increasingly part of the decision-making process these days) or Senior-Level Execs who may not have as much experience with IRR.

In every case, the attendees we spoke to said more clients and prospects are asking about research and best practices now than they were five years ago, and they emphasize that it's essential to know who will be part of the process and make sure everyone involved has the data they require to be comfortable green-lighting a program.
Charging for Services
This has been a sticking point for years in the industry, and it seems little progress has been made here, at least according to those we spoke to. "We still have to sort of hide [the cost of program design] rather than breaking it out as a separate line item or billing for it up front," said one attendee, adding that it's difficult to even discuss the issue with clients because these days programs are "priced on results rather than priced on process" as they were a few years ago.

This may be a perfect topic for some future IRF research study, as solution-providers continue to be frustrated by this issue and are looking for some guidance on how they might better address the problem. "Like a lot of people who act in a consulting capacity," said another attendee, "we have to hope that prospects don't just steal our ideas and enact them on their own or take them to a lower bidder."
'Experiential' Rewards
Another area that seems ripe for some clarification and direction is that of "experiential" rewards, which have become more popular in recent years as personalization and customization have assumed a more prominent role in program design. Although the IRF Outlook Study from last fall found that 37% of industry professionals are increasing their use of experiential rewards -- and the figure among third-party program planners and solution-providers was even higher (51%) -- there still seems to be some confusion when it comes to defining the term.

To be fair, many of the attendees we spoke to were well-versed in experiential rewards. One, who used to work for experiential rewards pioneer If Only, offered inspired examples of unique custom-tailored experiences, as did others. At the same time, there were some attendees who seemed unclear on what constitutes truly experiential rewards, equating them with "cultural immersion" programs at events and corporate social responsibility initiatives, a definition that's overly broad and somewhat off target. Again, research and education programs featuring best practices in this area would go a long way toward clarifying the "what" and "how" of experiential rewards.
For more on this year's IRF Invitational and IRF research, go to
www.theirf.org