Incentive Rep Profile: Hoffman & Edgette
This RNN feature article on the venerable incentive representative firm Hoffman & Edgette of Saratoga Springs NY begins a series of profiles on this little-known field of experts who would probably be overwhelmed with business if more people knew about their services.

A Resilient Group of Experts
A Unique Service Not Available at Retail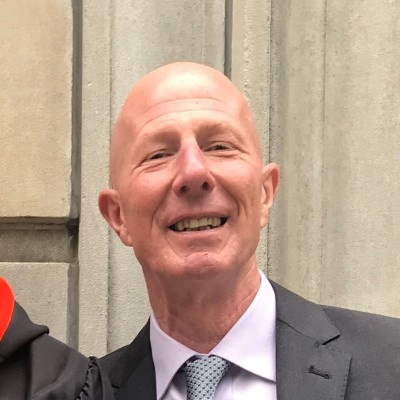 Say your organization needs two dozen sunglasses to give out at an annual incentive trip, or you are looking for a creative gift for a fund-raiser, conference, or other event being attended by two dozen or more. Where would you go to find the right items and brands to select based on the demographics of the audience? Who would you seek to help ensure the items will be delivered when needed or drop-shipped to individuals with a personal note? Who will take the time to answer your email or phone calls to make sure your needs are met? Amazon? Target? Walmart?

Incentive representatives provide a service available almost nowhere else. They act as the sales arm for leading brands seeking to take advantage of the corporate marketplace for brands while minimizing internal sales and staff requirements. It is their job to know the particularity of the brands and their products and stories and to represent them to almost any other business marketplace other than retail.


A Resilient Group of Experts

To catch up with Tom Edgette (top photo), son of the founder of the Hoffman & Edgette manufacturers rep firm founded in 1972, where Edgette went to work after college, is to understand how the incentive representative business has survived enormous marketplace change and why it's a business with significant upside

opportunities if it wishes to or can make itself better known to American businesses. It's trade organization, IMRA (Incentive Manufacturers Representatives Association, a Special Interest Group of the Incentive Marketing Association) has recently launched an effort to bring more visibility to incentive representatives. See RRN: IMRA Launches Campaign to Spotlight Reps.

Edgette's firm represents over 30 name-brand lines with several dozen active customers of which about half are incentive and recognition companies, and the other half mostly promotional distributors active in the market and suppliers of casino programs. These companies come to Hoffman & Edgette on a regular basis for ideas and presentations for brands, items, price quotes and specifications his team rapidly accesses and selects by using the incentive representative industry's Replink product database platform. While the company does business with an increasing number of promotional distributors, a smaller percentage of them are active customers truly focused on brands, he observes.

How has the business changed since his father ran the business back in the 1980s? "When I started in 1982, we had 12 lines and 100 active customers. That was the hey-day of the incentive business when there were still bank premium and consumer trading stamp programs."
A Unique Service Not Available at Retail

When it comes to bulk or regular orders of brands for use in incentive, recognition, reward, and gifting programs, Hoffman & Edgette's continued success with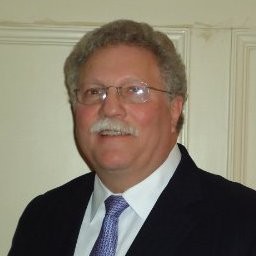 leading reseller customers attests to the value incentive reps add over retail, including Amazon. "When it comes to shopping for your own personal gifting or just a few gifts," Edgette advises, "it makes sense to buy online at retail. You can ship the items where you want to and pretty much make sure they get there when intended. Organizations can benefit from incentive representatives like our company when they need at least two to three dozen or more items and have a few weeks or more of planning time. His company, he says, helps select the right brand for the organization and the program and audience, at the right price, with insights about potential issues such as product or brand desirability, availability, shipping, logistics, etc. most business people have little knowledge of and which they won't get from retail."
In terms of pricing, Edgette says the corporate channel is almost always competitive with even the most aggressive retail pricing when programs are planned in advance through the IRR trade, whose services also include expertise on brand selection, stories, and extensive hand-holding, starting with the initial product selection process that Hoffman & Edgette prides itself in turning around usually within a day for most of its active customers.
The Hoffman & Edgette name is a storied brand in the IRR field. "Back in 1955, my father answered a help wanted ad in a New York City paper for a sales rep position. He ended up becoming a retail housewares salesperson. The company morphed into Hoffman & Edgette in 1972 and began to increasingly focus on the "premium" business after it closed a sale supporting a supermarket continuity program offering a set of steak knives with proofs of purchase." By the early 1980s, his father, John, had transformed the company to focus on the incentive industry. "I think my dad found it more interesting," he said of his father who passed way in the 1990s. His father helped found and was a leader of IMRA, the field's trade association.
Today, Hoffman & Edgette supports customers in the states of New York and New Jersey and works with several other regional incentive representatives to run the Metro Incentive Show, which usually takes place in northeastern New Jersey near New York City in spring.
In addition to Edgette, Hoffman & Edgette today consists of his wife and active business partner
Terri Edgette
, industry veteran
Greg Canose
(lower photo), whose Award Marketing Services company Edgette purchased, and
Katie Lugas
, who handles inside sales and marketing and who brings a fresh perspective to selecting brands and products for clients, Edgette says. "One of things important to us is having younger people with different skills, interests, and who are following the trends. She spots things I will miss, which is a great asset."
For More Information
Tom Edgette
Hoffman & Edgette
Hoffedge.com
845-494-8360
tom@hoffedge.com
---
Education, Certifications, and Information to Activate
Brand Media and Enterprise Engagement

A complete learning, certification, and information program and a course syllabus for educators.
Resources:
The
Brand Media Coalition
, the only guide to the story-telling power of brands and where to source them for business, event, promotional gifting, and rewards and recognition.
Enterprise Engagement Solution Provider Directory
. The only directory of engagement solution providers covering all types of agencies and tactics as well as insights on how to select them.
Communities:
The
Enterprise Engagement Alliance and Advocate
and the
Brand Media Coalition
free resource centers offering access to the latest research, news, and case studies; discounts, promotions, referrals, and commissions, when appropriate to third-party solution providers from participating coalition solution provider members.
Training and Certification
Enterprise Engagement Alliance Education:
Certified Engagement Practitioner; Advanced Engaged Practitioner, and Certified Engagement Solution Provider learning and certification programs on how to implement Stakeholder Capitalism principles at the tactical level.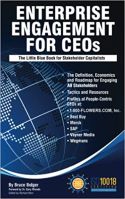 In Print:
This is the definitive implementation guide to Stakeholder Capitalism, written specifically to provide CEOs and their leadership teams a concise overview of the framework, economics, and implementation process of a CEO-led strategic and systematic approach to achieving success through people. (123 pages, $15.99)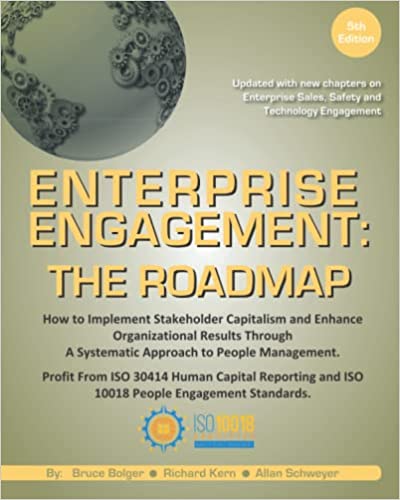 The first and most comprehensive book on Enterprise Engagement and the new ISO 9001 and ISO 10018 quality people management standards. Includes 36 chapters detailing how to better integrate and align engagement efforts across the enterprise. (312 pages, $36.)
Online:
10-minute short course: click here
for a 10-minute introduction to Enterprise Engagement and ISO standards from the Coggno.com learning platform.
Services:
• The Engagement Agency at EngagementAgency.net,
offering: complete support services for employers, solution providers, and technology firms seeking to profit from formal engagement practices for themselves or their clients, including Brand and Capability audits for solution providers to make sure their products and services are up to date.
• C-Suite Advisory Service
—Education of boards, investors, and C-suite executives on the economics, framework, and implementation processes of Enterprise Engagement.
• Speakers Bureau
—Select the right speaker on any aspect of engagement for your next event.
• Mergers and Acquisitions. The Engagement Agency's Mergers and Acquisition group is aware of multiple companies seeking to purchase firms in the engagement field. Contact Michael Mazer in confidence if your company is potentially for sale at 303-320-3777.
Enterprise Engagement Benchmark Tools:
The Enterprise Engagement Alliance offers three tools to help organizations profit from Engagement.
Click here
to access the tools.
• ROI of Engagement Calculator. Use this tool to determine the potential return-on-investment of an engagement strategy.
• EE Benchmark Indicator. Confidentially benchmark your organization's Enterprise Engagement practices against organizations and best practices.
• Compare Your Company's Level of Engagement. Quickly compare your organization's level of engagement to those of others based on the same criteria as the EEA's Engaged Company Stock Index.
• Gauge Your Personal Level of Engagement. This survey, donated by Horsepower, enables individuals to gauge their own personal levels of engagement.
For more information, contact Bruce Bolger at Bolger@TheEEA.org, 914-591-7600, ext. 230.