Incentive Federation Issues 2015 Report:
A Quick Overview of Implications
The Incentive Federation's annual survey as usual provides important insights for anyone involved with rewards and recognition. The survey of 234 companies equally representing firms of all sizes is available as a four-page PDF at Incentivefederation.org Here are some key insights: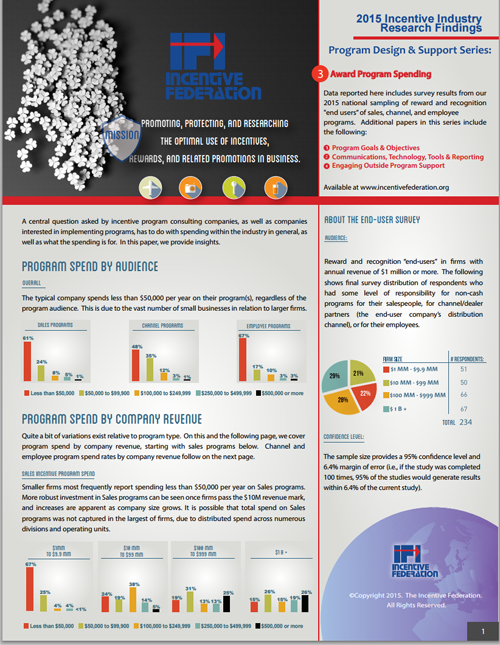 It's a big business, but individual program budgets are small. The average budget for employee, sales and dealer programs is under $50,000 a year, because the vast majority of organizations are small. That said, spending rises steeply in all categories as company size increases. The implication is that the industry has to find solutions for the millions of smaller companies to truly benefit from the opportunities in this business.


Recognition versus compensation confusion. The report found general confusion related to defining the use of cash versus non-cash rewards, because some respondents didn't distinguish gift cards from cash. This suggests that planners aren't focusing strategically on how to make sure they distinguish recognition from compensation in their use of awards and may not be aware of the extensive research on this subject available through the Incentive Research Foundation.


An opportunity to help with multiple program management. Many companies operate many sales, employee and dealer programs simultaneously, suggesting that solution providers should be thinking about ways to help clients better integrate these programs. It also suggests that companies actually spend more on these programs, in the sense that while each one is small, there are numerous such programs operating at any given time.


Most popular awards in terms of percentage of use Recognition awards, Gift cards, Recognition events, Logoed merchandise, Symbolic awards, Individual travel, Merchandise rewards and Group incentive travel. The data suggests that the merchandise folks can do a lot better job of making their awards "experiential" in the way they're marketed and selected, as they are clearly losing ground to gift cards. (See the report for variations between audience types; these results are based on survey respondents, not redemptions.)


Most popular merchandise items: Food and beverage, Electronics, Apparel, Home improvement items, Jewelry/accessories, Writing instruments, Housewares, Recreational goods, Watches/clocks, Luggage and Home décor.


Points programs: While highly prevalent in sales incentive, merchandise awards and all channel programs, points programs are barely used with other employees or with individual incentive awards, even though they're popular with all three audience groups. This suggests a lack of understanding of how points programs can become part of a sustainable engagement and performance improvement model.