Incentive Federation Announces Industry Study, IRR Standards Initiative
The Incentive Federation Inc. (IFI) has approved a 2022 budget that includes funding for a 2022 Incentive Marketplace Estimate study and a plan to develop standards for the Incentives, Recognition and Reward (IRR) industry.
Industry Research Partner to Be Announced Shortly
New IRR Standards Initiative Approved

The Incentive Federation Board has approved an effort to update the Incentive Federation Market Estimate studies and to create formal standards for the IRR industry. The Incentive Federation was founded in 1984 to conduct industry lobbying activities and to promote, protect, and research the optimal use of incentives, corporate gifts, rewards, recognition, awards, incentive travel, promotional products, and related promotions in business.
Industry Research Partner to Be Announced Shortly
Under the direction of Mike Donnelly, Incentive Federation Chairperson, IFI is seeking a research firm or individuals to create a market study to update the most recent industry study completed in 2016 and to identify an organization or individual to manage the process of creating standards for the effective management of incentive, recognition, and rewards programs.
The most recent Incentive Marketplace Estimate study was completed in 2016 and estimated the US spend on non-cash incentives at $90 billion, with 84% of businesses using some form of non-cash incentives, recognition, travel, or rewards. The Incentive Federation has conducted a series of studies in the past with the following findings:
•
1996 – 26% of businesses used some form of non-cash incentive.
•
2000 – 32% of businesses used some form of non-cash incentive for a total spend of $26.9 billion.
•
2007 – 34% of businesses used some form of non-cash incentive for a total spend of $46.1 billion.
•
2013 – 74% of businesses used some form of non-cash incentive for a total spend of $76.9 billion.
•
2016 – 84% of businesses used some form of non-cash incentive for a total spend of $90 billion.
Click here for the results of 2016 Marketplace Estimate study.
New IRR Standards Initiative Approved
In a related effort, the Incentive Federation board reaffirmed its plan to develop formal standards for incentives, rewards, and recognition. The board committed to begin work in 2022 to identify the most impactful standards that will bring value to industry companies.
According to the Incentive Federation announcement, "Standards for this broad industry, when properly applied and executed, promise to help businesses deliver more powerful and effective solutions and programs for rewarding and recognizing excellent employee performance, increasing productivity, and ensuring customer retention and satisfaction."
The statement says that the initiative acknowledges that standards developed and applied in thousands of industries worldwide, such as ISO 9001 Quality Management standards, have helped improve efficiency, productivity and quality in manufacturing and delivery of products and services." (ISO, which means "same" in Greek, is the acronym used by the International Organization for Standardization, based in Geneva, Switzerland.) Since their publication in 1987, the ISO 9001 standards have been expanded to include People Engagement (ISO 10018). Another ISO Working Group has issued over a dozen standards related to human capital management, notably ISO 30414 Human Capital Reporting standards, which include organizational culture, wellness and safety, and DEI (Diversity, Equity, and Inclusion), among nine other key areas of people management.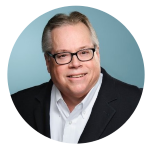 States IFI Chairman
Mike Donnelly
, President of Hinda Incentives, "If your company is committed to quality people management, like we are at Hinda, I would strongly recommend that you investigate and learn about the exciting work that the Incentive Federation is leading with top industry professionals and association members regarding the creation of new ANSI (American National Standards Institute) standards and certification, and how you can use them to improve your processes and market your commitment to customers, talent, investors and more."
The Incentive Federation was approved as a member of ANSI in 2018 and will continue its membership in the organization throughout the standards approval and development process. In early 2020, the IFI was approved by ANSI as an Accredited Standards Developer for the many sectors that encompass incentives, rewards, and recognition.
How can standards help the IRR industry provide value and services? According to the Federation, standards will help provide documentation for a set of measurable best practices, guidelines, customs, experiences, and practical solutions to guide organizations on the use of incentives, rewards, and recognition, based on a collaborative volunteer effort developed through a consensus-based process involving experts in all areas of the field.
Standards are designed to help organizations improve implementation of programs within organizations by:
•
Enabling "apples to apples" performance comparisons between programs and providers.
•
Reducing the cost of program start up, operations, and guiding more effective use of resources.
•
Further confirming incentives, rewards and recognition as a "profession" or discipline that helps businesses become more successful and profitable.
•
Establishing common terminology and metrics.
As explained on the Incentive Federation web site, "US federal law requires federal regulators to defer to existing industry standards. An executive order also encourages federal agencies to use industry standards rather than make its own rules. A practical example that most industry practitioners are familiar with is the development and implementation of safety incentive programs. In past years, the Occupational Safety and Health Administration (OSHA) posed some very negative views about many safety incentive programs. It has taken years of dedicated advocacy to persuade OSHA that properly designed safety incentive programs can reduce job injuries and deaths, improve worker health and productivity and contribute positively to a company's bottom line."
The Incentive Federation web site notes that "If industry standards had been in place in the early 2000s, it is likely that OSHA would have looked to our industry as a model and would have accepted the principles for the design and use of safety incentive programs. The same can be said for health and wellness programs and even for the IRS guidelines that govern employee achievement awards and the tax preferences for which our that the industry has long lobbied."
Standards are not to be confused with regulations, laws, or how-to curriculum programs.
The Federation seeks the support of its members, both in terms of financial and intellectual contributions, to ensure that the standards being developed represent the interests of the members and, most importantly, the interests and needs of the tens of thousands of businesses employing incentive, recognition or rewards programs for customers and employees.
Incentive Federation board members and management include:
•
Mike Donnelly, CPIM, President, Hinda Incentives
•
Stephanie Harris, President, The Incentive Research Foundation
•
Karen Wesloh, CAE, CMP, Executive Director, Incentive Marketing Association
•
Dale Denham, President/CEO, Promotional Products Association International
•
Sean Roark, CPIM, Executive Vice President, Promotion, Incentive and Engagement Professionals, Inc.
•
Brian Galonek, CPIM, President, All Star Incentive Marketing
•
Richard Blabolil, CPIM, President, Marketing Innovators International
•
Richard L. Low, CPIM, Reward/Recognition, Incentives, Military Exchange Sales, Reward/Recognition, Incentives, Military Exchange Sales, Epic International ·
•
Theresa C. Harkins-Schulz, SPHR, CCP, CRP, Senior Vice President, Customer Experience, Inspirus | Sodexo Benefits and Rewards Services
•
Sue Voyles, President, Logos Communications Inc.
•
George Delta Esq, IF Executive Director
•
Steve Slagle, IF Managing Director
For More Information
Mike Donnelly, IF Board Chair
773-890-5900, ext. 23340
Mdonnelly@hindaincentives.com
---
Education, Certifications, and Information to Activate
Brand Media and Enterprise Engagement

A complete learning, certification, and information program and a course syllabus for educators.
Resources:
The
Brand Media Coalition
, the only guide to the story-telling power of brands and where to source them for business, event, promotional gifting, and rewards and recognition.
Enterprise Engagement Solution Provider Directory
. The only directory of engagement solution providers covering all types of agencies and tactics as well as insights on how to select them.
Communities:
The
Enterprise Engagement Alliance and Advocate
and the
Brand Media Coalition
free resource centers offering access to the latest research, news, and case studies; discounts, promotions, referrals, and commissions, when appropriate to third-party solution providers from participating coalition solution provider members.
Training and Certification
Enterprise Engagement Alliance Education:
Certified Engagement Practitioner; Advanced Engaged Practitioner, and Certified Engagement Solution Provider learning and certification programs on how to implement Stakeholder Capitalism principles at the tactical level.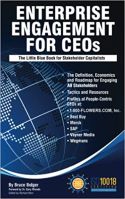 In Print:
This is the definitive implementation guide to Stakeholder Capitalism, written specifically to provide CEOs and their leadership teams a concise overview of the framework, economics, and implementation process of a CEO-led strategic and systematic approach to achieving success through people. (123 pages, $15.99)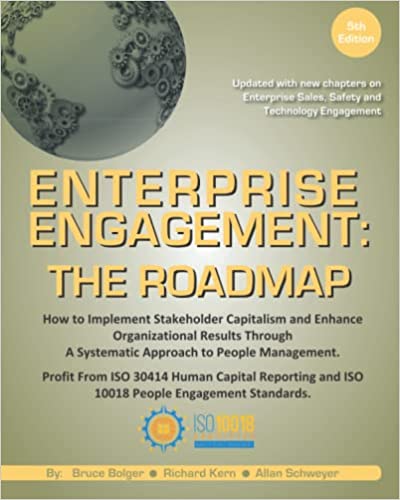 The first and most comprehensive book on Enterprise Engagement and the new ISO 9001 and ISO 10018 quality people management standards. Includes 36 chapters detailing how to better integrate and align engagement efforts across the enterprise. (312 pages, $36.)
Online:
10-minute short course: click here
for a 10-minute introduction to Enterprise Engagement and ISO standards from the Coggno.com learning platform.
Services:
• The Engagement Agency at EngagementAgency.net,
offering: complete support services for employers, solution providers, and technology firms seeking to profit from formal engagement practices for themselves or their clients, including Brand and Capability audits for solution providers to make sure their products and services are up to date.
• C-Suite Advisory Service
—Education of boards, investors, and C-suite executives on the economics, framework, and implementation processes of Enterprise Engagement.
• Speakers Bureau
—Select the right speaker on any aspect of engagement for your next event.
• Mergers and Acquisitions. The Engagement Agency's Mergers and Acquisition group is aware of multiple companies seeking to purchase firms in the engagement field. Contact Michael Mazer in confidence if your company is potentially for sale at 303-320-3777.
Enterprise Engagement Benchmark Tools:
The Enterprise Engagement Alliance offers three tools to help organizations profit from Engagement.
Click here
to access the tools.
• ROI of Engagement Calculator. Use this tool to determine the potential return-on-investment of an engagement strategy.
• EE Benchmark Indicator. Confidentially benchmark your organization's Enterprise Engagement practices against organizations and best practices.
• Compare Your Company's Level of Engagement. Quickly compare your organization's level of engagement to those of others based on the same criteria as the EEA's Engaged Company Stock Index.
• Gauge Your Personal Level of Engagement. This survey, donated by Horsepower, enables individuals to gauge their own personal levels of engagement.
For more information, contact Bruce Bolger at Bolger@TheEEA.org, 914-591-7600, ext. 230.