ISO 10018: Engagement in Action, in Galveston, Dec. 7-8, Brings Together Corporate Managers, Educators and Solution Providers
Corporate professionals, business school educators and solution providers, including the first seekers of ISO 10018 Certification, explain their participation at the first summit of the International Center for Enterprise Engagement.
---
---

The International Center for Enterprise Engagement's 2017 summit at the University of Texas Medical Branch in Galveston, TX, Dec. 7-8, entitled
ISO 10018: Engagement in Action
, will officially launch the first ISO 10018 certification program for Quality People Management and the first professional and academic education program to support it.
Attendees include companies seeking to achieve ISO 10018 certification, as well as the professors, corporate practitioners and solution providers contributing to the underlying content. Information and registration is available at
TheICEE.org
.
Dr. Ron McKinley, Co-Founder of the International Center for Enterprise Engagement (ICEE) and creator of the first certification program, believes there are compelling reasons why any organization committed to quality management should attend. "In 1987, when ISO 9000 standards were first released," he says, "there were no ISO 9000 certified companies. Today there are over 1.3 million organizations committed to quality process management. I don't believe anyone knows the first company that gained an ISO 9000 standard. This time we'll know that company. ISO 9000 grew, not because marketers widely embraced its value as a sales tool, but because the underlying process produces concrete results if applied with sincerity – so much so that many companies will not do business with other organizations unless they have ISO 9000 certification. Abundant research supports the premise that quality people management not only has multiple bottom-line benefits, but also numerous marketing, retention and recruiting advantages. Our aim is to make ISO 10018 the mark of quality people management in the same way that ISO 9000 certification stands for quality process management."
Says Dr. Gary Rhoads, Stephen Mack Covey Professor of Marketing/Entrepreneurship at Brigham Young University, and one of the first engagement entrepreneurs: "The time for a formal process for engagement has come. I still believe that engagement could be as big as the advertising or customer relationship management fields, because the economics are so compelling and because there's now a clear roadmap for success. The field is ripe for innovation in technology and all the other tools of engagement. I look forward to sharing the success we have had creating two companies in the engagement space and sharing why the sales field is ready for a more strategic approach to engagement." Rhoads is Co-Founder/Board Member of Xvoyant.com, a sales engagement company, and before that of Allegiance, which was sold to Maritz and is now MaritzCX. Allegiance was an early proponent of linking the "voice of the customer" to employees.
Susan Forgie, Vice President, Customer Experience, at ASSA ABLOY Hospitality, a world leader in security access control, and one of the first corporate advisors to the Enterprise Engagement Alliance (EEA), adds that "My many years of experience in learning and customer service have made it clear that one of the biggest challenges is breaking down silos and aligning learning with communications, rewards and recognition, and other initiatives that are so often difficult to integrate. I've been involved with the EEA since the beginning, and I'm impressed with the progress and now the launch of ISO 10018 certification. I never thought I would see the day."
The ISO 10018 Framework and Audit and the Expertise Required
Ron McKinley explains that the Engagement In Action summit is unique in that it aims to accomplish two goals:
Share with attendees the framework, implementation and audit process of the new ISO 10018 standard and certification, the types of certifications and what is required to fulfill the spirit of the standards.
Involve all attendees in the curriculum being shaped to support the specific knowledge and skills needed by people to support the ISO 10018 Quality People Management standards, in much the same way as the ISO 9000 Quality Process Management standards gave rise to a worldwide industry of experts and solution providers.
EEA Certified Engagement Practitioners will be able to earn their Advanced Engagement Practitioner status, which will provide them with the skills needed to conduct and audit certification, or serve as a developer – i.e., a designer of engagement processes.
McKinley believes the approach of having an institution that provides the ISO certification attached to an independently developed curriculum to support it may be unique, and in this case essential. "When the world caught on to quality management as a result of the Japanese success in the post-World War II years, there was a long history of documented efforts and experts to support the development of quality process management. Early leaders such as W. Edwards Deming and others already had provided the value of quality process management through his work with the Japanese. In the case of quality people management, there's no other source I know of than of the Enterprise Engagement Alliance that encompasses engagement across the enterprise and that integrates and aligns the many tools required to support ISO 10018 best practices that remain siloed at many organizations today, things like branding, leadership, assessment, learning, communication, innovation and collaboration, community, rewards & recognition and analytics. ISO 10018 can bring order and efficiencies to people management in the way ISO 9000 has for process management."
Explains Alisoun McCloughen, Business Operations Specialist, Boeing Commercial Airplanes, at the Boeing Company: "My role in supporting the organization involved with new aircraft development at one of the world's biggest companies gives me a front-line perspective. I'm eager to learn more about the concept of a formal process for engagement across the organization, as I do believe it remains an ad hoc process at many organizations and can benefit from a more formal approach. I also hope to share with the faculty both the opportunities and challenges of implementing an engagement strategy from a practical standpoint in a big organization."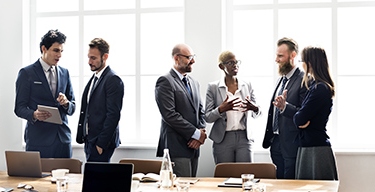 Some Attendees Aim for First ISO 10018 Certification
Some companies are attending specifically to shape their own engagement strategies to align with ISO 10018 and to be among the first to implement the process and gain certification.
"I don't think a modern company that depends on people can succeed without a strategic focus on people and a sustainable engagement process, and yet I suspect only a few organizations have such a process in place," says Mike Donnelly, President of Hinda Incentives, a master fulfillment company, reseller and consultant support service in the incentive, loyalty and recognition field. "Our company will seek an ISO 10018 certification not just to proudly display our commitment to people, but most importantly to improve our ability to continually anticipate and exceed customer requests through innovative and engaged employees who share our passion for success and have the expertise and tools they need to thrive."
"My goal is to be among the first, if not the first, of the ISO 10018 compliant companies, because our success is based on the ability of our solutions to meet and exceed our customer needs," explains Steve Lipic, President of Lipic's Engagement. "My 154-year old company began to embrace a formal approach to engagement when the EEA was first launched, and today no longer focuses on selling things but rather on how organizations can achieve their goals through effective processes. It has literally transformed our business. You will not see one 'thing' on our website, even though we of course use many practical tools to help clients achieve their goals."
ICEE's Ron McKinley wants people to come to this summit with a collaborative mindset rather than solely a learning mentality. "Yes, participants will learn about the ISO 10018 standards and certification and the education program to support it, but every attendee has practical experience and a unique perspective we want to hear. This is an interactive process in which our speakers will share the underlying premise of the curriculum and how it supports certification, rather than lecture people on how to implement engagement," explains Lee S. Webster, co-founder of ICEE and in charge of standards. "ICEE is an opportunity to shape the education needed to ensure that ISO 10018 certification has true meaning by equipping individuals and organizations with the knowledge and skills necessary to flesh out evidence of best practices, rather than making it easy for organizations to check off the boxes."
Sharon R. Floyd, EdD, SHRM-SCP, Associate Dean, School of Business and Professional Studies, Brandman University, Chapman University System in California notes that "My dissertation research around engaging millennials made it clear to me that this entire idea of creating a formal process to support organization-wide engagement is at a tipping point. I will be in Galveston to both contribute this knowledge and interest to the curriculum, and to take back ideas I can incorporate into my own."
Information and registration for
ISO 10018: Engagement in Action
is available at
TheICEE.org
.