IRR in Action: Village Hotels, UK; Paradise Group, SG; Village Hotels, MLVD, Achievers, CA
Here's a review of recently launched IRR (Incentive, Recognition, and Reward) programs around the world.

Village Hotels Group, United Kingdom—Combining Recognition and Benefits
Paradise Group, Singapore—100 Employees Surprised With Rolex Watches
Villa Resources, Maldives—Employee App Based on Appreciation
Achievers, Canada—A Holistic Approach to Employee Appreciation Week

This begins a new series tracking the launch by corporations of incentive, recognition, and loyalty programs around the world. RRN readers are invited to send in news about their new IRR programs to Bruce Bolger at Bolger@TheEEA.org.


Village Hotels Group, United Kingdom—Combining Recognition and Benefits

The Village Hotels Group is the first company to utilize a new Terryberry recognition platform that combines benefits, rewards and recognition.

Lindsay Southward, Group Director of People and Operations at Village Hotels in the United Kingdom, says: "We are excited and delighted with our new bespoke one-stop benefits, reward and recognition platform. This now allows all our 4,500 employees across the UK to be recognized in real time whilst at the same time accessing their benefits and wellbeing offerings in one easy to access platform and app." The program includes an "offers and discounts platform, designed to help as many businesses as possible to support their people during the cost-of-living crisis."

According to a Terryberry statement, the goal of the platform is to "offer businesses a seamless journey and a single place to house everything needed to create a culture of recognition within an organization."

Paradise Group, Singapore—100 Employees Surprised With Rolex Watches

The Paradise Group in Singapore, a restaurant chain, gave 100 Rolex watches to surprised employees who have worked there for over ten years, according to this article in Goodyfeed.com by Rachel Goh. Apparently the award was not publicized except by the robust volume of social media posts from some of the 1,600 attendees who reportedly attended the organization's annual dinner celebration. Talk about surprise and delight.

Villa Resources, Maldives—Employee App Based on Appreciation

Villa Resorts in the Maldives has announced the launch of its new employee appreciation program timed for launch on International Employee Appreciation Day 2023. "As work environments continue to evolve and become more diverse, multi-generational, and technology-driven, Villa Resorts believe that recognition and appreciation should evolve as well," the company says.

Effective March 3, 2023, "the recognition initiatives will be integrated with mobile technology to make it easier and more frequent to acknowledge team members. The program includes gamification and a range of reward options, enabling team members to select the type of appreciation they value most. Villa Resorts is empowering everyone to celebrate achievements and share them through their social space."

"Our appreciation program strongly emphasizes genuine, specific, and sincere recognition tailored to each individual's accomplishments. Unlike traditional infrequent appreciation, our flexible and frequent recognition system will reinforce positive behaviors, motivate team members, and create a culture of continuous appreciation and recognition," says Mohamed Aalim, Group Director of Talent and Culture, at Villa Resorts.

The company says it's committed to "cultivating a work environment that values and recognizes the team members, fosters positivity, and encourages everyone to reach their full potential. As part of the transformation initiatives, it has also launched the Villa Academy of Excellence to promote a growth mindset and the Employee Wellbeing Certification to prioritize all the team members' mental and physical health."

Achievers, Canada—A Holistic Approach to Employee Appreciation Week

Achievers, an employee experience platform company, celebrates Employee Appreciation week by making it easy for employees to support the causes "closest to their hearts" and by offering programs to enhance the quality of work life.

Achievers, an international employee experience platform, launched a give-back initiative in recognition of its annual Employee Appreciation Week celebration Feb. 27 – March 3.

Through the Achievers rewards marketplace, employees could make charitable donations to over a million registered charities globally. All employees were invited to participate in the campaign by donating points they have earned through the platform to a charity of their choice. During Employee Appreciation Week, for every $10 in points donated, employees will be entered into a daily drawing for prizes.

One of the goals is to "understand the charities that are important to our people," says Hannah Yardley, Chief People and Culture Officer. "So what we wanted to do is hear from our employees about those charities that are most important to them by encouraging them to donate through recognition and drawings." There was no obligation to donate points, she added.

"We understand that appreciation takes many forms, and one way to show our employees that we care is to support the issues they care about. In today's world of flexible work, social issues are not limited to outside of work hours and companies can no longer overlook the importance of supporting their workforces in making contributions to social change. Through this initiative, we also hope to nurture a sense of belonging by better understanding the passions and causes most important to our employees."

Employee Appreciation Week at Achievers also includes a variety of activities, including in-office and virtual yoga classes, a smoothies and ice cream event, paint night, games, and live music. In addition to showing appreciation through giving back, Achievers is also announcing opportunities for employee development by launching a diversity, equity, inclusion and belonging series.

To cap off the week, Achievers hosted its employee recognition ceremony, an employee-nominated process that allows peers to identify the employees that have had the most impact on the organization.

Subscribe to RRN's weekly e-newsletter.

---
Profit From the "S" of Environmental, Social, Governance (ESG)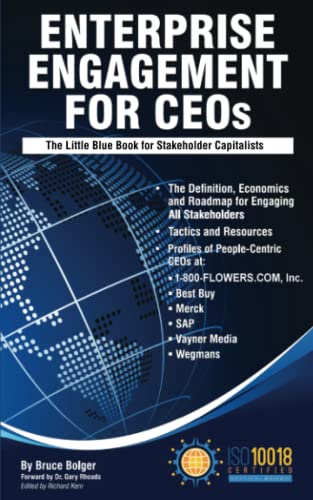 Through education, media, business development, advisory services, and outreach, the
Enterprise Engagement Alliance
supports boards, business analysts, the C-suite, management in finance, marketing, sales, human resources and operations, etc., educators, students and engagement solution providers seeking a competitive advantage by implementing a strategic and systematic approach to stakeholder engagement across the enterprise.
Click here
for details on all EEA and RRN media services.
1. Professional Education on Stakeholder Management and Total Rewards
Become part of the EEA as an individual, corporation, or solution provider to gain access to valuable learning, thought leadership, and marketing resources.
The only education and certification program focusing on Stakeholder Engagement and Human Capital metrics and reporting, featuring seven members-only training videos that provide preparation for certification in Enterprise Engagement.
EEA books: Paid EEA participants receive Enterprise Engagement for CEOs: The Little Blue Book for People-Centric Capitalists, a quick implementation guide for CEOs; Enterprise Engagement: The Roadmap 5th Edition implementation guide; a comprehensive textbook for practitioners, academics, and students, plus four books on theory and implementation from leaders in Stakeholder Management, Finance, Human Capital Management, and Culture.
2. Media
3. Fully Integrated Business Development for Engagement and Total Rewards
Strategic
Business Development
for
Stakeholder Management
and
Total Rewards
solution providers, including Integrated blog, social media, and e-newsletter campaigns managed by content marketing experts.
4. Advisory Services for Organizations
Stakeholder Management Business Plans
;
Human Capital Management, Metrics, and Reporting
for organizations, including ISO human capital certifications, and services for solution providers.
5. Outreach in the US and Around the World on Stakeholder Management and Total Rewards
The EEA promotes a strategic approach to people management and total rewards through its e-newsletters, web sites, and social media reaching 20,000 professionals a month and through other activities, such as: