Here's a roundup of the latest news in the IRR (incentive, rewards, and recognition) industry.

IMRA (Incentive Merchandise to Reward and Appreciate) Elects Officers
Inspiring Workplaces Names Top 50 in EMEA
Xoxoday Partners with Workato to Streamline Integrations
Joe Jagelka Rejoins Epic International
SITE Reopens Arabian Peninsula Chapter

IMRA (Incentive Merchandise to Reward and Appreciate) elects new officers...Inspiring Workplaces names top 50 in EMEA...Xoxoday partners with Workato to Streamline Integrations...Joe Jagelka rejoins Epic International

IMRA (Incentive Merchandise to Reward and Appreciate) Elects Officers

Lore Rincon is elected IMRA Board President. She is Sales Manager, Continental Premium Corp. and has been involved in the incentive industry for over 20 years. "As businesses continue to gain post-Covid momentum, they're facing an even greater need to retain, reward and appreciate employees and customers. This is where IMRA truly shines. It's the collaboration of IMRA's brands and reps that helps organizations deliver the exceptional reward and appreciation experiences their employees and customers are looking for. I look forward to working with our dedicated board members to continue to enhance our collaboration and increase awareness of IMRA's valuable role in appreciation and recognition programs," Rincon says in the announcement.

IMRA also elected Sarah Weidman, The Genevieve Group, LLC, as Vice President; Dustin Smith, IP, B.C. Incentives, as Treasurer; and Sara Dattolo, CPIM, Pilgrim Promotions, Ltd., as Secretary. Tom Edgette, Hoffman & Edgette Award Marketing Services, serves as Past President.

Ivory Alexander, MAS, Inc.; Ian Arthur, Carson Optical; Ann Blackhurst, Bushnell; David Boodey, CPIM, RepLink/The DataDirect Group; Melissa Fleming, DPI, Inc.; Craig Frechette, BISSELL Homecare, Inc.; David Rosenstock, CPIM, IncentiveSource, Inc.; Rachel Stark-Cappelli, Stark Enterprises, Inc.; Lorraine Tillie, Travel + Leisure Co.; and Dennis Zimmerman, Sheryl O'Toole & Associates serve as directors.

Inspiring Workplaces Names Top 50 in EMEA

The top 50 companies selected by the judges in the Inspiring Workplace awards in the EMEA (Europe, Middle East, Africa) include Aldi, AllSaints, BP, BBC, NHS, M&C Saatchi Sport & Entertainment, and Travelport. The Inspiring Workplaces Awards 2023 asked each organization to complete the entry form consisting of six key elements believed to be fundamental to creating an Inspiring Workplace. They are:

Culture and Purpose
Leadership
Wellbeing
Inclusion & Diversity
Communication
Employee Experience
Click here for the complete list of companies and more details on the awards.

Xoxoday Partners with Workato to Streamline Integrations

Xoxoday, a rewards and incentives platform, has announced a new strategic partnership with Workato, an enterprise automation and integration platform. This partnership is designed to "enable Xoxoday to create hyper-personalized automated employee and customer rewards and recognition programs for its clients." Xoxoday says its "platform provides a range of employee and customer engagement solutions, including rewards and recognition programs, wellness initiatives, consumer promotion campaigns, loyalty programs, survey incentives, learning and development programs, and more. With the addition of Workato's iPaaS (Integration Platform as a Service) capabilities, Xoxoday will be able to integrate its platform with a wide range of enterprise systems, including HR systems, productivity tools, survey tools, marketing automation, and communication platforms. This will allow their customers to seamlessly integrate Xoxoday into their existing workflows and deliver hyper-personalized reward experiences making it easier than ever to reward and recognize employees, customers, and partners."

As part of the partnership, Xoxoday clients will have access to "Workato's vast library of pre-built integrations, making connecting with popular HRMS (human resources management systems), Sales and Marketing Automation, CRM (customer relationship management) systems, surveys, and more tools easy."

Joe Jagelka Rejoins Epic International

Joe Jagelka has returned to Epic International as National Sales Manager, after a brief stint at Group III International. He replaces Richard Low, who left to join the Image Group.

SITE Reopens Arabian Peninsula Chapter

As recently reported in Trade Arabia, the Society for Incentive Travel Excellence (SITE) has opened a chapter to "oversee the growth of the incentive travel sector in Abu Dhabi and the wider MENA (Middle East, North Africa) region. This reported enables ADCEB (Abu Dhabi Convention and Exhibition Bureau "to raise visibility of Abu Dhabi among key audiences as a premier business events destination, tap into further networking and business opportunities, and provide the regional MICE (meetings, incentives, conferences, exhibitions) professional network with professional development programs."


---
Profit From the "S" of Environmental, Social, Governance (ESG)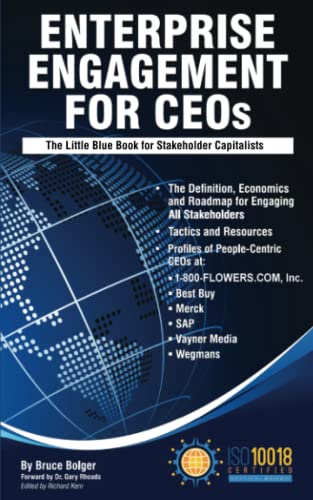 Through education, media, business development, advisory services, and outreach, the
Enterprise Engagement Alliance
supports boards, business analysts, the C-suite, management in finance, marketing, sales, human resources and operations, etc., educators, students and engagement solution providers seeking a competitive advantage by implementing a strategic and systematic approach to stakeholder engagement across the enterprise.
Click here
for details on all EEA and RRN media services.
1. Professional Education on Stakeholder Management and Total Rewards
Become part of the EEA as an individual, corporation, or solution provider to gain access to valuable learning, thought leadership, and marketing resources.
The only education and certification program focusing on Stakeholder Engagement and Human Capital metrics and reporting, featuring seven members-only training videos that provide preparation for certification in Enterprise Engagement.
EEA books: Paid EEA participants receive Enterprise Engagement for CEOs: The Little Blue Book for People-Centric Capitalists, a quick implementation guide for CEOs; Enterprise Engagement: The Roadmap 5th Edition implementation guide; a comprehensive textbook for practitioners, academics, and students, plus four books on theory and implementation from leaders in Stakeholder Management, Finance, Human Capital Management, and Culture.
2. Media
3. Fully Integrated Business Development for Engagement and Total Rewards
Strategic
Business Development
for
Stakeholder Management
and
Total Rewards
solution providers, including Integrated blog, social media, and e-newsletter campaigns managed by content marketing experts.
4. Advisory Services for Organizations
Stakeholder Management Business Plans
;
Human Capital Management, Metrics, and Reporting
for organizations, including ISO human capital certifications, and services for solution providers.
5. Outreach in the US and Around the World on Stakeholder Management and Total Rewards
The EEA promotes a strategic approach to people management and total rewards through its e-newsletters, web sites, and social media reaching 20,000 professionals a month and through other activities, such as: