IRF Study Sees More Individual Rewards, Digital Delivery, and Focus on the Middle 60%
The latest Incentive Research Foundation research report foresees an increase in individual rewards, continued deferment of large-group incentive trips, more focus on the middle 60% of performers, more personalization of the reward experience, and increasing digitalization of reward delivery and events.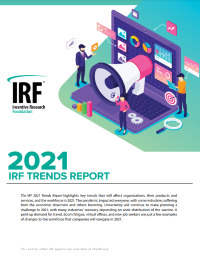 Here's an overview of the key incentive industry trends and their implications from the latest
Incentive Research Foundation trends report
.
•

Merchandise, gift cards, individual travel on the rise.
The use of merchandise, points, gift cards, and individual travel rewards have proved to be powerful motivators during the pandemic, with the use of gift cards up 26% since the pandemic began. Gift cards are favored because of the ability for flexibility, creativity, efficiency, and speed. The study also predicts an increase of 24% in merchandise use and that individual travel and small groups will come back first before large groups.
•

Implications for group incentive travel.
Organizations continue to value incentive travel programs and many have deferred rather than canceled large group events; 79% of respondents report no change in their budget, with about 42% canceling programs as of July of last year, the report says. The industry anticipates a strong return to incentive travel when people feel safe, with the possibility that many organizations will have difficulty finding venues later in 2021 and 2022. Layoffs in the hospitality industry may also result in reduced capacity, as companies may be slow to hire back staff. There will also be a focus on closer-to-home destinations and venues large enough to accommodate social distancing and that offer options for outdoor activities.
•

More focus on the middle 60%.
The report suggests that more broadly based incentive programs "might be necessary to rebuild morale, engagement, trust, and collegiality, and these are behaviors that the majority of employees must observe to move the needle. Even rallying people who got used to enormous flexibility and are now expected to return to the office five days a week might prove very challenging. Incentive program owners may be identifying and rewarding many new behaviors that will reestablish new corporate cultures. Many of these efforts could involve smaller, frequent rewards on a larger scale." According to
The IRF 2020 Top Performer Study
, 54% of top performing companies design their incentive programs with goal of reaching each participant, with another 22% designed with the dual goal of rewarding exceptional performers and maximum participant reach. The report suggests that "Tiered programs might focus on expensive incentive travel programs at the top tier, then add in merchandise and gift cards at the second and third tiers, allowing for a wider variety in per-person spend."
•

More customization and personalization.
The study finds that "program owners are developing innovative ways to include personalization throughout their programs in order to make a lasting impression on program participants. Personalization ranges from expensive gift packages like a high-end motorcycle with a full leather outfit to a hand-written note from a supervisor included with an Amazon gift card. Merchandise catalogs offer a variety of options and frequently include individual travel experiences."
•

Travel contract terms are more important than ever.
"Contracts should be carefully reviewed by someone with specific knowledge of event- and hotel-related contracting. Hotel contract provisions should address items such as known and anticipated risks, safety/cleanliness procedures, government rules and best practices for health and safely, and a written safety plan. Force majeure clauses may allow either party to cancel, reduce, or postpone performance. Force majeure clauses should specifically mention disease, epidemic, and pandemic and address government regulations and travel bans."
•

More digitalization.
As a result of Covid, digital options enable immediate, coordinated, trackable delivery of rewards regardless of geographic location are on the rise. "The ability to quickly distribute gift cards, points, and congratulatory messages via digital delivery enables program owners to keep employees engaged and motivated during especially challenging times. Gift cards and digital merchandise catalogs can be customized and curated to reflect employee preferences. Digital delivery can also increase control, enhance reporting, and reduce overall administration time for program owners."
•

More sophistication in virtual meetings.
Organizations are investing in virtual meetings with new software platforms and high-quality production for 2021 as they feel the need to gather in larger groups that a grid on Zoom. Virtual experiences, like wine tastings and cooking classes, are replacing local events. Many industry insiders predict that all meetings will have a hybrid element going forward, but what remains to be seen is if companies will be willing to invest the additional production costs to accommodate the parallel virtual delivery.
•

Virtual platforms may also be adopted for cost-saving purposes for meetings and events.
Program owners can reduce the live audience size for specific events, or rotate years for live events with virtual event years. Since virtual platforms proved effective for training sessions, several program owners reported that they are considering removing or reducing the education and training elements from incentive trips. This would enable the incentive trip experience to focus on rewards, celebrations, and activities. However, tax requirements need to be considered for many of these types of programs, the report points out.
---
Education, Certifications, and Information to Activate
Brand Media and Enterprise Engagement

A complete learning, certification, and information program and a course syllabus for educators.
Resources:
The
Brand Media Coalition
, the only guide to the story-telling power of brands and where to source them for business, event, promotional gifting, and rewards and recognition.
Enterprise Engagement Solution Provider Directory
. The only directory of engagement solution providers covering all types of agencies and tactics as well as insights on how to select them.
Communities:
The
Enterprise Engagement Alliance and Advocate
and the
Brand Media Coalition
free resource centers offering access to the latest research, news, and case studies; discounts, promotions, referrals, and commissions, when appropriate to third-party solution providers from participating coalition solution provider members.
Training and Certification
Enterprise Engagement Alliance Education:
Certified Engagement Practitioner; Advanced Engaged Practitioner, and Certified Engagement Solution Provider learning and certification programs on how to implement Stakeholder Capitalism principles at the tactical level.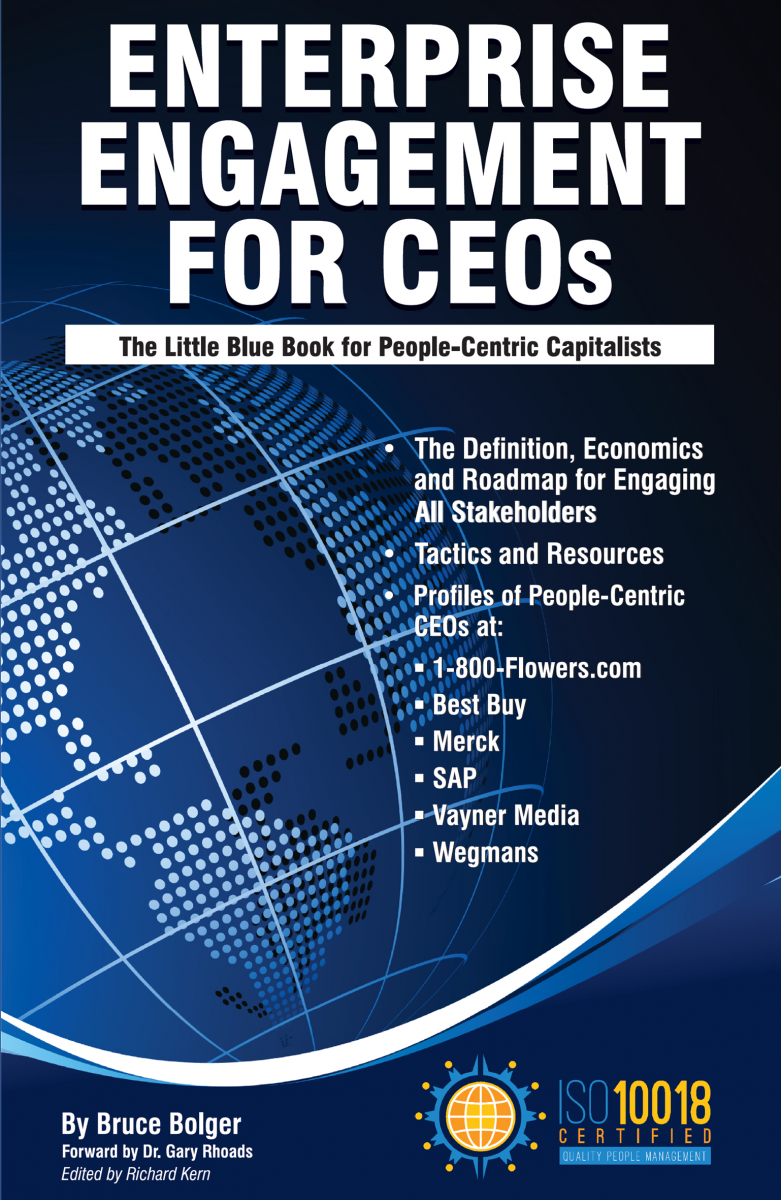 In Print:
This is the definitive implementation guide to Stakeholder Capitalism, written specifically to provide CEOs and their leadership teams a concise overview of the framework, economics, and implementation process of a CEO-led strategic and systematic approach to achieving success through people. (123 pages, $15.99)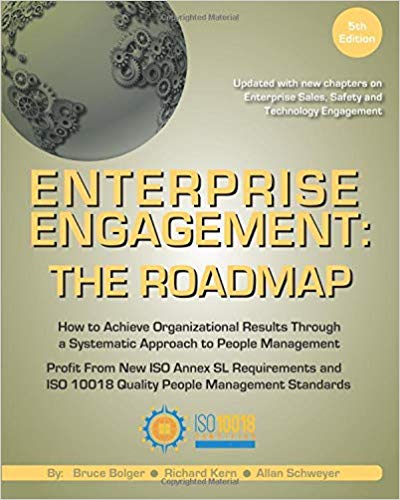 The first and most comprehensive book on Enterprise Engagement and the new ISO 9001 and ISO 10018 quality people management standards. Includes 36 chapters detailing how to better integrate and align engagement efforts across the enterprise. (312 pages, $36.)
Online:
10-minute short course: click here
for a 10-minute introduction to Enterprise Engagement and ISO standards from the Coggno.com learning platform.
Services:
• The Engagement Agency at EngagementAgency.net,
offering: complete support services for employers, solution providers, and technology firms seeking to profit from formal engagement practices for themselves or their clients, including Brand and Capability audits for solution providers to make sure their products and services are up to date.
• C-Suite Advisory Service
—Education of boards, investors, and C-suite executives on the economics, framework, and implementation processes of Enterprise Engagement.
• Speakers Bureau
—Select the right speaker on any aspect of engagement for your next event.
• Mergers and Acquisitions. The Engagement Agency's Mergers and Acquisition group is aware of multiple companies seeking to purchase firms in the engagement field. Contact Michael Mazer in confidence if your company is potentially for sale at 303-320-3777.
Enterprise Engagement Benchmark Tools:
The Enterprise Engagement Alliance offers three tools to help organizations profit from Engagement.
Click here
to access the tools.
• ROI of Engagement Calculator. Use this tool to determine the potential return-on-investment of an engagement strategy.
• EE Benchmark Indicator. Confidentially benchmark your organization's Enterprise Engagement practices against organizations and best practices.
• Compare Your Company's Level of Engagement. Quickly compare your organization's level of engagement to those of others based on the same criteria as the EEA's Engaged Company Stock Index.
• Gauge Your Personal Level of Engagement. This survey, donated by Horsepower, enables individuals to gauge their own personal levels of engagement.
For more information, contact Bruce Bolger at Bolger@TheEEA.org, 914-591-7600, ext. 230.