IRF Study Highlights Why Surveys Often Fail - What People Say and Do Often Differ
When asked why they select one award over another for incentive, recognition, and gifting programs, management often says it's based on what people say they want. This study suggests that what people say they want might have little to do with what truly engages them.
Political pollsters aren't the only ones having trouble deciphering what people want. This Incentive Research Foundation study shows the challenge of trying to please everyone in a gifting, incentive, and recognition program, as what people say they want isn't necessarily what actually engages them.
The survey finds that the following benefits are associated with the highest levels of employee engagement:
•
Getting a special parking spot at work.
•
Having the company pay all expenses to a special event.
•
Having a gift or token of appreciation sent to your spouse or family members.
•
Getting recognized in the corporate newsletter or publication.
The Link Between Recognition and Job Satisfaction
According to the study, the data makes a compelling case for the impact of recognition on employee engagement outcomes. Respondents were asked to rate various facets of engagement. Being extremely satisfied with recognition is associated with increases in job satisfaction by a factor of 14 times, compared to those dissatisfied with recognition efforts. Comparing those who are most satisfied with recognition versus those dissatisfied shows that those who are most satisfied are:
•
11 times more likely to look forward to coming to work every day.
•
7 times more likely to have an intention to remain with the company long-term.
•
15 times more likely to recommend the company to prospective employees as a place to work.
•
6 times more likely to recommend the company's products and services to others.
•
5 times more motivated to give their best possible effort every day.
•
12 times more likely to invest money in their company if given the opportunity to do so.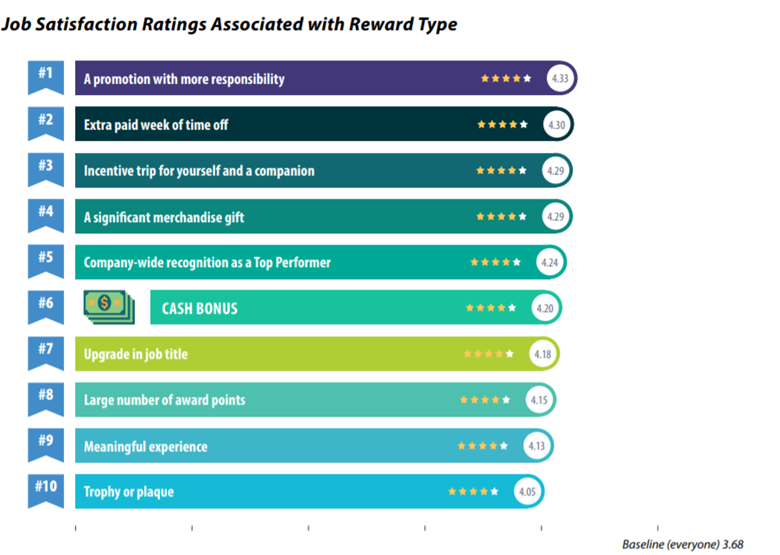 As for preferred rewards, employees ranked getting a paid day off as the top preference.
•
Nearly half (49%) listed getting a paid day off within their top three preferences.
•
Another 21% listed it among their next four top preferences.
•
Only 9% listed It within their bottom seven preferences.
Remaining preferences focused on experiences:
•
Having the company pay for lunch or dinner with your family.
•
Having the company pay all expenses to a special event.
The study found that many preferred reward & recognition types are significantly under-utilized; in fact, many highly preferred recognition types were awarded to less than 10% of respondents.
•
Even though 51% rank having the company pay all expenses to a special event within the top seven preferences, only 3% report receiving this form of recognition.
•
Having lunch or dinner with one's family is preferred by 47%, awarded to 6%.
•
Receiving a food gift is preferred by 38%, awarded to 6%.
•
Receiving points that can be accumulated and redeemed is preferred by 33%, awarded to 7%.
On the other hand, two forms of recognition that ranked high in preference, flexible scheduling and paid time off, are the two most common ways people are recognized.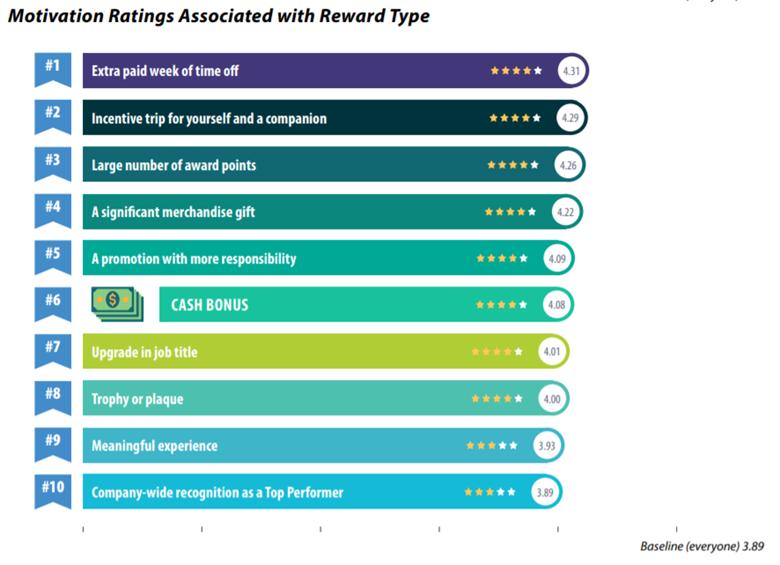 Impact of the Pandemic
Despite the pandemic, the study reveals that only 16% indicate their reward and recognition preferences had changed. Of these respondents:
•
There is an increased preference for rewards with direct monetary value like cash bonuses, gift cards, and merchandise.
•
When asked to explain this shift in preferences, the most frequently cited reasons are either reduced or increased working hours, for which people want to be compensated.
•
People also mention reductions in household income and corresponding increases in grocery costs as reasons for their shifts in preferences.
•
People also show an increased preference in flexible scheduling, often citing the importance of having more time to spend at home with their families.
Some respondents indicate they do not want to travel, while others show an increased desire for incentive travel experiences, particularly those who are within a driving distance and involve little interaction with people.
•
The net decrease in interest in travel experiences that involve flying is less than 1%.
•
Those interested in regional experiences to which one can drive, or those with limited interaction, increased by 2%-3%.
Generational Differences
The study found various generational and gender differences in the responses. The study finds that:
•
There is no recognition strategy that is universally embraced or dismissed.
•
Even though 70% list 'getting a paid day off' as a top seven choice, 9% list it within their bottom seven preferences.
•
While 56% rank receiving a 'trophy, plaque, or certificate' within their bottom seven, 14% rank it within their top seven.
•
Younger workers, such as those in the Gen Z (ages 18-22) and Millennials (ages 23-39) categories show a higher preference for developmental opportunities, such as 'being given more responsibility at work.'
•
Younger workers also place higher value on 'having dinner or lunch with company management' as this also is seen as aiding their upward mobility in the company.
•
Those in the Gen X and Boomer categories place more focus on recognition opportunities that allow them to spend more time and have experiences with their families, such as paid days off, company paid lunches and dinners, and opportunities to experience special events.
•
Females have a greater preference for gift cards, award points, and food gifts, as well as flexible scheduling and paid lunches or dinner with their families.
•
Males gravitate more toward developmental rewards such as being given more responsibility, having lunch or dinner with their supervisors and being able to mentor other employees.
---
Education, Certifications, and Information to Activate
Brand Media and Enterprise Engagement

A complete learning, certification, and information program and a course syllabus for educators.
Resources:
The
Brand Media Coalition
, the only guide to the story-telling power of brands and where to source them for business, event, promotional gifting, and rewards and recognition.
Enterprise Engagement Solution Provider Directory
. The only directory of engagement solution providers covering all types of agencies and tactics as well as insights on how to select them.
Communities:
The
Enterprise Engagement Alliance and Advocate
and the
Brand Media Coalition
free resource centers offering access to the latest research, news, and case studies; discounts, promotions, referrals, and commissions, when appropriate to third-party solution providers from participating coalition solution provider members.
Training and Certification
Enterprise Engagement Alliance Education:
Certified Engagement Practitioner; Advanced Engaged Practitioner, and Certified Engagement Solution Provider learning and certification programs on how to implement Stakeholder Capitalism principles at the tactical level.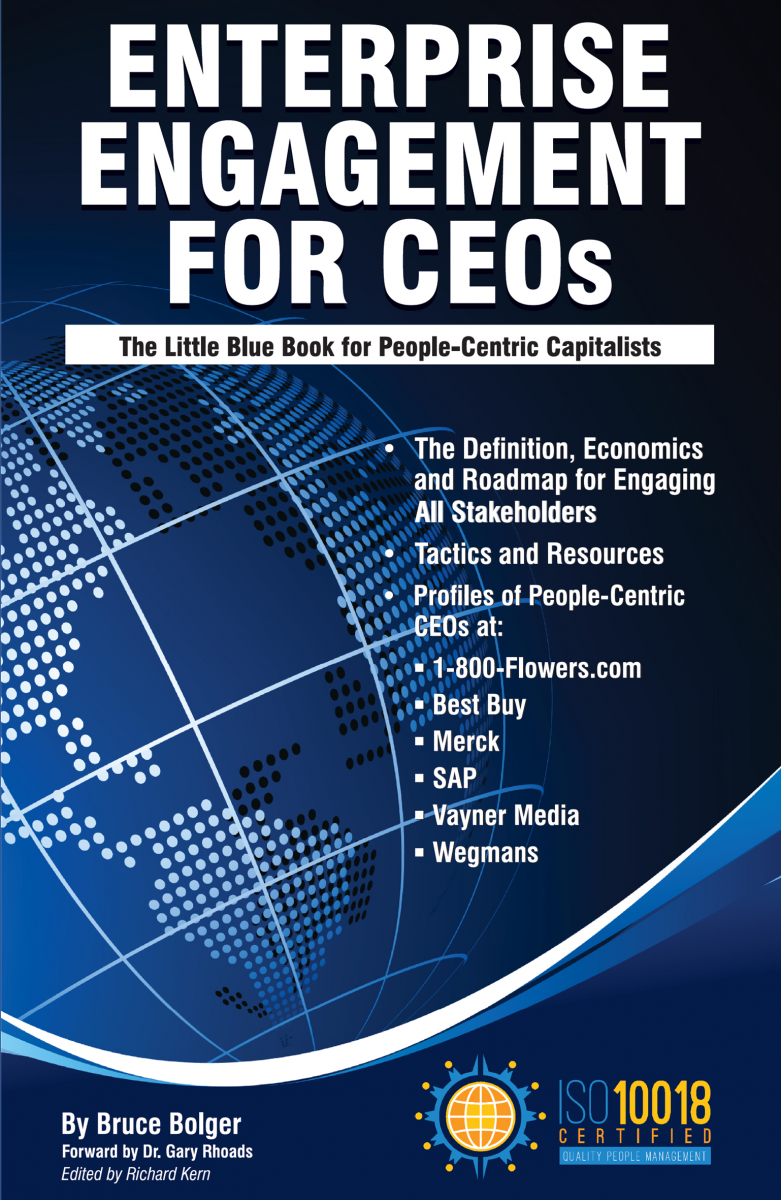 In Print:
This is the definitive implementation guide to Stakeholder Capitalism, written specifically to provide CEOs and their leadership teams a concise overview of the framework, economics, and implementation process of a CEO-led strategic and systematic approach to achieving success through people. (123 pages, $15.99)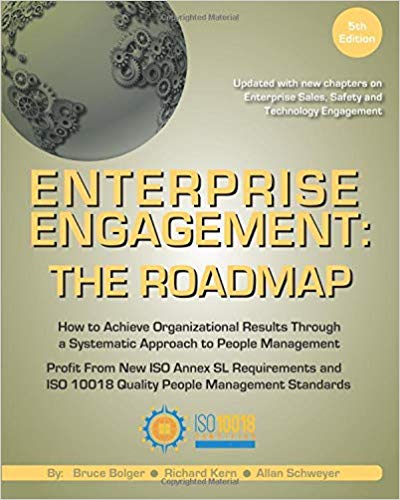 The first and most comprehensive book on Enterprise Engagement and the new ISO 9001 and ISO 10018 quality people management standards. Includes 36 chapters detailing how to better integrate and align engagement efforts across the enterprise. (312 pages, $36.)
Online:
10-minute short course: click here
for a 10-minute introduction to Enterprise Engagement and ISO standards from the Coggno.com learning platform.
Services:
• The Engagement Agency at EngagementAgency.net,
offering: complete support services for employers, solution providers, and technology firms seeking to profit from formal engagement practices for themselves or their clients, including Brand and Capability audits for solution providers to make sure their products and services are up to date.
• C-Suite Advisory Service
—Education of boards, investors, and C-suite executives on the economics, framework, and implementation processes of Enterprise Engagement.
• Speakers Bureau
—Select the right speaker on any aspect of engagement for your next event.
• Mergers and Acquisitions. The Engagement Agency's Mergers and Acquisition group is aware of multiple companies seeking to purchase firms in the engagement field. Contact Michael Mazer in confidence if your company is potentially for sale at 303-320-3777.
Enterprise Engagement Benchmark Tools:
The Enterprise Engagement Alliance offers three tools to help organizations profit from Engagement.
Click here
to access the tools.
• ROI of Engagement Calculator. Use this tool to determine the potential return-on-investment of an engagement strategy.
• EE Benchmark Indicator. Confidentially benchmark your organization's Enterprise Engagement practices against organizations and best practices.
• Compare Your Company's Level of Engagement. Quickly compare your organization's level of engagement to those of others based on the same criteria as the EEA's Engaged Company Stock Index.
• Gauge Your Personal Level of Engagement. This survey, donated by Horsepower, enables individuals to gauge their own personal levels of engagement.
For more information, contact Bruce Bolger at Bolger@TheEEA.org, 914-591-7600, ext. 230.