IRF Study: Heady Days for Rewards, Recognition, and Gifting
A survey of 377 incentive industry professionals comprised of 45% corporate buyers, 33% incentive provider, and 21% suppliers, conducted between July and August 2019 by the Incentive Research Foundation, finds net optimism for the economy at 41%, nearly double the response in 2017: 85% of respondents forecast that their companies will have strong economic performance in 2020. While the percentage who measure program results has increased in terms of participant satisfaction, there is no mention of return-on-investment analysis.
•
Overall use of reward and recognition programs (43% versus 38%)
•
Gift cards, 42% (compared to 38% in the 2019 survey)
•
Merchandise, 35% (compared to 28%)
•
Experiential rewards, 44% (compared to 28%)
About half of respondents forecast an increase in the number of people winning an award next year, and over 40% of respondents say they are increasing budgets in technology platforms and 31% in communications.
This year's study finds a big increase in reporting and analysis of incentive programs: 73% of corporate program owners state that they have some form of reporting and analysis, up from only 47% the year before. However, the survey finds that reporting still focuses mainly on program satisfaction levels and participation rates, with a shift from simple participation rates to satisfaction as the key metric. There is no mention of return-on-investment or any other more sophisticated measurement factors.
Logoed Branded Merchandise Favored by Corporate Buyers
In the merchandise category, the report finds that "logoed brand-name merchandise, electronics, and sunglasses are the most popular categories." Food gifts registered the biggest decline in growth, with 38% reporting more spending, versus 52% the year before. The average value of ndividual rewards and gifts averages $160.
Gift cards, with an average gift value of $100, are dominated by online retailers (Amazon, for example) as the most popular type of gift card, with coffee and big box retailers following close in popularity. Dining, electronics, home improvement, apparel, are also popular categories. Nearly 70% of corporate respondents say they purchase gift cards at retail.
The survey finds that 58% of respondents are increasing event-gifting budgets, versus 43% in last year's study. Half of respondents now say incorporate merchandise boutiques into their events, with 70% of suppliers saying they now offer this service. Over two-thirds of sponsors offer custom-made items or on-site fittings, compared with under 60% last year. Most popular gifting programs include national brand programs; custom fittings; locally relevant goods and crafts, and locally sourced food and beverages. Factors that go into gifting decision-making are: Budget (43%); attendee delight (38%); meaningfulness (31%); memorability (30%).
Methods of Measurement
Source: Incentive Research Foundation 2020
Here are the reported methods of measuring program impact. Note that there is no mention of return-on-investment; goals achieved, or actions performed, etc.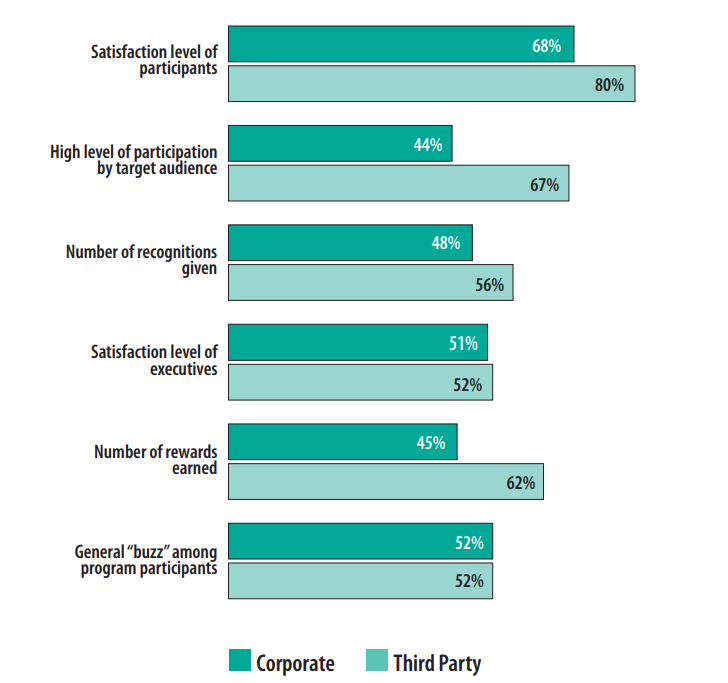 ---
Master the Principles of Enterprise Engagement to Achieve Organizational Goals and Enhance Your Career
Profit from a new strategic and systematic approach to engagement to enhance your organization's brand equity; increase sales, productivity, quality, innovation, and safety, and reduce risks.
Get trained to become a Chief Engagement Officer for your organization.
Achieve ISO 10018 Quality People Management Certification to demonstrate your organization's strategic commitment to people to your customers, employees, distribution partners, vendors, communities, investors, and regulators.
Learn how to create Sustainability or Integrated Reports for Your Organization or Clients.
Get up-to-speed on ISO human resources standards and guidelines to enhance HR performance.
Live Education: Enterprise Engagement in Action. Take advantage of scheduled monthly live webinar preparation courses for the Certified Engagement Practitioner designation consisting of three one-hour classes and of quarterly Advanced Engagement Practitioner courses consisting of three one-hour webinar classes. The AEP course is for individuals or teams seeking preparation ISO 10018 professional certification status. ICEE periodically runs regional one-day workshops on ISO 10018 Quality People Management principles and certification.
Resources: The Brand Media Coalition, the only guide to the story-telling power of brands and where to source them for business, event, promotional gifting, and rewards and recognition.
2019 Enterprise Engagement Solution Provider Directory
. The only directory of engagement solution providers covering all types of agencies and tactics as well as insights on how to select them.
Communities: The Enterprise Engagement Alliance and Advocate and the Brand Media Coalition free resource centers offering access to the latest research, news, and case studies; discounts, promotions, referrals, and commissions, when appropriate to third-party solution providers from participating coalition solution provider members.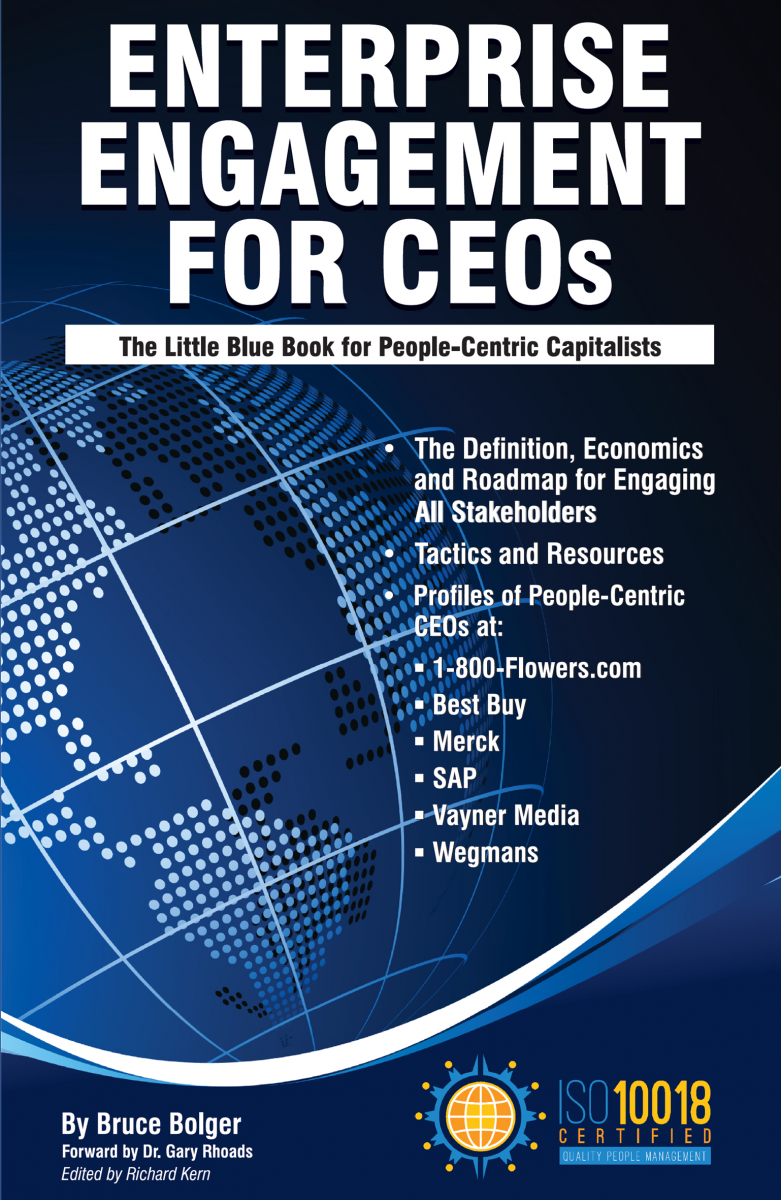 Written specifically to provide CEOs and their leadership teams a concise overview of the framework, economics, and implementation process of a CEO-led strategic and systematic approach to achieving success through people. (123 pages, $15.99)
Enterprise Engagement: The Roadmap 5th Edition
The first and most comprehensive book on Enterprise Engagement and the new ISO 9001 and ISO 10018 quality people management standards. Includes 36 chapters detailing how to better integrate and align engagement efforts across the enterprise. (312 pages, $36.)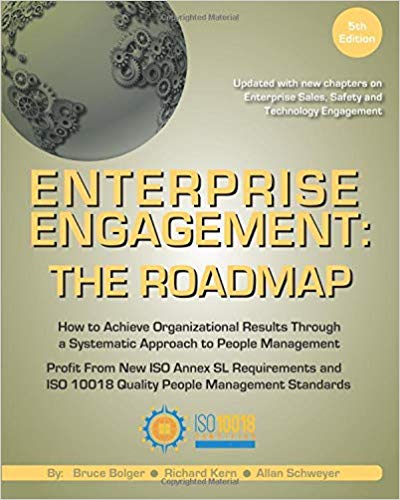 Online:
• 10-minute short course: click here for a 10-minute introduction to Enterprise
• Engagement and ISO standards on Coggno.com.
• 5-minute Audiopedia summary of the Enterprise Engagement field.
Services:
• The International Center for Enterprise Engagement at TheICEE.org, offering: ISO 10018 certification for employers, solution providers, and Enterprise Engagement technology platforms; Human Resources and Human Capital audits for organizations seeking to benchmark their practices and related Advisory services for the hospitality field.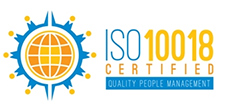 • The Engagement Agency at EngagementAgency.net, offering: complete support services for employers, solution providers, and technology firms seeking to profit from formal engagement practices for themselves or their clients, including Brand and Capability audits for solution providers to make sure their products and services are up to date.
• C-Suite Advisory Service—Education of boards, investors, and C-suite executives on the economics, framework, and implementation processes of Enterprise Engagement.
• Speakers Bureau—Select the right speaker on any aspect of engagement for your next event.
• Mergers and Acquisitions. The Engagement Agency's Mergers and Acquisition group is aware of multiple companies seeking to purchase firms in the engagement field. Contact Michael Mazer in confidence if your company is potentially for sale at 303-320-3777.
Enterprise Engagement Benchmark Tools: The Enterprise Engagement Alliance offers three tools to help organizations profit from Engagement. Click here to access the tools.
• ROI of Engagement Calculator. Use this tool to determine the potential return-on-investment of an engagement strategy.
• EE Benchmark Indicator. Confidentially benchmark your organization's Enterprise Engagement practices against organizations and best practices.
• Compare Your Company's Level of Engagement. Quickly compare your organization's level of engagement to those of others based on the same criteria as the EEA's Engaged Company Stock Index.
• Gauge Your Personal Level of Engagement. This survey, donated by Horsepower, enables individuals to gauge their own personal levels of engagement.
For more information, contact Bruce Bolger at Bolger@TheEEA.org, 914-591-7600, ext. 230.