Guest Insight: Ways to Avoid Making a Remote Gifting Gaffe
Here are tips on how to make sure your employee gifting program is effective in a work-from-home environment.
By Eric Gehnrich, Senior Vice President, Business Gifts Services, 1-800-FLOWERS.COM, Inc.
Think about the last time you received a gift. How did it make you feel?

Gifts have the power to unleash powerful reactions and sentiments. Tokens of appreciation, whether big or small, can convey gratitude, love, kindness, and comfort. Beyond providing a serotonin surge, in the workplace these symbols of thoughtfulness have been shown to improve engagement and deepen relationships with employees, clients, and other important business contacts.

The benefits are undeniable. A
John Templeton Foundation
survey found that 70% of those polled would feel better about themselves if their boss were more grateful, and 81% would work harder. A
Gallup
poll revealed that companies that have high employee engagement scores outperform others by 14% in productivity, 18% in sales, 23% in profitability and 66% on wellbeing.
Here's the challenge. With the majority of the country's corporate workforce continuing to work remotely, companies are looking for ways to create a culture of recognition and engagement that is future-proof. The lack of office time shouldn't impede your employee appreciation program. In fact, by implementing creative solutions, you can keep motivating and engaging your employees through remote gifting and team building – allowing employees to develop stronger bonds while working apart. The office rules have changed, but the importance of recognition hasn't.
Here's how to handle remote gifting gracefully.
Customize your gifting strategy.
If your gifts feel too standardized – out of habit, you send the same bouquet of flowers for every event – the "personal touch" evaporates and can diminish the effect of the gift. Gifts are much more than a simple gesture. They can take on significant meaning. Think about the message you are trying to convey or the goal you have in mind by sending this gift. For your employees, it may be recognizing talent, rewarding a big sale, celebrating a milestone, or fostering team communication and collaboration. For example, if you want to recognize a team for a job well done, you might send them each a cheese assortment to enjoy together during a virtual happy hour, or organize a
virtual team building workshop
where they can create charcuterie boards or learn to pair wine and cheese. That shared experience will create the sense of unity you want as an employer.
Follow the same guidelines with your external relationships. Think about what will best articulate your message, whether your goal is to thank a client for sticking with you in challenging times (maybe snacks and sweets) or to incentivize new business (a long-lasting succulent that acts as a good reminder). Each person shouldn't necessarily receive the same gift – especially when that new business becomes a longtime client and you want to show your appreciation yet again.
Share the gift of flexibility. Like many of your teams, my team has also been dispersed for the past few months. This challenge led to one of our latest gift experience innovations: SmartGift, a new feature that notifies recipients of pending gifts via email, SMS, Slack, or LinkedIn and allows them to digitally unwrap it and choose the delivery date and address. Sending gifts to a new client's home can feel intrusive – and it's certainly challenging if you don't know their address. Or, what if someone on your team is working from a family member's house for a few weeks? We wanted to put the power of the present in the recipient's hands without sacrificing any of the personalization. By eliminating the need to coordinate home addresses and concerns about someone not being home, this feature boosts convenience, simplifies the sending process for employers, and increases gift-receiving excitement.
Be appropriate, yet personal. Your office culture and policies should still translate in the remote world. Avoid a gift or message that may have a subjective meaning or could be misinterpreted, like an ill-conceived or misplaced humorous gift. This doesn't mean you can't inject personality. In fact, writing a personally addressed note is one of the most important parts of the gifting process. Heartfelt written words from a boss, mentor, or colleague can deepen connections with the gift. Madlib-style messages like "Good job!" or "I'm sorry for your loss" are suitable but feel formulaic. Instead, add specific details. For instance: "I appreciate how well you managed this project, even when faced with remote technology challenges. It wasn't easy, but you exemplified grace under pressure. Thank you!" A message like this will feel much more powerful and personal than a blanket statement and is well worth the effort.
Don't forget the boss.
For many leaders, managing a remote workforce requires a new skillset. In fact, according to one survey,
77% of leaders
had never managed a fully remote team prior to COVID-19. Across the board, leadership has risen to the challenge of fostering remote relationships, maintaining productivity while still being empathetic to employees' needs, and inspiring them to continue delivering strong work. This new layer of responsibility for managers deserves recognition as well. Employees crave recognition from their boss, but the inverse – employees recognizing the boss – has its own powerful effect to motivate and encourage leaders. It doesn't take a big budget for businesses to empower teams in sharing thanks for a job well done, while simultaneously helping to boost retention and loyalty.
The workplace looks very different right now and the need to connect with others, express gratitude and celebrate success has become even more important. Leveraging creative solutions, like remote gifting and virtual team building activities, can help keep employees engaged and foster meaningful professional relationships.
Note:
1-800-FLOWERS.COM is a member of the Brand Media Coalition. View its storefront
here
.
---
Education, Certifications, and Information to Activate
Brand Media and Enterprise Engagement

A complete learning, certification, and information program and a course syllabus for educators.
Resources:
The
Brand Media Coalition
, the only guide to the story-telling power of brands and where to source them for business, event, promotional gifting, and rewards and recognition.
Enterprise Engagement Solution Provider Directory
. The only directory of engagement solution providers covering all types of agencies and tactics as well as insights on how to select them.
Communities:
The
Enterprise Engagement Alliance and Advocate
and the
Brand Media Coalition
free resource centers offering access to the latest research, news, and case studies; discounts, promotions, referrals, and commissions, when appropriate to third-party solution providers from participating coalition solution provider members.
Training and Certification
Enterprise Engagement Alliance Education:
Certified Engagement Practitioner; Advanced Engaged Practitioner, and Certified Engagement Solution Provider learning and certification programs on how to implement Stakeholder Capitalism principles at the tactical level.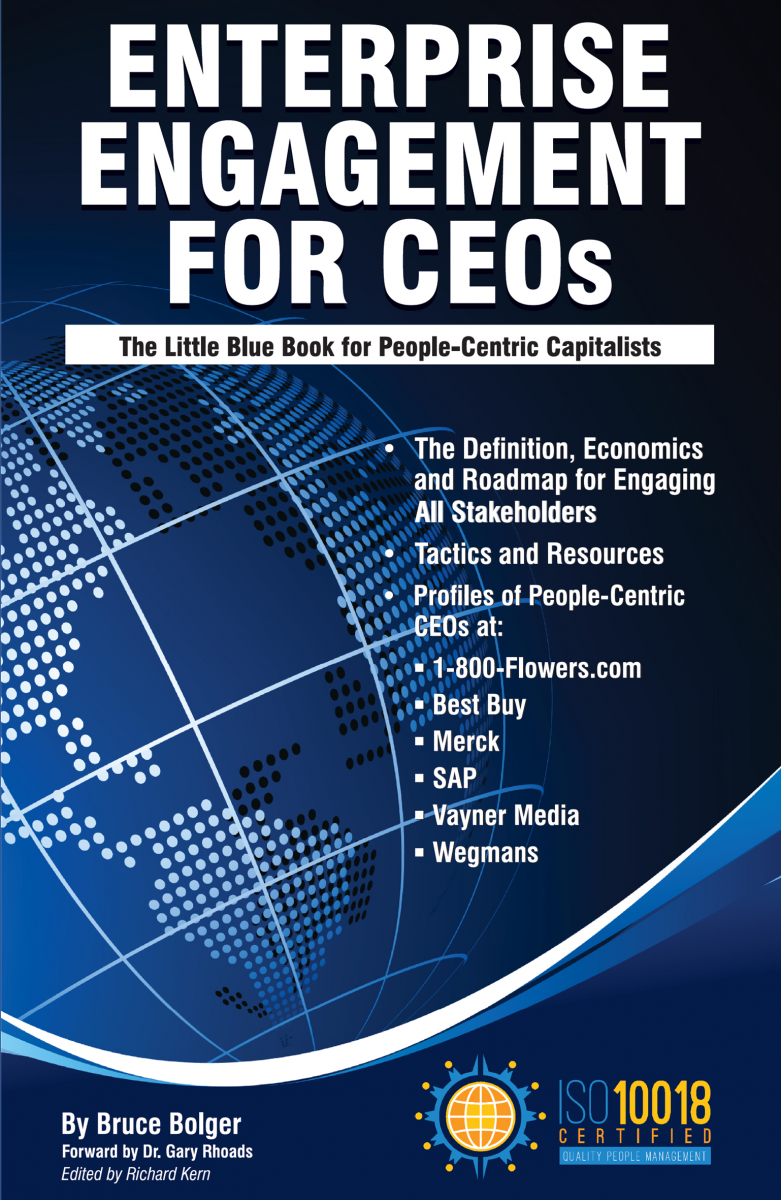 In Print:
This is the definitive implementation guide to Stakeholder Capitalism, written specifically to provide CEOs and their leadership teams a concise overview of the framework, economics, and implementation process of a CEO-led strategic and systematic approach to achieving success through people. (123 pages, $15.99)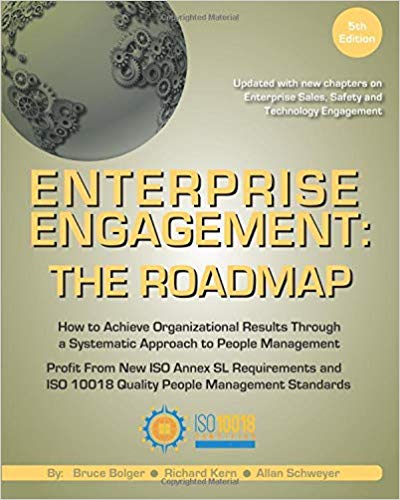 The first and most comprehensive book on Enterprise Engagement and the new ISO 9001 and ISO 10018 quality people management standards. Includes 36 chapters detailing how to better integrate and align engagement efforts across the enterprise. (312 pages, $36.)
Online:
10-minute short course: click here
for a 10-minute introduction to Enterprise Engagement and ISO standards from the Coggno.com learning platform.
Services:
• The Engagement Agency at EngagementAgency.net,
offering: complete support services for employers, solution providers, and technology firms seeking to profit from formal engagement practices for themselves or their clients, including Brand and Capability audits for solution providers to make sure their products and services are up to date.
• C-Suite Advisory Service
—Education of boards, investors, and C-suite executives on the economics, framework, and implementation processes of Enterprise Engagement.
• Speakers Bureau
—Select the right speaker on any aspect of engagement for your next event.
• Mergers and Acquisitions. The Engagement Agency's Mergers and Acquisition group is aware of multiple companies seeking to purchase firms in the engagement field. Contact Michael Mazer in confidence if your company is potentially for sale at 303-320-3777.
Enterprise Engagement Benchmark Tools:
The Enterprise Engagement Alliance offers three tools to help organizations profit from Engagement.
Click here
to access the tools.
• ROI of Engagement Calculator. Use this tool to determine the potential return-on-investment of an engagement strategy.
• EE Benchmark Indicator. Confidentially benchmark your organization's Enterprise Engagement practices against organizations and best practices.
• Compare Your Company's Level of Engagement. Quickly compare your organization's level of engagement to those of others based on the same criteria as the EEA's Engaged Company Stock Index.
• Gauge Your Personal Level of Engagement. This survey, donated by Horsepower, enables individuals to gauge their own personal levels of engagement.
For more information, contact Bruce Bolger at Bolger@TheEEA.org, 914-591-7600, ext. 230.