Gift Cards, Technology Look Like Winners in 2021: IRF Study
The 2021 annual Incentive Research Foundation outlook survey of end-users, suppliers, and incentive and recognition firms conducted by the Incentive Research Foundation (IRF) finds that while more than half of companies expect the economy and their businesses to improve, many are cautious about expectations for growth pending the impact of the vaccines and other factors on the pandemic.
As one would anticipate, the
survey
of 322 respondents finds that companies will spend more for technology, gift cards and merchandise, and much less on travel and somewhat less on administration expenses. There is little hope for improvement in the travel sector until the second half or until people generally feel safe traveling and comingling again, the respondents indicate.
Of the participants, 39% represented corporate buyers, 24% represented direct gift card and merchandise suppliers, and 38% were third parties, such as incentive companies and consultants. This proportional sample composition was comparable to the previous year, which allows for direct year-to-year comparisons. Many of the names were provided by suppliers in the field, whose lists are more likely to consist of active buyers.


HOW THE REWARD MIX WILL CHANGE
This survey finds that many end-users work directly with brands, but "there is a reported decline from 2019 relative to direct working partnerships. The 2020 use of direct partnerships is generally equal to, if not slightly higher than 2018. For example, 47% worked directly with merchandise brands in 2020, which is comparable to the 42% that worked directly with these brands in 2018. The use of other types of partners is also down from 2019, but not significantly different from how partners were used in 2018. Moving forward, however, the role for third party partners looks to contract next year. Procurement and purchasing, however, will play a larger role." (These findings may be slanted by the source of many names coming from suppliers in the field, whose customers would not be representative of the majority of business people who have never heard of this field.)
The study finds little year-over-year change in the average per-person spend for non-cash reward and recognition programs, with the average spend of $764 about the same as in the last two years. Based on the survey, non-cash rewards and recognition have held up despite the pandemic.


For the third straight year, the reported average value of the merchandise reward was $160. Electronics and sunglasses remained the most popular merchandise items overall, based on the results. (This number also could be affected by the suppliers who supplied the names.)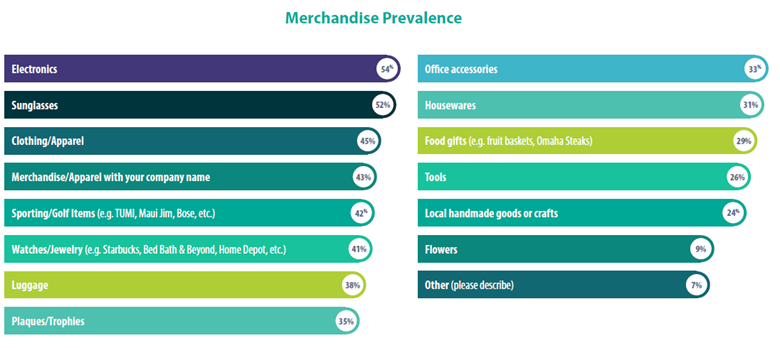 Gift card trends. The most common denominations for gift card rewards remain $25, $50, and $100, according to the study. It finds that 79% use gift cards of $100 or less, which is up from last year, (67%) but identical to 2018. The average value of a gift card was $120 compared to $129 in 2019. While gift cards do not usually come in these denominations, the data show that gift card values have not changed significantly since the pandemic began. The most common gift cards remain online retailers (e.g., Amazon) and coffee gift cards (e.g., Starbucks), the study reports.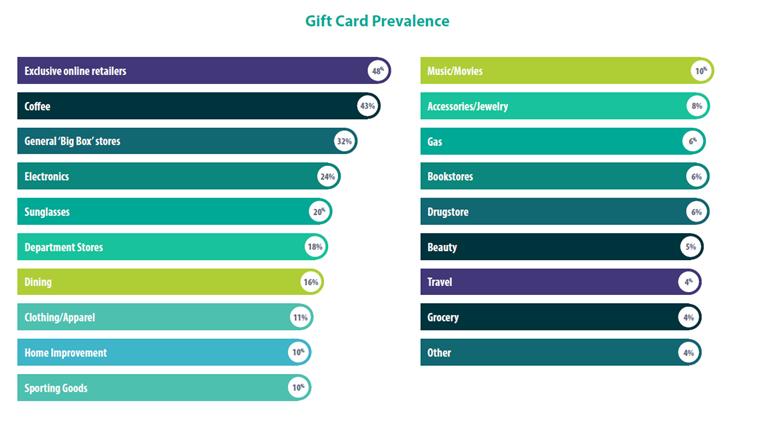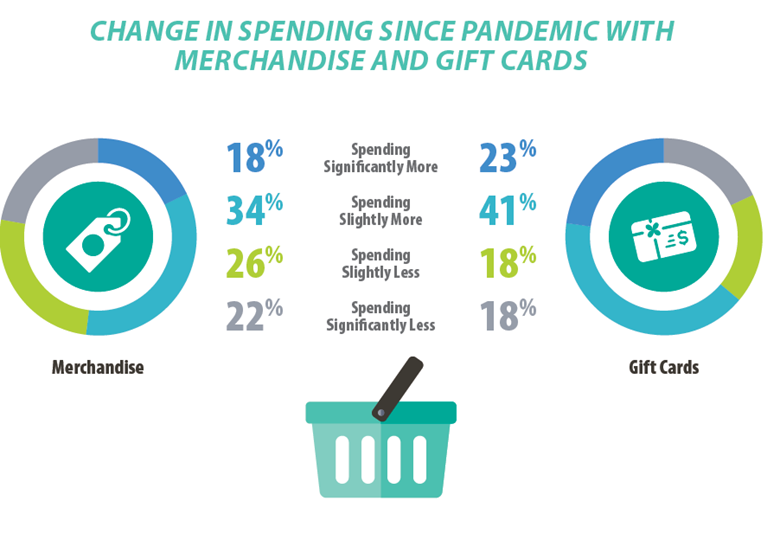 Incentive travel.
The study finds that while incentive travel "was dealt a crippling blow by the pandemic, it is noteworthy that only about half (51%) dramatically reduced or cut their incentive budgets. Within the sample, 83% had an incentive travel program prior to the pandemic. Among those who had an existing incentive travel program, half (51%) either eliminated their program or shifted significant money away from travel programs. However, almost the same number (49%) largely or fully maintained their travel programs. The study does not address what people did with those budgets if their groups or people did not take incentive trips.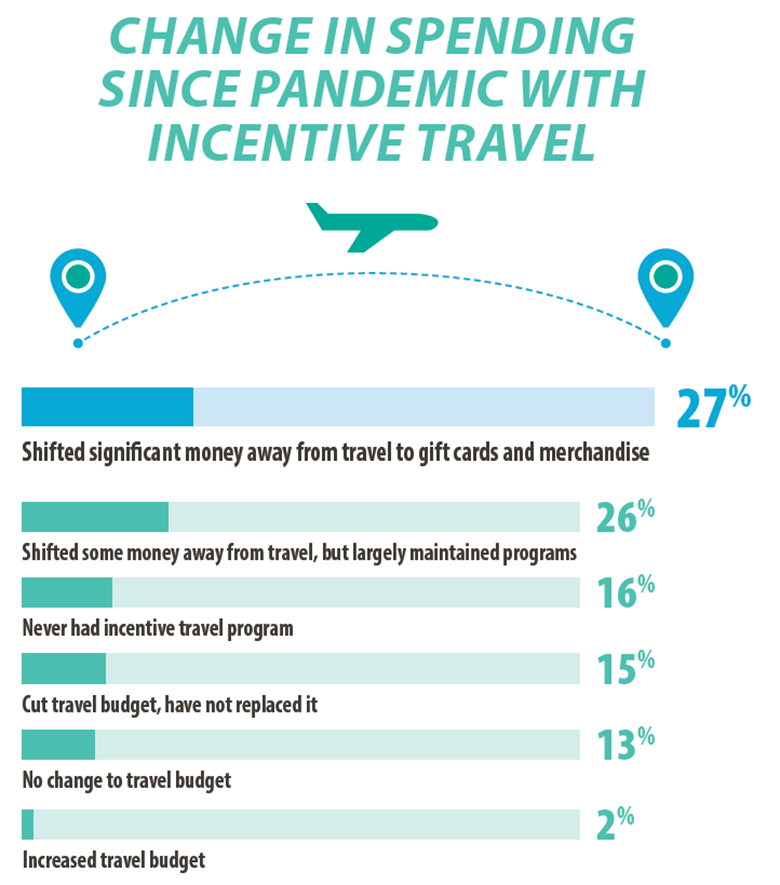 ---
Education, Certifications, and Information to Activate
Brand Media and Enterprise Engagement

A complete learning, certification, and information program and a course syllabus for educators.
Resources:
The
Brand Media Coalition
, the only guide to the story-telling power of brands and where to source them for business, event, promotional gifting, and rewards and recognition.
Enterprise Engagement Solution Provider Directory
. The only directory of engagement solution providers covering all types of agencies and tactics as well as insights on how to select them.
Communities:
The
Enterprise Engagement Alliance and Advocate
and the
Brand Media Coalition
free resource centers offering access to the latest research, news, and case studies; discounts, promotions, referrals, and commissions, when appropriate to third-party solution providers from participating coalition solution provider members.
Training and Certification
Enterprise Engagement Alliance Education:
Certified Engagement Practitioner; Advanced Engaged Practitioner, and Certified Engagement Solution Provider learning and certification programs on how to implement Stakeholder Capitalism principles at the tactical level.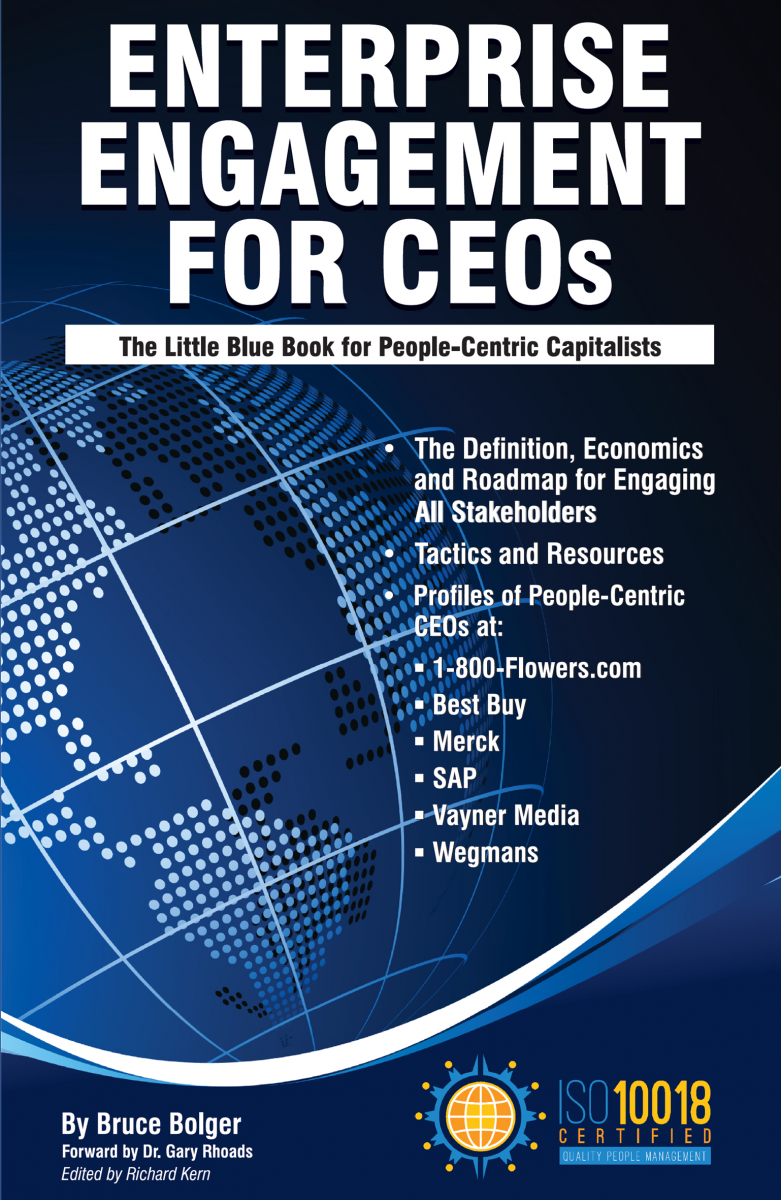 In Print:
This is the definitive implementation guide to Stakeholder Capitalism, written specifically to provide CEOs and their leadership teams a concise overview of the framework, economics, and implementation process of a CEO-led strategic and systematic approach to achieving success through people. (123 pages, $15.99)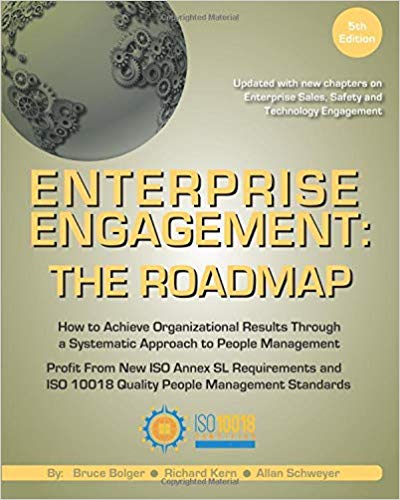 The first and most comprehensive book on Enterprise Engagement and the new ISO 9001 and ISO 10018 quality people management standards. Includes 36 chapters detailing how to better integrate and align engagement efforts across the enterprise. (312 pages, $36.)
Online:
10-minute short course: click here
for a 10-minute introduction to Enterprise Engagement and ISO standards from the Coggno.com learning platform.
Services:
• The Engagement Agency at EngagementAgency.net,
offering: complete support services for employers, solution providers, and technology firms seeking to profit from formal engagement practices for themselves or their clients, including Brand and Capability audits for solution providers to make sure their products and services are up to date.
• C-Suite Advisory Service
—Education of boards, investors, and C-suite executives on the economics, framework, and implementation processes of Enterprise Engagement.
• Speakers Bureau
—Select the right speaker on any aspect of engagement for your next event.
• Mergers and Acquisitions. The Engagement Agency's Mergers and Acquisition group is aware of multiple companies seeking to purchase firms in the engagement field. Contact Michael Mazer in confidence if your company is potentially for sale at 303-320-3777.
Enterprise Engagement Benchmark Tools:
The Enterprise Engagement Alliance offers three tools to help organizations profit from Engagement.
Click here
to access the tools.
• ROI of Engagement Calculator. Use this tool to determine the potential return-on-investment of an engagement strategy.
• EE Benchmark Indicator. Confidentially benchmark your organization's Enterprise Engagement practices against organizations and best practices.
• Compare Your Company's Level of Engagement. Quickly compare your organization's level of engagement to those of others based on the same criteria as the EEA's Engaged Company Stock Index.
• Gauge Your Personal Level of Engagement. This survey, donated by Horsepower, enables individuals to gauge their own personal levels of engagement.
For more information, contact Bruce Bolger at Bolger@TheEEA.org, 914-591-7600, ext. 230.