The
Solata Engagement Portal
, an open-source platform for the management of enterprise-wide engagement programs, is now available to solution providers seeking a robust and highly customizable program management technology for their clients.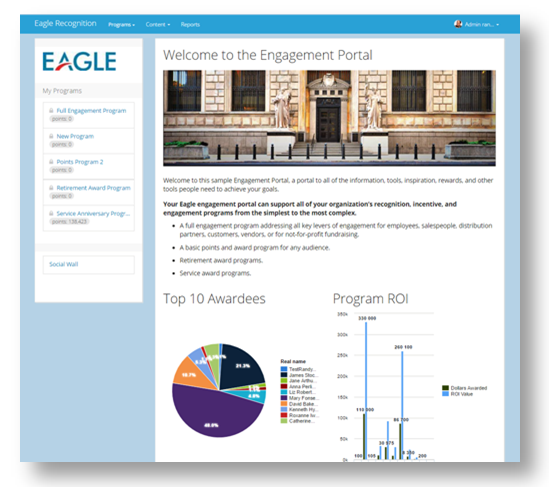 The technology is unique in that is built specifically for the use of engagement solution providers on a private label basis to provide their clients a low cost, highly configurable open-source platform that can support an enterprise-wide approach to engagement. Built in Drupal, a leading PHP-based open-source content management platform, the platform specifically aligns with the formal enterprise engagement framework developed by the Enterprise Engagement Alliance at
TheEEA.org
. This means that organizations can create a central Engagement Portal that runs multiple programs to address every organizational audience and objectives; create a complete information center with news, how-to, and other information to help foster alignment across the organization; run assessment surveys and tests; manage news feeds and social walls; run incentive and all types of recognition programs (including peer-to-peer); and provide sophisticated analytics, including return-on-investment measurement.
Solata is available to solution providers on a private label basis, meaning they can customize it to their needs (or those of their clients) under their own brands and pricing model, and use their own Drupal developers if desired to create new applications or features that can remain proprietary or be shared with Solata's community of solution provider users.
"We are pleased to have helped develop a powerful software product that all solution providers can use to bring formal engagement solutions to their clients," says Sandra Daniel, President & CEO of FIRE Light Group, which helped create the original engagement portal in 2012. "We believe this private label approach provides solution providers the opportunity to offer highly customized solutions to clients without having to create and maintain a proprietary platform from scratch."
The platform is designed for management consultants, recognition & incentive companies and marketing firms seeking to bring engagement solutions to their clients. Most solution providers can set up and customize programs on their own using the Solata Engagement Portal with little or no need for outside assistance.
"As more and more of our recognition clients recognize the importance of creating complete engagement solutions, we realized it was critical to have a highly customizable, flexible platform that enables companies to create programs based specifically on their needs," explains Randy Nobles, President of Eagle Recognition. "Because we know that the most competitive advantage comes from the design of effective programs, and not just technology, we're pleased to have supported a platform that can be used by all engagement solution providers to help advance and elevate the field of Enterprise Engagement."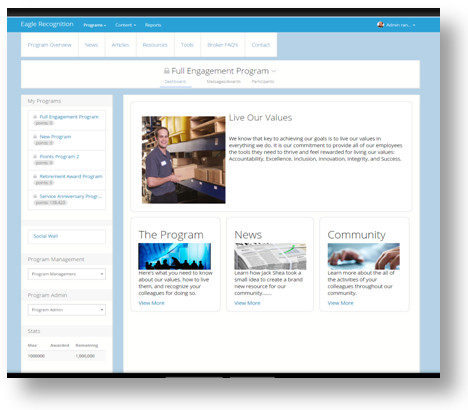 The Solata Engagement Portal technology is built on Drupal so that solution providers can benefit from a worldwide community of millions of developers who can help create new applications for solution providers to meet their specific client needs, and from an evolving and growing set of Drupal tools already available to enhance programs. The portal supports all the key levers of engagement based on the Enterprise Engagement Alliance framework and implementation process, including the ability to:
Support multiple programs on a single responsive platform, based on the permissions given to specific groups of participants
Provide a central communications hub with articles, features and how-to information to help foster alignment across the organization
Power social walls, news feeds and private mail services
Easily configure survey tools and tests
Offer points for any type of behavior or action
Support incentive, manager-to-peer and peer-to-peer recognition programs
Connect to the URE or any other catalog platform for rewards
Build return-on-investment into every program
Connect with other engagement and related software.
The Engagement Agency is the only marketing and support firm specifically focused on helping solution providers bring engagement solutions to their clients. As part of its services, The Engagement Agency helps solution providers find technologies and other products and services to help their clients based specifically on their needs. "The Engagement Agency is dedicated to helping solution providers find whatever technologies, learning, coaching, assessment, innovation, testing, rewards, analytics and other tools they need to meet the specific needs of their clients," says Engagement Agency President Bruce Bolger. "We are excited to see the growth of technology options such as Solata to support engagement and are continually in search of new solutions to help our clients support their customers.".
In addition to providing access to multiple technology and other engagement solutions, The Engagement Agency helps solution providers apply formal ROI-based engagement strategies using the methodology developed by the Enterprise Engagement Alliance.
---

Sales Contact
Nick Gazivoda
914-591-7600, ext. 238