Event Gifting on Fast Track to Recovery
Based on calls with principles at multiple event gifting companies, the return to group travel and events has revived the event gifting business, which was hard hit by the pandemic in most sectors.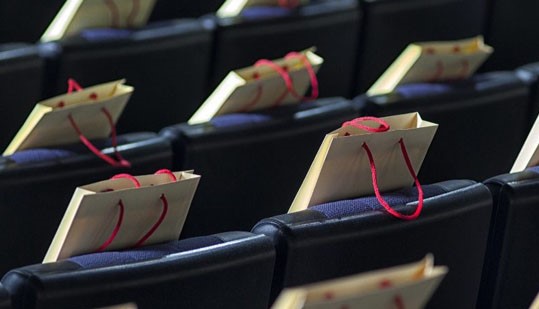 "Event gifting is back, and this is just the tip of the iceberg," says Ree Wysong, CEO of
GGIWW
, an event gifting, master fulfillment, and promotional products firm based on St. Louis. "It started coming back full force in January, and we are staffing up. We had some events postponed in Hawaii, but now it's wide open."
On the other hand, she doubts that group travel has yet fully returned and wonders if some of her company's exceptional growth is based on her clients and brands, which include beachwear firms such as Coolibar, Wallaroo, Sanuk, and now Scott Hawaii, brands she says are popular in her clients' event gifting programs. What she has noticed is that groups appear to be smaller than in the past, and that her international program business has not yet returned. Much of her new business, she notes, is coming through promotional products distributors.
A Return to Near Normal
Joe Jones, CEO of
IncentaRewards
, a Dayton-based incentive and event gifting business, agrees that "onsite gift events are returning. In fact, we have several Mother's Day gift events during May. We have Father's Day and Christmas in July gift events to make our May, June and July schedules look like pre-pandemic calendars." He says the programs are getting back to normal. "Our gift events are very much like 2019 and recently the mask mandates are lifted for our staff and attendees. It helps to better hear and understand the participants."
He says that IncentaRewards offers "multi-brand and multi-product categories. People want choice and our clients come to us because they understand the importance of choice. Most of our events offer multiple brands with some exceptions, like when we offer an event with Tumi products only. Our most popular event is our His/Her Luxury Trunk Show featuring personal accessories."
The casino business fared better than other event businesses, says Paul Gordon, Senior Vice President of Sales at Pinebrook, NJ-based
Rymax
. "Events at casinos never really stopped during the pandemic. There were restrictions regarding crowd size, and we limited access to physically trying on items, but we fully staffed and executed the events." Otherwise, he adds, "Corporate America canceled everything in 2020 and started to emerge in 2021 with a combination of onsite and virtual events, and in 2022, we are back in full swing. Clients are requesting that their employees and our employees are vaccinated in most cases, and some are also requesting a test 72 hours prior to the event to ensure everyone's safety. Events are being held internationally and throughout the United States and the reaction of the participants has been great. Fatigue from the last two years has created a strong demand for some type of normalcy and events and rewards trips provide that."
"Brands Motivate"
Gordon notes some changes in program format. "We are providing a hybrid experience of onsite and virtual rewards that covers all employees, where in pre-pandemic events it was mostly onsite. The product selection in rewards events has shifted towards more practical products along with fitness and wellness products." He says his company "offers all the top brands and SKUs (stock-keeping units). We don't believe that off-brand products motivate, and we are not keen on products that have a client's logo on it. We feel that this is good for corporate pride but diminishes the value of the item as it is viewed as a premium. People often redeem for things that they want but don't want to buy. That's why vacuum cleaners and tools are good redeemers. The selection needs to be eclectic. Assumptions on what is desirable is the wrong course. Give the participants a choice and a deep variety of products and categories."
Cautious optimism describes the perspective of Stu Birger, Founder and CEO of
Innowave Marketing Group
, a Hillsborough, CA-based incentive marketing firm. "The business appears to be coming back now but the second half of the year will provide more data points."

Ree Wysong, GGIWW
Joe Jones, IncentaRewards
Paul Gordon, Rymax
Stu Birger, Innowave
---
Education, Certifications, and Information to Activate
Brand Media and Enterprise Engagement

A complete learning, certification, and information program and a course syllabus for educators.
Resources:
The
Brand Media Coalition
, the only guide to the story-telling power of brands and where to source them for business, event, promotional gifting, and rewards and recognition.
Enterprise Engagement Solution Provider Directory
. The only directory of engagement solution providers covering all types of agencies and tactics as well as insights on how to select them.
Communities:
The
Enterprise Engagement Alliance and Advocate
and the
Brand Media Coalition
free resource centers offering access to the latest research, news, and case studies; discounts, promotions, referrals, and commissions, when appropriate to third-party solution providers from participating coalition solution provider members.
Training and Certification
Enterprise Engagement Alliance Education:
Certified Engagement Practitioner; Advanced Engaged Practitioner, and Certified Engagement Solution Provider learning and certification programs on how to implement Stakeholder Capitalism principles at the tactical level.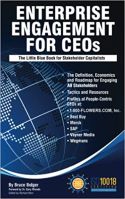 In Print:
This is the definitive implementation guide to Stakeholder Capitalism, written specifically to provide CEOs and their leadership teams a concise overview of the framework, economics, and implementation process of a CEO-led strategic and systematic approach to achieving success through people. (123 pages, $15.99)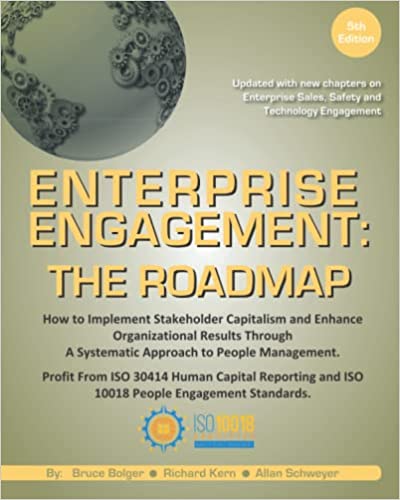 The first and most comprehensive book on Enterprise Engagement and the new ISO 9001 and ISO 10018 quality people management standards. Includes 36 chapters detailing how to better integrate and align engagement efforts across the enterprise. (312 pages, $36.)
Online:
10-minute short course: click here
for a 10-minute introduction to Enterprise Engagement and ISO standards from the Coggno.com learning platform.
Services:
• The Engagement Agency at EngagementAgency.net,
offering: complete support services for employers, solution providers, and technology firms seeking to profit from formal engagement practices for themselves or their clients, including Brand and Capability audits for solution providers to make sure their products and services are up to date.
• C-Suite Advisory Service
—Education of boards, investors, and C-suite executives on the economics, framework, and implementation processes of Enterprise Engagement.
• Speakers Bureau
—Select the right speaker on any aspect of engagement for your next event.
• Mergers and Acquisitions. The Engagement Agency's Mergers and Acquisition group is aware of multiple companies seeking to purchase firms in the engagement field. Contact Michael Mazer in confidence if your company is potentially for sale at 303-320-3777.
Enterprise Engagement Benchmark Tools:
The Enterprise Engagement Alliance offers three tools to help organizations profit from Engagement.
Click here
to access the tools.
• ROI of Engagement Calculator. Use this tool to determine the potential return-on-investment of an engagement strategy.
• EE Benchmark Indicator. Confidentially benchmark your organization's Enterprise Engagement practices against organizations and best practices.
• Compare Your Company's Level of Engagement. Quickly compare your organization's level of engagement to those of others based on the same criteria as the EEA's Engaged Company Stock Index.
• Gauge Your Personal Level of Engagement. This survey, donated by Horsepower, enables individuals to gauge their own personal levels of engagement.
For more information, contact Bruce Bolger at Bolger@TheEEA.org, 914-591-7600, ext. 230.