Cruise Expert: Covid-19 Crisis Will Help Address Industry Challenges in the Long Run
As an independent cruise and all-inclusive resort brokerage service for leading U.S. and international incentive and motivational event companies and do-it-yourself customers since 2002, Shari Wallack's Buy the Sea service is at the front-lines of the Covid-19 impact on travel. She believes that despite the short-term damage, the crisis is creating new opportunities not only for 2021 business but also for the long term.

Shari Wallack's Buy the Sea has a unique role in the incentive travel and motivational event business: As the largest independent broker for cruise lines and all-inclusive resorts in the incentive business, her company provides expert cruise and site selection, contract negotiation, and logistical support to group buyers of cruises and all-inclusive resorts. Her model is to provide an unbiased, objective approach to procuring cruises or all-inclusive resorts that work for each client, based on its brand, culture, participants, and objectives. This focus on the customer, she believes, gives her company a level of objectivity that clients cannot get from the suppliers themselves, or from the sales organizations that represent them. "Our loyalty is to our clients or the incentive and motivational event companies that support their needs. The best part is that there is never a fee for our services."
While most of her company's programs halted this year's cruises or events, almost all moved to next year. She says that the cruise lines, after initial hesitation from some before the full extent of the pandemic became clear, were generally flexible on contract postponements. She does not hazard a guess when the cruise industry will begin operations and hopes it will be by the end of 2020. "I do not believe that the cruise industry can successfully get back to previous levels until people feel completely safe."
Despite the current challenges, she believes long-term good can come from the crisis. "This is an opportunity for the cruise industry to address not only the level of safety needed in the new era of Covid-19, but also the norovirus problem. Many of the cruise lines will be now be installing the highest technology filtration systems and using the latest disinfection protocols and new dining and seating procedures that will likely significantly address the norovirus issue as well. The ships will not sail again until there are effective onboard isolation measures and a guarantee that the ill and all others can safely disembark." She believes all reputable cruise businesses will go beyond C.D.C. (Center for Disease Control) guidelines. "Everybody has to rethink their protocols to make sailing safer."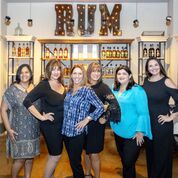 On the positive side, "The one thing that this crisis has made even more clear, people love to travel. They may change some of their habits because of this crisis but those who love to travel are eager to resume their adventures as soon as they feel safe. That is often a very individual decision," she adds. "Many of those who really want to travel will want to do so but perhaps not in large groups." As a result, her company is focusing on three key services:
1) Individual travel certificates. Buy the Sea has created an individual travel experience for Playa Resorts, the owners of Hyatt Ziva and Zilara properties in Cancun, Vallarta, Mexico, the Dominican Republic and Jamaica, in conjunction with Amstar, a DMC (destination management company.) "For one set rate, clients can offer their winners a stay at any of these all-inclusive properties with few black-out periods and no expiration date. They are simple to purchase and deliver. The properties offer a very solid 4 ½ star experience in the right price point."
2) All-inclusive resorts for small groups. She believes this category of property is of particular appeal now to groups large enough to effectively take over the property. "Some of these properties are small enough that a mid-size group can have the entire resort to itself and make sure that all daily safety and staff protocols are closely followed. We are seeing situations in which a hotel might be willing to give up the entire resort to a group under circumstances it might not have done in the past." The all-inclusive option, she says, is especially attractive because most of these resorts have multiple dining options so the group doesn't have to leave the property."
3) Small ship charters. "People love small ship charters, and there are options for groups of as little as 50 people. They enable you to completely control the environment, even to the point of ensuring that the crew is happy to stay onboard during the entire voyage. Under these circumstances, you can control the environment to almost any level of specification."
Mapping the Future
Wallack doesn't pretend to predict the short-term future but remains optimistic for the long term. In addition to believing that the crisis is not only causing a pent-up desire for safe getaways, she believes her company's positioning as an objective advocate and support company for its clients give Buy the Sea unique advantages. "A mistake corporate clients make is basing their incentive travel buying decisions on a compelling ad or a presentation and failing to dig down to see if it's a proper fit for their program. Particularly under the current circumstances, we believe organizations can benefit from a trusted consultant. We assist planners in selecting a ship or a resort of the right size, ambiance, and price point."
In addition, Buy the Sea's business model, Wallack believes, makes her an effective ally for her incentive and motivational event and do-it-yourself clients that can benefit from her organization's support with pre-event and on-site event logistics. With many organizations now short-staffed, she says her company's team of six highly experienced, multi-lingual and multi-cultural event professionals can help provide personnel as needed either before the event or on-site.
For More Information
Shari Wallack
Buy the Sea
Tel. 954-907-7327
Buysea.net
---
Education, Certifications, and Information to Activate
Brand Media and Enterprise Engagement

A complete learning, certification, and information program and a course syllabus for educators.
Resources:
The
Brand Media Coalition
, the only guide to the story-telling power of brands and where to source them for business, event, promotional gifting, and rewards and recognition.
Enterprise Engagement Solution Provider Directory
. The only directory of engagement solution providers covering all types of agencies and tactics as well as insights on how to select them.
Communities:
The
Enterprise Engagement Alliance and Advocate
and the
Brand Media Coalition
free resource centers offering access to the latest research, news, and case studies; discounts, promotions, referrals, and commissions, when appropriate to third-party solution providers from participating coalition solution provider members.
Training and Certification
Enterprise Engagement Alliance Education:
Certified Engagement Practitioner; Advanced Engaged Practitioner, and Certified Engagement Solution Provider learning and certification programs on how to implement Stakeholder Capitalism principles at the tactical level.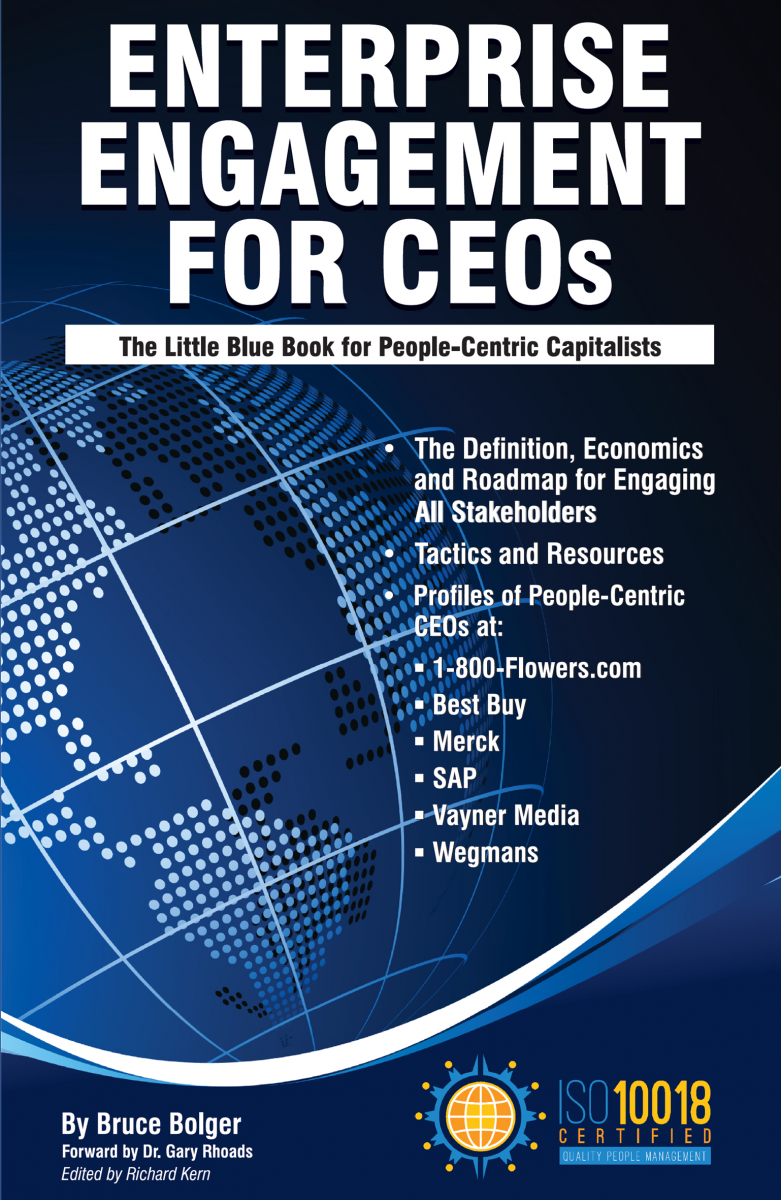 In Print:
This is the definitive implementation guide to Stakeholder Capitalism, written specifically to provide CEOs and their leadership teams a concise overview of the framework, economics, and implementation process of a CEO-led strategic and systematic approach to achieving success through people. (123 pages, $15.99)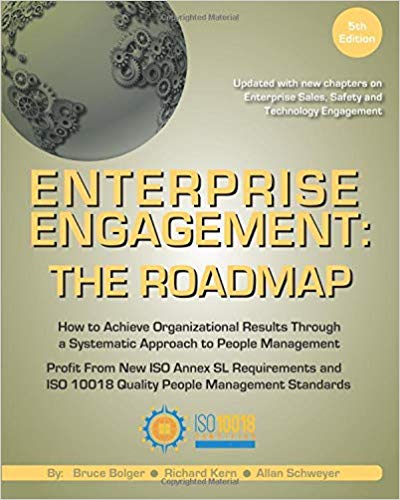 The first and most comprehensive book on Enterprise Engagement and the new ISO 9001 and ISO 10018 quality people management standards. Includes 36 chapters detailing how to better integrate and align engagement efforts across the enterprise. (312 pages, $36.)
Online:
10-minute short course: click here
for a 10-minute introduction to Enterprise Engagement and ISO standards from the Coggno.com learning platform.
Services:
• The Engagement Agency at EngagementAgency.net,
offering: complete support services for employers, solution providers, and technology firms seeking to profit from formal engagement practices for themselves or their clients, including Brand and Capability audits for solution providers to make sure their products and services are up to date.
• C-Suite Advisory Service
—Education of boards, investors, and C-suite executives on the economics, framework, and implementation processes of Enterprise Engagement.
• Speakers Bureau
—Select the right speaker on any aspect of engagement for your next event.
• Mergers and Acquisitions. The Engagement Agency's Mergers and Acquisition group is aware of multiple companies seeking to purchase firms in the engagement field. Contact Michael Mazer in confidence if your company is potentially for sale at 303-320-3777.
Enterprise Engagement Benchmark Tools:
The Enterprise Engagement Alliance offers three tools to help organizations profit from Engagement.
Click here
to access the tools.
• ROI of Engagement Calculator. Use this tool to determine the potential return-on-investment of an engagement strategy.
• EE Benchmark Indicator. Confidentially benchmark your organization's Enterprise Engagement practices against organizations and best practices.
• Compare Your Company's Level of Engagement. Quickly compare your organization's level of engagement to those of others based on the same criteria as the EEA's Engaged Company Stock Index.
• Gauge Your Personal Level of Engagement. This survey, donated by Horsepower, enables individuals to gauge their own personal levels of engagement.
For more information, contact Bruce Bolger at Bolger@TheEEA.org, 914-591-7600, ext. 230.