Charity Choice Has Gifting Solution for Organizations That Wish to Stay Out of Politics, Religion, and Social Issues

Long before people started putting pressure on corporations to take stances on politics and social issues, Charity Choice decided to create a corporate charity gift card program that would do precisely the opposite: keep politics and social issues out of business.

Click here for links to RRN Preferred Solution Providers.

When Danny B. Goodman and his associates founded SpecialKidsFund.org in 2000, the sole goal was to create a charity to support children with special needs. The concept of creating a charity gift card mall in which recipients could select the charity of their choice came about in 2004 when a colleague wished to make a charitable gift to a friend who had suffered the loss of his father but did not know what charity would be most appropriate.

Little did Goodman and his colleagues know that giving people a choice of charities having no social, political, religious policy would become so relevant.

Today, Charity Choice has developed a complete system making it easy for almost any size organization to create a customized online charity program,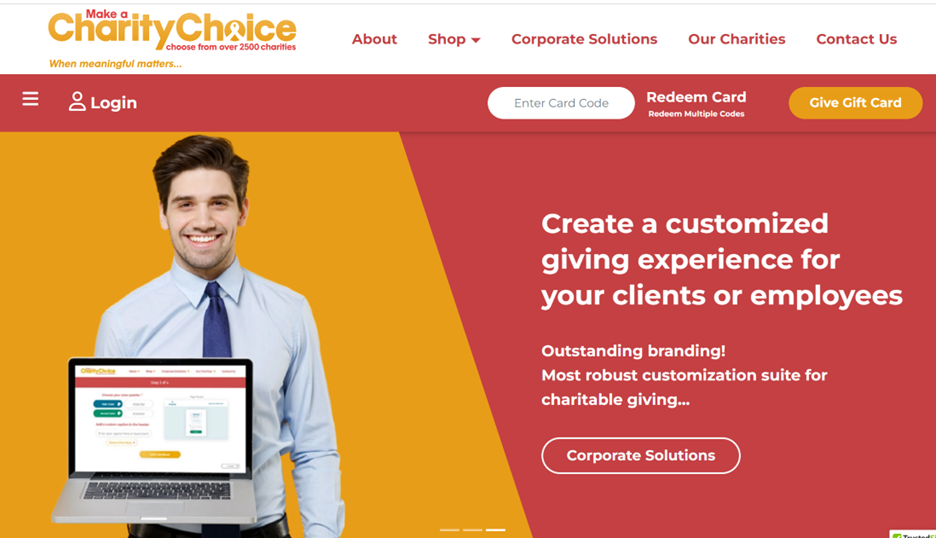 with their own branding, logo and even a curated selection of charities drawn from the organization's current offering of 2,500 charities. What's unique is that the recipient gets to select the charity, while the company can still benefit from the deduction. Charity Choice enables companies, or promotional distributors or marketing agencies that support them, to create their own white-label cause-related promotion sites featuring the charities most important to them, while enabling recipients to make their own selection.

What's also unique is that while it welcomes all bona fide charities to its platform, strictly forbidden are any organizations promoting religious, social, political, or advocating other causes. "Our corporate customers have told us for years that they cannot support anything but causes that provide social services that help people for fear of appearing as if they are using corporate funds to support issues that could offend some segment of its audience."

Many organizations access Charity Choice gift cards, available electronically and in customizable physical cards, through incentive, recognition, and loyalty companies that work with Incomm, a leading gift card aggregator. For organizations, or their promotional distributors or agencies who wish to set up their own customizable portals, Charity Choice works with its agency partner SB Collective and Anne Jetter to reach the corporate market. It offers a quick-to-deploy customizable charity gift card redemption catalog for almost any company that can highlight their commitment to 'giving back' to the charities of their choice. While Goodman says he does not provide tax counsel, most companies may deduct the cost of the charity gift or e-cards as a donation to a 501c3. Because of the nature of fund-raising, Charity Choice can offer better margins to promotional and other resellers than available from most major retail brands, Goodman says, and plastic cards can be customized.

Since Charity Choice is itself a 501c3 (under its Special Kids Fund) entity, its own proceeds go to its primary focus on children with special needs.

With a single redemption site, Goodman notes, a company can support any type of charitable gifting, including its own matching programs for employees, but also as options for corporate gifting, employee incentives, customer loyalty and recognition programs, or as a condolence or celebration gift. The key is that while the recipient can choose a cause, it automatically falls within the approved guidelines of the organization. "We find that if companies mingle charitable cards with traditional retail brands on an incentive or loyalty redemption site, they get lost and do not have the impact of having a standalone redemption site enabling companies to make a strong statement of their values for the greater good letting people choose their own charities. They are also great for breakage, those extra points that recipients forget to use."

To Goodman, "Corporations have traditionally kept an arms' length from political, social, and religious or related charities, because they don't want their charitable gifts deductions to support polarizing issues. Some charities will try to pressure us by saying some of their advocacy ultimately activities help people, but we must take a strict posture on that insisting on a direct social benefit only and in the current climate we are glad we do. We have had this policy since day one and will continue to do so."

For More Information

Daniel B. Goodman
President, Special Kids Fund and CharityChoice
CCgiftcards,org
732-397-5056
dg@Charity-Choice.org

Subscribe to RRN's weekly e-newsletter.

---
Profit From the "S" of Environmental, Social, Governance (ESG)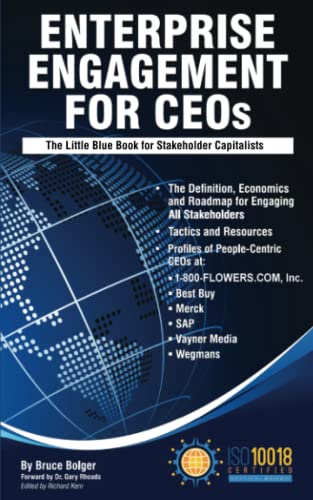 Through education, media, business development, advisory services, and outreach, the
Enterprise Engagement Alliance
supports boards, business analysts, the C-suite, management in finance, marketing, sales, human resources and operations, etc., educators, students and engagement solution providers seeking a competitive advantage by implementing a strategic and systematic approach to stakeholder engagement across the enterprise.
Click here
for details on all EEA and RRN media services.
1. Professional Education on Stakeholder Management and Total Rewards
Become part of the EEA as an individual, corporation, or solution provider to gain access to valuable learning, thought leadership, and marketing resources.
The only education and certification program focusing on Stakeholder Engagement and Human Capital metrics and reporting, featuring seven members-only training videos that provide preparation for certification in Enterprise Engagement.
EEA books: Paid EEA participants receive Enterprise Engagement for CEOs: The Little Blue Book for People-Centric Capitalists, a quick implementation guide for CEOs; Enterprise Engagement: The Roadmap 5th Edition implementation guide; a comprehensive textbook for practitioners, academics, and students, plus four books on theory and implementation from leaders in Stakeholder Management, Finance, Human Capital Management, and Culture.
2. Media
3. Fully Integrated Business Development for Engagement and Total Rewards
Strategic
Business Development
for
Stakeholder Management
and
Total Rewards
solution providers, including Integrated blog, social media, and e-newsletter campaigns managed by content marketing experts.
4. Advisory Services for Organizations
Stakeholder Management Business Plans
;
Human Capital Management, Metrics, and Reporting
for organizations, including ISO human capital certifications, and services for solution providers.
5. Outreach in the US and Around the World on Stakeholder Management and Total Rewards
The EEA promotes a strategic approach to people management and total rewards through its e-newsletters, web sites, and social media reaching 20,000 professionals a month and through other activities, such as: