Castle Kicks Off New BMC Brand Club Benefit for Buyers, IRR Employees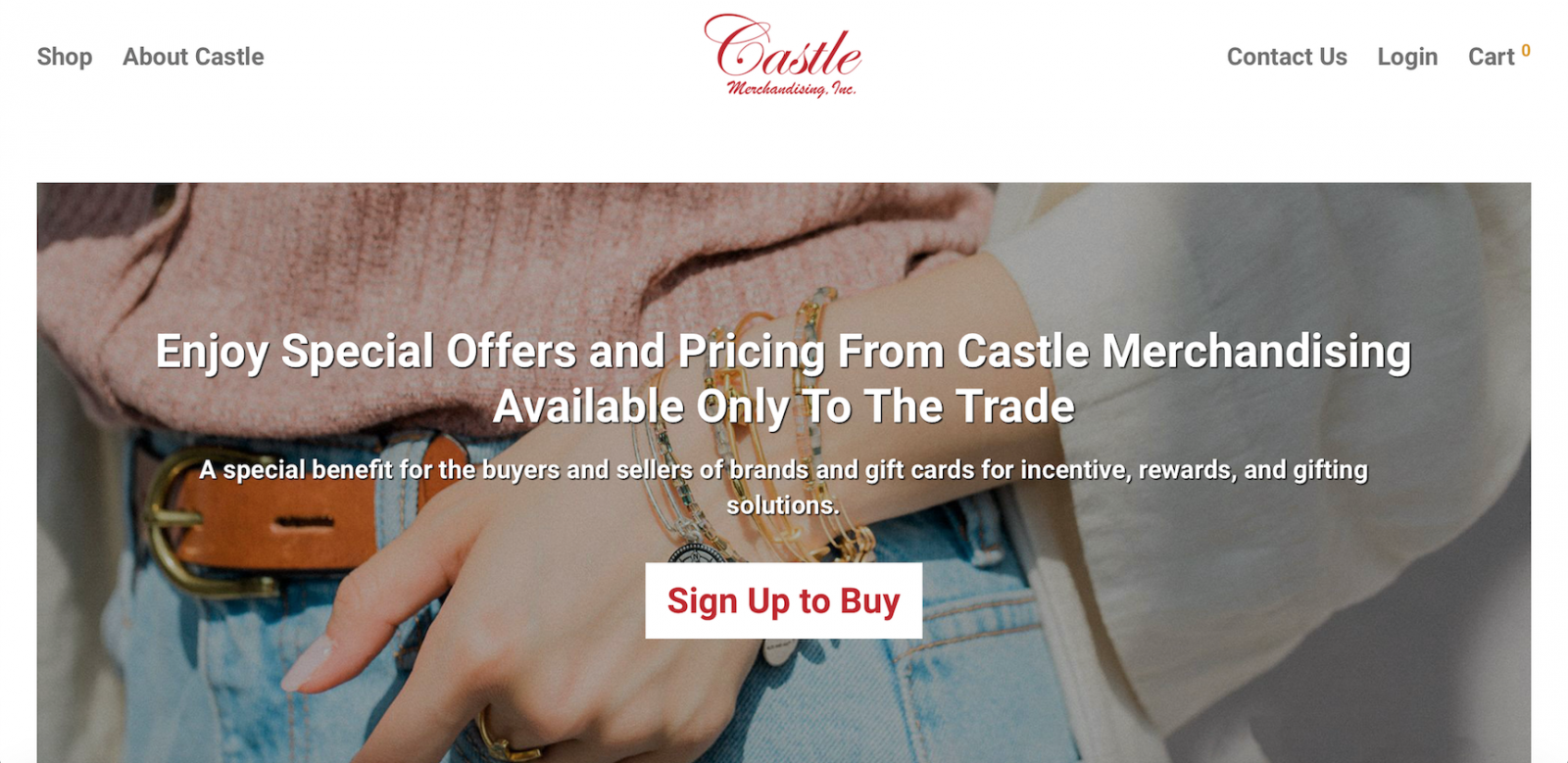 The Brand Media Coalition division of the Enterprise Engagement Alliance launches the IRR Brand Club as part of its outreach effort to help educate the business world on the power of brands and to provide a benefit for employees in the IRR (Incentive, Rewards, and Recognition) community. Starting with Castle Merchandising, a 26-year-old Brand Media Coalition master fulfillment company in Garden City NY, the BMC Brand Club provides special offers for personal use or sampling to help build awareness for the benefits of buying incentives, rewards, recognition, gifting, amenities, and fund-raising gifts through the corporate channe--and as a benefit for being a member of this growing industry.

An Education Vehicle for Organizational Management
A Benefit for Employees in the IRR Field

Castle Merchandising kicks off the new Brand Media Coalition Brand Club with special offers for personal use or sampling on limited inventory of Disney-themed jewelry for children and Art of Shaving products for men. The company is making these available only as an industry benefit to qualified organizational buyers who sign up to be in the free BMC Brand Club. (As of date publication, the prices were significantly below those available online, which is a condition for brands offering products for sale on the Brand Club.)

The Brand Media Coalition is dedicated to telling the story of brands in Incentive, Rewards, and Recognition (IRR) and related gifting and amenity programs. Click here to learn about the stories of about 40 leading brands and the master fulfillment companies that support them.

Click here to view the Castle offers, which are subject to change. Registration includes a free sign up for the Brand Club to gain access to special offers coming soon from other master fulfillment companies and brands participating in this club for the trade and organizational management.

Or, if you are not ready to shop but wish to join the Brand Club, click here. A verifiable Linkedin profile is required and members must meet member qualifications and agree to never resell items purchased for personal use. Because of the below-retail pricing available to qualified business or industry members only, prices are in most cases only accessible after registration to a company's site, which takes less than a minute, and/or to BMC members using their membership number. Each participating brand or master fulfillment company has its own unique storefront.

The IRR Brand Club is part of the Brand Media Coalition's efforts to address the low level of business awareness for the rewards and recognition industry and to create a benefit for IRR industry employees.

See RNN: IRR Town Hall Industry Meeting—Is It Time for a Got People Campaign?

An Education Vehicle for Organizational Management

Castle is the first of multiple new BMC Brand Club transactional storefronts under development by leading brands and their master fulfillment companies. The goal is to help educate organizations and their management on the benefits of working through the corporate channel for their incentive, rewards, recognition, gifting, events, promotions, amenities, etc., as well as to provide a benefit for members of the IRR field, their reseller partners, and their customers. "The best way to educate the organizational world about this business and to instill greater pride in the industry, is to allow qualified people to experience it," explains Bruce Bolger, founder of the Brand Media Coalition, a division of the Enterprise Engagement Alliance.

Castle Merchandising is a master fulfillment company in Garden City, NY. Other leading brands and master fulfillment company shopping sites will go live shortly as part of their BrandMediaCoalition.com storefront programs. Products featured are for personal, individual gifting, or sampling purposes only for qualified businesspeople or IRR industry members.

Explains John Costelli, President of Castle Merchandising, "I continue to be surprised by the large number of businesspeople who have never heard of this business, including both potential customers and employees. Why not let qualified businesspeople experience the power of brands and the value we can provide by letting them sample the product for their personal use? I also like the idea of creating a platform offering special benefits for employees in the IRR field."

All orders are subject to approval by Castle or other participating brands or master fulfillment companies. Upon registering for the first time, people must provide either their BMC membership number or their Linkedin profiles for verification purposes before products are shipped or credit cards processed. Sales tax is waived for tax exempt organizations. Once qualified as a buyer by Castle or other participating companies, the individual receives a Personal Identification Number that can be used on all BMC Brand Club storefronts.

A Benefit for Employees in the IRR Field

BMC Brand Club membership is free to all qualified businesspeople as well as to any employee of companies in the IRR (Incentive, Reward, Recognition), promotional products, human resources advisory, or marketing agency business. Click here to join now and receive periodic e-newsletter alerts about special offers. Or, join automatically when shopping on the Castle and upcoming storefronts.

According to Bolger, "The BMC Brand Club is based on the interline clubs in the airline industry in which I used to work. These enable employees to get discounts from leading hotels, restaurants, and attractions that value their patronage. We thought, why not do the same for the little-known IRR field in a way that also provides employees of IRR and related firms a special perquisite for being in the business?"

All IRR industry members, promotional products distributors, human resources and marketing companies and their clients in general management, sales, marketing, human resources, operations, administration, fund-raising, etc. are invited to join.


---
Education, Certifications, and Information to Activate
Brand Media and Enterprise Engagement

A complete learning, certification, and information program and a course syllabus for educators.
Resources:
The
Brand Media Coalition
, the only guide to the story-telling power of brands and where to source them for business, event, promotional gifting, and rewards and recognition.
Enterprise Engagement Solution Provider Directory
. The only directory of engagement solution providers covering all types of agencies and tactics as well as insights on how to select them.
Communities:
The
Enterprise Engagement Alliance and Advocate
and the
Brand Media Coalition
free resource centers offering access to the latest research, news, and case studies; discounts, promotions, referrals, and commissions, when appropriate to third-party solution providers from participating coalition solution provider members.
Training and Certification
Enterprise Engagement Alliance Education:
Certified Engagement Practitioner; Advanced Engaged Practitioner, and Certified Engagement Solution Provider learning and certification programs on how to implement Stakeholder Capitalism principles at the tactical level.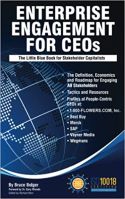 In Print:
This is the definitive implementation guide to Stakeholder Capitalism, written specifically to provide CEOs and their leadership teams a concise overview of the framework, economics, and implementation process of a CEO-led strategic and systematic approach to achieving success through people. (123 pages, $15.99)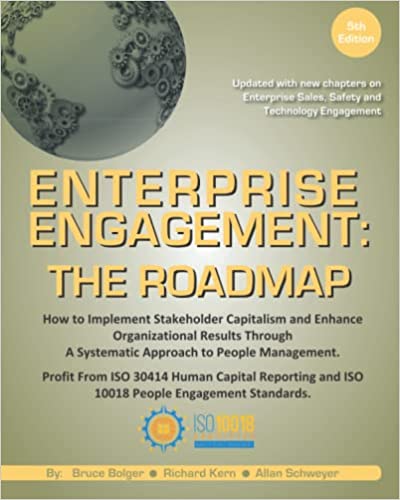 The first and most comprehensive book on Enterprise Engagement and the new ISO 9001 and ISO 10018 quality people management standards. Includes 36 chapters detailing how to better integrate and align engagement efforts across the enterprise. (312 pages, $36.)
Online:
10-minute short course: click here
for a 10-minute introduction to Enterprise Engagement and ISO standards from the Coggno.com learning platform.
Services:
• The Engagement Agency at EngagementAgency.net,
offering: complete support services for employers, solution providers, and technology firms seeking to profit from formal engagement practices for themselves or their clients, including Brand and Capability audits for solution providers to make sure their products and services are up to date.
• C-Suite Advisory Service
—Education of boards, investors, and C-suite executives on the economics, framework, and implementation processes of Enterprise Engagement.
• Speakers Bureau
—Select the right speaker on any aspect of engagement for your next event.
• Mergers and Acquisitions. The Engagement Agency's Mergers and Acquisition group is aware of multiple companies seeking to purchase firms in the engagement field. Contact Michael Mazer in confidence if your company is potentially for sale at 303-320-3777.
Enterprise Engagement Benchmark Tools:
The Enterprise Engagement Alliance offers three tools to help organizations profit from Engagement.
Click here
to access the tools.
• ROI of Engagement Calculator. Use this tool to determine the potential return-on-investment of an engagement strategy.
• EE Benchmark Indicator. Confidentially benchmark your organization's Enterprise Engagement practices against organizations and best practices.
• Compare Your Company's Level of Engagement. Quickly compare your organization's level of engagement to those of others based on the same criteria as the EEA's Engaged Company Stock Index.
• Gauge Your Personal Level of Engagement. This survey, donated by Horsepower, enables individuals to gauge their own personal levels of engagement.
For more information, contact Bruce Bolger at Bolger@TheEEA.org, 914-591-7600, ext. 230.