Business Update: It's Crazy Out There
This begins a regular series of reports based on interviews with people from the front lines of the Incentive, Rewards, and Recognition marketplace based on unprecedented circumstances being created by the pandemic.
Brisk demand for employee engagement, sales and channel gifting and incentives; extreme supply chain issues in the merchandise business; reticence about travel among some and no concerns among others; the new work-at-home reality and increasing pressures on companies to demonstrate a bottom-line benefit from incentives, events, and promotions are among the issues that are top of mind among solution providers in the incentive, recognition, and awards business. This is based on a series of ongoing interviews RRN is conducting with industry management and principles on or off the record over the coming months.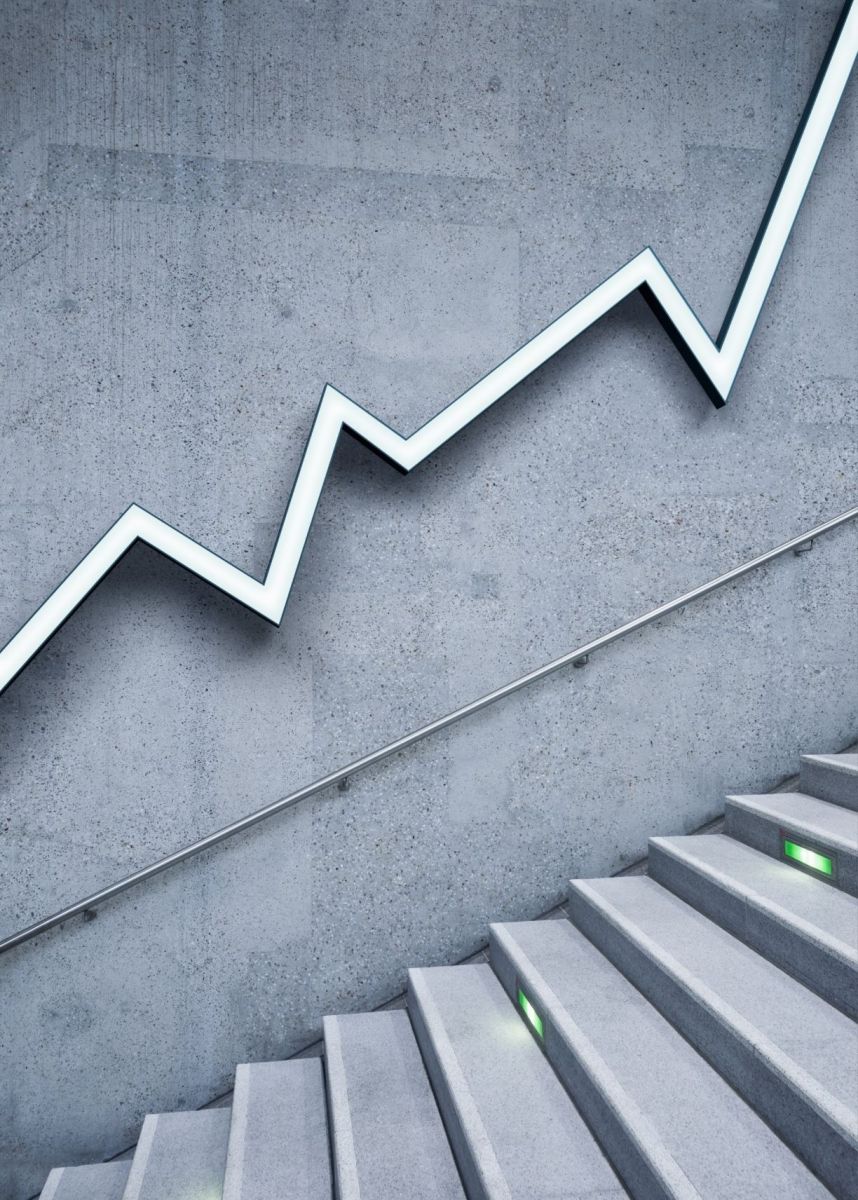 The incentive and business gifting business is growing briskly.
Almost everyone contacted in the merchandise business is experiencing brisk demand, particularly in the employee engagement and general gifting area. Says
Bret Williams
, Co-Founder and Director of Event Gifting at
Links Unlimited
, "Demand is strong, particularly in all manner of employee gifting. Events have begun to come back." He says that the work-from-home environment has prompted many companies to focus more on how they can make a personal connection with employees or customers. Echoes
Mary Anne Comotto
, CEO and founder of
Performance For Incentives
, "Business is very strong, especially for employee gifts. We are seeing significant growth from our promotional products distributor partners."
Peter Goldberger
, CEO and Founder of the
Incentive Team
, an incentive company focused mainly on the channel marketplace, says his business is up about 20% this year mainly for programs focusing channel salespeople on product knowledge and the "steps to the sale."
Supply chain problems show no signs of going away.
Shop now for the holidays, everyone advises. The best financed master fulfillment companies spent the summer stocking up but many items remain scarce, especially anything that comes from or that has components that come from China or overseas in general. Says an executive at one major master fulfillment company who preferred not to be named, "We spent the spring and summer stocking up for the fall. We've got merchandise wherever we can find a place to put it." Agrees Williams of Links Unlimited, "We just opened a new 180,000 square foot facility and thought it would serve us for years. (See RRN:
Links Unlimited Aims to Be the Master of Fulfillment
) It's already full." No one has any idea when the supply chain challenges will end.
There's much pent-up demand for travel but equal amounts of trepidation. In the motivational events and incentive travel business, many people are ready to travel, and an equal number remain hesitant. "We had to move a program out of Mexico to the US because too many of the dealers who qualified for the trip didn't want to leave the country," says
Jacque Busby
, CEO and Founder of
Luxe Incentives
, a 30-year-old high-end incentive travel and engagement company. "We are currently running a buy-out of a dude ranch so that the company didn't have to worry about its guests mingling with other guests and so that a lot of the activities could be outdoors." Evening events including an outdoor movie. Concerns about travel remain higher in Canada than in the US, says
Stephen Cook
, CEO and Founder of Ontario, Can.-based
Lorandus
. "While our customers in Canada are cautious and remaining close to home, our clients in the US are more eager to start planning again."
A recent
Incentive Research Foundation report
, based on findings from a recent "Meet Well Summit" of meetings and events solution providers, "While traditional wellness inclusions such as yoga, healthy food, and use of the spa remain popular, the focus for wellness has shifted to self-care and safety in the wake of Covid. Given that attendee readiness varies widely, planners are factoring in health and safety protocols, attendee peace of mind, and physical health as they strive to make all attendees comfortable. Clear attendee communications, space and breaks, and strong partnerships with the venue are critical components of accomplishing the new goals of wellness in meetings and incentives."
Speaking about the conference and trade show business,
Paul Kiewiet
, Executive Director of
Michigan Promotional Products Association
, former chairman of the
Promotional Products Association International
, and an experienced industry observer, says that while exhibitors are eager to be there, attendance is still off by about 50% at many of the events he has been following and sponsorship support reflects that. "On the one hand, events have many people calling in to find out what vaccination and mask requirements will be enforced, saying they won't come without clear precautions. Then, you have those who call in and say they won't come unless there are no mask or vaccination requirements."
Observes
Stephen Pulchalsky
, head of global sales for the
Gapp Group
, a provider of B2B loyalty and related technology and a 30-year industry veteran, "I wonder whether the trade show industry will ever be the same. We have had nearly two years to learn to live without them and many of us don't miss them." While he will still go to trade shows, he says he'll be more selective and focus more of his business development efforts throughout the year developing more meaningful relationships with potential clients over time by being a useful partner.
Points out Williams of Links Unlimited, "We will continue to use trade shows because they are an effective way to see a lot of people at the same time." However, he says the company will be more selective about the events and will probably spend less on exhibits and instead put more emphasis on opportunities to build more effective relationships during the shows.
More emphasis on ROI. Says Busby of Luxe, "I am beginning to see more bottom-line focus and am getting questions such as: Is it time to have a strategic meetings and incentive travel strategy tied to organizational purpose, goals, and culture? Is it time to better define goals and measure the return on investment more precisely? Are our processes for designing and implementing events efficient, streamlined, and sustainable? What are we doing to maximize the experience and impact on the attendee? How are we assessing and minimizing risks? What kinds of data can we capture and how can we use it to make better decisions?"
Agrees Goldberger of the Incentive Team, "I feel pretty certain that one of the reasons we're growing is that our process focuses on increasing sales by better equipping the dealer salespeople themselves with the product knowledge and understanding of the proper steps to the sale. I feel quite bullish for next year and will end up this year 20% over last."
---
Education, Certifications, and Information to Activate
Brand Media and Enterprise Engagement

A complete learning, certification, and information program and a course syllabus for educators.
Resources:
The
Brand Media Coalition
, the only guide to the story-telling power of brands and where to source them for business, event, promotional gifting, and rewards and recognition.
Enterprise Engagement Solution Provider Directory
. The only directory of engagement solution providers covering all types of agencies and tactics as well as insights on how to select them.
Communities:
The
Enterprise Engagement Alliance and Advocate
and the
Brand Media Coalition
free resource centers offering access to the latest research, news, and case studies; discounts, promotions, referrals, and commissions, when appropriate to third-party solution providers from participating coalition solution provider members.
Training and Certification
Enterprise Engagement Alliance Education:
Certified Engagement Practitioner; Advanced Engaged Practitioner, and Certified Engagement Solution Provider learning and certification programs on how to implement Stakeholder Capitalism principles at the tactical level.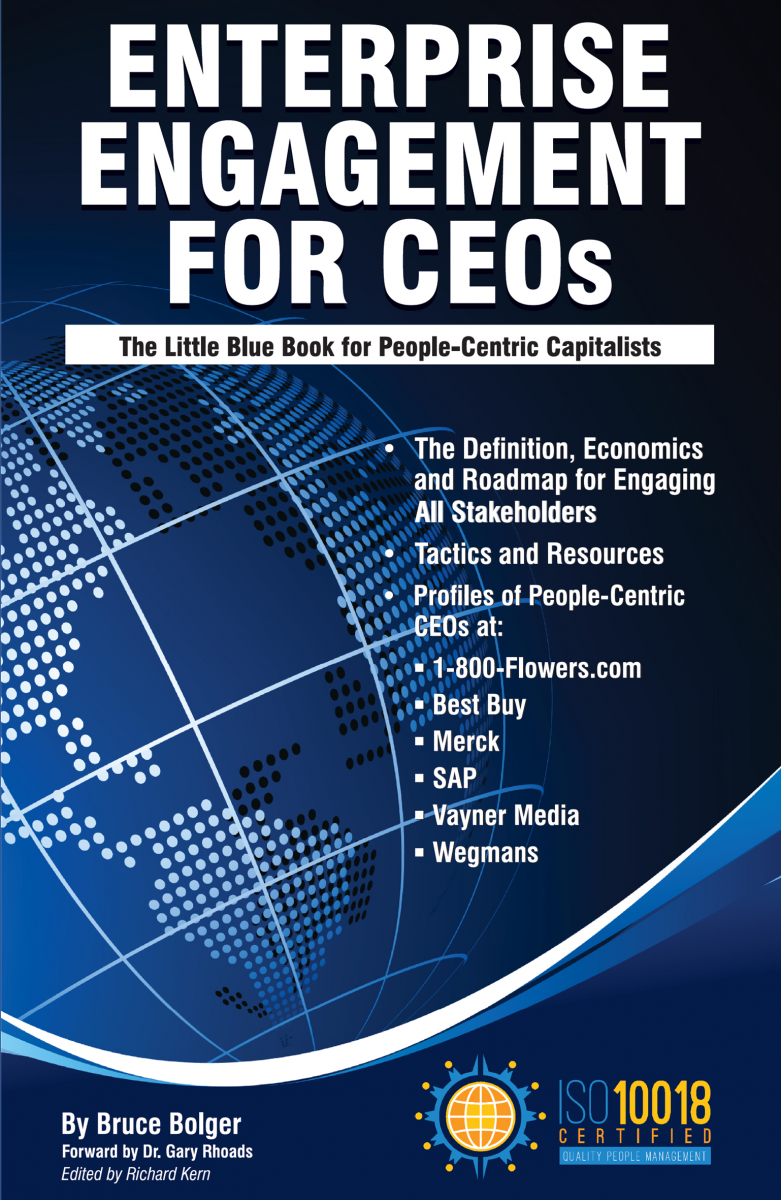 In Print:
This is the definitive implementation guide to Stakeholder Capitalism, written specifically to provide CEOs and their leadership teams a concise overview of the framework, economics, and implementation process of a CEO-led strategic and systematic approach to achieving success through people. (123 pages, $15.99)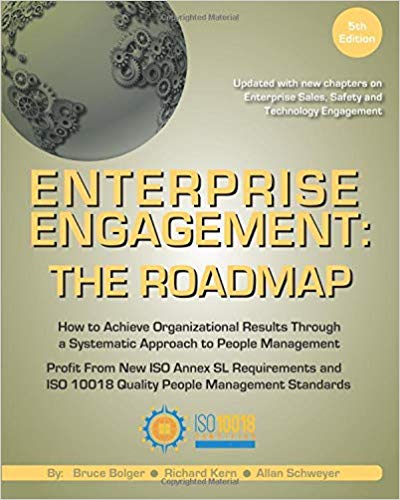 The first and most comprehensive book on Enterprise Engagement and the new ISO 9001 and ISO 10018 quality people management standards. Includes 36 chapters detailing how to better integrate and align engagement efforts across the enterprise. (312 pages, $36.)
Online:
10-minute short course: click here
for a 10-minute introduction to Enterprise Engagement and ISO standards from the Coggno.com learning platform.
Services:
• The Engagement Agency at EngagementAgency.net,
offering: complete support services for employers, solution providers, and technology firms seeking to profit from formal engagement practices for themselves or their clients, including Brand and Capability audits for solution providers to make sure their products and services are up to date.
• C-Suite Advisory Service
—Education of boards, investors, and C-suite executives on the economics, framework, and implementation processes of Enterprise Engagement.
• Speakers Bureau
—Select the right speaker on any aspect of engagement for your next event.
• Mergers and Acquisitions. The Engagement Agency's Mergers and Acquisition group is aware of multiple companies seeking to purchase firms in the engagement field. Contact Michael Mazer in confidence if your company is potentially for sale at 303-320-3777.
Enterprise Engagement Benchmark Tools:
The Enterprise Engagement Alliance offers three tools to help organizations profit from Engagement.
Click here
to access the tools.
• ROI of Engagement Calculator. Use this tool to determine the potential return-on-investment of an engagement strategy.
• EE Benchmark Indicator. Confidentially benchmark your organization's Enterprise Engagement practices against organizations and best practices.
• Compare Your Company's Level of Engagement. Quickly compare your organization's level of engagement to those of others based on the same criteria as the EEA's Engaged Company Stock Index.
• Gauge Your Personal Level of Engagement. This survey, donated by Horsepower, enables individuals to gauge their own personal levels of engagement.
For more information, contact Bruce Bolger at Bolger@TheEEA.org, 914-591-7600, ext. 230.