Business Operating Systems, Brand Media the Focus of August EEA Zoom Shows
The Enterprise Engagement Alliance strategic Zoom Show on Aug. 12 at 1 pm ET will focus on Business Operating Systems, an invaluable approach to running a better business of almost any size. The EEA tactical Zoom Show on Aug. 13 at 1 pm US, sponsored by the Brand Media Coalition, will cover the emerging concept of Brand Media, Experiences and Surprise and Delight in rewards, recognition, and gifting.
The Enterprise Engagement Alliance has launched a series of strategic and tactical education programs on all areas of engagement featuring experts on each topic in panel discussions that are shared and available for free in the
EEA Zoom show library
. The strategic sessions cover issues of importance to business owners, boards, CEOs, CFOs and other senior management, as well as people who report to them. The tactical sessions are targeted at middle- and upper-management who are responsible for implementation of external or internal audience engagement efforts.
Strategic Session on the Magic of Business Operating Systems
On Aug. 12, at 1 pm ET,
Todd Hanson
, President, Catalyst Performance Group, a leader in Business Operating Systems and Engagement ROI;
Allin Foulkrod
, CEO and Founder, Creative Visions, a leading Raleigh, NC-based strategic event and media solution company, and
Bob Pankratz
, CEO and Founder Technosis, Inc., an information technology firm, will share why Business Operating Systems remain a best-kept secret in organizational management.
Register Now
.
Smart leaders and great organizations have used Business Operating Systems (BOS) for decades to achieve their goals more predictably. Yet most businesses aren't aware of these systems or how they can be applied to addressing real-life issues—such as how to pivot to new opportunities after a sudden pandemic. Business Operating Systems are essential to the effective implementation of human capital management and ROI-based enterprise engagement strategies.
This EEA Zoom show is designed for management in any of the following situations:
•
You are curious about better ways to grow an organization.
•
Current business opportunities or challenges require rapid reorganization or pivoting of products, services, or the business model.
•
You have hit a ceiling and can't quite get to the next level.
•
You've run out of fun. The business you once loved is killing you.
•
There is growing pressure to run businesses in a more people-centric way and report those efforts to key stakeholders.
Tactical Session on the Art of Brand Media, Experiences, and Surprise and Delight
The Covid-19 pandemic and resulting work-from-home movement has created near explosive growth in surprise-and-delight gifting, spontaneous, carefully selected gifting to spontaneously thank people for special effort or loyalty. The show is set for Aug. 13 at 1 pm ET US.
John Geysen
, Product Marketing Manager, HMI Performance Incentives;
Cary Goldman
, Director, National Accounts; 1-800FLOWERS.COM;
Cyndi Pereira
, Manager, Travel & Transport Loyalty; Barb Hendrickson; Visible Communications, and co-author of the "Principles of Results-Based Program Design," published by the Incentive Marketing Association; and
Marc Matthews
, CEO and Founder, Pulse Experiential Travel will share their perspectives on this new growth opportunities and what is required of suppliers and discuss the stories of leading brands and how organization's can leverage them in their organizations.
Register here
Click here
for the complete schedule of upcoming strategic and tactical shows and for a library of past shows.
---
Master the Principles of Stakeholder Capitalism And Implementation Through Enterprise Engagement
Education, Certifications, and Information to Activate
Stakeholder Capitalism Available Nowhere Else
A complete learning, certification, and information program and a course syllabus for educators.
Training and Certification
Enterprise Engagement Alliance Education: Certified Engagement Practitioner; Advanced Engaged Practitioner, and Certified Engagement Solution Provider learning and certification programs on how to implement Stakeholder Capitalism principles at the tactical level.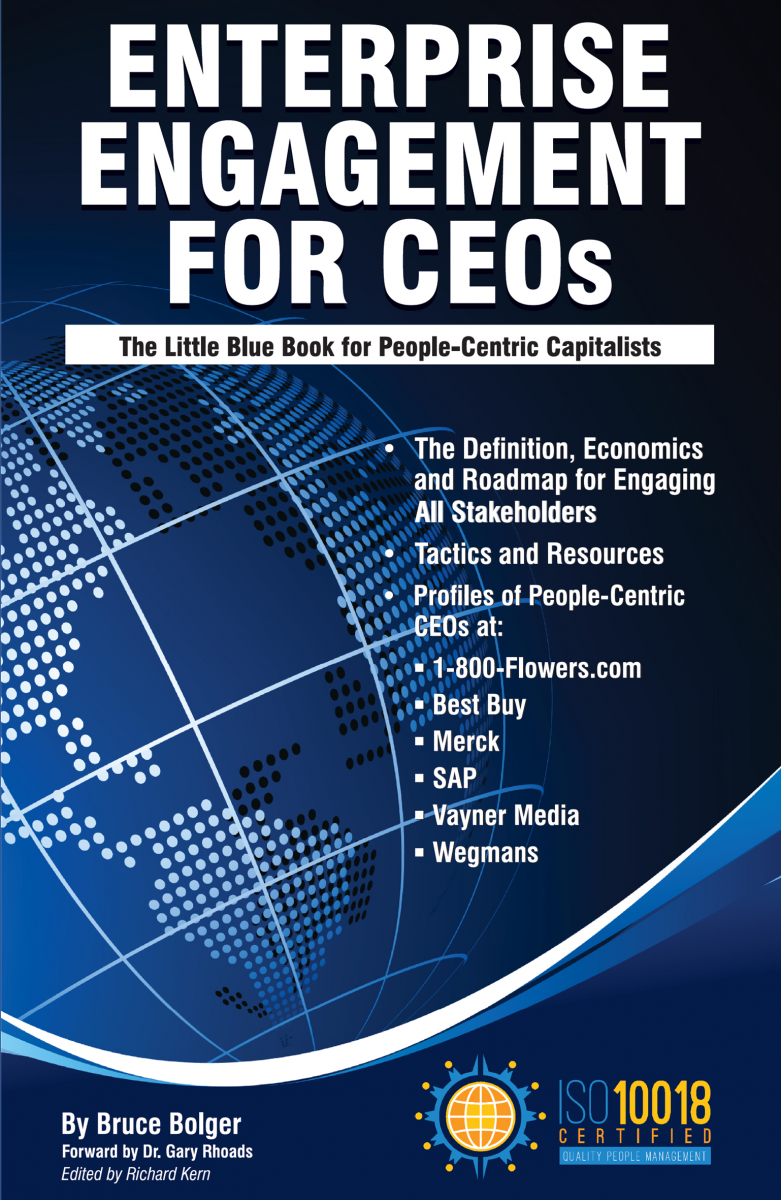 Join the EEA to begin your certification process or see our other resources below.
THE ONLY BOOKS ON STAKEHOLDER CAPITALISM IMPLEMENTATION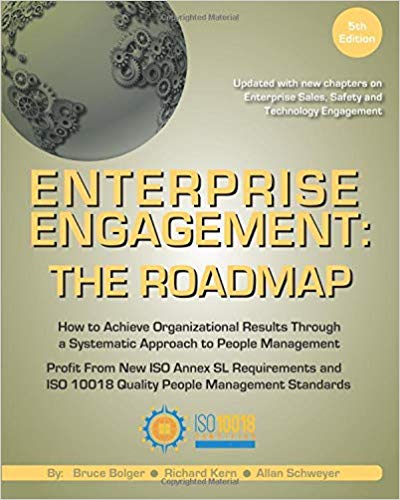 Enterprise Engagement: The Roadmap 5th Edition
The first and most comprehensive book on Enterprise Engagement and the new ISO 9001 and ISO 10018 quality people management standards. Includes 36 chapters detailing how to better integrate and align engagement efforts across the enterprise. (312 pages, $36.)
OTHER RESOURCES TO ACTUALIZE STAKEHOLDER CAPITALISM
Communities:
The
Enterprise Engagement Alliance and Advocate
and the
Brand Media Coalition
free resource centers offering access to the latest research, news, and case studies; discounts, promotions, referrals, and commissions, when appropriate to third-party solution providers from participating coalition solution provider members.
Enterprise Engagement
Resources:
EEXAdvisors.com provides the only curated online marketplace to access hundreds of solution providers in all areas of human capital management and enterprise engagement throughout the world.
Online Overview:
10-minute short course: click here for a 10-minute introduction to Enterprise Engagement and ISO standards from the Coggno.com learning platform.
Services:
• The Engagement Agency at EngagementAgency.net, offering: complete support services for employers, solution providers, and technology firms seeking to profit from formal engagement practices for themselves or their clients, including Brand and Capability audits for solution providers to make sure their products and services are up to date.
• C-Suite Advisory Service—Education of boards, investors, and C-suite executives on the economics, framework, and implementation processes of Enterprise Engagement.
• Speakers Bureau—Select the right speaker on any aspect of engagement for your next event.
• Mergers and Acquisitions. The Engagement Agency's Mergers and Acquisition group is aware of multiple companies seeking to purchase firms in the engagement field. Contact Michael Mazer in confidence if your company is potentially for sale at 303-320-3777.
Enterprise Engagement Benchmark Tools: The Enterprise Engagement Alliance offers three tools to help organizations profit from Engagement. Click here to access the tools.
• ROI of Engagement Calculator. Use this tool to determine the potential return-on-investment of an engagement strategy.
• EE Benchmark Indicator. Confidentially benchmark your organization's Enterprise Engagement practices against organizations and best practices.
• Compare Your Company's Level of Engagement. Quickly compare your organization's level of engagement to those of others based on the same criteria as the EEA's Engaged Company Stock Index.
• Gauge Your Personal Level of Engagement. This survey, donated by Horsepower, enables individuals to gauge their own personal levels of engagement.
For more information, contact Bruce Bolger at Bolger@TheEEA.org, 914-591-7600, ext. 230.