The Brand Media Guide below launched earlier this year is going to the next level under the leadership of the new
Brand Media Coalition
. The prototype guide below will be shortly updated with more companies joining the coalition along with the addition of a formal Brand Personality profile for all leading brands active in the marketplace. This new Brand Media Guide will help planners of gift, event, reward, promotion, or promotional products programs more thoroughly select the appropriate brands and experts for their programs.
As is clear in the
Art & Science of Rewards and Recognition e-book
, organizations achieve the best return on their investment on their gift and reward programs if they follow effective practices related to program design, the reward experience, and the use of brands to better tell their stories and maximize emotional impact. The RRN online Brand Media Guide is a growing guide to brands, retail gift cards, and master fulfillment companies dedicated to maximizing the reward experience and enhancing their own stories through the power of brands.
In addition to publishing this first-ever Brand Media Guide, the Brand Media Coalition is dedicated to educating promotional products distributors, and other buyers and resellers of business, event, and imprinted product gifting, on the unique power of Brands as a media. Careful selection of brands help not only to engage people but to make long-lasting emotional connections by communicating core brand values in a tangible way.
Click here
to learn about the new, free Brand Media Specialist program to train people on the proper use of non-cash rewards for all organizational applications and to ensure that brands are used as intended and never diverted to unauthorized distribution.
The companies listed below are committed to providing a rewards experience with personalization, customization and other ways to help organizations maximize the impact of promotional products, gift, and reward programs through the power of brands. This guide will be shortly updated with new information about the "personality" of each brand to better enable program planners to select the right brands for their promotional product, business or event gift, consumer promotion or loyalty, or reward and recognition programs. The EEA's new Brand Media , will be released on a new searchable database the spring of 2019.
Here are the pioneering companies that helped fund this effort to apply years of research to finding effective ways for the $50 billion-plus gifts and rewards business not only to help inspire people and build long-lasting relationships but to communicate key values through the story-telling power of brands.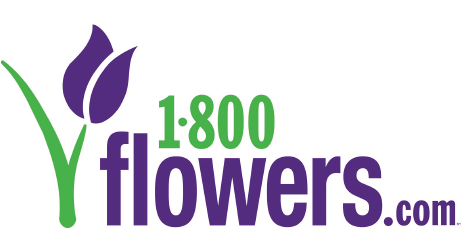 Founded: 1986
Primary Products and Services:
1-800-FLOWERS.COM, Inc. is a leading provider of gifts designed to help customers express, connect and celebrate. The company's Celebrations Ecosystem features an all-star family of brands, including: 1-800-Flowers.com®, 1-800-Baskets.com®, Cheryl's Cookies®, FruitBouquets.com®, Harry & David®, Moose Munch®, The Popcorn Factory®, Wolferman's®, Personalization Universe®, Simply Chocolate® and GoodseySM. It also offers top-quality steaks and chops from Stock Yards®. Through the Celebrations Passport® loyalty program, which provides members with free standard shipping and no service charges across our portfolio of brands, 1-800-FLOWERS.COM, Inc. strives to deepen relationships with customers. The company also operates BloomNet®, an international floral wire service which helps professional florists grow their businesses profitably; NapcoSM, a resource for floral gifts and seasonal décor; and DesignPac Gifts, LLC, a manufacturer of gift baskets and towers. 1-800-FLOWERS.COM, Inc. received the Gold award in the "Mobile Payments and Commerce" category at the Mobile Marketing Association 2018 Global Smarties Awards. In addition, Harry & David was named to the Internet Retailer 2019 "Hot 100" list. Shares in 1-800-FLOWERS.COM, Inc. are traded on the NASDAQ Global Select Market, ticker symbol: FLWS.
Applications include gifts for:
•

Surprise-and-delight programs
•

Sales and channel programs
•

Almost anything clients can think of.
It all began with a single flower shop in New York City operated by company Founder Jim McCann more than 45 years ago. After a series of "firsts," including its groundbreaking use of "800" phone number technology for customer access and being a pioneer in online retailing, the 1-800-Flowers.com brand was born. It went on to become one of the nation's leading floral providers and remains so today. Over time, the company acquired or launched nearly a dozen other brands to create a one-stop shop for gifting needs, anchored today by 1-800-Flowers.com and Harry & David. The company is focused on creating ways to solve more of the gifting and celebratory needs of customers year-round and has expanded its offerings by developing product collections specifically focused on everyday occasions such as birthdays, thank you, anniversaries and sympathy. It is a leader in innovation, committed to providing an exceptional customer experience with its caring team obsessed with service. Chris McCann is the Chief Executive Officer of 1-800-FLOWERS.COM, Inc.
1-800-FLOWERS.COM, Inc. is in the business of helping people express, connect and celebrate. The company's mission is To Deliver Smiles. Through its broad range of gifting solutions, it enables people and organizations to meaningfully express their gratitude, congratulations, sympathy, recognition, or celebrate any occasion. This is done in a way that is crafted as closely as possible to an organization's story, relationship with the recipient and with special consideration to what will have meaning to them.
The company's pledge to all customers: "We're obsessed with providing a terrific experience. If not, we'll make it right - guaranteed." Organizational values include:
Be Constructive. Make and solicit positive, constructive suggestions every day.
Be Positive. Teach others to have fun and celebrate success each day. Use positive language and reduce negative language.
Be Prompt. Do it now...Answer it now...Fix it now!
Be Outcome Focused. Find positive lessons in every adverse situation. Use the past only for positive lessons.
Be Reflective. Look for important positive lessons. What could you have done to make something better?
Be Relentless. Seek positive incremental improvement everyday
Business customers of 1-800-FLOWERS.COM, Inc. value expert advice and recommendations based on their needs, as well as solutions they can count on in terms of value, quality, delivery and customer experience. Customer's recipients cover every possible lifestyle and demographic group.
1-800-FLOWERS.COM, Inc. has options for every demographic and psychographic group, and their customization team can make items even more personal.
Customization and Personalization:
Personal notes. In most cases, the 1-800-FLOWERS. COM, Inc. family of brands can drop-ship, or ship in bulk, gifts to one location along with a personal message and, based on quantity, customized packaging. They can design a gift for your special event or program including custom containers, candies, baked goods and sweet and salty snacks. Minimums and lead times apply.
Events.

Whether a networking dinner, conference, seminar, or cocktail party, the team can help make the most of these prime opportunities and reduce stress by assisting in shouldering the responsibility of planning a special event and specific needs. An assigned Business Gift Services Account Manager will handle everything from providing the initial quote to supplying digital photos of samples weeks before the event, ensuring cost and time savings.

Where to Source:

1-800-FLOWERS.COM, Inc. has a dedicated corporate team available to assist organizations with almost any gifting, reward, or recognition challenge. The company is a Certified Engagement Solution Provider. To date, three of its Business Gift Services team members have earned certifications in basic training for engagement process design.

Reseller Policies:

1-800-FLOWER.COM, Inc. works with incentive, recognition, promotional products and agencies to ensure they get the support they need to profitably manage their clients' needs.

Founded: 2009
Primary Products and Services: Premium Custom Menswear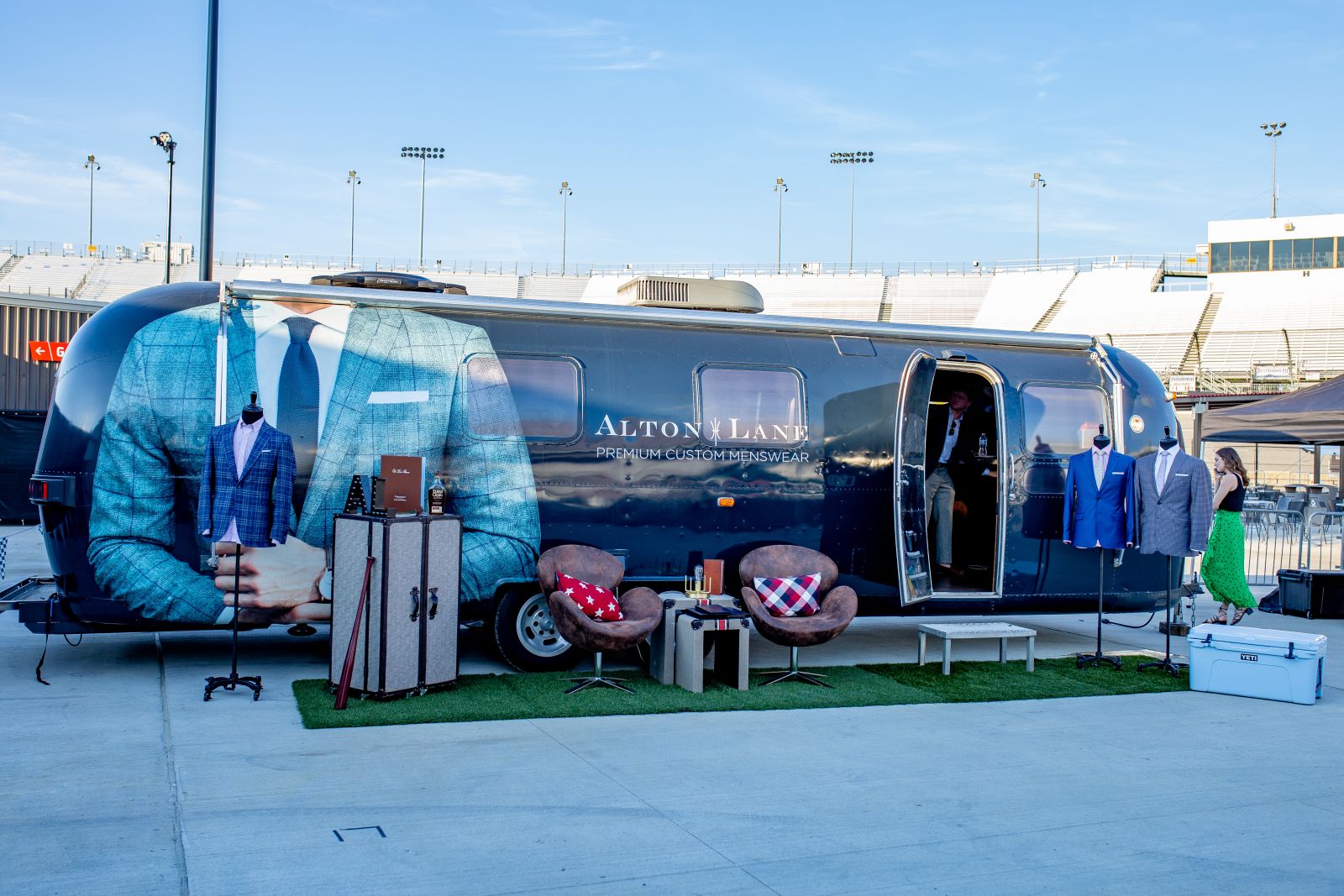 Experiential events: Alton Lane offers multiple options for fitting experiences for men and women. Because each item is custom fit and made to order, the showroom or event boutique can feature all the fabrics, styles, and sizes needed for the fittings. Organizations can host events at hotel, resort or convention center meetings, at any of Alton Lane's 12 comfortable showrooms, or in the company's custom-restored 1978 Airstream, equipped with a 3-D scanner and a canopy for outdoor entertainment that can be driven to almost any location in the lower 48 states.
Bespoke Corporate Apparel: Organizations can create their own bespoke "lines" and "label" for suits, blazers, and sportswear, enabling employees or members to select the styles, fabric and fit that's right for them. Custom fittings can take place at organizational events such as incentives, gifts, or fundraisers, or even family or other social gatherings.
Company Story: Alton Lane was founded by Colin Hunter and Peyton Jenkins, who left their jobs in management consulting and real estate to create a new type of clothier for men who want to look their best: an affordable custom experience for the selection of suits, blazers, formal wear, trousers, shirts and shoes at 12 comfortable showrooms on the East Coast and in the South. The company's brand promise is to help people look, feel and be their best.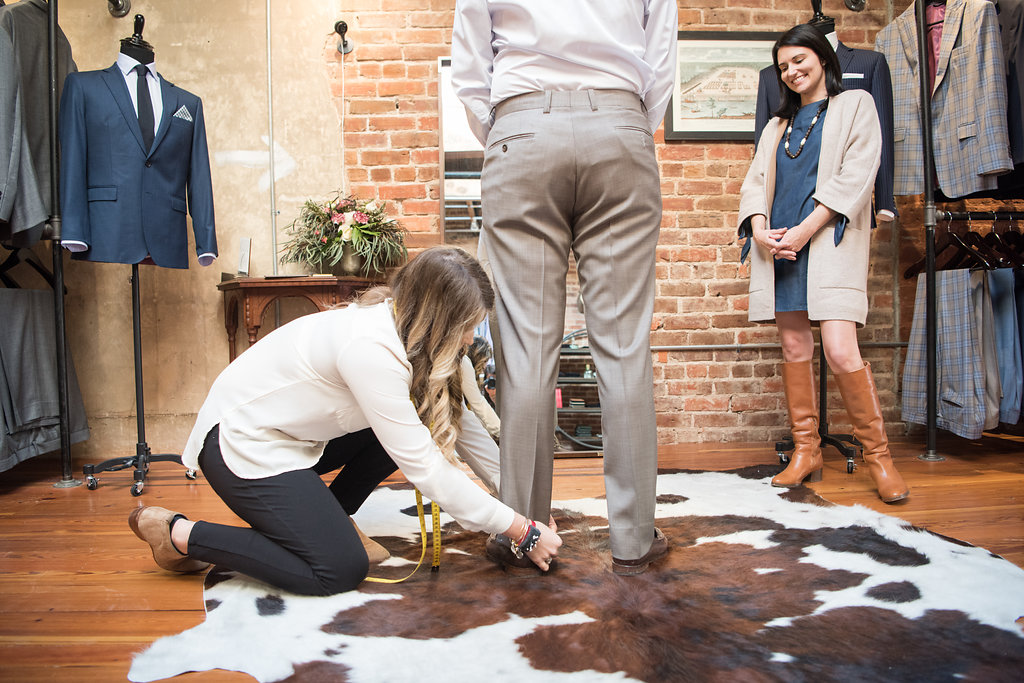 Brand Personality: Alton Lane offers an enjoyable shopping experience designed around each customer. From attentive service to custom clothing that truly fits, Alton Lane's personalized approach puts the wants and needs of customers first. The brand values are welcoming, empowering, innovative. The brand personality is inviting, cool and confident, genuine and inspiring.
•

People who want to feel confident that they look their best in every situation, whether for personal or business reasons.
•

Someone who appreciates personalization of both experience and product. People who want their clothing to express who they are.
Age: The age range of the customer skews from the individual purchasing a suit for their first interview all the way to the seasoned executive preparing for a board meeting.
Income. Alton Lane's customer is generally a professional with higher-than-average income who wears suits, blazers, or more casual attire for business, entertainment, or special occasions.
Customization and Personalization:
Because all of Alton Lane's apparel is custom made, organizations can select specific combinations of fabrics, patterns and styles, as well as create a label with their own brand name. What makes Alton Lane unique is that organizations can give recipients the ability to select from a range of related fabrics or patterns and yet retain their own sense of style and fit through the custom-fitted experience.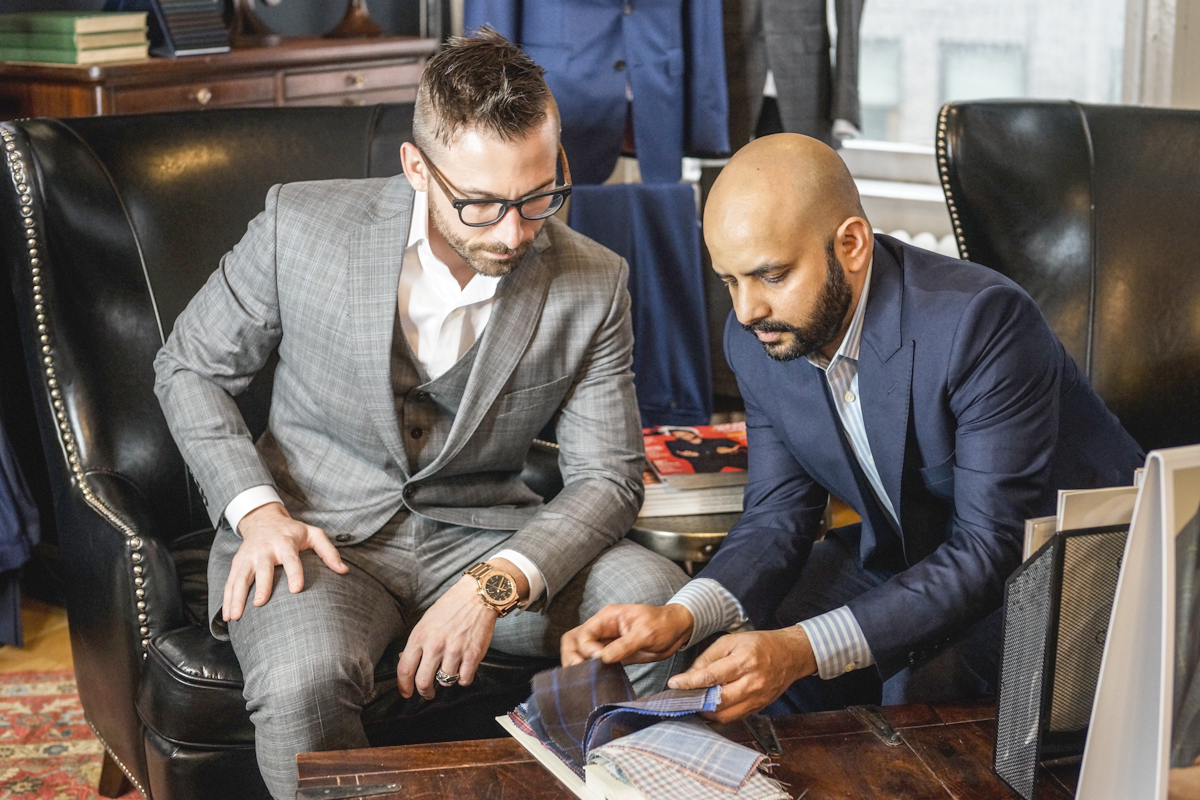 Event Gifting:
Alton Lane can set up a pop-up boutique at a hotel, resort, or convention center and can close any of its 12 showroom locations for a private event with drinks and catering. Alton Lane's showrooms are located in 11 popular locations, including Atlanta, Boston, Charlotte, Charlottesville, Chicago, Dallas, Nashville, New York City (Flatiron District and Tribeca), Raleigh, Richmond and Washington, DC. Most of the showrooms have small "secret" rooms for very small groups that can be catered as well.
Alton Lane's most unique event feature is a custom-restored 1978 Airstream that can be set up almost anywhere, including sporting events and convention halls. It includes an outdoor canopied lounge, indoor TV and bar.
Customers can select from styles and fabrics with the help of stylists, which are carefully measured and fitted with the aid of a 3-D scanner, and then produced to the exact measurements in Europe and Asia and delivered to the Alton Lane Showroom or the customer's home with best-in-class turnaround time.
Where to Source: As a new company to the market, all inquiries are handled by Alton Lane. In the coming months, the company will be developing a program for promotional products and other event, incentive, recognition and loyalty companies.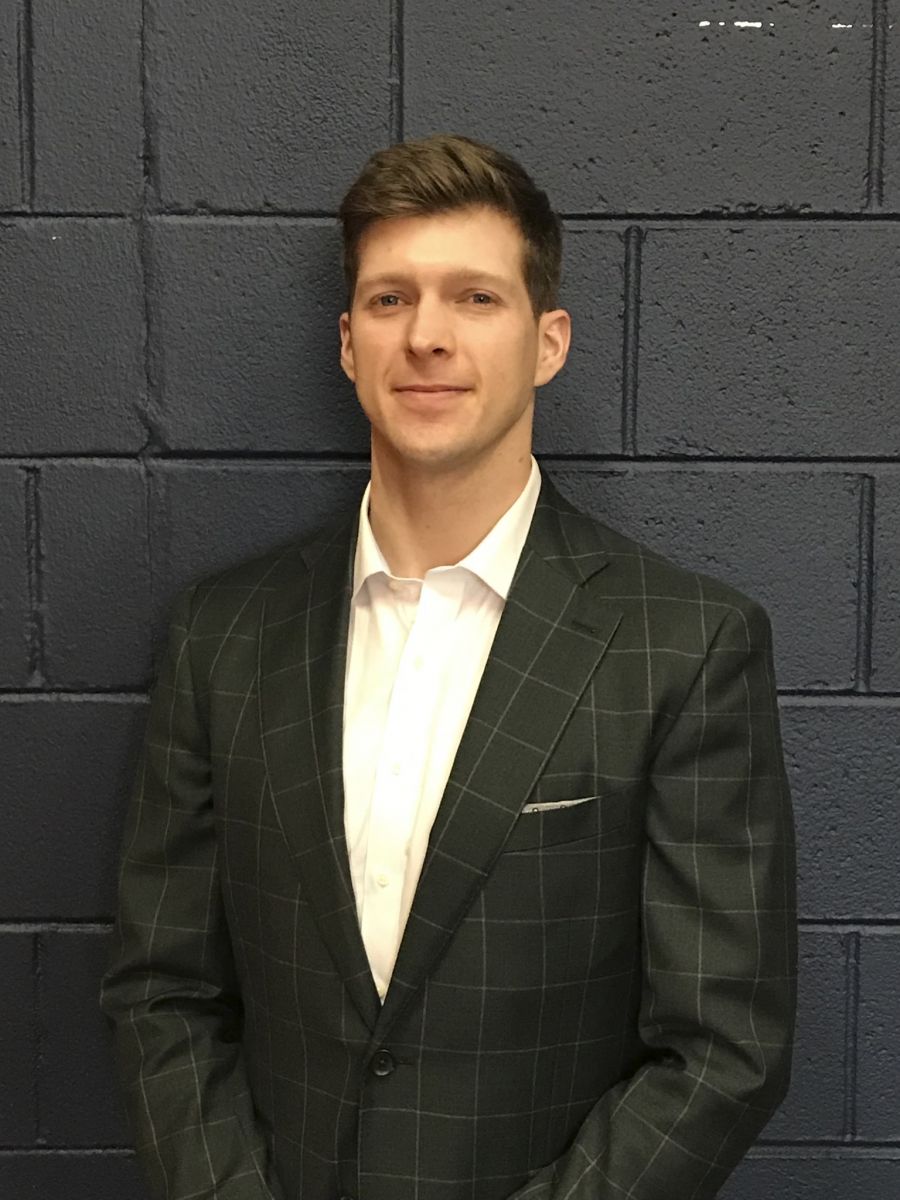 Reseller Policies: Alton Lane is committed to supporting its marketing partners with pricing advantages and customized sales and marketing materials to help their clients benefit from this unique gifting, incentive, or fundraising program.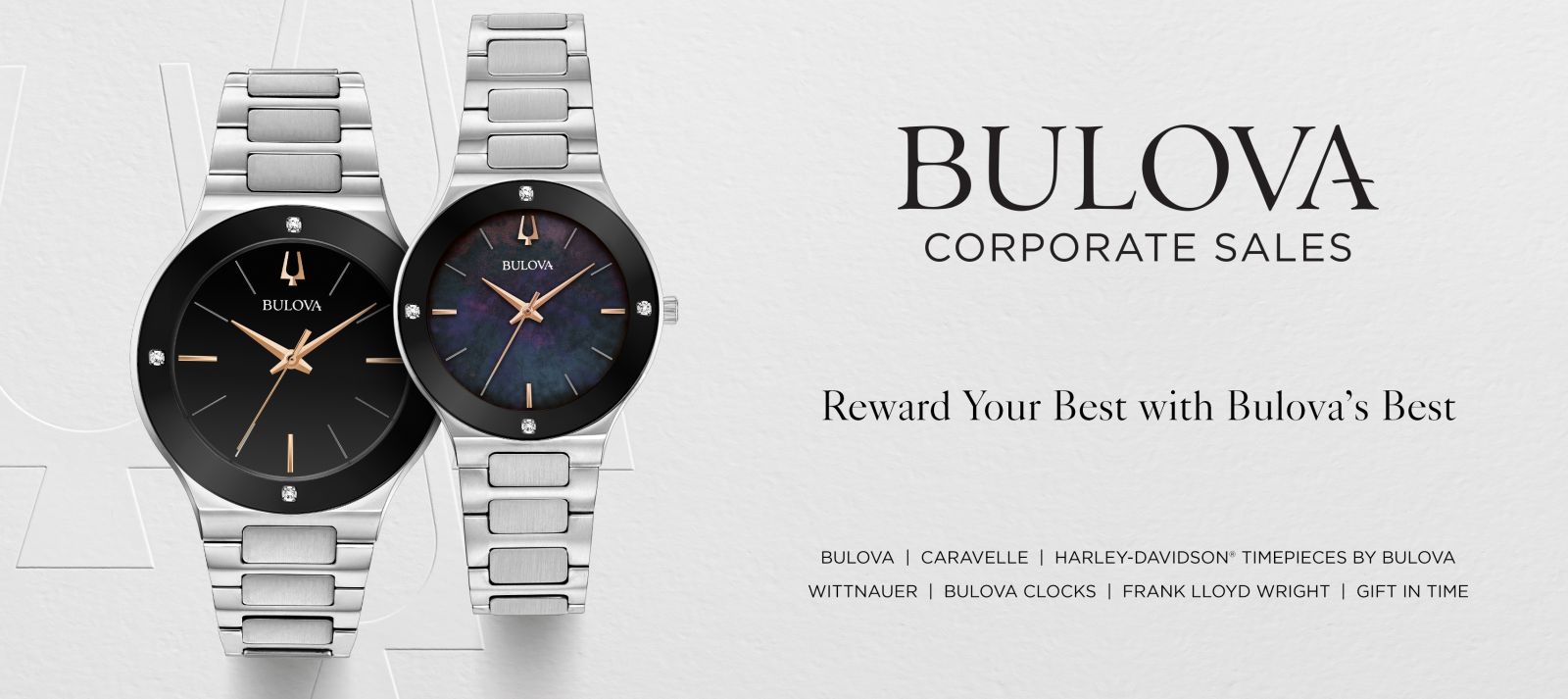 Founded: 1875
Products and Services: With its portfolio of quality crafted watches by Bulova, Caravelle and Wittnauer, and distinctive Bulova Clocks, Bulova is ideally suited to meet the diverse needs of the corporate gift market. We offer products perfect for all ages, wearing occasion, and personal style preferences. And no matter what timepiece the corporate client or award recipient chooses, Bulova offers special presentation and personalization options to make the reward even more unique and appreciated.
From career milestones to exceptional performance, there are many reasons for corporate gifting-- and Bulova is the solution for them all. With its recognized brand names, wide range of styles with budget-right options and customization opportunities, Bulova's Gift in Time program is ready to transform any corporate-gifting event into a thoughtful, individualized and engaging experience. Bulova offers various options to planners, including an onsite sizing program for added excitement.
Company story: In 1875, just as America was entering its golden age of industry and progress, one visionary leader would rise to ignite a series of iconic moments in our nation's history–and transform the way the world perceived time. Fueled by the era's risk-taking ethos, Joseph Bulova presented one innovation after the next, ultimately opening a small store in New York City that would mark the beginning of his lifelong quest: to craft supreme quality timepieces for an ever-changing and dynamic landscape.
With an unwavering drive for perfection, efficiency and precision, quality craftsmanship became the foundation upon which Joseph Bulova built his brand. But what fueled the brand's continual progress was its spirit of invention–pursuing innovation and technology both within the timepiece industry and beyond Bulova's industry innovations included everything from pioneering standardized production of watches to developing the first fully electronic watch with proprietary tuning-fork based technology, making it at the time the most accurate watch in the world.
Our breakthroughs reached beyond the world of timekeeping alone. Our pioneering spirit changed the face of marketing with America's very first radio and TV commercials. We made advancements in the world of sports with the Phototimer, and even transformed transportation through collaborations with Lindbergh and on 46 NASA space missions. During the first moonwalk, a Bulova timer was even placed in the sea of tranquility.
Reiterating its longstanding dedication to a history of firsts, the Precisionist collection was introduced in 2010. It is intricately styled and infinitely accurate, with a continuous sweeping second hand. Most recently, in 2016, the brand (quite literally) changed the face of the industry with the Curv collection—the world's first curved chronograph movement. Today, Bulova is driven by the same core principles of craftsmanship, innovation and technology that guided our visionary founder over 140 years ago. Much like Joseph Bulova himself, we set our own standards and create our own rules-breaking boundaries along the way to deliver the exceptional.
Brand Personality: A long tradition of innovation, style, precision, cutting-edge technology and exceptional service. Explains Adrienne Forrest, Vice President of Corporate Sales: "I'd say first and foremost, our attention to detail in curating and personalizing a program or event to meet specific client and consumer needs sets us apart."
Buyer Persona: The Bulova customer values craftsmanship, authenticity, innovation and technology.
Demographics: Between the wide selection of Bulova styles for men, women and every type of occasion, and those of its sister brands, organizations can with expert assistance carefully select the brands and styles that will work best for any audiences in almost any demographic category.
Customization and Personalization: Bulova offers various forms of customization, from colorfully bold to elegantly discreet. Select dials can be personalized with imprinted or etched logos. Case-backs can be inscribed with engraved names, dates, messages or logos. Special gift bags are also available to further enhance the presentation and make the gifting experience more memorable.
Event Gifting: Uniquely personal, delightfully interactive and just plain fun, Bulova's Gift in Time Watch Experience transforms event gift-giving into an event of its own, creating a perfectly customized, truly memorable shopping experience designed for any type of incentive, motivational or other event. Bulova is the perfect choice for this growing business segment in that its various brands and price points work with any budget or style requirement. Bulova offers various options to planners, including an onsite sizing program for the watches for added excitement.
Where to Source: Bulova brands are available through incentive representatives, promotional products distributors, incentive, recognition, loyalty and related companies.
To obtain a list of authorized representatives, contact:
VP, Corporate Sales, Bulova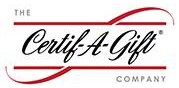 Years in Business: 64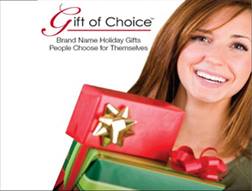 Primary Products and Services: Through Certif-A-Gift®, companies can successfully motivate their employees and business partners, recognize performance and create positive work environments by utilizing:
In an effort to motivate their employees and partners, companies can often misspend resources by offering one-size-fits-all incentive programs. With Certif-A-Gift®, companies can align incentives with each employee's unique set of preferences and tastes, no matter the age group, gender, experience level, or interests. By placing the "power of choice" in program participants' hands, managers can maximize individual and company-wide performance.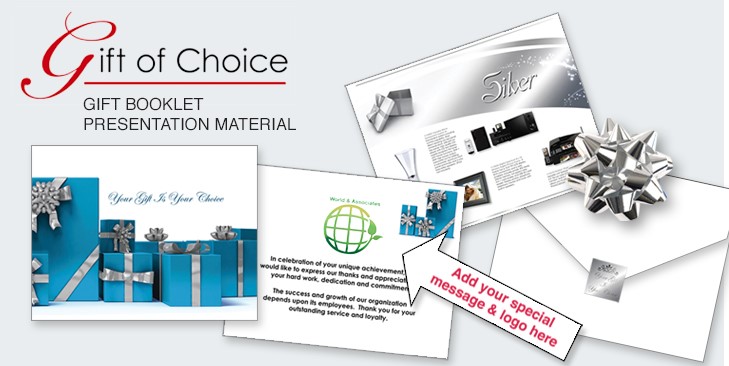 Certif-A-Gift's incentive and recognition program solutions are quick to implement and offer program participants thousands of brand-name reward options. From Apple to Weber, we have all the top brands and latest models from the most popular lifestyle merchandise categories, including electronics, housewares, sporting goods, tools, luggage and jewelry.
Gift Booklets: Presentation items include a Gift Booklet, redemption card, insert letter, presentation jacket and adhesive foil seal. The insert letter can be printed with the client's company name, logo and/or custom message.
Gift Cards: Presentation items include a coordinating Gift Card, note card and foil seal of your choice. There are several stock presentation designs. Or, clients can provide their own artwork for a custom look.
Company Story: For over 60 years, Certif-A-Gift® has devoted our efforts to make the gift giving process a pleasurable and memorable experience for all. Our personable team of representatives assists employers in developing programs that inspire engagement, productivity and healthy competition in the workplace. Today, Linda Tobutt, President, and Andy Tobutt, Chief Executive Officer, are carrying on the spirit of innovation sparked by the founder. In addition, the third generation is already in place with sons Ryan, Director of Sales and Client Relations, and Alex, Operations Manager, involved in overseeing many of the departments. Certif-A-Gift is a Certified Woman's Business Enterprise (WBENC).
Customization and Personalization: Offering several platform options to meet any budget, Certif-A-Gift® solutions provide customers with custom branding and messaging, recipient personalization, point issuance and accrual, gift presentation and selection, and comprehensive reporting. The Tobutts continue to revolutionize the industry by assuring that the incentive programs and rewards are easy to access, redeem and quick to deliver.
Reseller Policies: Certif-A-Gift is committed to supporting all resellers seeking to provide their customers with exceptional brand-name gift, incentive and recognition experiences to meet any budget.
Types of Programs: Through Certif-A-Gift®, companies can successfully motivate employees, customers, vendors, contractors, dealers, members and volunteers of all ages and backgrounds. Other programs include years of service, retirement, safety recognition, holiday gifts, contests, incentives and on-the-spot recognition.
The Certif-A-Gift Company
Arlington Heights, IL 60005

Citizen Watches: The Importance of Performance and Presentation
Citizen, a pioneer in watchmaking and innovative technology since 1918, promotes excellence with a deep-rooted respect for craftsmanship. For over 40 years, Citizen's Eco-Drive technology has set the brand apart. A simple yet revolutionary concept, Eco-Drive harnesses the power of light from any light source and converts it into energy.
A leader in the incentives market, Citizen offers one of the widest arrays of product offerings in the watch and clock categories, with many choices in pricing, fashion and function. Proper program design considers participant demographics, including age, gender and regional influences. Citizen continues to be the brand of choice in programs due to its wide consumer appeal.
Each award experience is different based on the event, participant base and theme. As the watch brand with the largest market share in mid-priced luxury watches, Citizen has category top-performers in each gender, function and price segment, allowing customers to create a truly custom experience with an assortment curated just for their participants.
The 2015 IMA/IRF Participant Study was the first to uncover the importance of the award presentation. Citizen provides all its watches in very attractive retail gift boxes with the result being a high perceived award value when it is presented in a public setting. Citizen also offers engraving options so the watch is a constant reminder of an accomplishment achieved and serves as a positive motivator for future performance.


Contact:
Richard Low, Vice President of Special Markets
310-225-4987
Years in Business: 33

Primary Products and Services: Harco is a master distributor of the world's most prestigious and in-demand brands, with access to advanced product information and the latest new products - more than $20 million in inventory in stock to ensure fast drop-shipping. Leading brands include Samsung, Apple, LG, Sony, Canon, Nikon, Fuji, Dyson, Amazon, Google, Cuisinart…more than 300 brands in all major categories: Electronics, Housewares, Small appliances, Personal care, Trend/novelty items, Licensed team items, Sports memorabilia, etc.
Customization and Personalization: Harco dedicates itself to matching products to people, selecting the right products and brands, and creating the right collections to reinforce your company mission, workplace culture and brand image. Our Premium Dash event is a shopping spree in our 62,000-square-foot warehouse with unlimited access to thousands of name-brand products designed to be a dream come true for top performers. Services include pad printing and laser engraving, as well as personalized letters and custom packaging.
Reseller Policies: HARCO Incentives is committed to supporting all resellers seeking to provide their customers with exceptional service and support. Our clients benefit from our decades of industry experience in all aspects of rewards, gifts and promotions for any organizational application, as well as our extensive industry relationships and buying power.
Our Story: Harco provides full-service solutions to support the needs of incentive, loyalty and recognition companies helping their corporate clients enhance loyalty and engage and improve performance of their targeted audiences. We achieve this through an optimal combination of 4 key components:
Human Capital — attracting the best talent in the industry

Technology — using innovative and flexible IT platforms

Environment — minimizing the carbon footprint of our processes and products

Social Responsibility — supporting charities that support infrastructure-building and fighting poverty.
Demographics: Knowing the right way to express thanks and reward loyalty and performance means finding just the right gifts and rewards that appeal to a specific audience. We offer products that appeal to any age group, gender, experience level, interest and status.
Contact Information: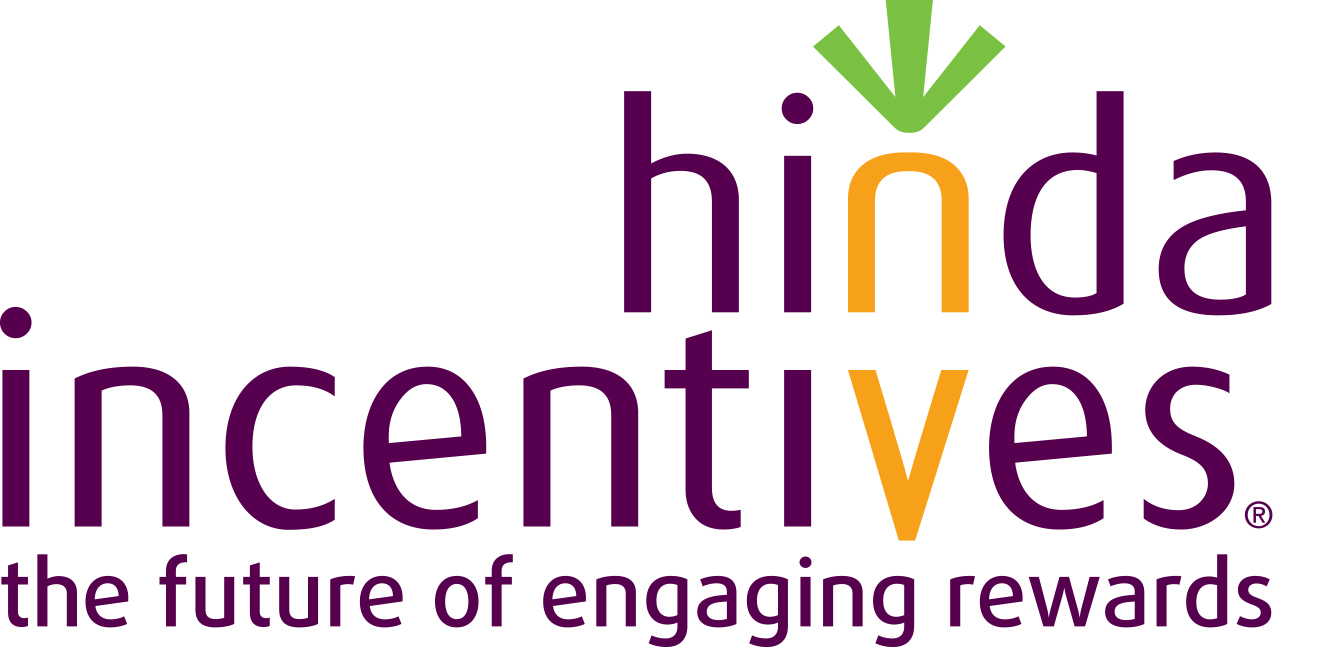 Name: Hinda Incentives

Years in Business: 48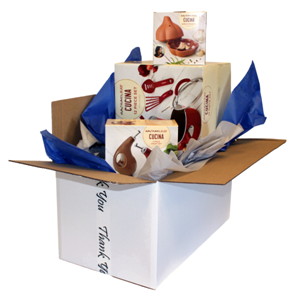 Primary Products and Services:
Global incentive, loyalty and engagement solutions including program design, rules development, supporting technology to administer and track program performance and a comprehensive reward portfolio.
Company Story:
Hinda was founded in 1970 as an exclusive distributor of a new brand of consumer electronics products. A brand that is now a household name around the globe.
Our founders quickly recognized opportunities in the growing non-cash incentives field and began creating offerings to support this emerging market. Today, Hinda is a leader in incentive, loyalty and employee engagement program design and implementation. Our rewards portfolio is the most comprehensive in the industry, and our technology solutions help our partners and their clients capture a greater share of the time and attention of the people most important to their business.
Customization and Personalization: We offer unique packaging to create customized reward delivery experiences for the client, their brand and their programs. We offer a Warehouse Dash® program, an award experience like no other.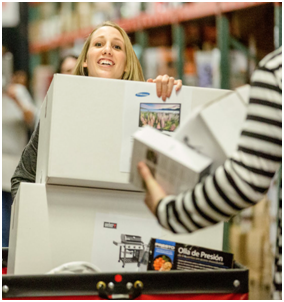 Reseller Policies:
Hinda goes to market through a network of value-added partners. Our Hinda Partners program offers training and marketing support to help grow their business.
Brand Personality: Working with our valued partners, Hinda assists organizations in realizing their true potential by providing innovative solutions that engage, inspire and reward their employees and customers.

Demographics: Our reward portfolio is designed to inspire participants across a wide spectrum of demographics and life stages. It is structured to allow us to customized award offerings to specific target segments based upon the sponsor's needs and the demographics of their program participants.

Contact Information:
Alisa Schafer, Marketing Director

Years in Business: Founded 1996.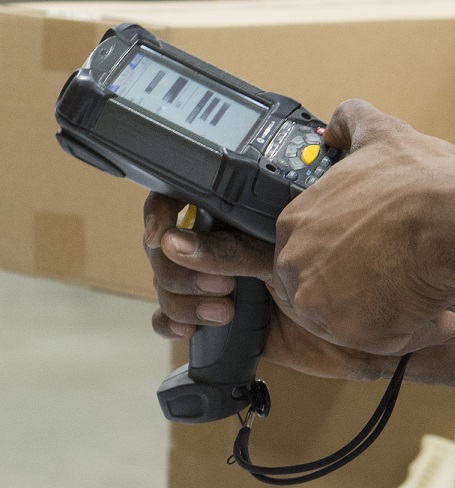 Primary Products and Services: Links Unlimited is a master fulfillment company serving the incentive, loyalty, gift-giving and promotional markets in the U.S. and overseas. Links Unlimited establishes relationships with the most desirable brands in the market, warehouses and fulfills orders for their products under their corporate guidelines, and works with all types of agencies and consultants to support their clients' goals and objectives. Links maintains a state-of-the art warehouse facility to support all types of reward and gifting needs, and helps companies use the power of brand-name products in their programs in accordance with corporate branding policies.
Company Story: Links started as a wholesaler of golf products for the corporate market and has since expanded to support hundreds of leading brands and thousands of customers with an 180,000-square-foot, state-of-the-art warehouse. Customers include incentive, recognition, loyalty and other marketing consulting firms.

Customization and Personalization: The company offers bulk and one-piece drop-shipping programs, kitting, decoration management and special-packing requests. It also has a complete event-gifting programs to support onsite experiences for incentive, recognition and motivational corporate events worldwide.

Where to Source: Links Unlimited's services are used by incentive, recognition, promotional, loyalty, marketing and management consulting firms to serve the needs of their clients. Ask your incentive, recognition, or loyalty consultant, or contact the Links sales representative below to find a company qualified to assist you with your program.

Reseller Policies: Links works with all types of clients through their incentive, recognition, promotional, loyalty, marketing and management consulting firms to support the needs of their clients.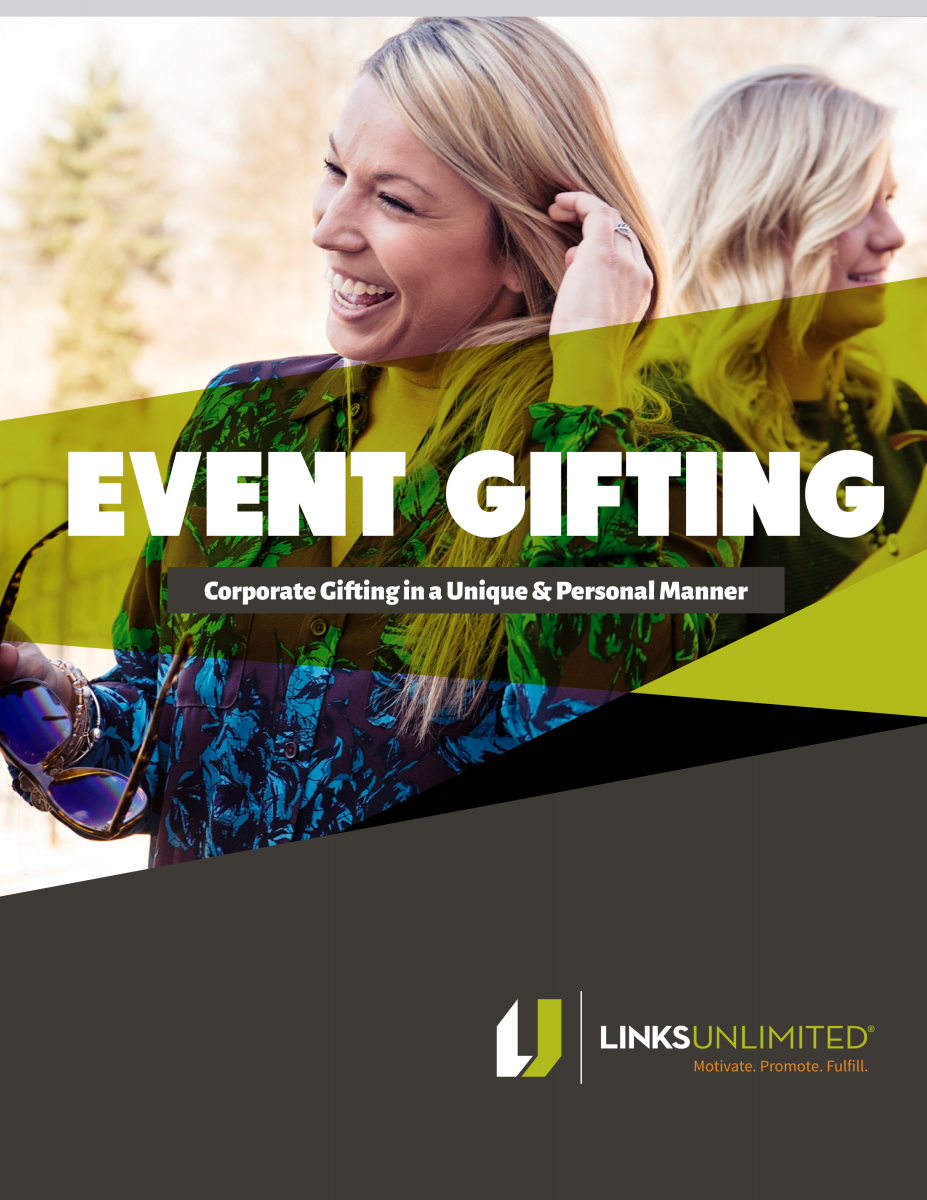 Buyer Persona: Links is ideally suited for organizations that value a significant investment in the latest brands, technology and systems; careful compliance with effective and ethical practices; and a support team focused on client success and with the creativity and experience required to meet the most demanding requirements, both in the U.S. and around the world.
Brand Personality: Links Unlimited mission is to:
•

Get It Right the First Time
•

Communicate Proactively
•

Show Customer Appreciation
•

Deliver As Promised (Or Better)

Demographics: Links has brands for every demographic and psychographic, from children to seniors, from actives to couch potatoes and everything in between. We pride ourselves in helping clients select the right brands and products for their program, be it a reward, gift, imprinted product, or other corporate application.

Contact Information:

Founded: 1980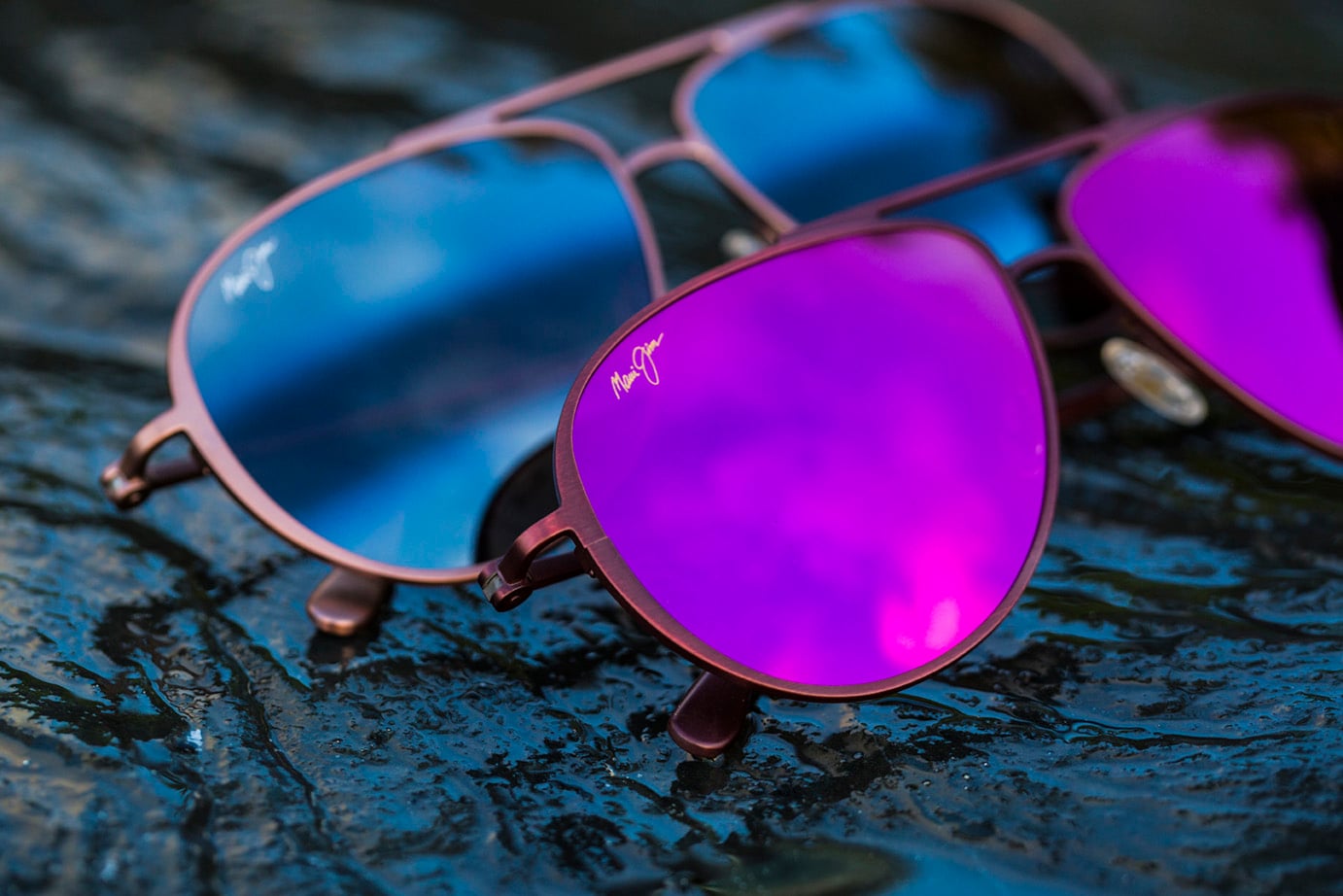 Primary Products and Services:
With 172 different styles, 574 SKUs, and 92% customer loyalty, Maui Jim is the world's fastest-growing polarized sunglass maker. Styles include flash mirrors, aviators, fashion, wrap, sport, rectangular, rimless, sports, classic and cat eye. Maui Jim regularly releases new styles and line extensions, such as the recently announced Asian Fit.
Maui Jim was launched by a single man selling sunglasses on the beaches of Maui in 1986. The original line had seven styles and was available exclusively in Ka'anapali at the Hyatt and Sheraton hotels. The business was purchased by Hester Enterprises in 1991, which established distribution on the mainland in 1994 and created the Maui Jim name in 1996. Seeing a need for sunglass technology that could combat intense glare and harmful UV rays while bringing the brilliant colors of the island to life, Maui Jim engineered the revolutionary technology that can be found in all 172 different styles. All Maui Jim sunglasses offer complete UV and HEV protection with the company's patented PolarizedPlus2® lens technology that enhances color, clarity and detail. They are all made in Italy or Japan, designed and tested in Hawaii. Maui Jim sunglasses don't just dim glare, they enhance colors, clarity and detail using natural light to create a more vivid visual experience in all light conditions. Maui Jim products are sold and distributed in 130 countries supported by 16 global distribution centers. The corporate sales division was launched in 2000 and has since executed approximately 11,000 events in it's almost 20-year history.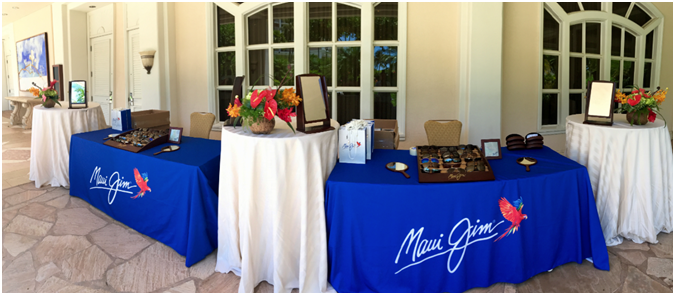 Maui Jim provides a package that includes the most advanced technology available. Maui Jim's unique benefits include:
•

The lenses enhance color like no other lens on the market. Many sunglass lenses simply darken your view, dimming and fading color for a flat, low-contrast perspective. PolarizedPlus2® lenses enhance the colors your eyes naturally perceive.
•

Every pair of Maui Jim sunglasses eliminates 99.9% of glare. Glare washes out colors, obscures details and fatigues your eyes. PolarizedPlus2® lenses eliminates that glare, allowing you to see the world at its brilliant best.
•

Maui Jim lenses block 100% of UVA, UVB and UVC rays. Just like your skin, your eyes need protection from exposure to the sun's rays. PolarizedPlus2® lenses eliminate 100% of UV radiation and provide protection against a number of additional stresses, helping your eyes stay healthy so you can keep taking in all the world's beauty.
•

Maui Jim has a two-year manufacturer's warranty.
•

Most repairs are turned around in three business days, and they replace temples and nose pads for free as long as parts are available.
Maui Jim wants people to see the world in a whole new light: with color, clarity and detail. We believe that color and light are a key to the human experience and how you feel, and that people should be able to enjoy the full spectrum of color no matter what they are doing with the reassurance that their eyes are protected by the latest technology. Maui Jim always wants to show its true colors – true colors that come shining through in their superior customer service. They promise to always greet a customer with a friendly voice and a dedicated representative to stand behind every pair of sunglasses they make. Maui Jim continues to also be a front-runner in awards such as "2018 Healthiest Company in America" and is included in case studies like "HERO's Creating a Culture of Health."
Maui Jim customers are about functional elegance. It's not about being seen, but about seeing well. They are self-directed, follow their own path, don't need to stand out or fit in…It's about what they think rather than what other people think about them. They will pay more for what they know is the best for them.
Maui Jim is the most unisex brand in the sunglass market: with 53% male; 47% female. The age group covers a wide gamut: 30%, 18-34; 36% 35-44; 44% or over 45. At $275 retail for the average pair, the Maui Jim price point skews toward the higher end.
Customization and Personalization:
Maui Jim is committed to making each gift an experience, whether given at an office, on a beach, or on the Great Wall of China. Custom style mix packages have been created to include 18 styles that include multiple frame sizes, lens colors and popular styles.
•

A standard brown zipper case and flowered cloth/pouch is always included and complimentary.
•

Cases can be customized with your company's logo.
•

Add the recipient's name to the case or pouch for that extra personal touch.

Maui Jim was the first to create the concept of the event-gifting experience and likely has the largest event-gifting program in the business. On-site sunglass fitting experiences facilitate social connection and create fond memories with a product people use every day. Maui Jim provides a turnkey program that is run by their own employees and supported by 16 distribution centers around the world to accommodate a minimum of 25 people in the U.S. or 50 people overseas. There are no surprises because there's a one-unit price no matter what the style, there are no restocking fees and exchanges are complimentary except for shipping. Maui Jim can provide customized cases, cleaning clothes and pouches to make sure an event is one that the recipient will never forget!
Global Sales and Marketing Specialist, Corporate Gifts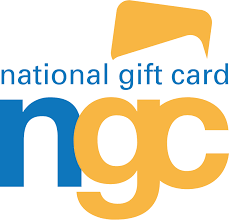 Founded: 2004
Primary Products and Services:
National Gift Card's mission is to provide secure, innovative gift card technology solutions and world-class service to connect brands with the corporate and consumer marketplaces. It is currently one of the world's largest independently owned gift card companies serving the mobile payments and B2B loyalty, rewards and incentive marketplace.
Operating out of its 92,000-square-foot fulfillment center, its gift card operational experts, strategic partnership agency team and one-of-kind gift card API (data connections) and mobile technology integrations source and deliver gift cards from over 500 international brands both physically and digitally across the United States, Canada, U.K. and Europe with the industry's highest levels of security, quality and speed.
NGC has made dramatic investments in new ways to efficiently customize and personalize gift card programs. Some of the world's largest financial institutions, retailers, healthcare providers, insurance and telecommunications companies and more trust NGC with the management of their gift card fulfillment, sourcing and mobile payments solutions. It offers integrated physical and digital offerings, mobile-branded currency platforms, closed- and open-loop cards, as well as supporting clients of all sizes and one of the industry's most robust one-stop-shop transactional gift card portals.
It is NGC's vision to revolutionize the way brands interact with consumers by redefining 'gift cards,' and its retail gift card selection includes Amazon.com, iTunes, Target, Walmart and hundreds more.
National Gift Card was founded specifically to support the needs of leading retail brands seeking to profit from the corporate-gifting, incentive, recognition and loyalty business, and to serve the incentive, recognition, loyalty and related firms that provide such services to organizations of any size or type. This focus on the B2B market and NGC's gift card operational expertise and one-of-kind technology integrations set the industry's 'gold standard' on card choice, security, quality and turnaround times for the loyalty, reward and incentive programs of the world's largest financial institutions, healthcare providers and more. NGC has activated hundreds of millions gift cards, fulfilled over $2 billion in gift card load value and processed tens of millions of gift card orders via bulk packages or individually drop-shipped each year using USPS First Class mail and major couriers.
NGC understands the need for its retail gift partners to protect the integrity of their brands by ensuring the proper use of their cards, as well as for channel partners to have access to the latest technology, mobile options, security, physical and e-card selection, in addition to customization and personalization capabilities to ensure the best possible offering to their end-user clients.
To meet the demanding requirements of some of the world's largest organizational users of gift cards, National Gift Card employs over 150 people, most of whom live within five miles of its U.S. fulfillment center, about 50 miles west of Chicago. From a technology team perspective, NGC supports a mobile-center and branded-currency-focused IT team that can build bespoke, white-label gift card and payments solutions for its brand partners and corporate clients. Operationally, NGC supports a six-day work week with two shifts, with seven-day operations during portions of the fourth quarter holiday season and access to contingent personnel to meet specific needs throughout the year.
NGC values maintaining its market leadership through a focus on the needs of its retail gift card and channel partners and their customers; on its dedication to precision, security and continuous improvement; and to maximizing the impact of programs through the proper selection and delivery of retail gift cards based on the objectives, audience, program and budget. NGC's passion for order accuracy (99.996%) means that it delivers the right card into the right kit to the right person (either digitally or physically) in the right amount of time securely at the industry's highest success rates.
Secure Gift Card Solution Provider:
• NGC is both PCI DSS and ISO 9001 certified, as well as HIPAA compliant. NGC's applications that interact with customer data are hosted at SOC II and PCI DSS compliant environments. NGC maintains security and compliance frameworks such as GDPR, NIST, PCI DSS and HIPAA for the full protection of all gift card and customer data.
• NGC conducts extensive checks on each employee to address the people issues that can create the greatest hidden risk and meets the contractual standards for gift card program support in the financial institution and healthcare industries.
• The company uses a proprietary, automated, systematic carrier printing software with matching process to ensure that customized client gift card orders are printed on the correct custom-carrier templates per the client order file, along with quality control cameras on physical order fulfillment.
NGC's customers are both leaders and newcomers to the mobile, incentive, recognition, loyalty, gifting and fundraising businesses who prefer to work with market leaders. They want companies and people they trust who intimately know the business; who can provide them the latest innovations with the highest possible security and reliability; and who can scale to meet their needs. NGC customers pride themselves on working with market leaders whose expertise they can draw upon as trusted advisors to enjoy a high level of comfort that all specifications will be met and potential pitfalls anticipated whenever possible.
Demographics:
With 500 retail gift cards representing some of the world's best known and up-and-coming retail brands, NGC can help the right brands achieve the client's objectives and support their own stories in a compelling way with any audience or demographic. As a member of the Brand Media Coalition, NGC understands the media and story-telling power of each of our retail gift card brands and can help clients find the right brand for their audience, budget and objectives.
Customization and Personalization:
NGC can customize the end-user experience branded for either a retailer or a corporate client program at the mobile, email and physical letter level.
More information and a full list of NGC's gift card partners, as well as access to NGC's corporate ordering portal, can be found at
ngc-group.com
. For programs requiring a gift card API, mobile gift card mall, or other digital technology support, contact NGC at:
Executive Vice President of Sales
r.rubin@ngc-group.com
[Return to Top]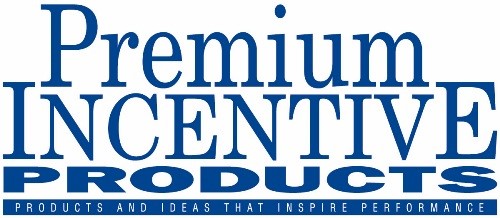 Founded: 2007
Primary Products and Services: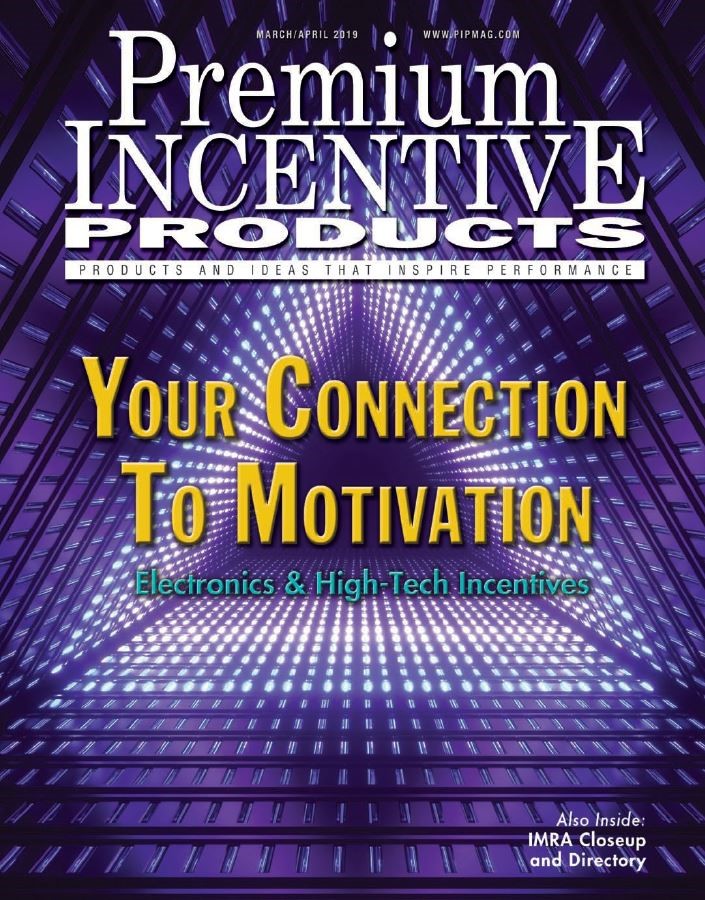 PREMIUM INCENTIVE PRODUCTS
is the industry's only product-oriented
publication. Our rich, on-target editorial appeals to premium and incentive
buyers. We feature expert-written guest columns, timely columns about product
and industry trends, motivation techniques and tips on creating excitement. Our
content focus is all about promoting the use of incentives to Corporate America.
Every issue of PIP is exclusively devoted to giving buyers answers to their most
pressing information needs:
•

How do I measure program results?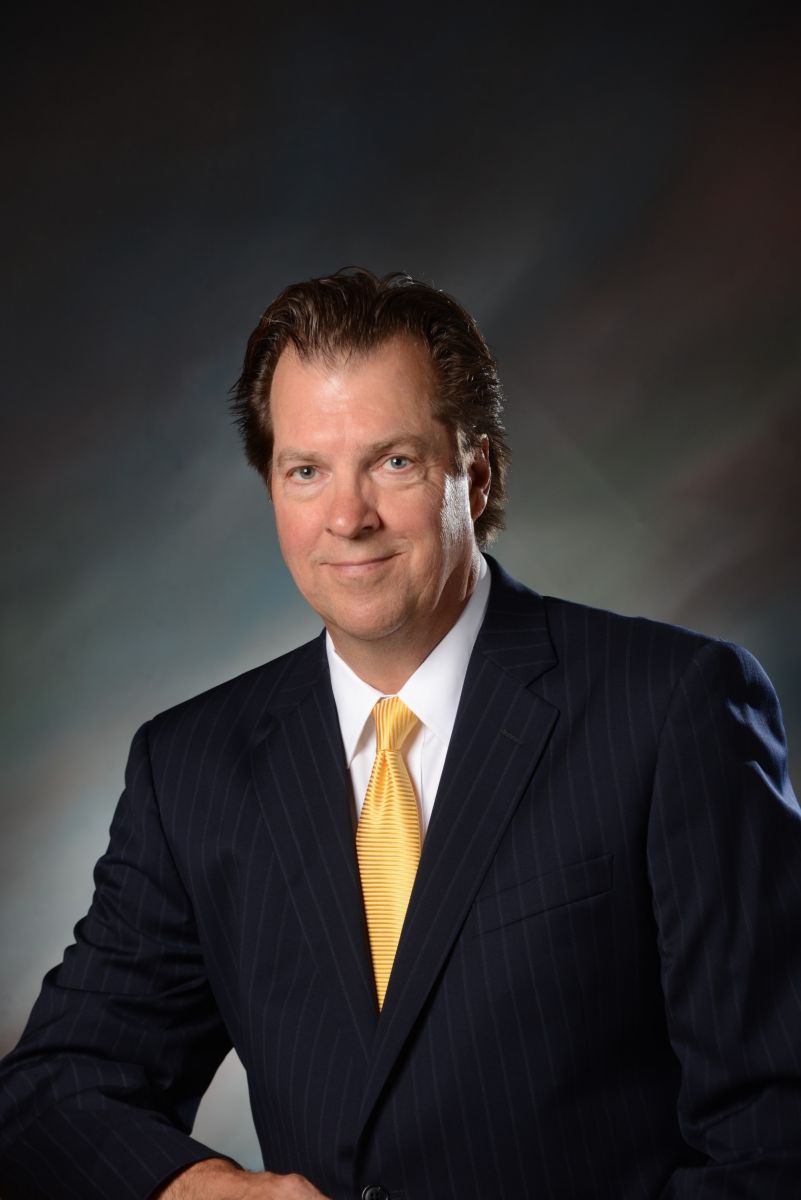 Company Story:
PREMIUM INCENTIVE PRODUCTS was founded by Paul Hennessy, who has
over 30 years of experience in the incentive market.
Our circulation was originally built in partnership with more than 20 leading brand
manufacturers and premium reps in the industry who gave us their customer lists.
We supplemented with names of other known buyers, converted to subscription/request
circulation, then BPA (Business Publication Association) audited.
This truly unique circulation-building technique was possible only because of the high esteem and respect leading industry professionals share for PIP's concept and staff.
We have invested hundreds of thousands of dollars in our circulation model to offer the most qualified, documented and responsive end-user audience in the industry.
PIP is committed to delivering the most highly qualified subscribers in our market and supplying proof that subscribers ask for PIP.
PREMIUM INCENTIVE PRODUCTS will stimulate action and growth for your company from wide-ranging programs: employee recognition; sales incentives; dealer and distributor incentive programs; consumer offers; safety awards; customer service and loyalty programs; corporate branding; and other promotion programs of all types.
PIP reaches over 30,000 BPA-audited request print subscribers and over 50,000 digital magazine circulation. We also produce multiple monthly eNewsletters reaching over 50,000.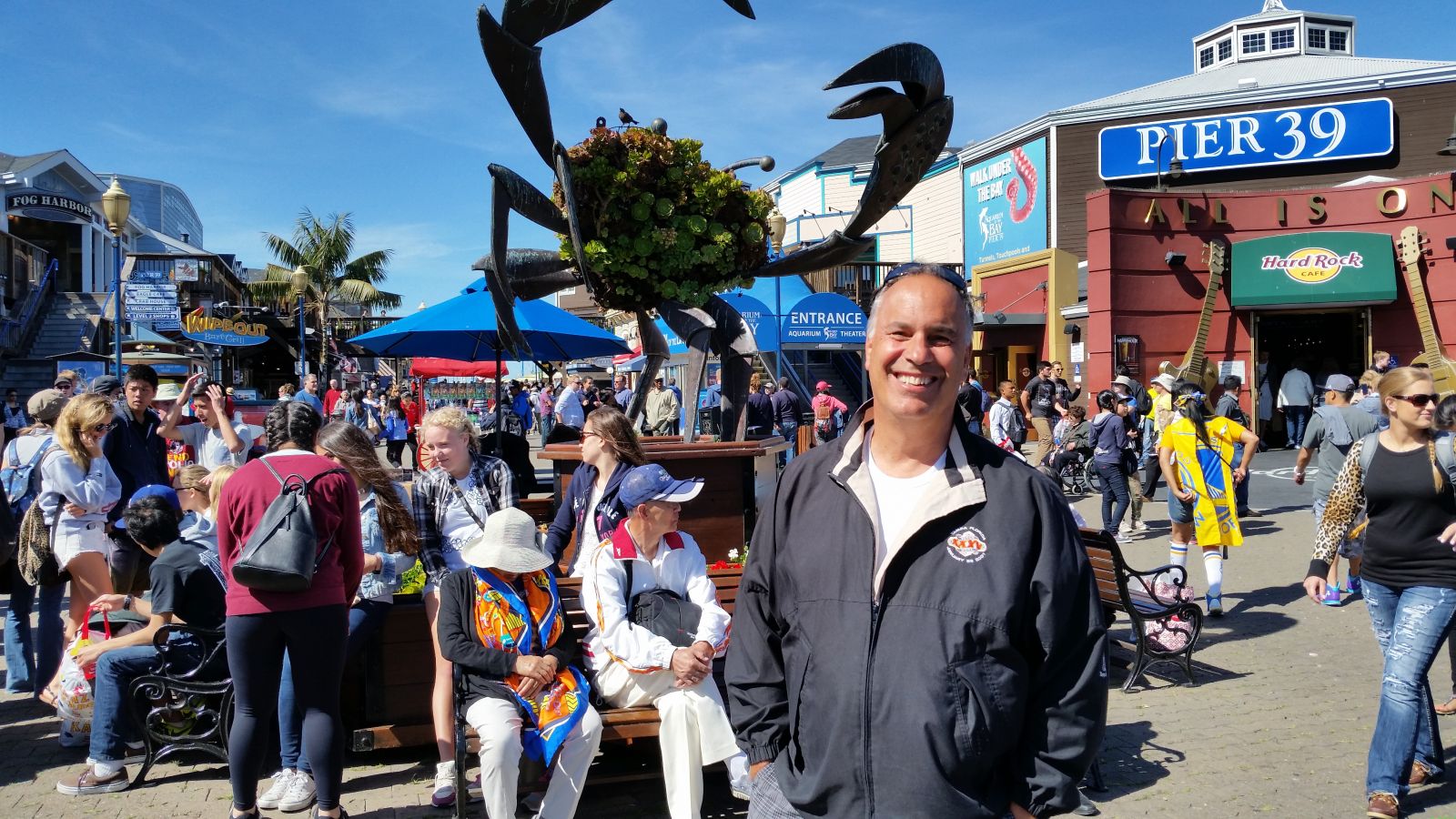 Years in Business: Over 35.
Primary Products and Services: Travel experiences; sporting & other unique events; Ticketmaster Ticket Feed; JustRewards customizable experiential travel packages.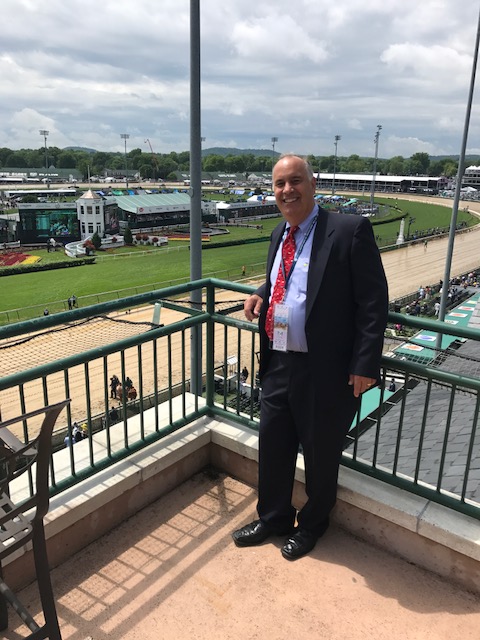 Company Story: How motivated, rewarded, or appreciated would your top performers be if they were rewarded with an experience from their "bucket list"? For over 35 years Pulse Experiential Travel has been forming relationships with well-known properties, venues and events to provide travelers with an "insider" experience because of our long-standing connections. More than just a travel provider, Pulse Experiential Travel is a rewards, recognition and gift experience provider. The people critical to your organization deserve an experience consistent with your brand; Pulse Experiential Travel understands that and delivers. Whether your top performers crave an adventure or prefer spectator sports, Pulse Experiential Travel will personalize their trip, take them on the inside and provide the experience of a lifetime.
Customization and Personalization: JustRewards Travel packages: traveler chooses what they want to do, where and when they want to do it, and have 36 months from date of package issuance to actually complete their travel. Experiences can be customized for a group or individual and are fully transferable. Certificates can be personalized, and companies can create their own co-branded redemption sites.
Where to Source: Available in the offerings of leading suppliers of incentives, recognition, rewards, promotional products and other marketing services. Contact Pulse Experiential Travel below for details.
Reseller Policies: Pulse Experiential Travel is committed to supporting all resellers seeking to provide their customers with exceptional worry-free travel experiences at a fixed or predictable cost.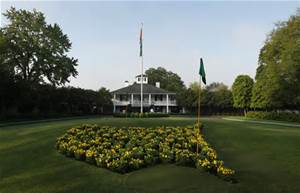 Buyer Persona: Companies and individuals drawn to Pulse Experiential Travel are looking for something different than a typical travel program. They want adventure, experiences they cannot get on their own, access to back-stage parties, special events, or other unique experiences that only those who are "connected" can attend.
Brand Personality: Pulse Experiential Travel is your well-connected trusted resource in the travel industry, offering unique "bucket list" experiences. We're adventurous, have diverse interests (from top-name Fashion Shows and Wine Tasting to White Water Rafting & The Masters Golf Tournament) and are passionate about creating and sharing unforgettable experiences for individuals, customers, or groups tailored to their aspirations and need for flexibility. We have packages that include some of the biggest brands in the travel business.
Demographics: We have experiences that appeal to all ages: families, groups and individual travelers, adventure seekers, beach dwellers and spectators.

Pulse Experiential Travel
25050 Riding Plaza, Suite 130-272
Chantilly, Virginia 20152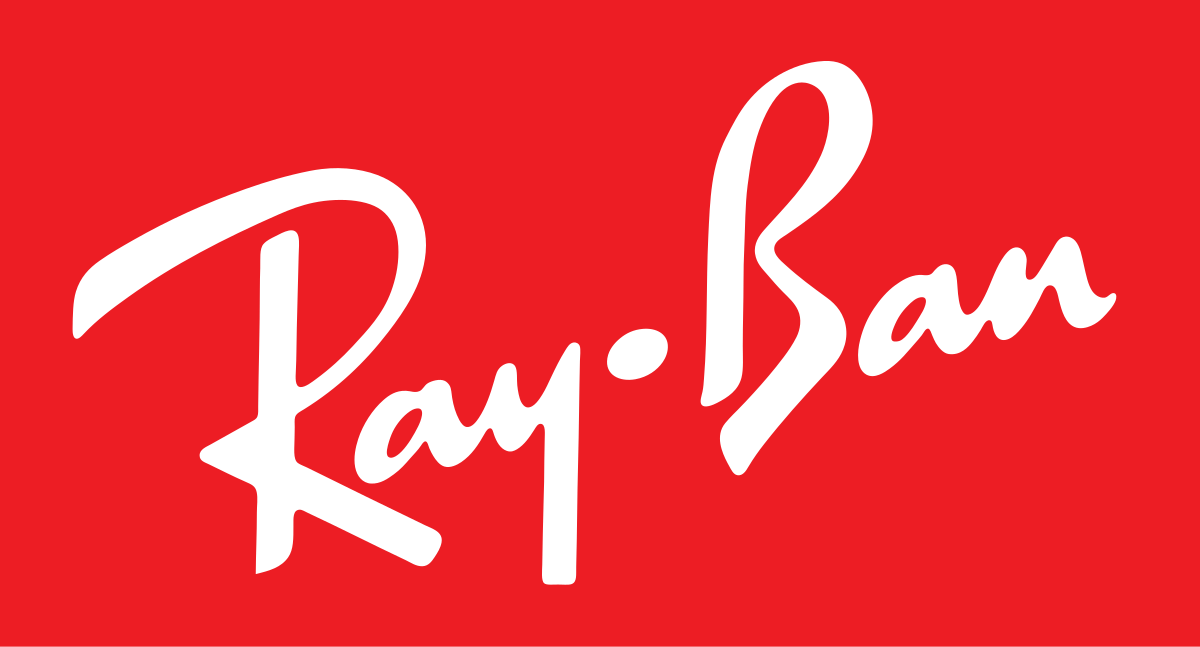 Primary Products and Services: Sunglasses for men, women and children, most notably the classic Wayfarer and Aviator models.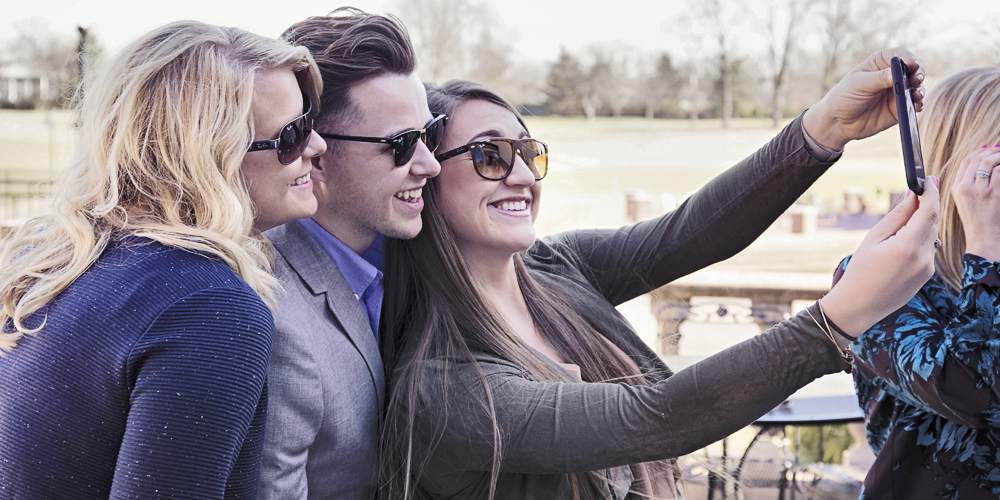 Company Story: The Ray-Ban brand was launched in 1937 with the introduction of a new green lens to eliminate the glare encountered by U.S. Army Air Corps pilots. After the war, the brand became a part of American popular culture when its Wayfarer model was worn by James Dean in "Rebel Without a Cause" and Audrey Hepburn in "Breakfast at Tiffany's." Later, Ray-Ban models would be worn by Robert De Niro in "Taxi Driver," Peter Fonda in "Easy Rider," Clint Eastwood in "Dirty Harry" and were favored by musicians Bob Dylan, Michael Jackson and Indie rocker Johnny Marr, among many others. The brand rapidly became iconic with outdoor people. Through every decade of its existence, Ray-Ban has shaped popular culture. Never just a transient trend, Ray-Ban eyewear marks out the wearer as an individual of taste and discernment. And now, seven-and-a-half decades after the first pairs of Ray-Ban Aviators helped U.S. pilots reach new heights, Ray-Ban remains an enduring classic.
Brand Personality: "Classic cool" defines the Ray-Ban brand. For over 80 years Ray-Ban has been forging its name as the most iconic eyewear brand. Our glasses tell a story through decades, trends and the people that wear it…timeless style, authenticity and freedom of expression are the core values of Ray-Ban. Ray-Ban prides itself on being at the forefront of cultural change, a symbol of self-expression worn by celebrities and public figures all around the world.
Buyer Persona: The Ray-Ban customer is active, culturally attuned and drawn to the brand's marketing campaign "Proud to Belong." Ray-Ban customers are about seeing and being seen, and ownership of one's own individuality, of dictating who they are instead of being told. But most of all, it's about sharing what it is to be you, with people who understand it. It is about the feeling of belonging, not conforming. Ray-Ban customers are drawn to products with timeless style and authenticity.
Demographics: Popular with any age group with active lifestyles who seek quality, and who are in tune with popular culture.
Customization and Personalization: Ray-Ban products can be personalized for corporate gift-giving by adding a custom cleaning cloth design or placing a logo on the sunglasses case.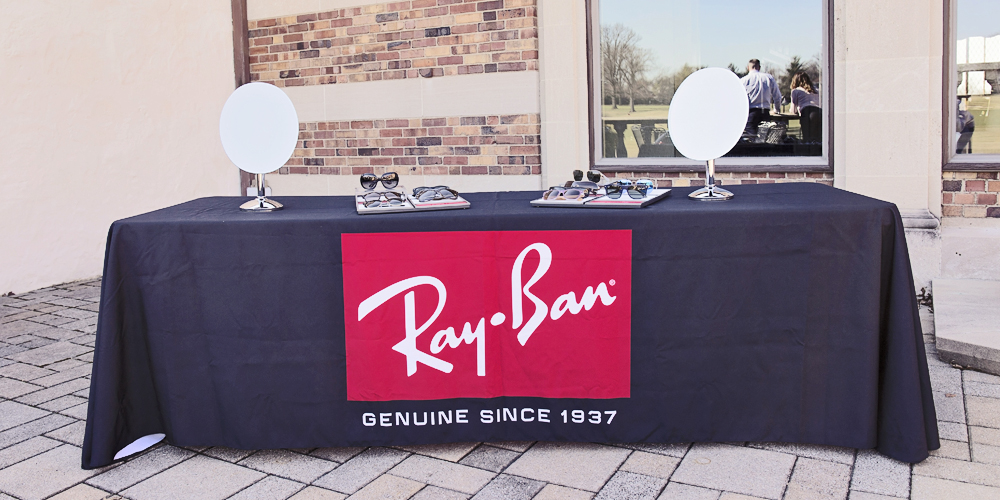 Event Gifting Experience: Ray-Ban Sunglasses are available for corporate event gifting. The Event Gifting Experience delivers an all-inclusive, on-site gifting solution to leave guests with a lasting positive impression of your company. Customers receive a Ray-Ban gifting station with the most popular styles. Your guests interact with an expert and walk away with a product choice that they love. International solutions are also available, including web redemption sites.
Where to Source: Links Unlimited is a leading Master Fulfillment Company that provides authorized access to the Ray-Ban line for use in incentive, recognition, loyalty, corporate- and event-gifting, and other related business applications. .
Reseller Policies: Links Unlimited works with all types of clients through their incentive, recognition, promotional, loyalty, marketing and management consulting firms.

[Return to Top]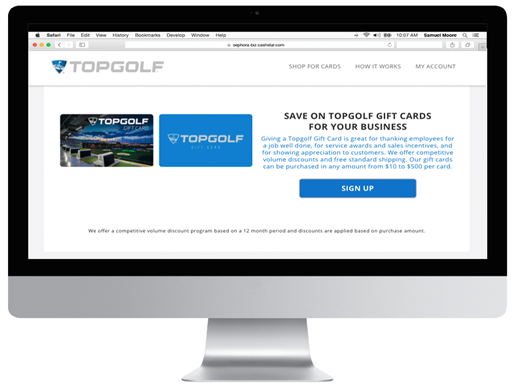 Velocity B2B launched in October 2016 as an independent business unit of CashStar (now a Blackhawk Network business) to provide merchants with comprehensive services for B2B gift card program management. While there are companies that do pieces of what Velocity B2B does, the company offers end-to-end program management. By combining its extensive expertise with technology-driven operations, industry-leading security compliance and risk indemnification, it is able to help brands maximize their revenue within the $26-plus billion B2B gift card market. It acts as a seamless extension of the client's team and brand, enabling their internal gift card and marketing teams to focus on their consumer gifting programs. The Velocity B2B team delivers end-to-end business-to-business gift card program management services, while the client maintains oversight and brand control. Its team of experienced gift card professionals develops an individualized gift card strategy for each brand, starting by assessing each brand's opportunity, identifying resource and gap analysis, and taking into account business management.
Once the program scope is determined, it handles sales and marketing of the program, including value proposition and alignment, management and execution, and partner management. In addition, Velocity B2B takes care of the order desk, systems, plastic fulfillment services and process management. It also handles all payment processing, billing and collections, and settlement and reporting. All this is done in a way that mitigates risk and ensures compliance. As it plans for the future, we'll continue incorporating feedback from our customers and design new offerings based on those needs.
[Return to Top]

Founded: 2016
Primary Products and Services:
WAFT offers an online perfume creation experience centered on your preferences and moods. Beyond being able to customize their scent, customers personalize both the bottle and the gift box with any message they like.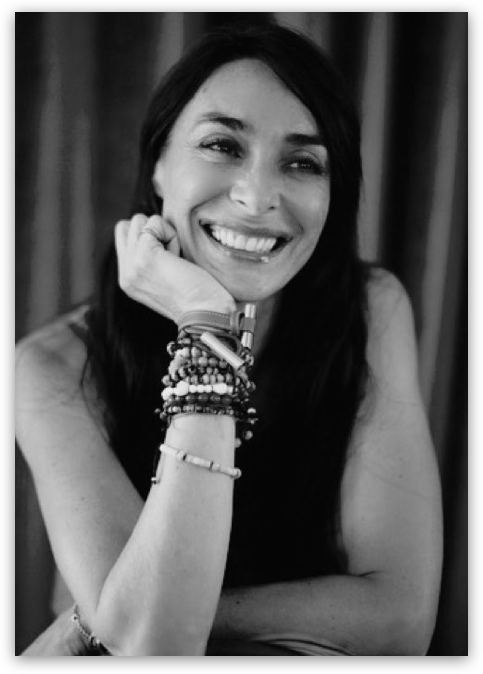 WAFT was established by Valerie Boffy in late 2016 to go beyond the impersonal offerings found in stores. She wanted to give fragrance enthusiasts the chance to customize their own scent at a more reasonable price than the offerings from established fragrance houses. By partnering with International Flavors and Fragrances (IFF), Boffy was able to offer fragrances with the highest quality ingredients, inspired by emotion, situation and desire. Her goal is to bring back the craft of personally- commissioned fragrance and make it available to consumers and gift and reward recipients.
WAFT is a disruptive, 100% digital play which is reimaging the fragrance industry by allowing customers to design their own fragrance based on their mood and lifestyle. The Waft revolution is stirring up the world of fragrance and was conceived with one goal in mind—to create world-class perfumes uniquely tailored to each person who wears it.
The company's voice can be summarized with the following terms: playful, approachable, self-assured, adventurous, authentic, intelligent, trailblazing yet appreciative of artisanal craftsmanship
Fragrance fanatics, status seekers, social accessorizers choose WAFT because it offers exciting olfactory combinations, using only the finest ingredients crafted by master perfumers. Inspired by customers to help them express the multi-faceted dimensions of their personality, thereby enabling them to feel in an enhanced mood, confident and empowered.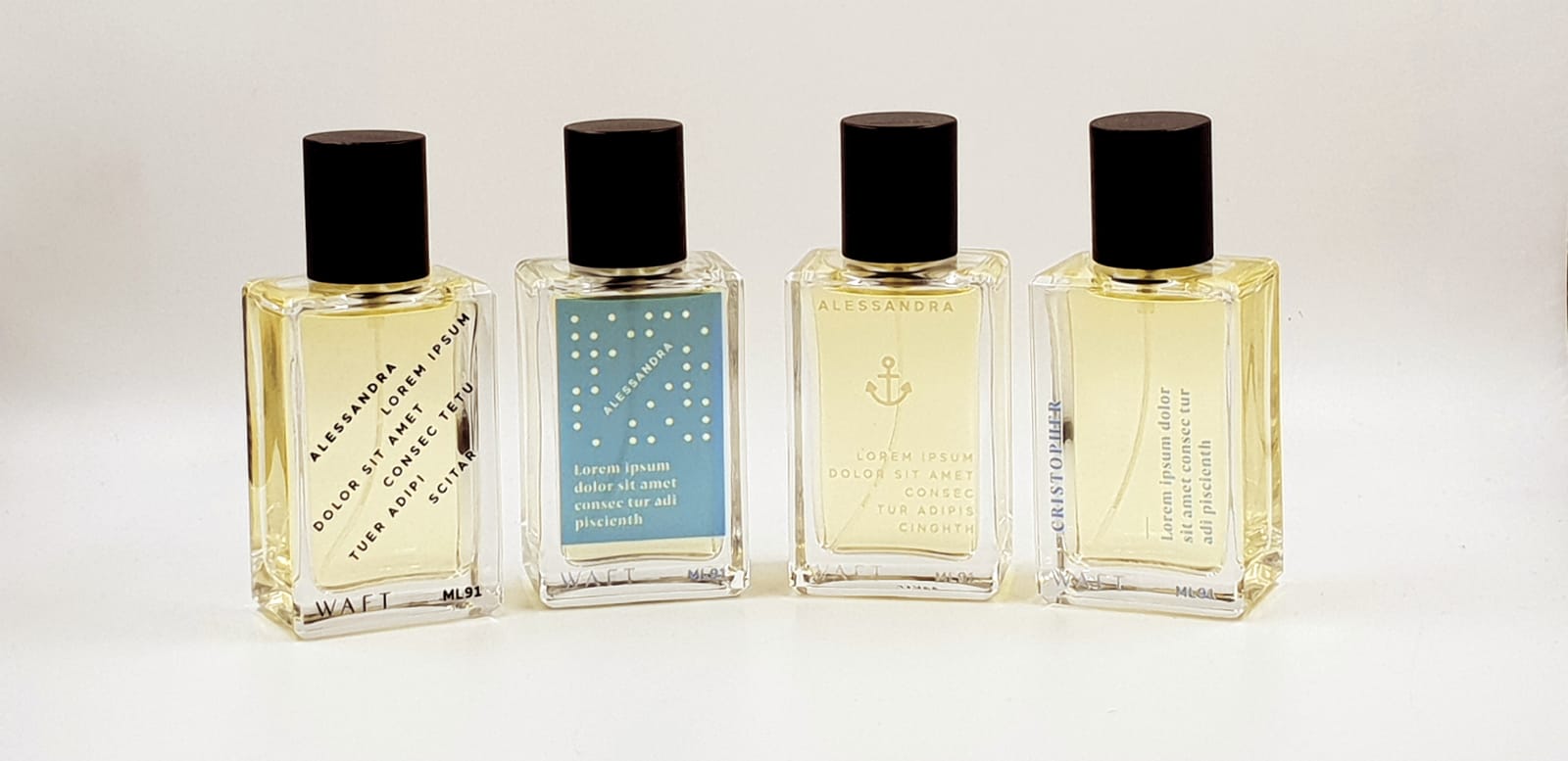 The WAFT female buyer persona, we call her Sophia, is a creative, passionate, spontaneous and open-minded woman who lives by her own guiding principles. She prides herself on being authentic and staying true to herself and fair to others. She's happy with the way she looks and loves experimenting with new, different and bold, daring styles to help express the different sides of her personality. She likes to mix and match prestige and mass, shopping at places like Zara and Gucci for select pieces to mix them up for a look all her own. She considers herself an expert on fragrance and, just like her clothing, will layer to create a scent that is uniquely hers. She likes to change things up depending on her mood.
The WAFT male buyer persona (Ryan) is a busy professional who likes to work and play hard. He prides himself on being in the know and is usually the first to try new things among his set of friends. In fact, friends and family often seek his opinion on anything from restaurants to technology to brands. Due to his hectic schedule, Ryan values efficiency and does most of his shopping online. He has a few go-to sites and uses connected devices like Alexa to replenish frequently used items. When it comes to gifting, Ryan doesn't mind splurging on that "special someone," but doesn't have a lot of time to shop. He likes to consider himself thoughtful and would like to give unique gifts beyond the traditional, preferably experiences over "objects"
WAFT transcends typical demographics. The WAFT customer spans all age groups…50% of our customers are men. WAFT's customers are curious, adventurous, like to mix and match brands, change their look depending on their mood, are creative and like to be on the cutting edge of things. They are concerned about value but are willing to pay more for unique experiences.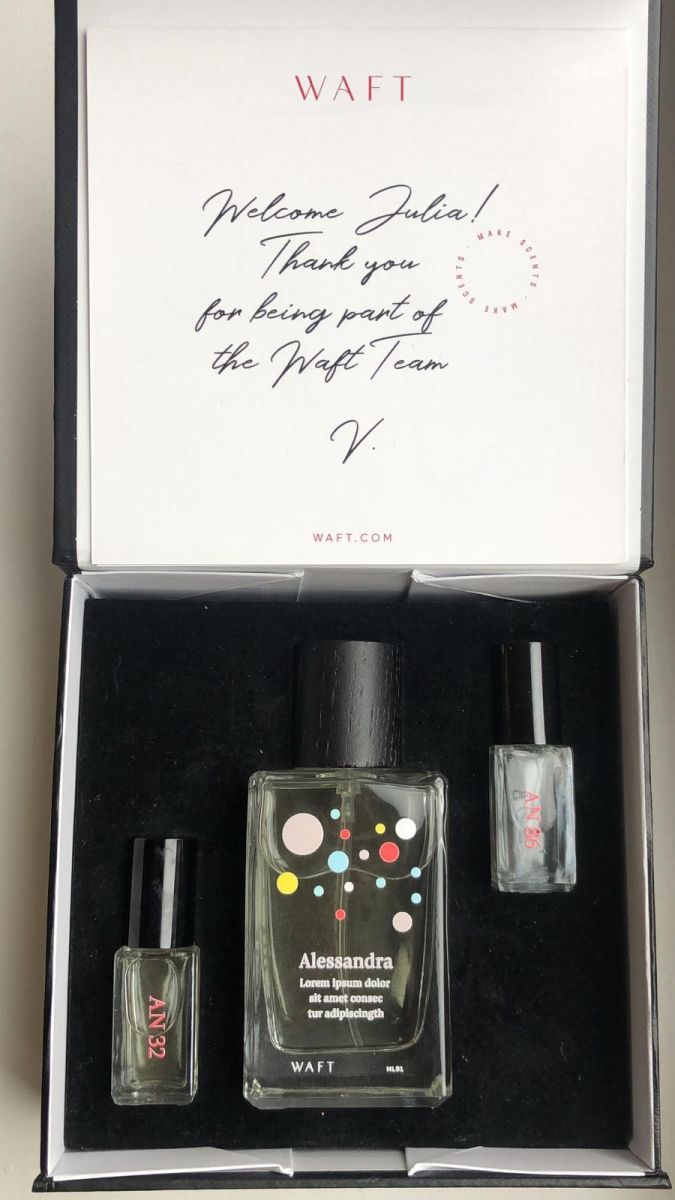 Customization and Personalization:
WAFT allows customers to personalize their fragrance based on their preferences. Customers can also design the bottle and box while naming their fragrance and adding a special message. They are also able to make a unique gift with WAFT's "You Gift it, They Create it" offering. This web experience allows gift givers to name their gift fragrance while gift recipients can create their own prepaid fragrance online. Choosing from sizing options, putting their logo on the bottle and box and creating their own landing page for the lucky recipients. Unlike almost all offerings in the corporate gifting market, WAFT Custom Fragrance does not only mean being able to put the corporation's imprint on the gift; each individual gift recipient creates their own product by going through WAFT online
WAFT is available through a growing network of incentive representatives and their promotional products customers nationwide. For resources near you, contact WAFT, below.
WAFT sells through incentive representatives, distributors and other professionals who understand how to use brands in business.
Kim Biggs, VP Corporate Sales
We will direct you to a professional near you.