Brand Media Coalition and 1-800FLOWERS.COM Launch Industry Surprise and Delight Gifting Platform
The Brand Media Coalition and 1-800FLOWERS.com have announced the launch of the industry's first Surprise and Delight and Occasion Gifting platform available only to members of the BrandMediaCoalition.com. The new platform enables recognition, gift and reward solution providers to offer their end-user customers access to a surprise-and-delight and occasion gifting platform making it easy to select the right gift, for the right person, and purpose; include a personal note, and select the delivery date if desired.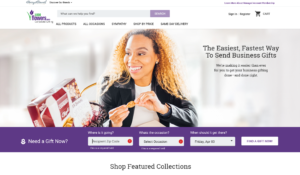 Offerings include a wide selection of products from 1800FLOWERS.COM, Harry & David fine foods, and many other leading brands for both surprise and delight and occasion gifting for customers, employees, distribution partners, volunteers or anyone they choose. BMC members receive a 15% rebate on each order on a monthly basis from 1-800FLOWERS.COM for bringing this and other brands and services to their clients.
Available only to BMC members, the Surprise and Delight web site interface is designed specifically for business and related occasion gifting. Only qualified distributors, incentive representatives, incentive, recognition, loyalty, marketing and human resources solution providers who sign up as
Brand Specialists
can access the Surprise and Delight site through a "magic" URL. Upon membership confirmation, they receive the URL and a unique identifier they can share with their clients, many of whom are now seeking a powerful and simple way to manage surprise and delight and occasion gifting across the enterprise. Upon checkout, the end-user, or the distributor conducting the transaction on his or her behalf, enters the unique identifier to trigger the 15% rebate, which is sent to the BMC member to distribute based on whatever business rules he or she determines.

Once membership is approved, Brand Specialists also receive a complimentary listing on the
BrandMediaCoalition.com
online marketplace of solution providers, direct access to the corporate sales departments and online catalogs of leading brands, gift cards, and master fulfillment companies, as well as access to extensive information on the effective use of brands in business and promotional gifting and amenities. To qualify, solution providers must provide a business email address and web site, as well as a business name and address to which rebates can be delivered.
Click here
to join.
Says Earl Hurd, Director of Enterprise Gifting at 1-800FLOWERS.COM, Inc., "As a company, we help customers express, connect and celebrate with the important people in their lives. In the current climate, staying connected with others is more important than ever. We're seeing many businesses prioritizing employee and customer engagement with surprise-and-delight gifting. Gifts are being sent to recipients' homes rather than the office and companies are coming to us for advice on how else they can recognize employees and clients. We welcome these calls and want to help our customers navigate this complex and ever-evolving situation."
Explains Guy Achtzehn, Director of Brand Outreach for the Brand Media Coalition, "This is promotion with emotion. To my knowledge, no one has ever enabled the business-to-business surprise and delight and occasion gifting process in this way. This new platform provides a powerful way for our industry partners to introduce their clients to the advantages of buying through the corporate channel, as opposed to retail sales. Solution providers will be able to introduce their customers to a unique way to taste the impact of a strategic and systematic selection of brands and gifts targeted precisely for each person in a way that can be easily tracked. The ROI in almost all cases is retention and positive word of mouth."
Adds Earl Hurd of 1-800FLOWERS.COM, "Solution providers with large clients can have access to their own customized platforms, enabling them not only to create a highly customizable occasion-gifting platform, but to easily track who is giving what to whom, at what cost, and when. And, those incentive, recognition, and loyalty programs with their own platforms can now access a seasonable collection of flowers and gifts that can be available upon redemption at an agreed upon price.
Observes Bruce Bolger, founder of the Brand Media Coalition, "1800FLOWERS.COM came to us with this platform well before the COVID-19 crisis was on anybody's radar screen. Based on common sense and research indicating that surprise and delight is a more effective way to communicate appreciation and gratitude to people than points-based programs, we believe this approach can be a game-changer for the industry long after the crisis is behind us." See
ESM: Dr. Paul White Has Simple Prescription for Better Culture: Appreciation at Work
.
Guy Achtzehn
Tel. 717-846-4045
---
Education, Certifications, and Information to Activate
Brand Media and Enterprise Engagement

A complete learning, certification, and information program and a course syllabus for educators.
Resources:
The
Brand Media Coalition
, the only guide to the story-telling power of brands and where to source them for business, event, promotional gifting, and rewards and recognition.
Enterprise Engagement Solution Provider Directory
. The only directory of engagement solution providers covering all types of agencies and tactics as well as insights on how to select them.
Communities:
The
Enterprise Engagement Alliance and Advocate
and the
Brand Media Coalition
free resource centers offering access to the latest research, news, and case studies; discounts, promotions, referrals, and commissions, when appropriate to third-party solution providers from participating coalition solution provider members.
Training and Certification
Enterprise Engagement Alliance Education:
Certified Engagement Practitioner; Advanced Engaged Practitioner, and Certified Engagement Solution Provider learning and certification programs on how to implement Stakeholder Capitalism principles at the tactical level.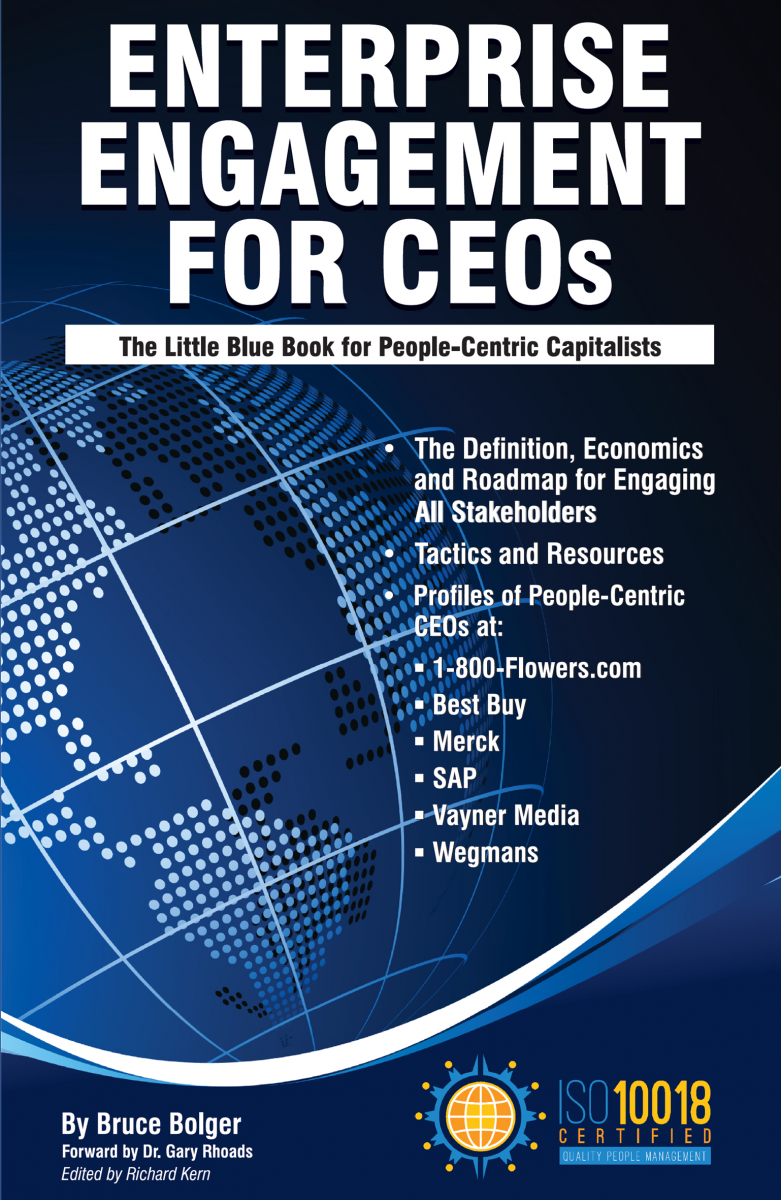 In Print:
This is the definitive implementation guide to Stakeholder Capitalism, written specifically to provide CEOs and their leadership teams a concise overview of the framework, economics, and implementation process of a CEO-led strategic and systematic approach to achieving success through people. (123 pages, $15.99)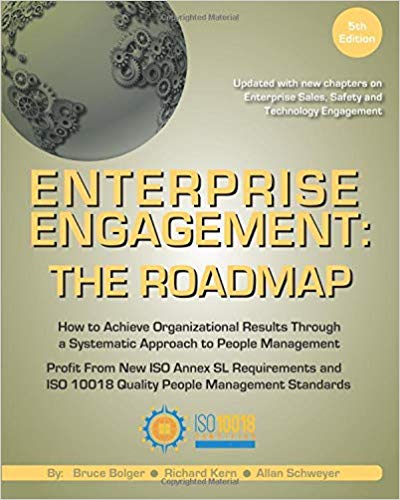 The first and most comprehensive book on Enterprise Engagement and the new ISO 9001 and ISO 10018 quality people management standards. Includes 36 chapters detailing how to better integrate and align engagement efforts across the enterprise. (312 pages, $36.)
Online:
10-minute short course: click here
for a 10-minute introduction to Enterprise Engagement and ISO standards from the Coggno.com learning platform.
Services:
• The Engagement Agency at EngagementAgency.net,
offering: complete support services for employers, solution providers, and technology firms seeking to profit from formal engagement practices for themselves or their clients, including Brand and Capability audits for solution providers to make sure their products and services are up to date.
• C-Suite Advisory Service
—Education of boards, investors, and C-suite executives on the economics, framework, and implementation processes of Enterprise Engagement.
• Speakers Bureau
—Select the right speaker on any aspect of engagement for your next event.
• Mergers and Acquisitions. The Engagement Agency's Mergers and Acquisition group is aware of multiple companies seeking to purchase firms in the engagement field. Contact Michael Mazer in confidence if your company is potentially for sale at 303-320-3777.
Enterprise Engagement Benchmark Tools:
The Enterprise Engagement Alliance offers three tools to help organizations profit from Engagement.
Click here
to access the tools.
• ROI of Engagement Calculator. Use this tool to determine the potential return-on-investment of an engagement strategy.
• EE Benchmark Indicator. Confidentially benchmark your organization's Enterprise Engagement practices against organizations and best practices.
• Compare Your Company's Level of Engagement. Quickly compare your organization's level of engagement to those of others based on the same criteria as the EEA's Engaged Company Stock Index.
• Gauge Your Personal Level of Engagement. This survey, donated by Horsepower, enables individuals to gauge their own personal levels of engagement.
For more information, contact Bruce Bolger at Bolger@TheEEA.org, 914-591-7600, ext. 230.